Four months after our first review of the Lenovo Livepods LP40 TWS wireless earphones from Lenovo, we are here yet again to talk about its pros and cons and get into it in more depth after some time of usage, this is a quick reminder of what to expect from these earbuds, they are equipped with a Bluetooth v5.0 chip that supports clear calling and low latency for comfortable content consumption, a multifunction touch control area to control music playback, calls, and the voice assistant, it has a 13mm horn double diaphragm that delivers good audio quality with good bass and treble as well as an HD microphone for calls and voice assistant, a 230mah battery that delivers 12hours of autonomy and IP54 waterproof certification, stick around to see if it's worth a buy.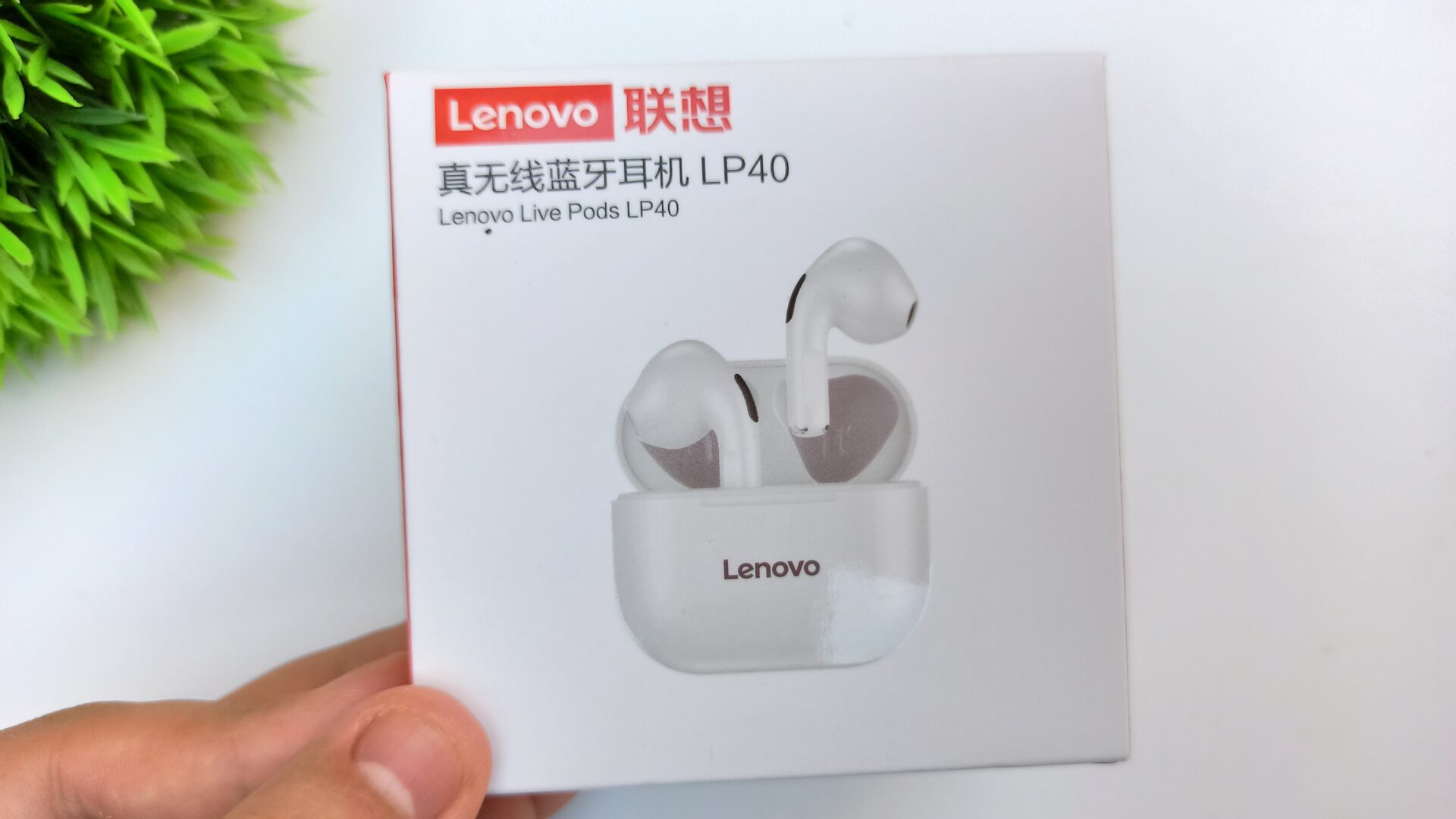 Lenovo LP40 Features
Innovative Design & Comfortable Fit
13mm Dual Drivers For High Audio Quality
AAC/SBC HD Audio Codec
Touch control, Easy to use
Ultra-Low Latency
Bluetooth 5.0 Chip
12h Long Playtime
IP54 Waterproof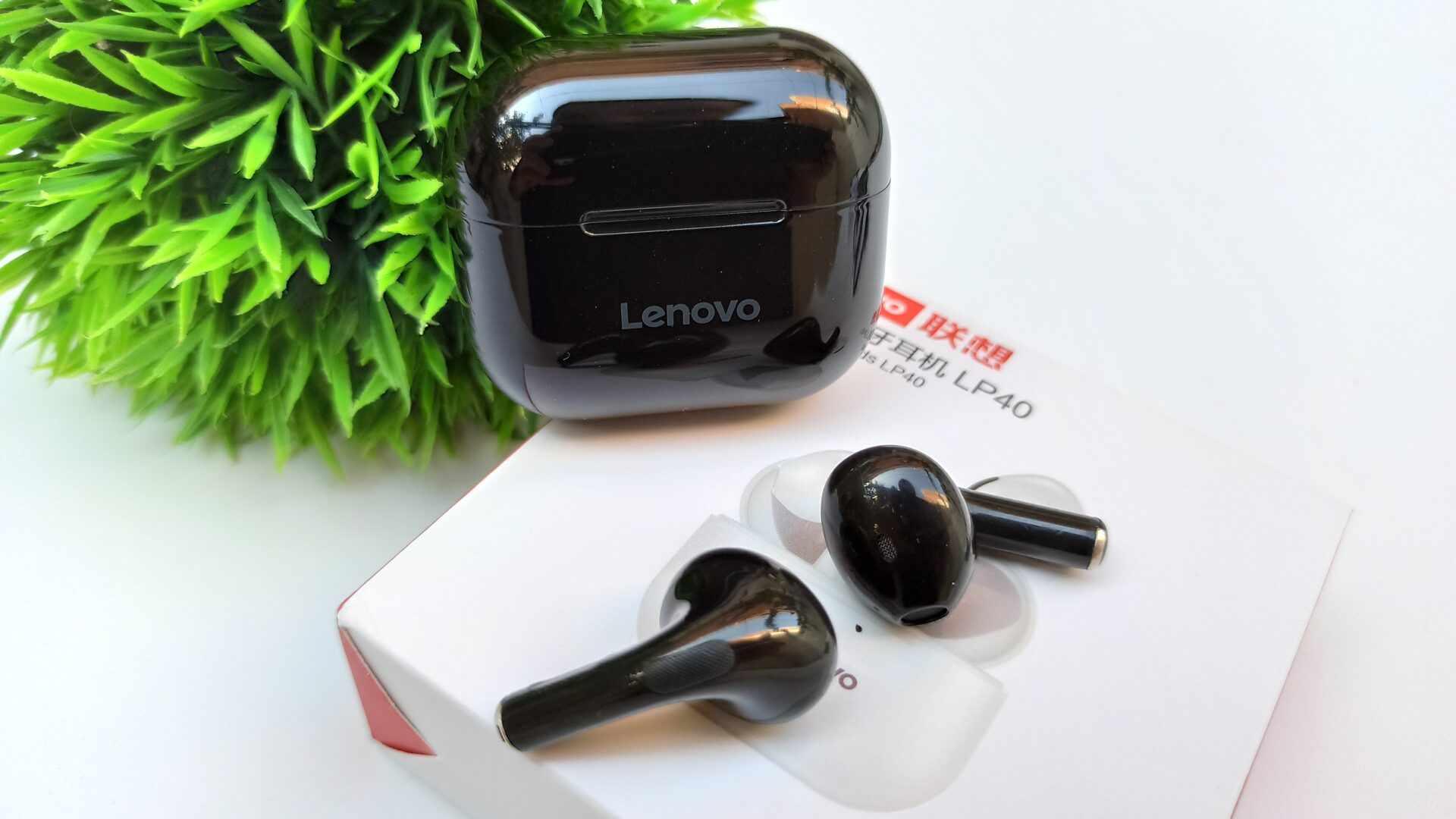 Design And Build Quality
Charging Case
The charging case of the LP40s is quite small and elegant, it is made out of plastic with a glossy finish that is reflective and beautiful, but also makes the dust on it clearly visible so you will need to clean it every now and then, the dimension of the case is 50*43*25 mm and it practically fits in any pocket you have, and even fits in the palm of your hand, the weight is only around 25g so all in all, you will have a very hard time finding a tinier and more easy to take on the go wireless earphones.
On the front side, you will simply find the Lenovo logo in gray and the lid opening, the lid itself is held magnetically and won't budge no matter how hard you shake but at the same time, you can open it with one hand thanks to the good work done by engineers to balance between the hinge and the magnets, once you open it up you are presented with a little compartment for the earbuds themselves.
On the backside, there is only a button with an LED that lights red when you put in charge and green when the earphones are awaiting connection, the button is used to factory reset the earphones and to put them in pairing mode.
From underneath, it has got the USB type C port for charging and it's just a great choice for a port in 2022 since all devices are moving in this direction and I would love to see more companies adopt the USB C faster even on cheap devices.
Overall, I really liked the way the case looks and feels and how easily portable it was, and even though it's a budget-friendly device, nothing about it feels cheap thanks to the amazing craftsmanship, but, the material of the case is easily susceptible to visible scratches so you make have to take extra care of them so they look good for a longer time.
Lenovo Livepods LP40 Earbuds
The LP40 earpieces themselves are simply a bold piece of glossy plastic, if I were to describe the shape I would say it looks a lot like a rugby ball, I like the way they look especially in the color black it is honestly elegant and one of my favorites, the part that goes inside your ear is a bit too bulky and looks a little bigger than we usually see and more round combined with a short tail, which is exactly the design on the similar device from the same series the LP80, and unfortunately it causes the same problem for the ear.
This model has no LED indicator on the earphones, so the low battery level, the connection state, and all those are indicated using sound, at the very low end of their tail we find the multifunction touch control area, which is a little hard to use with one finger like the other models so you will often need to use both your index and thumb to touch the control area accurately or else it might fall right off your ear.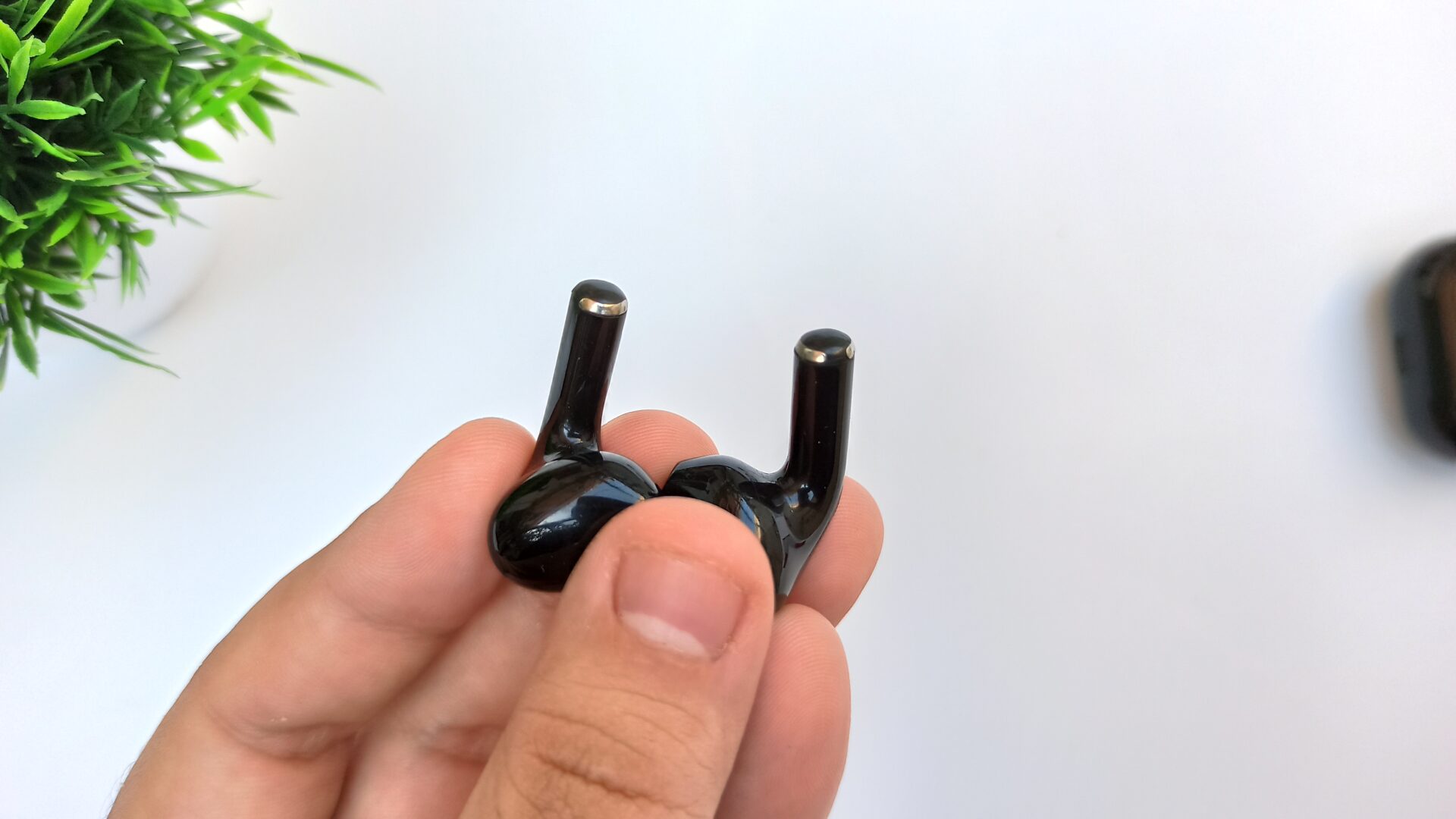 Even though the shape of the LP40s is great and helps them stick very firmly inside the ear and never fall no matter how hard you shake them so it's good for sports such as running and jumping rope, I still have the same problem with them being too big for my ear, don't get me wrong they get inside the ear easily and for a first time they won't bother you, but after using for some time, you will start to feel uncomfortable and even hurt a bit because the plastic is too rigid and the size a little too big so it will not fit everybody.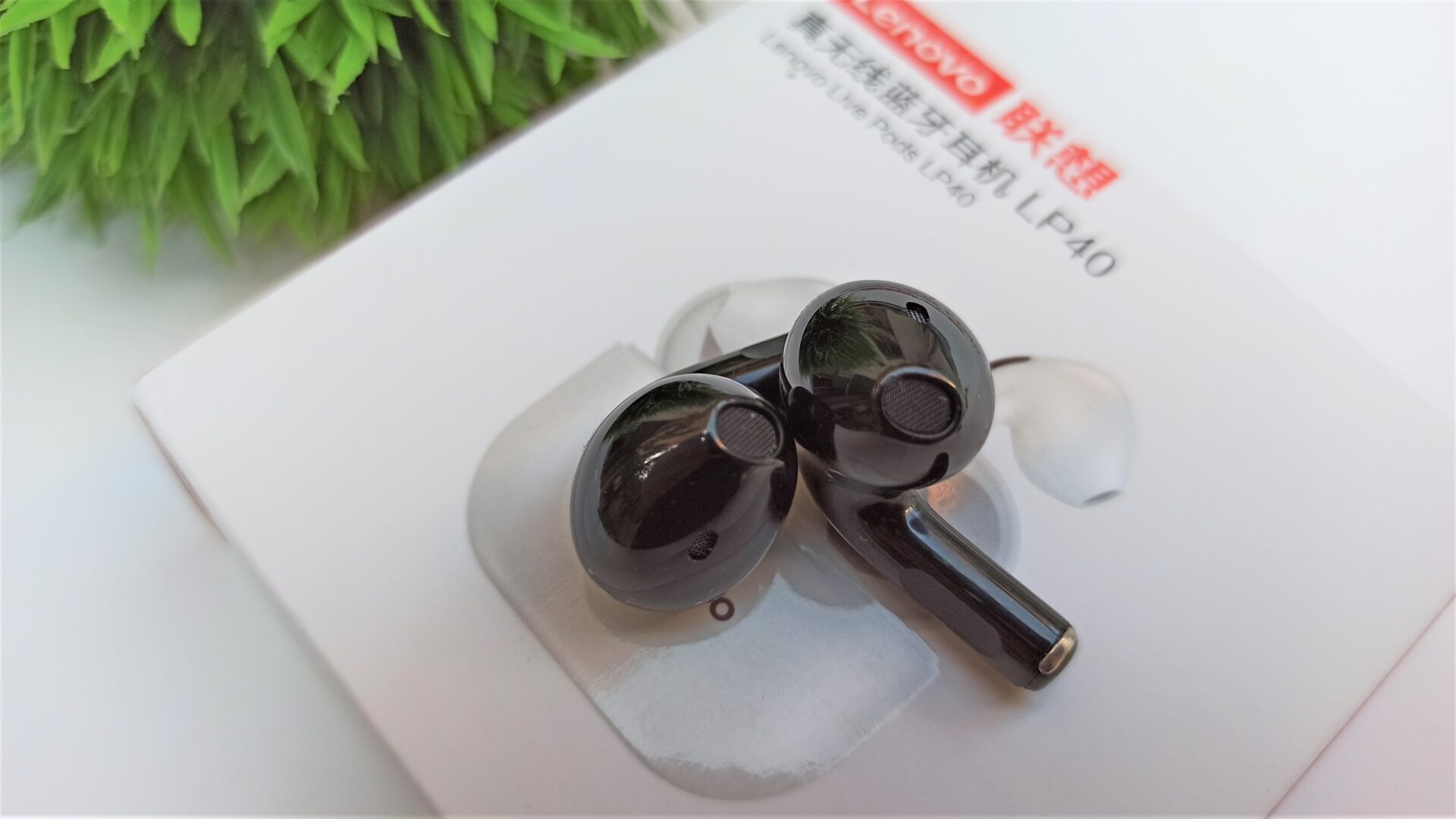 Touch Control Panel on the LP40
Contrary to so many other models that have the multifunction touch control area on top, this one has it at the bottom, both on the right and the left earbud each has its own functionalities, and the position and shape of the touch control have pros and cons, for example, it has gotten way more accurate and it only executes the commands when you touch it intentionally, the downside of this positioning is that you often can't pass a command using the finger like the usual, instead you will have to support the earbuds from the back and touch them from the front or else they get loose and might fall off your ears, I personally prefer the touch control area on top, especially on models such as the XT88 where that does not affect the accuracy negatively.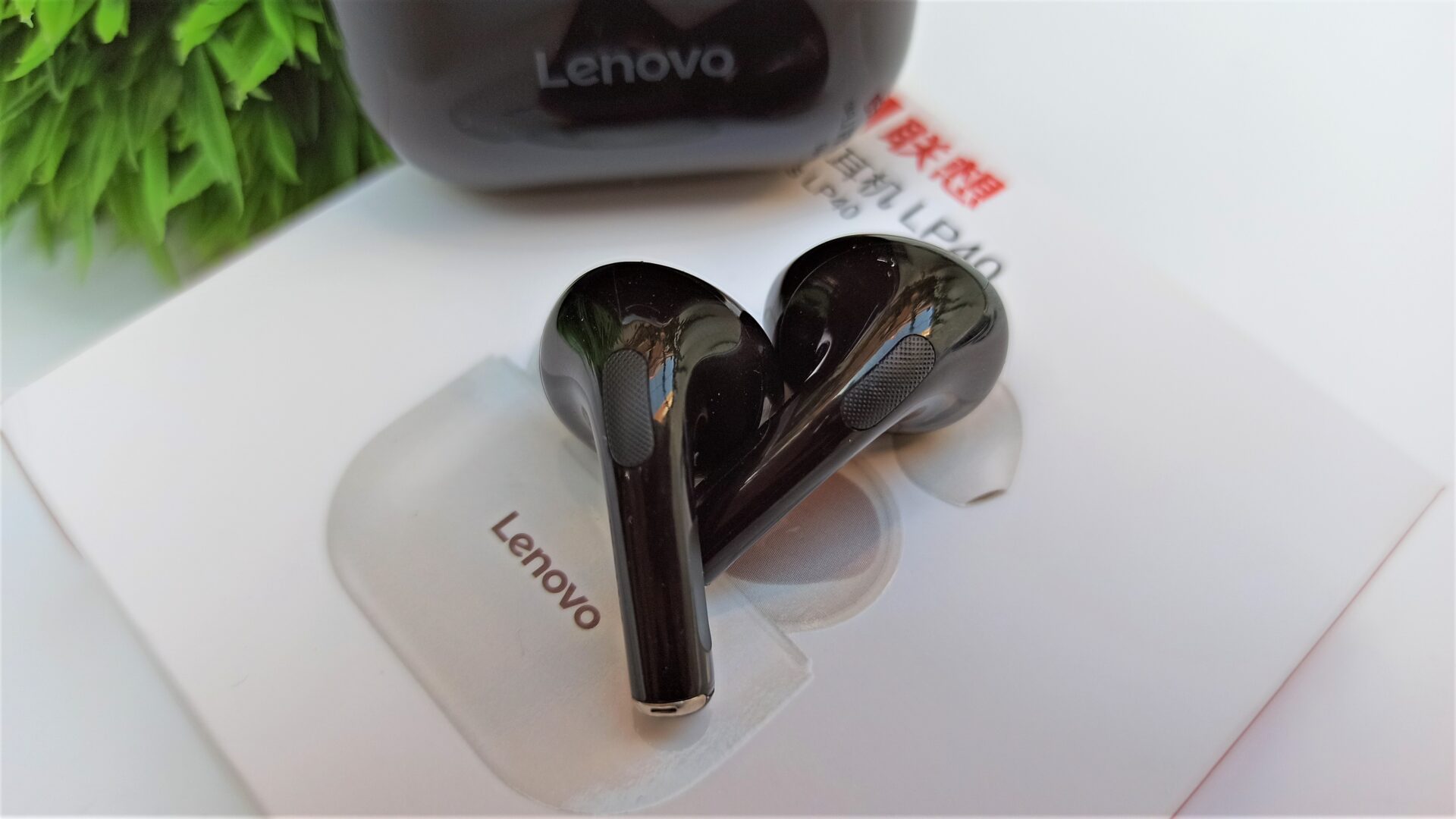 Other than that the touch control is as useful as usual and you can use it to reduce the need to pull your phone to call contacts or ask google assistant for today's weather, you can do all of that right from the wireless earphones, the possible touch controls are listed below :
Click on = Play / Pause
Long press 1.5 = Wake up Siri
Triple click left ear = Previous piece
Triple click right ear = Next track
Double right ear = Increase volume
Double click left ear = Reduce the volume
Livepods LP40 Waterproof
The Lenovo Livepods LP40 has IP54 WaterProof and DustProof, so they are protected from rain, sweat, and dust which helps you use the earbuds effectively in any sporting environment. However, it should not be completely submerged in water to avoid any possible damage and to stay with you in the long term.
How To Pair Livepods LP40 With Smartphone
As for the pairing, I have not had any issues with that for the whole time, the process has always been the same as any other Lenovo wireless earphone, in order to pair the LP40s with any android, IOS, windows or MAC device, you simply have to turn the wireless earphones on, turn the Bluetooth on your smartphone, and then search for devices, once you find a device under the name of Lenovo Livepods LP40, click on it and allow the pairing, you will immediately hear a sound indicating that the LP40 is connected to your device since it has no LED indicator, you will only need to perform this action once, from that time on, the pairing is even more seamless, simply turn the earphones on as well as the Bluetooth and they will connect with each other immediately allowing you to enjoy listening to high audio quality and passing calls.
As for the connectivity, The Lenovo Livepods LP40 wireless earphone is equipped with a Bluetooth 5.1 chip which is compatible with most Bluetooth-equipped devices and allows for a smooth connection. Unfortunately, it does not,  support multi-connect, and neither do any of the similar products which is something we would love to see, nevertheless, the BT5.1 delivers high audio quality and has support for SBC and AAC decoding that improves the sound quality even more, additionally, it is battery efficient and consumes the earphones' battery very moderately to give you long hours of autonomy.
Livepods LP40 Audio Quality
The Lenovo Livepods LP40s has a Bluetooth 5.0 chip capable of high-quality audio and both AAC and SBC decodings, SBC works best on Android and AAC works best on IOS devices since they are optimized to use this battery draining technology efficiently, but the AAC always delivers better audio quality than SBC so this device works on iPhones better than Androids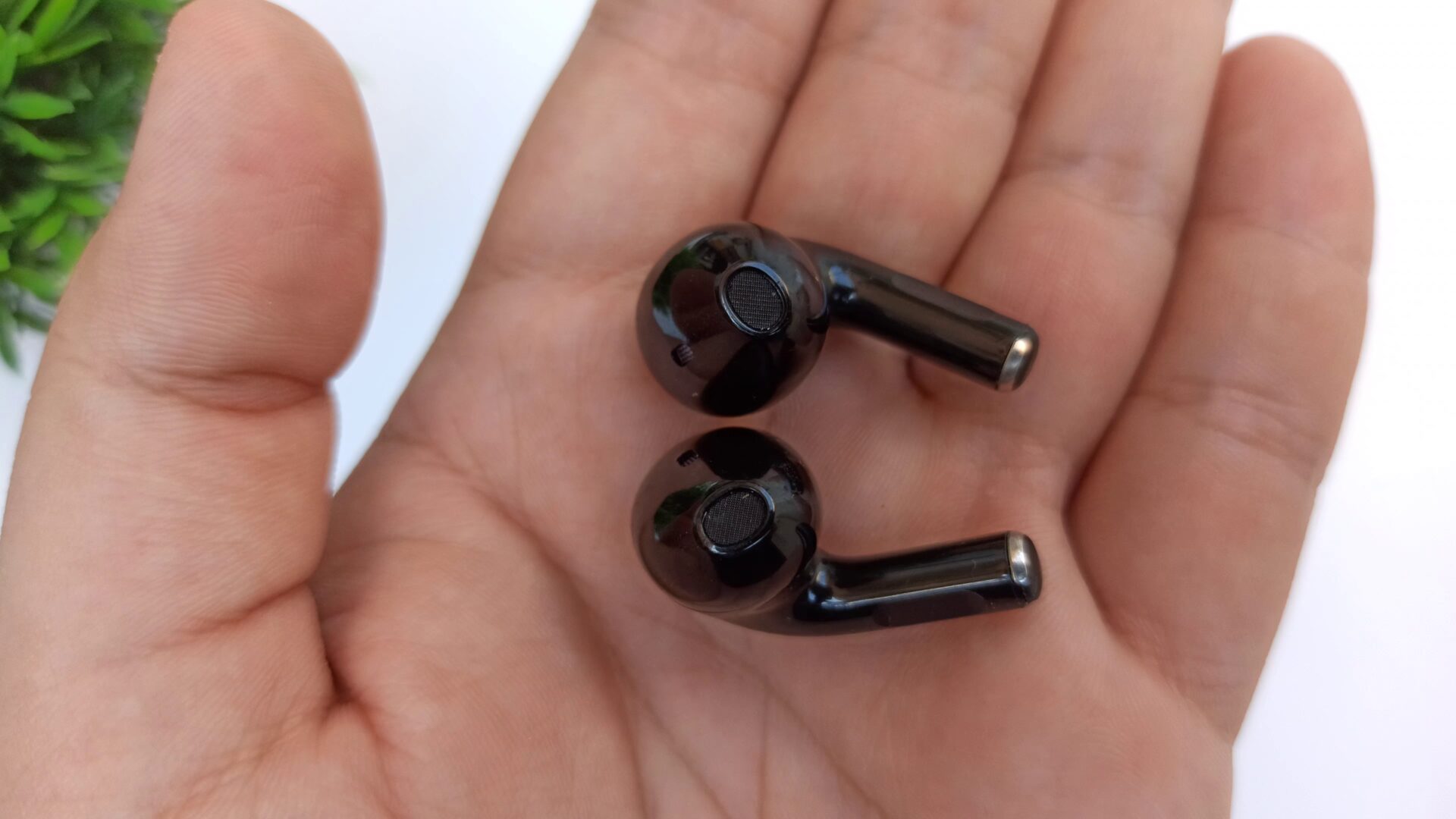 After using these wireless earphones for quite some time I have come to conclude that they work well with windows, with IOS devices they work super fine, especially with the AAC decoding it delivers the best audio possible for a device of this price range, but on android devices such as the Redmi and the Samsung, the audio is also good and good only, that is until you try to push the volume very high, then they start making distortion that varies from little and neglectable to the very annoying borderline unusable type of distortion, that being said, the earphones are loud enough at 75% of its volume and you can clearly listen and enjoy content like that.
One of the best wireless earphones when it comes to audio quality is the Lenovo XT88 thanks to the Bluetooth 5.3 chip, check it out here Lenovo ThinkPlus XT88 with BT5.3 Review, with no distortion even at high volume levels.
Microphone & Call Quality
The LP40 earphones are equipped with high quality on the left earpiece, it is mainly used for calling and activating, and commanding the voice assistant on smartphones, I found it very useful being able to use google voice assistant anytime with effortless access, all I had to do was hold and maintain the touch control area until I heard a bleep, then google assistant was activated and I could ask the weather, the time or anything else, which is extremely convenient.
One of the main uses of the Lenovo Livepods LP40 wireless earphones and other similar devices is passing calls, for this, you are going to need high-quality audio and a microphone, this model seems to deliver both, the LP40 provided one of the best calling experiences I ever found on wireless earbuds of this price range, the call quality is not only good for this price, but simply good, I was able to receive, accept, decline and hung up on calls just with a simple touch on my earphone, this model gave me confidence that the recipient will hear me clearly even in complex environments such as crowded spaces or windy days, it also helps that you can use the call feature with most messaging apps such as messenger and WhatsApp, and for me, this is one of the main selling points of this device.
Latency In Earphones & Gaming
Speaking of the latency, with the LP40s I haven't noticed any delay when watching videos on youtube, and that allowed me to enjoy the content I like without any discomfort which is impressive for a device of this price range. I presume that for most content consumption activities, this device gets the job done very well especially since the audio quality is good.
When it comes to gaming, unfortunately, cheap wireless earphones usually cannot deliver very low latency that would give you an advantage in competitive gaming, that being said, the LP40 offers one of the lowest latencies in the market of budget earphones of around 100ms, my take is it is acceptable at best and it didn't bother me for the most part.
Livepods LP40 Battery And Charging Time
The Lenovo Livepods LP40 charging case is equipped with a 300 mah lithium-polymer battery and each of the earphone have a battery with a capacity of 35mah, if the numbers didn't impress, then my personal experience with the earphones will definitely do, I only charged them once and they lasted with me a week of everyday usage, to be fair I didn't use them extensively, but that just gives an indication of how long the battery will last, realistically speaking, these headphones will stay with you about two days of heavy usage and a little longer with regular usage.
The charging case has a USB C in the bottom for charging using the USB A to USB C that comes included inside the box, we would recommend you plug in your computer or any charging brick that delivers 10 watts at most in order to preserve it. Also, has either a charging percentage indicator or just an LED that lights red when charging and green when the battery is fully charged.
Final verdict
In the end, there is no debating that this is one of the finest picks when it comes to budget wireless earphones since its the most sold one on Aliexpress, so if you are looking for reliable budget-friendly wireless headphones, that provide decent audio quality, that you can use to pass calls and that give you 2 to 3 and even 5 days of autonomy, I would definitely recommend this for you since it checks all the boxes.
Lenovo Livepods LP40 Price and where to buy
The Lenovo LP40 is currently available on the AliExpress Store or Banggood with a coupon for an excellent price So, don't miss out on this great deal. And to view its price or buy it, you can access the offer by clicking on the store icon.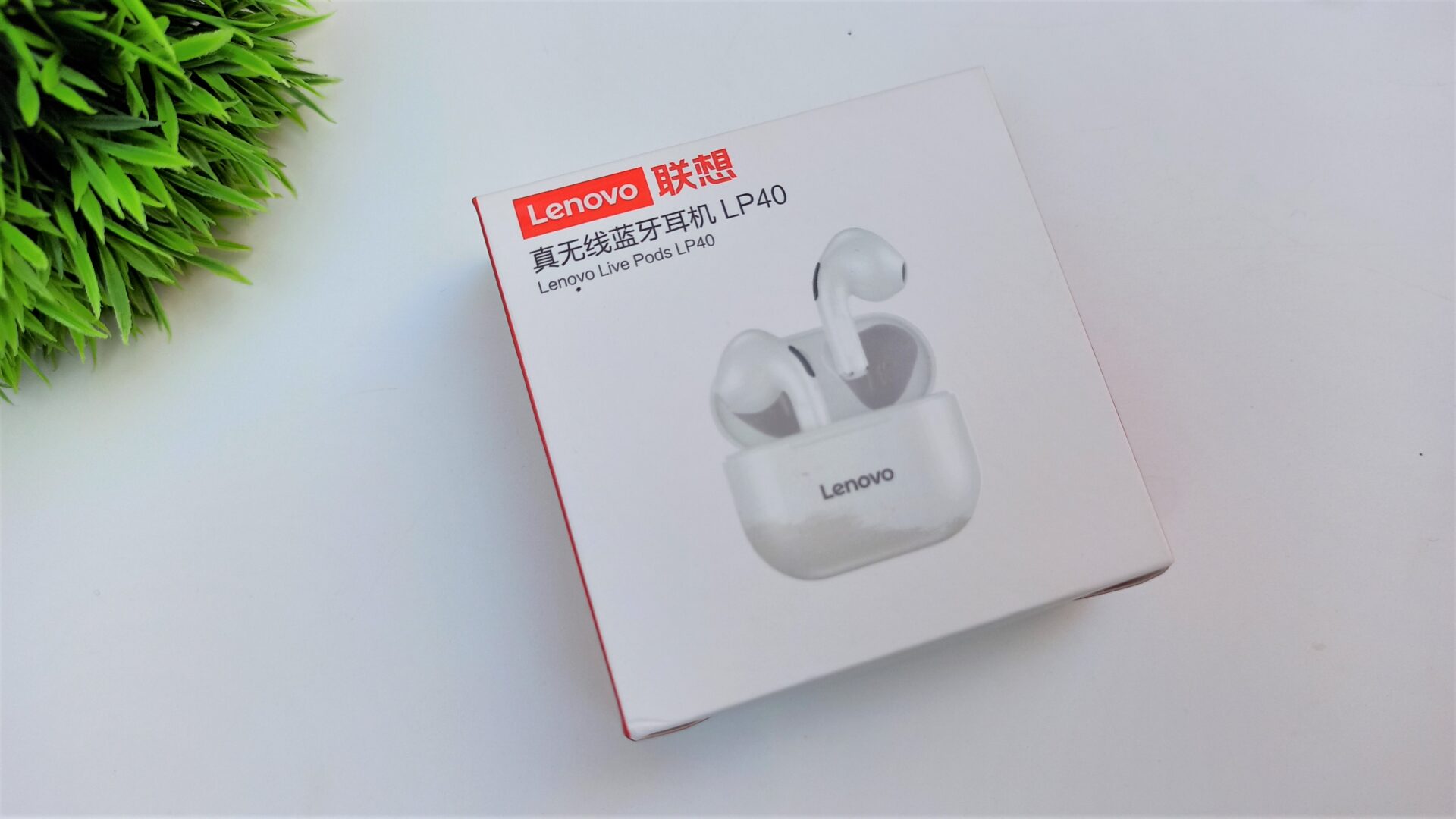 What's in the Box?
Lenovo LP40 Earphone
Charging Case
Charging Cable
Manual
Lenovo LP40 specifications
Color
Black, White
Wearing Type
Half-in-ear
Material
ABS+PC
Microphone
Yes
Bluetooth Version
V5.1
Decodings
AAC and SBC
Supported Profiles
HSP/HFP/A2DP/AVRCP
Transmission Distance
33 feet (10m)
Frequency Response
20-20kHz
Battery Capacity
Earbud: 35mAh*2
Charging Box: 230mAh
Charging Time (h)
1h
Music Time
3h
Waterproof
IP54
Charging Port
Type-C