Lenovo is known for good wireless headsets for affordable prices, they have released so many models previously that got a lot of attention from customers, and that have proven their worth and built them a good reputation for being the best bang for their buck when it comes to wireless headphones, and today we will check yet another one of them, it is called the Lenovo Thinkplus X3 pro bone conduction.
These earphones, made specifically for sports, it has a flexible body and cool design, volume and playback control, it has a huge battery that lasts over 7 hours of usage, and decent audio quality, for practicing sports more freely, they have equipped its IP56 water and dust proof rating, top all of that with a Bluetooth 5.3 seamless and stable connectivity with most smartphones, all of this for a little less than 22$, in this review, we will talk about its features in more detail.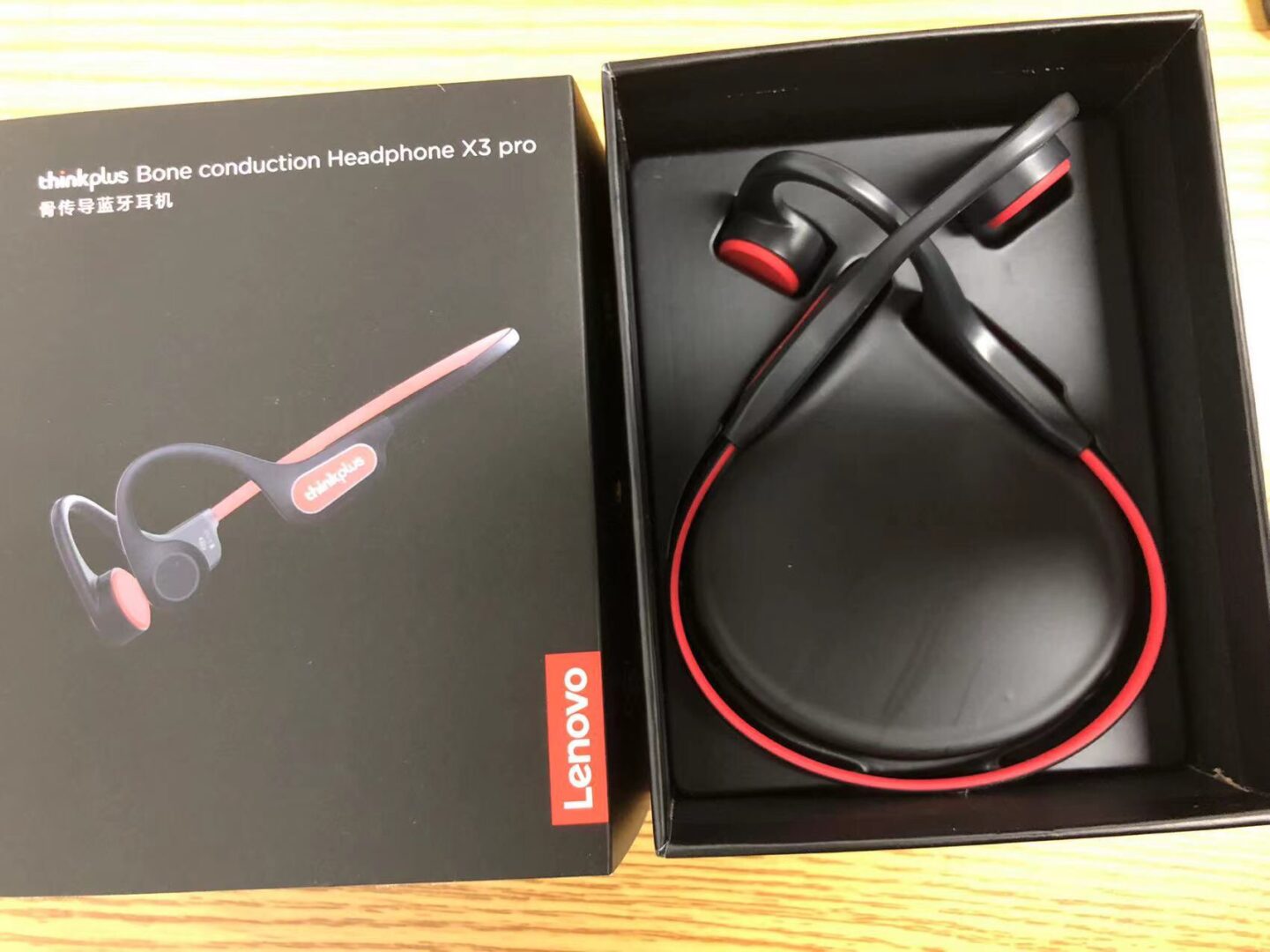 Lenovo Thinkplus X3 Pro Features
Innovative Design & Comfortable Fit
16mm Drivers For High Audio Quality
Bluetooth 5.3 chip
IP56 Water & Dustproof
7h Battery Life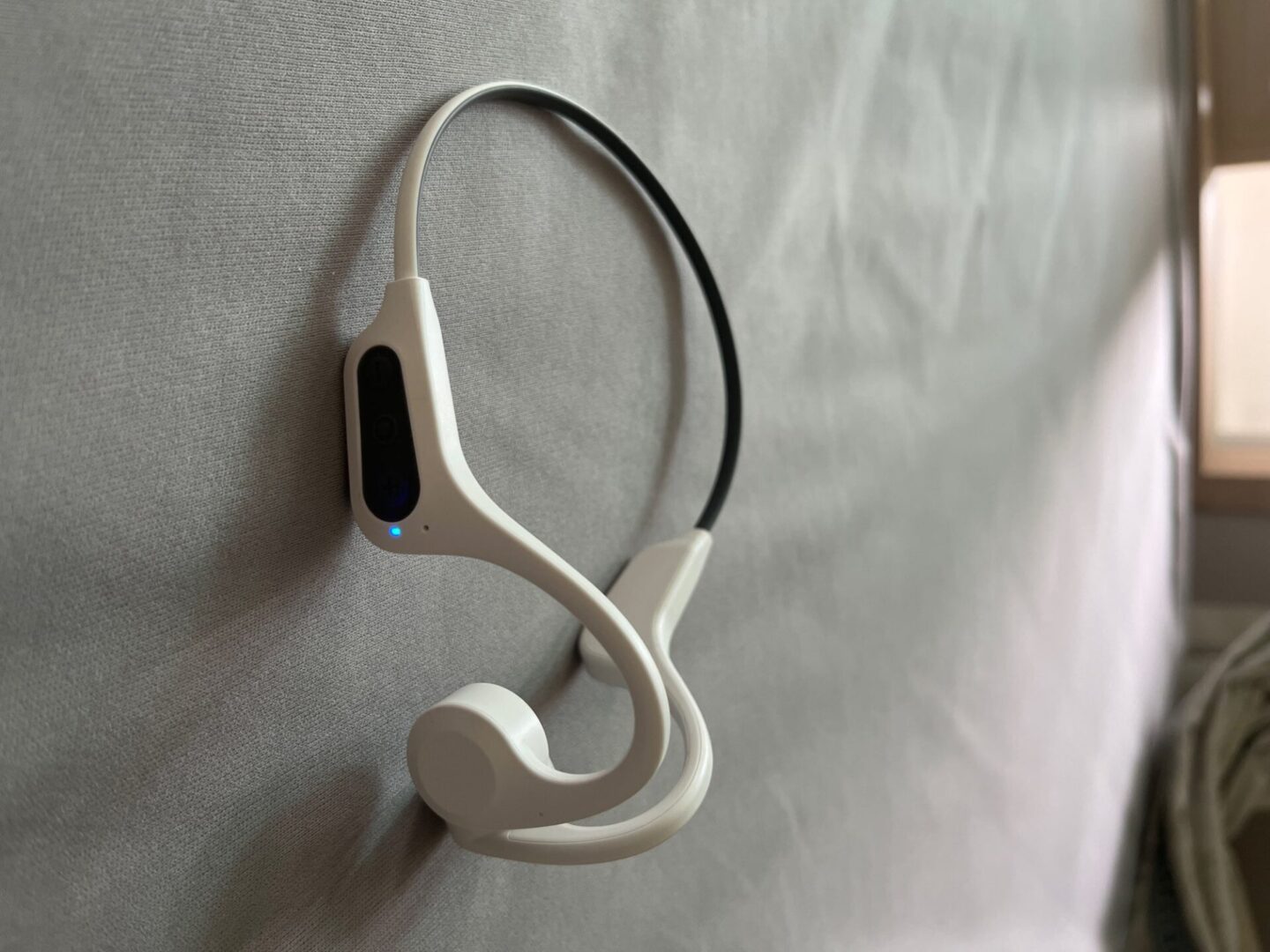 Design And Build Quality
The design of the Lenovo Thinkplus X3 pro is pretty neat, it is fully made out of plastic with a matt finish and weighs roughly 28grams, it comes in two color options, one in black and red, the second in white and gray, and both options look elegant and stylish, it has got a flexible U shape body that goes around your neck with a hook that goes over your ear on each side and a circular plastic piece that sticks near the ear canal to send the vibrations through your bone right to your eardrums, the advantage of the flexibility is that you can put it on and take it off with utter ease in contrast to other models that have a rigid body. On one side we find the Thinkplus logo but that compartment probably houses the chip that runs this whole thing, and on the other side we find the three-volume and playback/power buttons along with the micro USB charging port and fortunately, an LED dot that lights indicating charging and connectivity.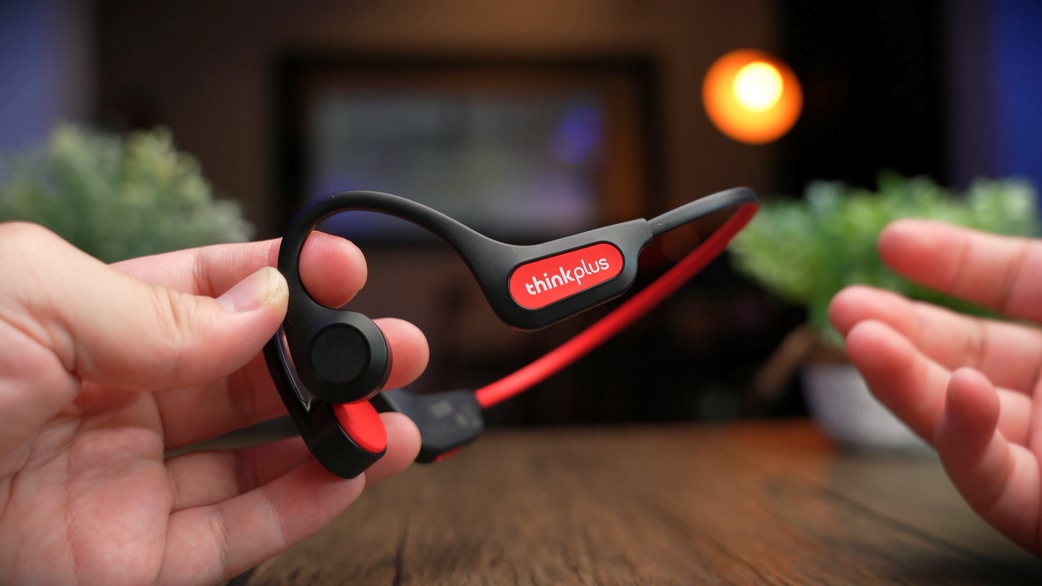 The earphones' wear is comfortable, the hook is made just right so it doesn't hurt your ear, and since there is no part that penetrates your ear, it is safe from any damage or hearing loss, you can wear these for extended sessions of workout, content consumption or conferencing for example, but they will not have any negative effect on your head and ears and that's the advantage of bone conduction over in-ear headphones, it is also beneficial for students and office workers, this design allows you to hear people around you and have conversations with them without pausing the music or the podcast, something you can't do with earbuds since they block most external noise and prioritize the sound coming from the nozzles.
Overall, the build quality is good, I love the aesthetics and the practicality of the design, especially its flexibility and lightweight so it doesn't hurt the neck or cause discomfort.
Control Panel of the Thinkplus X3 Pro
Unfortunately, we don't get a touch control panel with the Lenovo X3 Pro as we do on other earphones, what we get instead is a 3 buttons control panel located on the right side, the three buttons are; the two volume keys with the power/play/pause button in between, the buttons are made of rubber plastic and feel nice to the touch, the good thing about buttons is that it is very hard to misclick, so the accuracy will increase whether you want to increase the volume or skip the current song. Or pause the whole thing even when you are moving.
The control operations are as follows:
Press and hold the power button to power on/off.
Press the power button once to play/stop/accept an incoming call.
Press the volume up button to raise the volume
Press the volume down button to reduce the volume
Press the + volume button twice to skip a track
Press the – volume button twice to play the previous track
X3 Pro IP56 Water & Dustproof
Fortunately for us, the Lenovo X3 earphones are IP56 Dust and waterproof certified, they can withstand strong water jets from all directions and resist dust particles, this is extremely beneficial to practicing sports under any weather conditions and in harsh places such as mountains and forests without worrying about damaging them, you can now go on that hike or mountain climb or jog under the rain with the Lenovo X3 pro on your ears to your favorite tracks and the earphones will be just fine.
It is worth mentioning that the IP56 rating doesn't mean that the device can be submerged under water, it can't, we strongly advise you to keep your earphones away from the sea and hot water because that will damage your device irreversibly.
How To Pair Lenovo X3 Pro with Smartphone
The pairing of the Thinkplus X3 pro bone conduction earphones is fairly easy, they are equipped with a Bluetooth 5.3 chip that establishes fast and stable connectivity with most Bluetooth-enabled devices and virtually any operating system such as Android, IOS, or windows, to pair the earphones you will have to follow these simple steps:
Click on the power button till they turn on and the LED lights, they are now in pairing mode
Turn on Bluetooth on your smartphone and put it in discovery mode
Look for Lenovo Thinkplus X3 pro and pair
After completing these few steps, you may start enjoying listening to whatever you please, this process is only required once, next time, the connection is going to be automatic you just have to the earphones on and turn Bluetooth on your smartphone, and the connectivity is seamless and painless, which is one of the best advantages you get with Bluetooth 5.3, no lags or cuts just continuous connectivity.
Lenovo Thinkplus X3 pro – Audio Quality
The Lenovo X3 pro bone conduction earphones design doesn't allow it to have sound quality as good as earphones, even though it has a 16mm driver unit with a wide frequency range from 20 Hz to 20k Hz and an 86db sensitivity, but it doesn't have the regular nozzles that go inside your ear and the ear tips that seal it from outside noise, the rounded plastic piece that sticks right before your ear transmits the audio through the bone, this design is amazing for your ear's health, you may never hurt your ears even at very high volume, your eardrums will always be safe and you can use them for as long as they can last.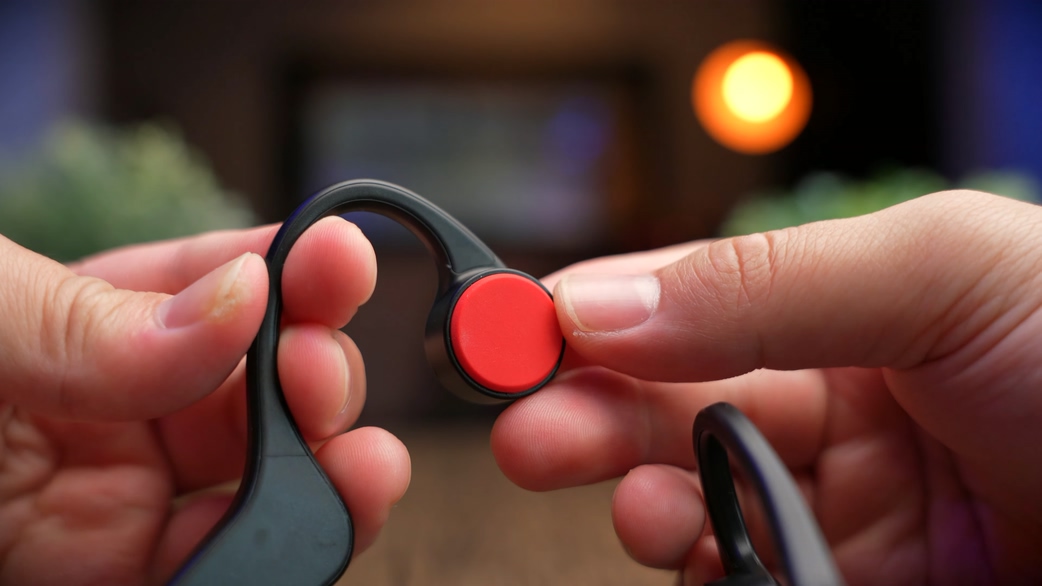 Now to the sound itself, the audio quality is inferior to regular wireless earphones, they are not loud even at the highest volume and they don't have that punchy bass, additionally, at higher volumes, they start tickling a little bit and leak audio which can be a problem for some people, especially in public transportation, so all in all, these are not designed for music, you might be able to listen to music with them just fine but don't expect them to sound like your regular earphones. On the other hand, I believe these to be great for podcasts and for watching videos, they sound really good and you can watch a 3 hours movie and you will have a beautifully immersive experience with no downsides.
Even though the music is not great, it is only fair that I give my view on the sound and what to expect, so the bass is flat, these earphones can't produce or conduct good punchy bass, the highs are sharp and painful, not enjoyable at all, and the only good thing about this is the mids, the vocals are decent but that's it, you can check the Lenovo XT88 if you want a nice sound signature.
Microphone Quality
Speaking of the microphone and Bluetooth calling, the Lenovo X3 pro is equipped with a microphone that an acceptable quality, nothing special, just like most other earphones of the 20$ price point, it works very well in a quiet environment, and you can easily pass calls and receive them with no issues especially with the control buttons that allow you to accept, decline or accept a call right from the headphones without the need to pull your phone out of your pockets which is extremely convenient, especially during jogs, the recipient will hear you loud and clear, but there is still the fishbowl sound effect, and even in a little complex environment with background noise, the microphone still captures your sound, even though it is a little hard to understand and you will have to repeat yourself but the quality is still acceptable.
The problem is in complex environments such as crowded streets, buses, and stores, in places like these where there is a ton of background noise, it is practically impossible to use the Lenovo X3 pro to pass calls, so is the case for almost all similar devices, and even in pricier options, there are some exceptions like The QCY T20 that has a great microphone with ENC technology.
Latency and gaming of the Lenovo X3 Pro
Even though it isn't marketed as a gaming headset, the Lenovo X3 pro's latency is still very low under 100ms, during the gaming test I was able to notice a tiny bit of delay between the shot and the sound of it in PUBG mobile, but overall it is minor and it won't interfere with your gaming experience and it will be enjoyable for most users, it is worth to note that wireless headphones have high latency in comparison with wired headphones, so if you want to get an advantage over your competitors, you might want to check some wired headphones.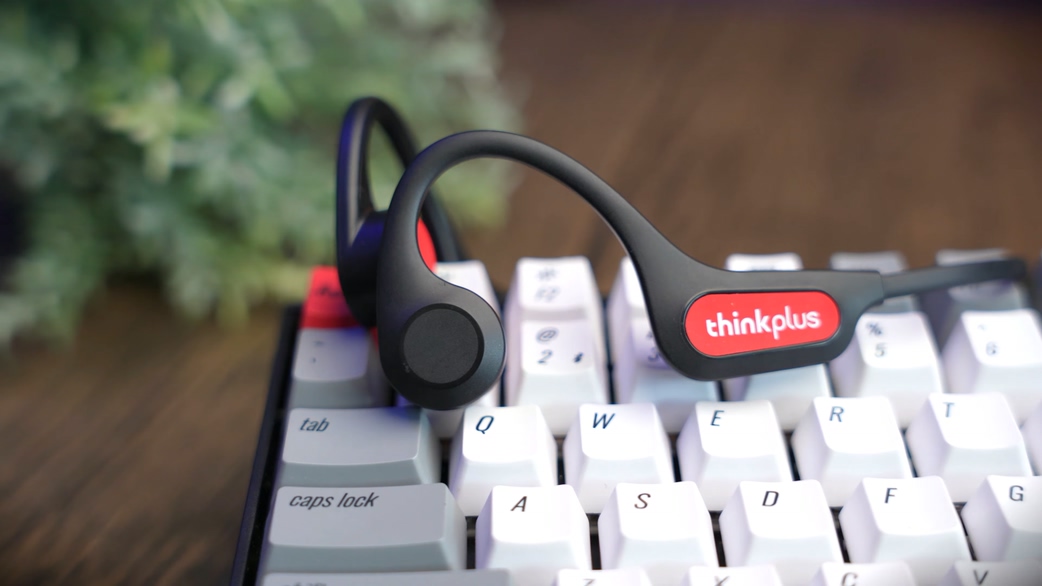 For media consumption, there was no lag or delay between the audio and the video, the lip-synching is on point and the experience is just right to enjoy a Youtube video or a show on Netflix without issues videos,
Battery And Charging of the Lenovo X3 Pro
The battery of the Lenovo X3 pro is huge in comparison to the size of the device itself, unfortunately, we don't get a charging case like usual so we are left only with how to juice the earphones themselves can offer, but it's not that bad, since they are equipped with 140mah battery that offers around 7 hours of continuous usage, at 70% of volume, and even more at medium level, for charging, theses earphones charge through their micro USB port found on the left side underneath the control buttons and it takes it about 2 hours to fully charge since it has no support for fast charge, the charging cable comes included inside the box and it is preferable to plug it in a 5watts source to preserve the life span of the battery and the headphones.
It is really a shame that Lenovo chose to implement micro USB instead of USB C, even though most of their other devices and even the cheap ones have USB C, micro USB is of the past and we need to see more companies ditch it for the USB C since it is just overall better and it would contributor to reducing environmental impact by allowing people to have one charging cable for all their devices.
ThinkPlus X3 Pro variants
Along with the X3 Pro, Lenovo also has other options that have mainly the same features as this one but have little tweaks for different purposes, I will site all of them down here with their properties so you can have a better idea:
Lenovo X3: this one is not True bone conduction, it is regular air conduction, it has Bluetooth 5.0, about 8 hours of playtime, and IPX5 water resistance, it is even cheaper and costs only 16$ but the sound quality is terrible.
Lenovo X4: no bone conduction but air conduction, has better sound quality, IP56 water and dustproof, 150mah battery offering 8 hours of playtime.
Lenovo X5: this one is true bone conduction and is IPX8 certified so you can swim wearing it, it has Bluetooth 5.2 and lasts about 6 hours of playtime, and has a better sound quality than the X3 Pro.
These devices are made to fit multiple categories of people, some want them cheap, some want to use them for swimming, and some just want the decent sound quality to enjoy music, whichever one you are, I think that all the versions are great except for the X3 because the sound quality is very low and the build is cheap.
Final Verdict
In my opinion, the Lenovo X3 earphones are great True bone conduction headphones, they stick very well, they don't hurt your ear and they last a long time on a single charge, they have controls, connect with any modern Bluetooth-enabled smartphone smoothly with no issues and can even pass calls for a very affordable price, it has been selling really good which means people love it and find it useful, and for the people who practice sports, it is the go-to cheap bone conduction for them, only thing is I wish it had dedicated mp3 player with an SD card so it can operate independently, but other than that, I am a fan so I definitely recommend it.
Where to buy Lenovo Thinkplus X3 Pro
If you liked this product, it is available on AliExpress Store for a discount, check it out, and don't miss out on this amazing sports headphone.
Package Content
Bone Conduction Headphone
User Manual (English/Chinese)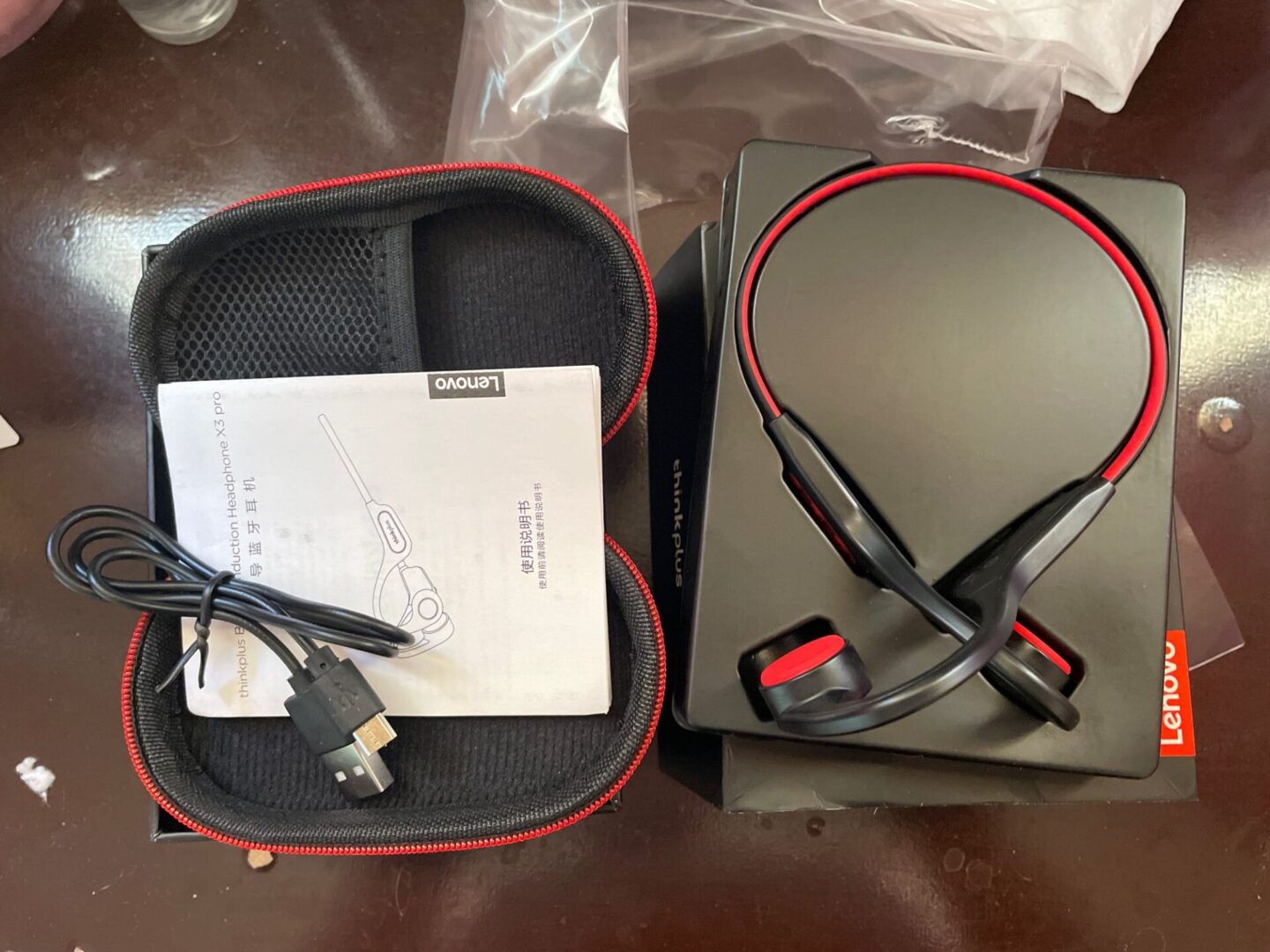 Specifications of Lenovo Thinkplus X3 pro
Wireless connection: Bluetooth 5.3
Charging interface: Micro USB
Communication distance:10 meters (barrier-free open environment)
Single playtime: About 7 hours
Battery capacity:140mAh
Charging time: About 2 hour