Kospet surprise us again by launching new sporty smartwatch Kospet Magic 2 with a budget price and many sports features and stylish design, It is the perfect watch for sporting activities with 30 Sports Modes to help you track your fitness and health in a practical way, And this watch competes for many watches in the same category and beats them such KOSPET Probe and TICWRIS GTS so, If you want to know more, then read on for the Kospet Magic 2 Review and take a look at how it performs.
Design:
Kospet Magic 2 smartwatch has a new design classy and sporty looking appropriate for man and woman, with a round shape dial design, and has a physical button on the side for operations. The body is made with metal with acceptable manufacture quality, and a maximum weight of 60 grams for this why it is light on the wrist and you will not suffer from wearing it for a long time.
The strap of Kospet Magic 2 smartwatch comes with a simple design made of silicone size 22mm and with two-color, black with orange, or green, Suitable for occasions and sports, and makes the watch comfortable on your wrist and suitable for long-term wear without itching or sweat.
The watch is indeed resistant for water and dust with protection IP67, therefore, You can put it while in the shower or in the pool and you can wear it when you washing hands or on rainy days. I do not recommend using it for swimming because it does not bear pressure and saltwater can damage it.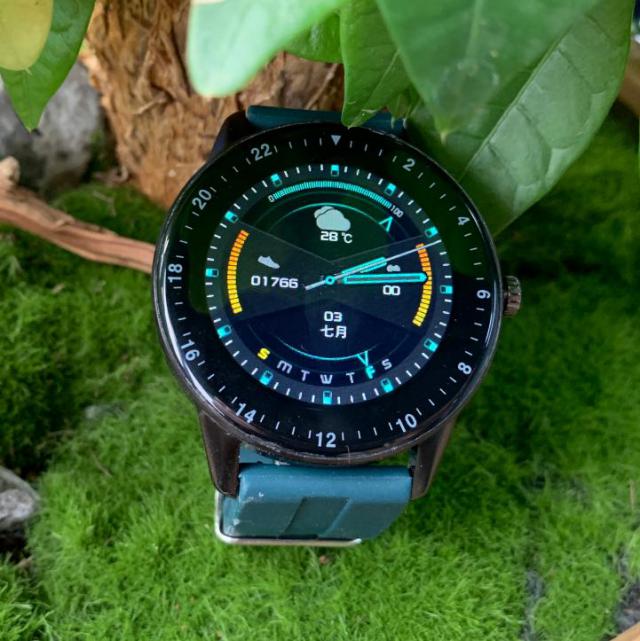 Display:
Kospet Magic 2 features a 1.3 inch circular TFT full touch screen with a resolution 360 x 360 pixels, protected with a 2.5D curved glass screen to give you a high resolution in vivid colors, As for under the sun the picture quality or colors is not the best thing but it works, and because it contains 12 watch faces to choose from, you will never tire of wearing it.
Under the Hood:
The Magic 2 smartwatch It comes with 128KB RAM and 512 KB + 128MB ROM, It seems with bad specifications, but in reality, for a smartwatch at a cheap price, it does not carry a special system such as Android and iOS. These specifications are sufficient to give you a smooth transition between menus and functions. In addition to this, it is equipped with sensors that operate on a Heart rate monitor Blood Pressure, etc..
Health And Fitness:
The Magic 2 smartwatch equipped with 30 sports modes, has sport monitoring for running, walking, outdoor cycling, treadmill, mountaineering, trail running, indoor cycling, elliptical machine, dumbbells, skiing, open water, triathlon, aerobics, Jump rope, badminton, bowling, stair sports, walking machines, shuttlecocks, step machines, spinning, football, basketball, table tennis. and much more. Also the Pilates, Yoga, billiards, hula hoop, Certainly, this watch is equipped with all sports that you will don't think of and that you will only find here.
We are now coming to the health features of this watch, the Kospet Magic 2 smartwatch equipped with many sensors responsible to monitor heart rate and distance tracking, blood pressure monitoring. And blood oxygen monitoring and calorie and sleep monitoring, And all of this to be a close and comprehensive view of your health and to follow it and work to improve your sports level and maintain your health.
How Connectivity With Kospet Magic 2:
The watch has an old version of Bluetooth 4.0 for connectivity with your smartphone, It may not be as efficient as Bluetooth 5.0 in saving battery, data transmission quality, and speed, but it works well and is compatible with Android 4.4 or IOS 9 (or higher). And the data exchange between smartphone and smartwatch takes place via the WearFit app which can be sent notifications from the smartphone to the Kospet Smartwatch and display it like social networks and alerts of missed calls.
And through the application, also you can monitor the physical activity and your health condition such as the Blood Oxygen, Blood Pressure, Heart rate monitor, Pedometer, Sleep monitor and through the analyzes that your smartwatch performs and the data that are collected, you can create a program to improve the results of your training and maintain your health.
About the notification, the Kospet Magic 2 supports social app notifications such as Facebook, Instagram, Kaokao Talk, QQ, Skype, Twitter, Wechat, Weibo, WhatsApp, In addition to the presence of notifications for calls and messages, all of this is optional so that you can turn it off and change its ringtone to know the type of notification that you received without looking at the smartwatch.
The Battery of Kospet Magic 2:
For the battery life, the Kospet Magic 2 comes with a 200 mAh battery capacity take between 1 to 2 hours for a full charge, gives you between 5 to 7 days of battery life in normal usage with using the sensor of monitoring and 30 days of standby time without using the sensor of monitoring.
Kospet Magic 2 Price And Availability:
The Kospet Magic 2 is currently available on the Gearbest store for just $24.99 and on AliExpress for $29.99. This is a very good price So, don't miss out on this great deal. And to view its price or buy it, you can access the offer by clicking on the store icon.
And I will be grateful to you if I purchase through this link because the company will give me a commission on that, and this helps me to bring more devices for review and development from the site and improve the quality of the reviews and thank you in advance.
Kospet Magic 2 Smartwatch
2 x Watch Band
Charging Cable
English User Manual
Warranty Card
2 x Protective Film
Kospet Magic 2 Specification
General
Brand: Kospet
Model Number: Magic 2
RAM: 128KB
ROM: 512KB+128M
Screen: TFT
Bluetooth Version: Bluetooth 4.0
Screen resolution: 360 x 360
Screen size: 1.3 inch
Waterproof / Water-Resistant: Yes
IP rating: IP67 (only support daily life waterproof )
Functions
Alert type: Vibration
Health tracker: Blood Oxygen, Blood Pressure, Heart rate monitor, Pedometer, Sedentary reminder, Sleep monitor
Messaging: Message reminder
Notification: Yes
Other Function: Alarm, Bluetooth, Stopwatch, Waterproof
Notification type: Facebook, Instagram, Kaokao Talk, QQ, Skype, Twitter, Wechat, Weibo, WhatsApp
Compatible System Version: IOS9.0 and above,Android 4.4 and above
Battery
Battery Capacity: 200mAh
Standby time: 30 days
Charging time: 1 – 2 hours
Battery life: 5 – 7 days
Dial and Band
Band material: TPU
Case material: Alloy, Glass
The shape of the dial: Round
Dial size: 5.5 * 4.5 * 0.8cm
Band size: 150MM-220MM
Language
Language: Arabic, Dutch, English, French, German, Italian, Japanese, Korean, Polish, Russian, Simplified Chinese, Spanish, Traditional Chinese, Ukrainian
Dimensions and Weight
Product weight: 60g