BlitzWolf BW-HL1 Pro The new and improved version of the BW-HL1 smartwatch, in this upgrade BlitzWolf did a good job of improving this legendary smartwatch in terms of the bigger screen that works full-touch and the interior design of the menus and even the external appearance that has become similar to Apple Watch, In addition to providing it with Bluetooth 5.0v and a larger battery than the previous version And the most important thing at a budget price. If you want to know more, then read on the BW-HL1 Pro Review, We'll provide you with an in-depth analysis of the product.
Features of BlitzWolf BW-HL1 Pro
54 inch Full-touch Big Screen + Convenient Button Operation
260mAh Big Battery, Standby Time for about 30days
Alternative Dual Meals: Smart Style + List Style
Multiple Watch Wallpaper on the App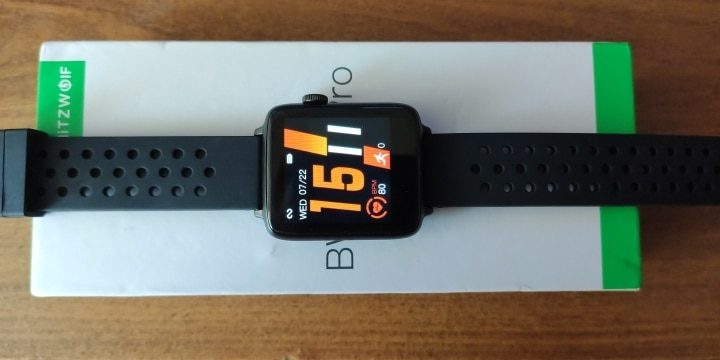 Design:
In terms of design BlitzWolf BW-HL1 Pro is really similar to the Apple Watch from where the body, screen, strap, and even the button and I think is a good thing, and it is equipped with a large rectangular screen with curves on the sides, it appears that the body is made of metal and with high manufacturing quality, and it also has a physical button on the right side to move between the menus, The dimensions of the watch are very appropriate in a size of 43.5 * 37 * 9.8mm and lightweight of about 55g so that you do not feel this smartwatch in your hand.
As for the strap, it is made of high-quality silicone with a universal size of 20 mm and with a length of 210 mm, so it is comfortable and soft on the wrist to wear for long periods with vent holes in the center of the strap-like the ones we find in the Apple Watch and this to avoid sweating, and the removable strap is changed by unique secure lock design, so you can change the strap in any color you want in addition to that it comes with three main colors black, gray and pink.
The back of the BW-HL1 Pro made of plastic and we find the heart rate sensor and 2 pins for the magnetic charger, Both are completely waterproof so don't worry about that.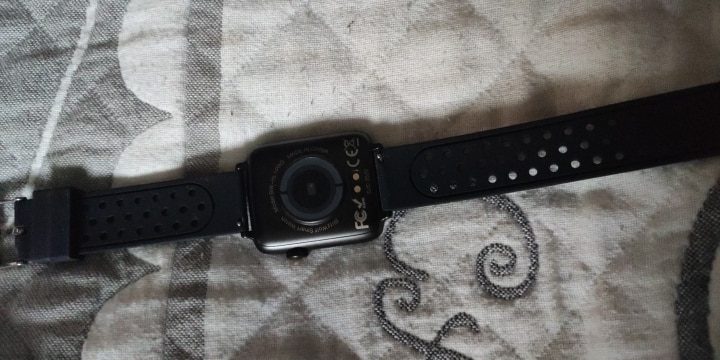 Waterproof:
With IP68 waterproof standard, you can swim, or shower with the BlitzWolf BW-HL1 Pro without any concern. even in there is rain, This smartwatch is perfectly able to handle some water for swimming with max depth 1m, for Time Limit 30min, Also does not support diving in the sea or bathing in hot water, Just make sure to clean it with fresh water after being in contact with salt water (sea or sweat). This way you clean it and prevent it from damage.
To explore other options, read about the BlitzWolf BW-HL3.
Display:
The display in this watch is very impressive, it comes with a color IPS screen and larger than usual with a size 1.54 " and a resolution of 240 x 240 pixels, the sharpness of colors is good and brightness is suitable with the possibility of changing it between 6 levels, all this to give you great picture quality and makes the watch more elegant with watch faces, And the information can be seen on the screen under the sun somewhat, and it is equipped with 2.5D Curved Glass which gives it a great feel on the sides, unlike the previous version BW-HL1, which was a smaller screen and works by the point touch, but the BlitzWolf BW-HL1 Pro has a full touch screen in addition to the point touch.
Not only that, but it is also equipped with more watch face wallpapers, which you can download and synchronize more than 20 faces in the App.
The Menus:
The menus in this watch come with dual style to choose between them, and this is what was not in the old version BW-HL1 which comes in one style it's ordinary. The first style on this smartwatch is the smart menu whose icons are in the form of a bubble similar to the list of well-known Apple Watch, and this you will like it, especially that the navigate Between menus and functions are smooth and fast without the bug, and the second style is the regular menu" the List".
Connectivity:
In terms of connectivity, the watch includes a new version of Bluetooth 5.0 more stable and is compatible with Android 4.4 or above and iOS 8.0 or above. You can easily connect the smartphone via Bluetooth with a range of about 10 meters and get all the information right on your smartwatch. We are also able to reject calls or reply to messages. You get all notifications right on your home screen with little vibration. Once connected, you can take remote pictures from the watch, or play/pause, rewind or forward songs on your phone.
FitCloundPro App:
First, To ensure an ideal connection between your smartwatch and your phone we need to download and install the app FitCloundPro available on Google Play Store and Apple Store or by scanning the QR code provided in the user manual the app supported System ios 8.0 or above and Android 4.4. or above And It has a pretty basic UI. help you to keep a track record of your daily workouts.
Whenever starting it you need of course to pair the BlitzWolf BW-HL1 Pro what will take only a handful of seconds. And you can change settings of the watch like your profile and you can view/edit your personal info that you'd previously entered. Similarly, you can also view/edit your goal for the number of steps to be taken on a day.
Also, You can use the app to synchronize the watch language with your phone through Bluetooth.
Notifications:
The notification reminder on the BW-HL1 Pro is something to appreciate. You can get notifications for calls, messages, and a handful of social networking apps like Facebook, Twitter, Whatsapp, Skype, Instagram, and SMS in 10 different languages. If you miss a call or message, you'll be reminded by vibrations on your wrist. You can also receive notifications from other apps of your phone directly in the smartwatch and all this by activating it in the application.
Health and Fitness on BlitzWolf BW-HL1 Pro:
The BlitzWolf BW-HL1 Pro It is a smartwatch rich in health and fitness features, you can track a lot of some of the things that can help you maintain both your health and physical fitness on 24-hour. You are able to track multiple activities and health regular monitoring like measure your heart rate, blood pressure, and Blood Oxygen Monitor, Sleep Monitor. But you need to know that the results provided by this watch are not accurate and do not compare with medical equipment and its function is to give you results and an idea close to your health and physical condition through which you can take the appropriate procedures.
Activities:
The "Training" mode allows you to track your performance under 8 different sports, which includes walking, running, cycling, skipping, badminton, basketball, football, and swimming. Not many, but it is the most widespread sports. BW-HL1 Pro also includes automatic step tracking, distance, and calorie counter.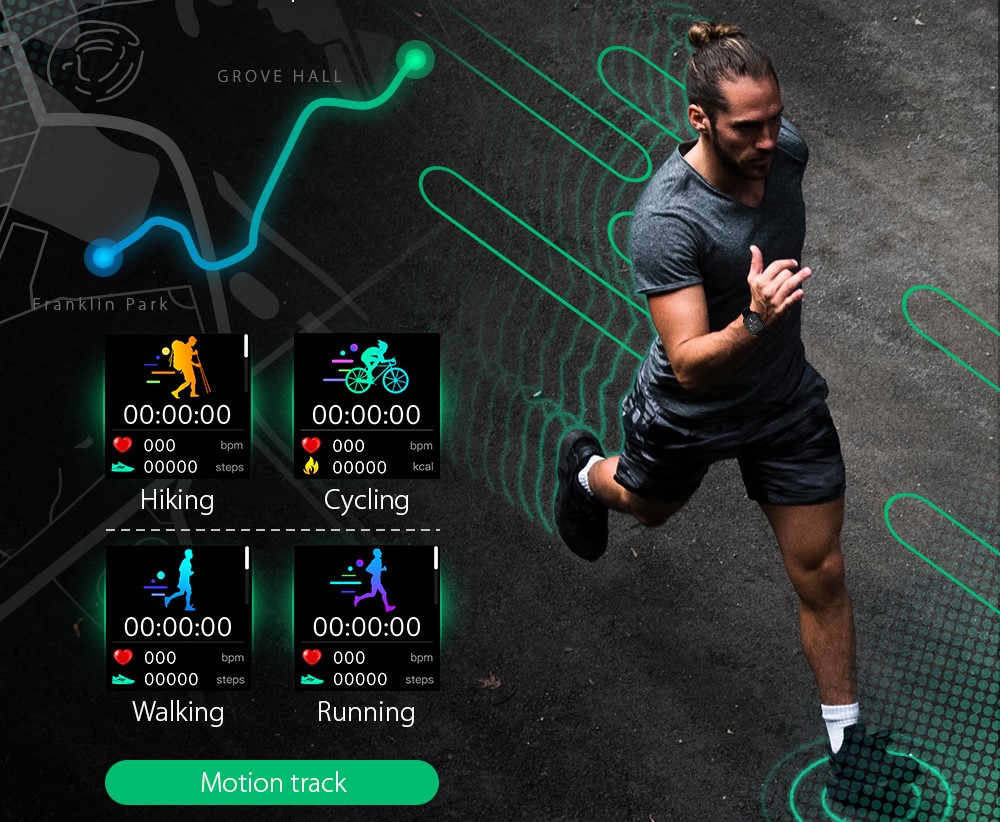 Battery Life of BlitzWolf BW-HL1 Pro:
The BW-HL1 Pro smartwatch is equipped with a 260 mAh battery, can give you up to 20 days standby And this is without the use of sensors or sports modes and 7 to 10 days of working time.
For Charging, Clamp the two pins on the back of the watch and connect a USB charger. It took us about 2 hours for a complete charge with a magnetic charger.
BlitzWolf BW-HL1 Pro Price And Availability:
The BlitzWolf BW-HL1 Pro is currently available on the Banggood store for $35.99 and on AliExprees for just $29.90. This is a very good price, Especially with this upgrade, similar Apple watch design in terms of exterior shape and menus, longer battery life, bigger display screen, and many sporting and health features It's all you need and for a budget price. So, don't miss out on this great deal. And to view its price or buy it, you can access the offer by clicking on the store icon.
And I will be grateful to you if I purchase through this link because the company will give me a commission on that and this helps me to bring more devices for review and development from the site and improve the quality of the reviews and thank you in advance.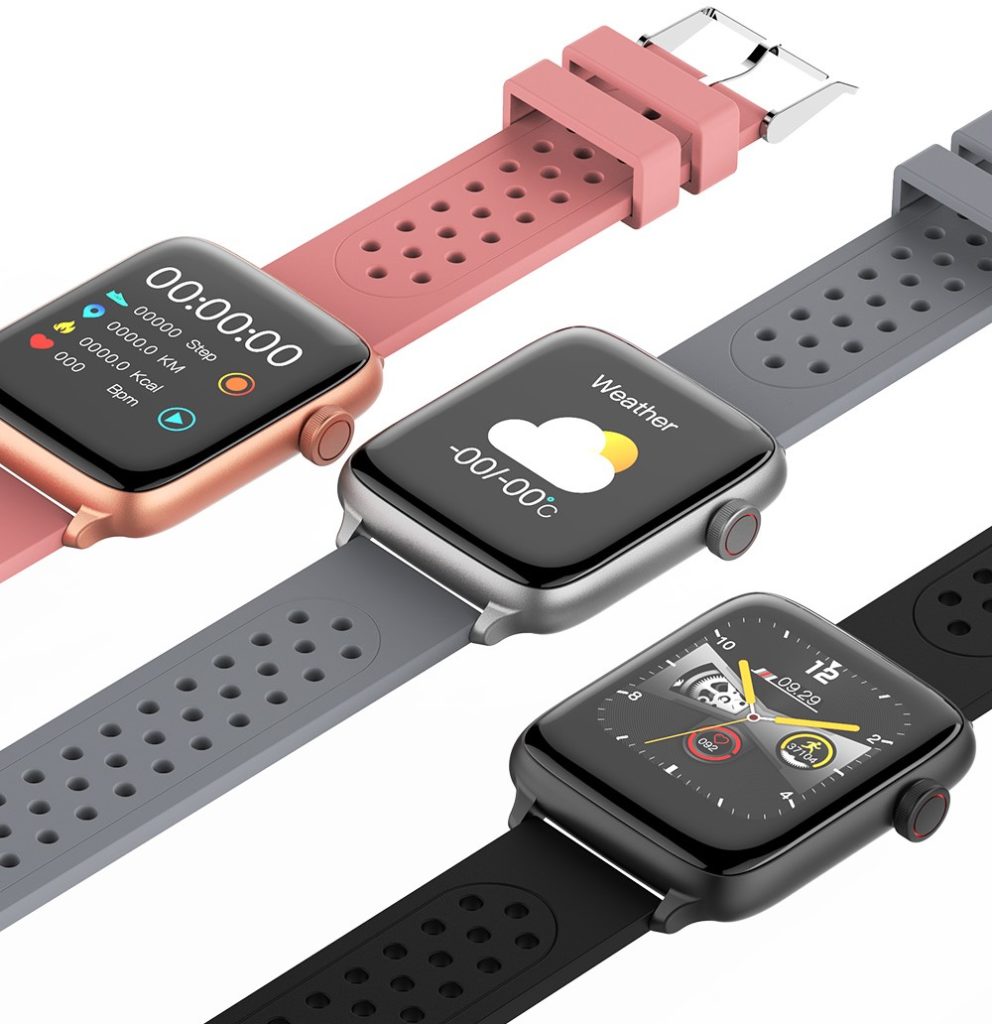 BlitzWolf BW-HL1Pro SmartWatch
Charging Cable
User Manual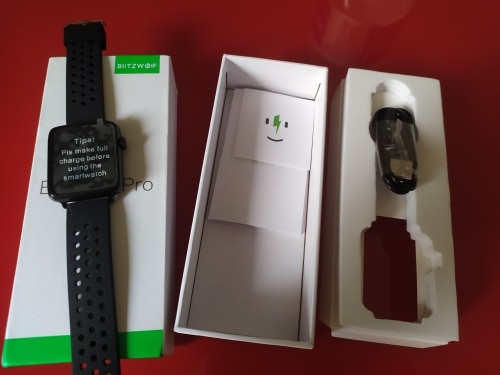 Specification of BlitzWolf BW-HL1 Pro
Model
BW-HL1 Pro
Color
Black, Silver, Pink
Bluetooth Version
BT 5.0
Compatible OS
Android 4.4 or above , iOS 8.0 or above
Operating Mode
Full Touch Screen + Press Button
APP Name
FitCloundPro
App Language
Russian, Indonesian, German, Italian, Czech, Japanese, French, Simplified Chinese,  Traditional Chinese, English, Portuguese, Spanish, Arabic, Korean
Watch Language
Chinese, English, German, Russian, Spanish, Portuguese, French, Japanese, Italian, Polish
Push Language
Support more than 50 languages.
Waterproof
IP68 Deep Waterproof
Sensor
G-sensor, Heart Rate Sensor
Screen
Size: 1.54 inch
Type: IPS
Resolution: 240*240pixels
Battery
Battery Capacity: 260mAh
Standby Time: about 20 days
Using time: about 7-10 days
Charging Time: about 2 hours
Charging Type: Magnetic charging
Band
Material: Silicone
Band Size: about 90+120 *20mm (support universal 20mm detachable strap) ( Ps: extended wrist strap, also suitable for large wrists )
Weight and Size
Product size: about 43.5*37*9.8mm
Product weight: about 55g
Enhanced Heart Rate Monitoring
Support, Set in the App
Health Regular Monitoring
Support, Set in the App, Support. BW-HL1Pro measures heart rate, blood pressure, and blood oxygen at regular intervals within a set period of time.
Heart Rate Monitor
Support
Blood Pressure Monitor
Support
Blood Oxygen Monitor
Support
Sleep Monitor
Support
Pedometer
Support
Stopwatch
Support
Alert Type
Vibration, Support to adjust the vibration intensity on the watch.
Alarm Clock
Support 5 groups, Set in the App
Brightness Control
Support
Music Control
Support
Multi-watch Faces
Support, Set in the App
Call or Message Reminder
Support
Call ID Display
Support
Reject Call
Support. Short press on the screen to reject a call.
Multi-sport Modes
Support
GPS Run Route Track
Support Outdoor Walking, Running, Mountains.
Notification
Support
Bright Screen Time Setting
Support
Can set 5s, 6s, 7s, 8s, 9s to automatically turn off the screen on the watch.
Find Phone, Find Bracelet
Support
Sedentary Reminder
Support, Set in the App
Drink Water Reminder
Support, Set in the App
Centimeter-Kilometer, Foot-Mile Setting
Support, Set in the App
KG, Pound Setting
Support, Set in the App
Switch between Celsius and Fahrenheit
Support, Set in the App
12 / 24 hours Time
Support, Set in the App
Firmware Upgrade
Support, Set in the App
Reset the Watch
Support, Set in the App