Zeblaze announced on latest smartwatch from the NEO series under the name Zeblaze NEO 3 which comes with a new style from the previous version Zeblaze NEO 2 and great features and the most important thing with a cheaper price to be one of the best budget watches, to know more about this smartwatch its pros and cons, stay with me in this review.
Design of Zeblaze Neo 3:
The Zeblaze Neo 3 smartwatch comes with a round dial shape with lightweight just a 44 and measuring 47.2 * 14.3 mm with classic and sporty premium design compatible with men and women, the body made with ABS and PC with a bezel made of stainless metal and has 3 buttons stainless steel on the side to control with good responsiveness without any problems.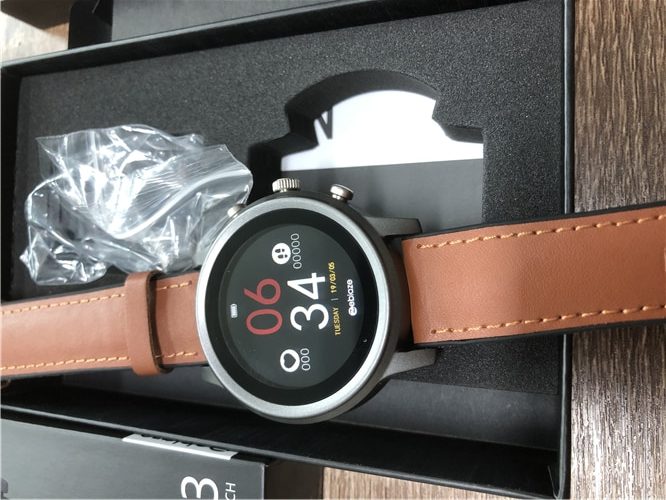 And the strap 22 mm made of Italian Vacchetta leather available in black and brown colors with resistance sweat-proof to help you feel comfortable for a long time. and it is removable and replaced with any other option according to your need.
The back panel made of high-quality steel and has a heart rate sensor, and 4 pins for magnetic connection to charging.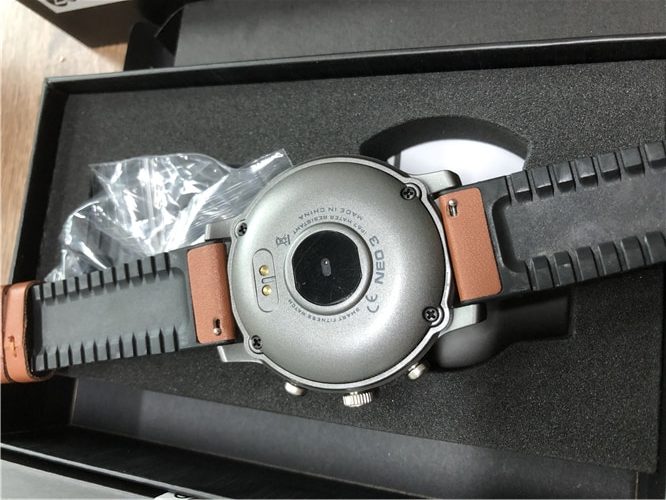 In fact, I find that Neo 3 is beautiful and the quality of manufacturing is OK, but the previous version was more modern and luxurious style, and with a Premier quality manufacturing and this is not a defect because this watch is much cheaper than NEO 2 and with the same specifications.
Waterproof:
Also, The Zeblaze Neo 3 smartwatch has an IP67 waterproof rating and dustproof, in which you can wear it on rainy days or when you washing hands, also on doing sports activities and you can wear it to swim, But it does not work underwater for a long time which can be submerged to a depth of maximum of 1 meter for 30 minutes because it is not suitable for diving.
Display:
Regarding the display, The Zeblaze Neo 3 smartwatch comes with a 1.3" inch round IPS screen with 240 x 240-pixel. It's a full touch screen with good sensitivity and full-color display with incredible color depth. In sunny weather, you can easily read information from the screen. The viewing angles are good and the contrast is at a good level, But unfortunately, it is not possible to download or change the face of the watch except those that are already integrated.
Under the Hood:
The Sensors loaded to the Zeblaze Neo 3 are Proximity sensor, Accelerometer, and heart rate sensors that work with an algorithm that records physical data in full and performs scientific analysis on them to enhance your exercise capacity. It also supports blood pressure monitor as well as and Sleep Tracking & Stages.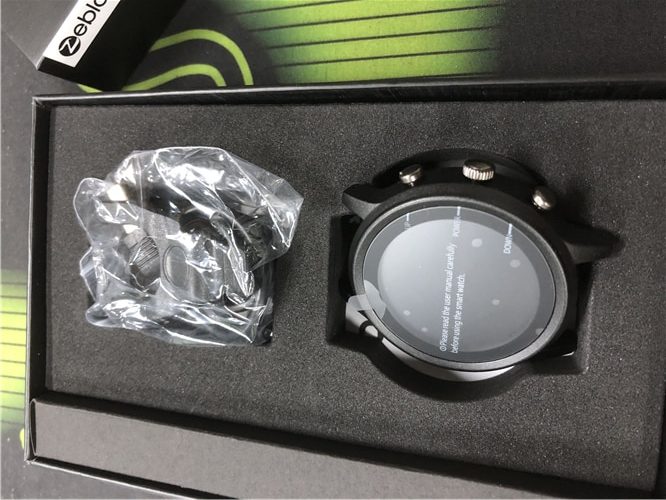 Happy Sports App:
The Zeblaze NEO 3 uses the Happy Sports app available on Google Play Store or Apple App Store, it is compatible with Android 4.4 and iOS 9.0 and above.
you can transfer all the data stored on your smartwatch to the mobile application by used Bluetooth 4 to keep up with your routine and meet your goals. And it will even let you know when you have incoming calls or messages by notifications and that is managed through this application.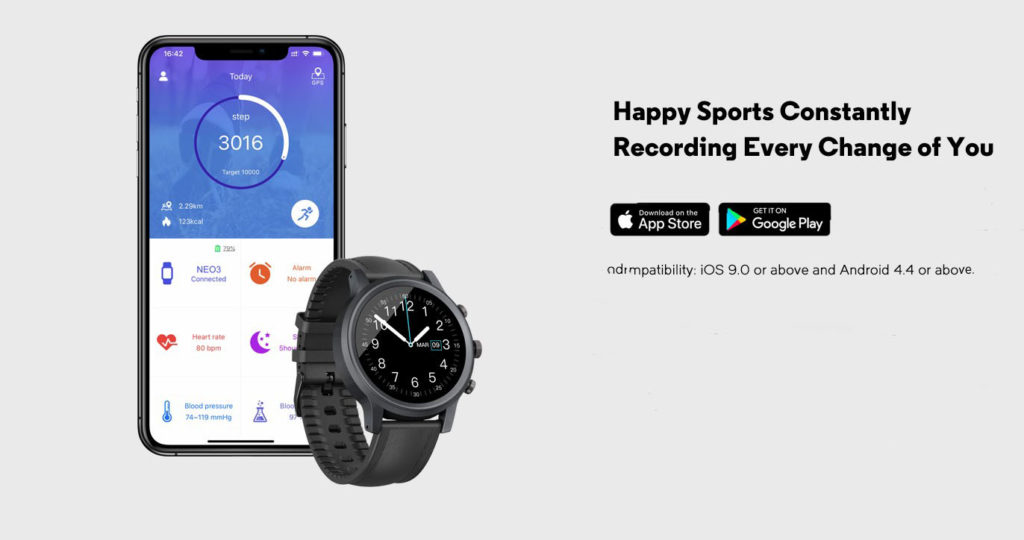 Health:
The Zeblaze Neo 3 smartwatch supports Exercise Tracking and Multi-sports like walking, hiking, running, cycling, football, volleyball, basketball as well as tennis. Also, Track activities such as Steps & Calories, and Real-time Pace & Distance with display your statistics to help you stay ready. As for the night, it is sufficient to place the watch on a wrist in order to monitor your sleep automatically and analyze your sleep pattern if it is light or heavy.
Note: GPS is only available when the watch is connected to the smartphone. That is, it is not possible to use GPS without the cell phone connected to it.
Functions:
Additional functions included call and SMS notifications, alarm, timer, anti-lost as well as sedentary alert. It also supports camera remote control, calendar, and with its message and social app notifications, you have the option to read messages right on the smartwatch.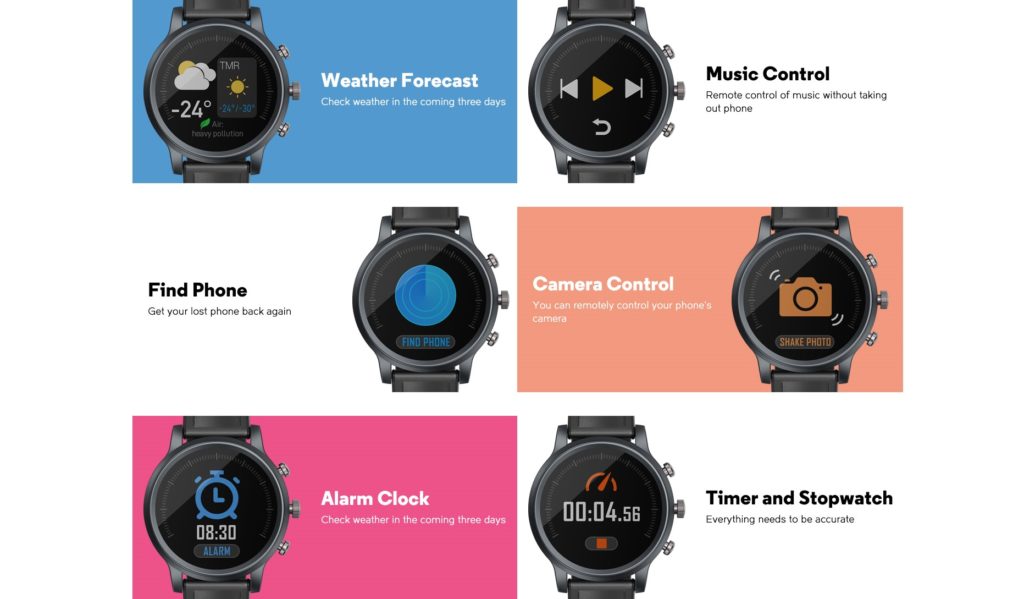 Battery of Zeblaze Neo 3:
We now move to the battery, The Zeblaze NEO 3 smartwatch has 180mAh lithium polymer battery with 5-7 days of battery life in just a single charge this is by using sports modes and sensors and about 15 days without using it for standby. The charging time through a magnetic charger will be about 1.5 to 2 hours.
Zeblaze NEO 3 Price And Availability:
The Zeblaze NEO 3 is currently available on Banggood Pre-orders for $19.99 to the first 300 pcs and Aliexpress for $29.99. This is a very good price So, don't miss out on this great deal. And to view its price or buy it, you can access the offer by clicking on the store icon.
And I will be grateful to you if I purchase through this link because the company will give me a commission on that and this helps me to bring more devices for review and development from the site and improve the quality of the reviews and thank you in advance.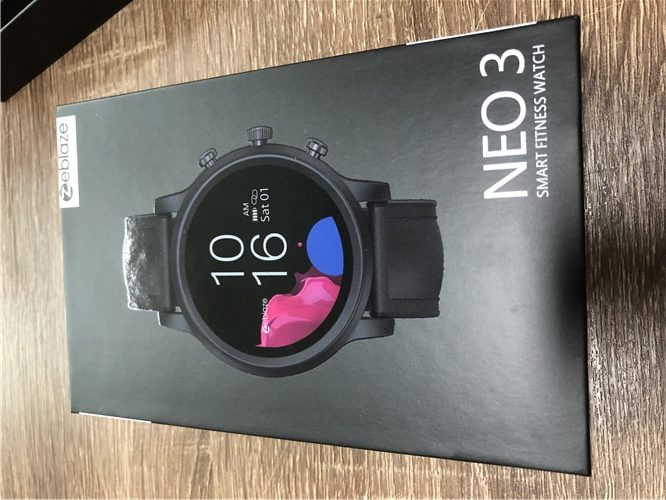 Zeblaze NEO 3 Smartwatch.
Charging Cable.
User Manual (English, Deutsch, русский, Español, Português, Français, Japanese.
Specification of Zeblaze NEO 3
Model
NEO 3
Color
Black, Orange
bluetooth Version
BTV 4.0
Compatible OS
Android 4.4 / iOS 9.0 and above system
APP Name
Happy Sports
App Language
English, Português(Brasil), Português(Portuguesa), русский, Español, Italiano, Français, Deutsch, ภาษาไทย, 日本語, Arabic
Sensor
Heart-rate sensor, Proximity sensor, Accelerometer.
Screen
Size: 1.3inch
Type: IPS Color Display Screen            
Resolution: 240*240 pixels
Water & Dust Proof: IP67
Battery
Battery Capacity: 180 mAh
Standby Time: about 20 days (Basic watch mode); 10 days (Daily use mode)
Charging Time: About 1.5 hours
Charging Type: Magnetic charging
Case Material
ABS, PC
Band Material
Leather (Italian Vacchetta)
Band
Length: about 120+75mm
Width: about 22mm
Weight and Size
Product size:about 47.2 * 14.3 mm
Product weight: about 44g
| | |
| --- | --- |
| Heart Rate Monitor | Support |
| Blood Pressure Monitor | Support |
| Sleep Tracking & Stages | Support |
| Exercise Tracking | Support |
| Multi-sports Tracking | Support |
| Daily Steps Goal | Support |
| Steps & Calories | Support |
| Real-time Pace & Distance | Support |
| Reminders To Move | Support |
| Remote Camera | Support |
| Music Control | Support |
| Weather Forecast | Support |
| Find Phone | Support |
| Alarm Clock | Support |
| Auto Light-up Screen | Support |
| Call or Message Reminder | Support |
| Call ID Display | Support |
| Alert Type | Vibration |