Ticwris GTS the first smartwatch that can monitor the body temperature in real-time with Cheap price and offers good features, step counter, calories, recognition of 7 sports, waterproof IP68 standard, sleep tracker, and has many sensors heart rate monitor, etc. So you'll have a reference to your health status wherever you are. Working with an Android or iOS app, this smartwatch has a 1.3 inch TFT color touch screen and a 160mAh battery. Let's take a look at how it performs.
Design of Ticwris GTS:
Ticwris GTS It keeps a premium style, with a very sleek design And suitable for men and women Whether you are a classic or a sporty suit. That could well remind us of the Umidigi Uwatch 3. It has a rectangular shape and a side button that allows you to easily lock and unlock the screen. Also, It is made of premium plastic material, making it a tough and lightweight watch, having a dimension of 37.2 * 47 * 11mm and weighs just 40 grams. It is also comfortable, so you will not suffer from it in your hand for long use.
And come with Allergy-resistant soft sporty silicone strap Standard size 20-millimeter Removable with stainless steel buckle, Three colors available are there to choose Between them Pink, Blue, and Black. So we can adapt to any occasion elegantly.
For those who wonder about the possibility of changing the face, yes, there are 4 screen faces of different patterns in the watch firmware, which can be changed directly on the watch.
GTS smartwatch is its IP68 waterproof, so you can wear it without worrying when it rains or washes your hands or showers. However, not recommended to use for diving, or other activities involving high-speed water currents or swimming in the ocean.
Display:
As for its display, the Ticwris GTS is equipped with a 1.3″ full-color TFT touch panel with a resolution of 240 x 240 pixels, so you can see all the information in perfect quality a sharp, vivid color display with good brightness and contrast. The screen is protected by a 4D curved glass, rounded edges, and crystal clear.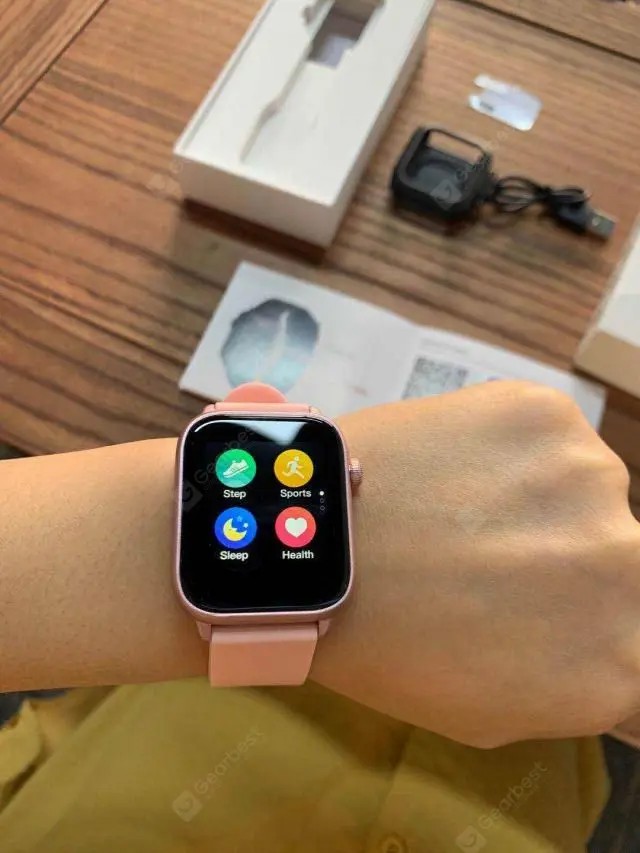 To explore other options, read about the Umidigi UFit Smartwatch with SpO2 Monitoring Review.
Under the Hood:
The Ticwris GTS It is powered by Nordic nRF52832 SoC, 32 bit Arm Cortex M4F processor, it is a low energy-saving processor, When it comes to sensors, the wearable has a gravity sensor, step sensor, heart rate sensor (HRS3300) and a body temperature sensor, one of the few wearables with thermometer features. It has a built-in thermometer to keep check with your body temp. It also has a blood pressure monitor and blood oxygen monitor. The smartwatch has 512K of ROM and 64K of RAM.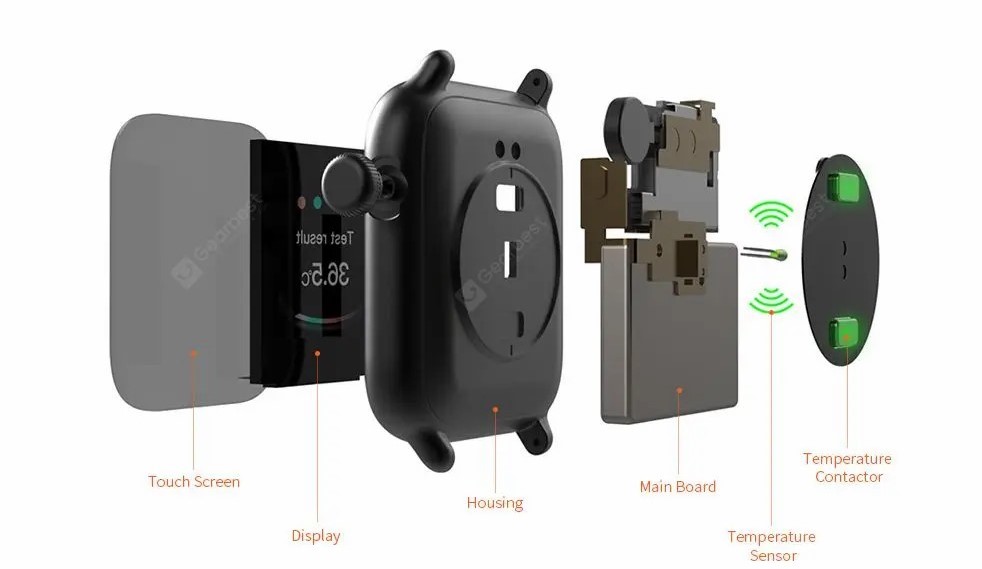 Features of Ticwris GTS:
It has a Bluetooth 4.0 connection, so you can easily make sync with your smartphone and take advantage of all the possibilities your smartwatch has to offer. It can smoothly run on any iOS device running version 9.0 or Android 5.1 through the LinkTo Health App, to keep up with your routine and meet your goals. And you can even control the camera remotely, play music, and find locations and it will alert you when you have incoming calls or messages and social app notifications such as Twitter, Facebook, WhatsApp from the phone, and more.
Ticwris GTS Smartwatch measures your blood oxygen by directing infrared light into your pulse capillaries. And It is able to measure body temperature and give results within 10 seconds, The smartwatch gets more accurate results if you wear it for more than 60 minutes. It is essentially a thermometer worn on the wrist. Of course to be taken with caution as it is not a certified medical device.
Furthermore, the device has a sleep tracker to analyze your sleeping data for getting an idea of the quality of your sleep by measuring not only the duration but also the depth and conditions of your rest. And, to put an end to that sleep, your smartwatch will wake you up with a gentle vibration – at the time you tell it, of course!
In addition, The user can manually set the temperature limit To get a warning. For example, if you set the alarm temperature in your watch to 37.5 if your body heat is consistently greater than 37.5 it will warn you.
in addition to your health, you'll be able to control all your daily activities. The Watch GTS counts your steps, distance traveled and calories burned. It adapts these measurements to the sport you are doing at any given time. And you can choose from various types of activity, such as running, walking, cycling, swimming, etc.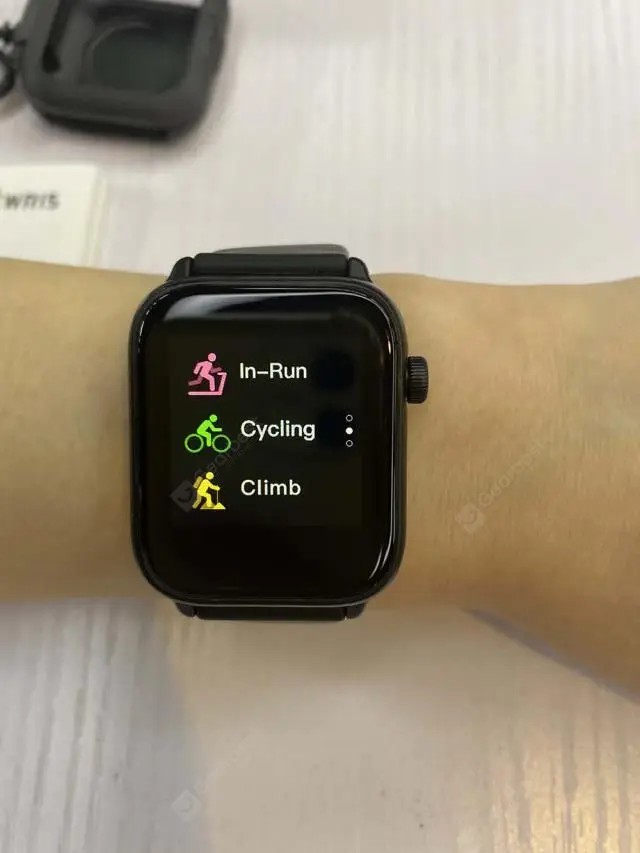 In other specifications of the Ticwris GTS Smartwatch, it can count your steps, measure distance, And make it an alarm, a stopwatch, and other useful tools.
Battery:
The Ticwris GTS smartwatch has 160 mAh lithium polymer battery with up to 20 days of standby time after a full charge in one to two hours. And which is expected to last for 5 days of normal usage that is maybe short due to health sensors That consumes a lot of energy, so the length of battery life varies from person to person, depending on its use. And as usual, the charging process is carried out by means of a magnetic cable that you place at the bottom of the watch in the place designated for it.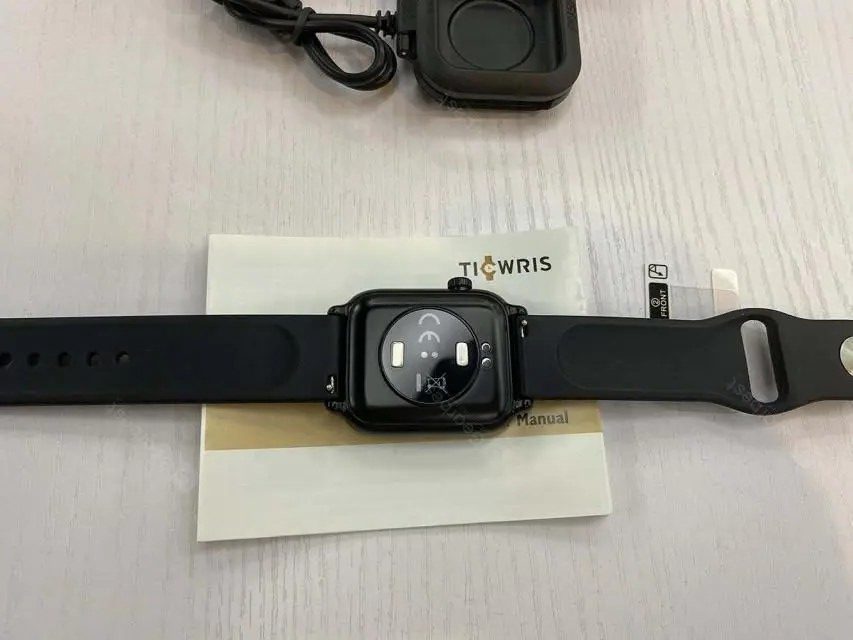 Ticwris GTS Price & Availability:
The Ticwris GTS smartwatch now is available on the Gearbest store for just $26.99 with three colors Pink, Blue, and Black. To view its price or buy it, you can access the offer by clicking on the store icon.

FAQ for TICWRIS GTS:
Can I receive and reply (talk) directly from this watch?
After connecting with the LinkTo sports App, you can check the notification information of the mobile side on the watch, and you can customize the type of receiving a message in the LinkTo sports App. But you cannot reply to this message on the watch.
What functions can be used when Bluetooth is turned off?
Usually, you can use the time, alarm clock, pedometer, sleep monitor, sports mode, and heart rate monitor without connecting to Bluetooth. Message alert, remote camera, find the phone needs Bluetooth connection.
I couldn't find the wristband when I tried to match it with my phone. How to solve it?
After turning on the Bluetooth of the phone and watch, scan the QR code on the watch in the LinkTo Sports App to quickly connect the watch with the phone. If the watch and the mobile phone cannot automatically establish a connection after you have successfully completed the first matching connection, please follow the following steps to exclude:
– Please make sure that the Bluetooth on the phone is turned on, and keep the wristband and the phone within 0.5 meters. After pairing Bluetooth successfully, the Bluetooth communication range is less than 10 meters.
-Please check whether the battery of the wristband is low.
-Please restart the Bluetooth connection.
Why did the device fail to start or start properly?
Please charge the new device for at least 10 minutes or more before using it for the first time, so as to ensure that the device starts normally and achieves the best operation.
Ticwris GTS SmartWatch.
Charging Cable.
User Manual.
Protective Film.
Ticwris GTS Specification
General
Brand: TICWRIS
Model Number: GTS
Screen: TFT
Bluetooth Version: Bluetooth 4.0
Screen size: 1.3 inch
RAM: 64K
ROM: 512K
Waterproof / Water-Resistant: Yes
IP rating: IP68
Functions
Bluetooth calling: Phone call reminder
Health tracker: Blood Oxygen,Blood Pressure,Heart rate monitor, Pedometer,Sleep monitor
Messaging: Message reminder
Other Function: Alarm
Notification type: Facebook,QQ,Twitter,Wechat,WhatsApp
Remote control function: Remote Camera
Battery
Battery Capacity: 160mAh
Dial and Band
Band Material: Silicone
Case material: PC
Shape of the dial: Rectangle
Dial size: 1.3 inches
Band size: The wearable length of 150-220mm
Features
Compatible OS Version: iOS 9.0 or above, Android 5.1 or above
Language: English,French,German,Hebrew,Italian,Japanese,Polish, Portuguese,Russian,Simplified Chinese
Dimensions and Weight
Product weight: 0.0400 kg
Product size (L x W x H): 3.50 x 4.15 x 1.10 cm / 1.38 x 1.63 x 0.43 inches