What if we could charge all of our devices with only one charger brick? Toocki company has made that possible with their new Toocki GaN USB-C 67W charger that is meant to solve your charging problems, with a huge 67W output, 2 USB Cs, and 1 USB A, this brick could very well replace all your chargers at home, whether you want to charge you smartphone, tablet, or USB C notebook, you can rely on this one charging brick that you can take with you on the go to charge all of those devices simultaneously.
With an output of 67W, the Toocki charger is capable of charging devices that support fast charging protocols in less than an hour, thanks to the variety of ports you can charge multiple devices at the same time with the same performance, in addition to its small form factor which makes it portable to take with you on the go anywhere hustle free, all of this for a very affordable price, stick with us to learn more about it.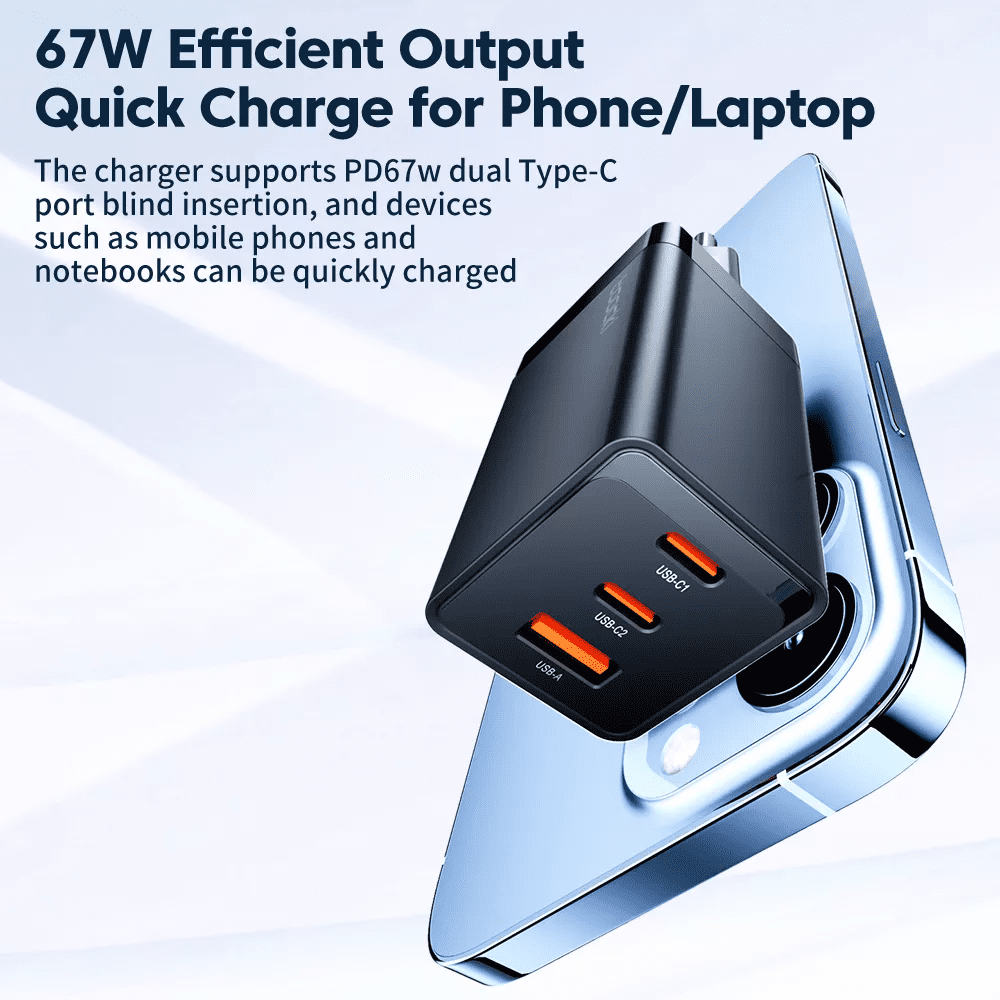 Design And Build Quality
Design-wise, the Toocki 67W GaN charger has a pretty simple and elegant design, it comes in two color options: Black and White, and it also comes with two options of plug type, one is European and the second is American.
It has a cube shape with curved edges, and it is made out of high-quality plastic with a nice matt finish that prevents it from getting scratched and fingerprinted easily, the body is very minimalistic except for the Toocki logo on one side, and the maximum output on the other side, near the bottom, we find a streak made of glossy plastic which makes the device look more elegant, the charger is very compact, lightweight and small, it has the dimensions of 96*32*37mm. On the very bottom, we see information about input voltage and current, and on top, we find the USB interface, the charger has 3 USB ports in orange color, 2 of them are USB C and the other is USB A.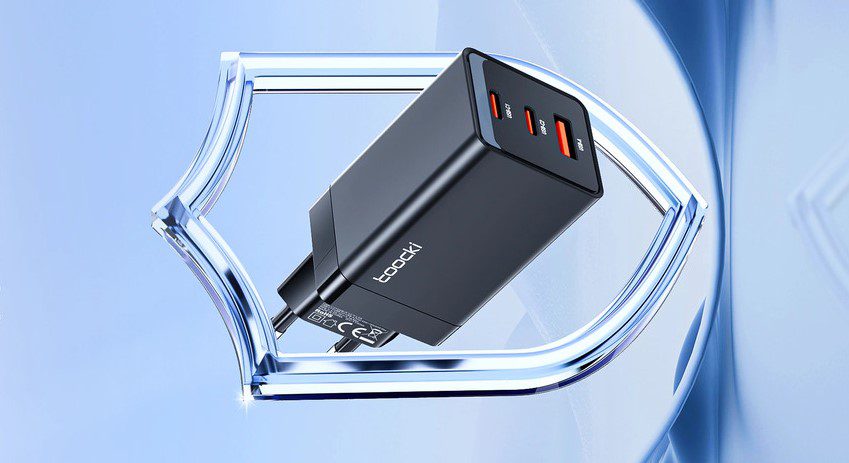 Performance of Toocki 67W GaN
This Toocki Charger uses the new GaN technology, which is way more efficient than the silicon technology, this new technology helps reduce the size of the charger, hence, making it more lightweight and portable on one hand, and on the other cheaper, and delivers significantly higher output, this is what we see in this model.
The two USB C ports can deliver up to 67W each and the USB A can deliver up to 60W, practically, this can charge all sorts of devices that support fast charging in a short period of time, primarily since this brick supports multiple fast charging protocols such as Quick Charge 4.0 and PD 3.0 that allow more watts to pass through and charge batteries faster, in addition to keeping your device protected from over voltage, over current, over power, short circuits, high temperatures and overcharging.
when charging multiple devices at once, the maximum output of each port changes depending on the usage, I will be listing the different maximum outputs with respect to the ports used in both individual and simultaneous usage:
individual usage:
USB C 1: 67 watts
USB C 2: 67 watts
USB A: 22.5
using two ports simultaneously:
USB C 1 + USB A: USB C 1: 45 watts, USB A 18 watts
USB C 2 + USB A: 18 watts between the two
USB C 1 + USB C 2: USB C 1: 45 watts, USB C 2: 20 watts
Using the three ports at the same time:
USB C 1: 45 watts, USB C2 + USB A: 18 watts
Final Verdict
I personally have high hopes for this product and the GaN technology used here, it is going to be a Quantum leap in the field of charging, simply because it is very efficient, reduces cost, and size, and delivers high output, in addition to the ability to charge multiple devices at the same while being safe and secure from any hazard related to electricity, let alone the high build quality of the device which gives me a good feeling about its durability.
The Toocki 67W GaN USB-C Charger goes on sale in the USA Today on AliExpress at the regular price of $19.79, but only for $13.79 during the Double Eleven sale from November 1st to November 12th Enjoy a special 30% discount. It has a big price advantage over competing fast chargers in its class. The Toocki brand sells for less than half the price if you use the code they provide: TOOCKI006.
There are two different types of models, please check before ordering.
GaN Model 1 charger: 67W
Type-C1 output power: 67W Max.
Type-C2 output power: 67W Max.
USB-A output: 22.5W max
Size: 96mm*32mm*37mm
GaN Model 2 charger: 65W
Type-C1 output power: 65W Max.
Type-C2 output power: 65W Max.
USB-A output power: 60W Max.
Size: 111m*31mm*46mm
Toocki's recently launched Toocki 66W 6A PD high-speed data transmission line with the digital display also has a good discount during Double Eleven. Available in three colors: black, blue, and brown.
The seller provides two data cable options, 66W and 100W fast-charging high-power LED display data cables, with 1-meter and 2-meter options respectively. These track your needs and selectively buy them on AliExpress. The biggest selling point of this digital data cable is that it can accurately display the power, and the high quality makes this product also a hot-selling product. You can also check out their store, they sell similar items at cheaper prices on Aliexpress, check out the official Toocki flagship store.