Our review of the day The 8 Ports Quick Charge, with faster technology and superior portability, is lightweight and compact, ideal for outdoor, home, office and desktop use, saving much more space. Plus a wide input voltage range of AC100-240V which fits international travel perfectly.
Ideal for home, office, travel and other indoor uses
6 USB ports with various output capacity and 1 type c port to meet your needs and 1 QC3.0 USB fast charge
Compatible with all smartphones like for iPhone Samsung Xiaomi Huawei LG ZTE Lenovo HTC Sony Google and tablet PC Camera MP3 MP4 Player PSP with USB port, and type c port for Macbook.
Charge up to 8 devices at the same time.
1.5M wire
Comes with the led display screen to show charging status clearly, comes with a smart LED screen to check the status
Compact design, small size, and lightweight
Automatical current matching, more protection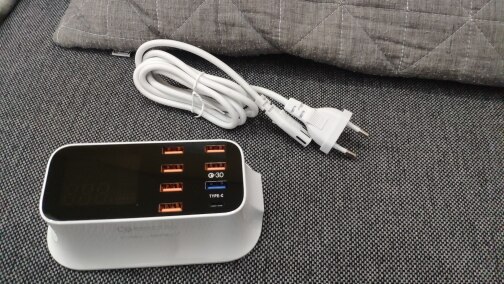 Performance:
Intelligently detects your devices automatically and provides the fastest possible charging speeds. Qualcomm Quick Charge 3.0 is used to deliver charging speeds of up to 4x faster than standard chargers.
Power up to 80% compatible devices in just 30 minutes. Fully compatible with all Quick Charge editions such as iPad, iPhone, Samsung, smartphones, Bluetooth headset, and multiple devices.
Regular USB ports: 5V / 2.4A, QC 3.0 port: 5V / 3A, 9V / 2A, 12V / 1.5A, 5V / 2A port.
Some fixed-output phones, some Tablet PCs are not the same, so the eight ports are intelligent identification of the maximum output of the device to reach fast charging effect. Smartcard charging current, such as charging while charging, such as automatically recognizes that the maximum output current is 2.4A, while Quick Charge 3.0 is a maximum of 3.0a. Port type C is 5v3a max.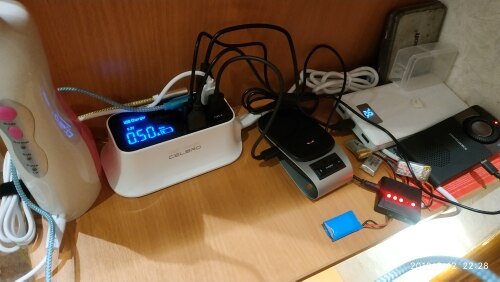 It is equipped with a digital LCD display that intelligently displays the current status and charge each charging port on the screen and quickly detects and displays the current and voltage of different ports. Which are possible up to 2.4 amps per port or 8 amps in general.
Made from 100% PC fireproof copper wire casing, with professional management system certified by FCC and RoHS, provides protection against overcurrent, short-circuit, temperature control, automatically protect your devices and significantly extend your devices battery life.
Note:
This USB wall charger comes with Type-C charging port, but DOES NOT support PD (Power Delivery), will charge at standard speed.
You may also like Orico Smart Station Review – All You Need to Know.
Compatibility 8 Ports Quick Charge:
Apple iPad 2/3/4, iPad Air, iPad Mini, iPhone X/ 5/5s//6/6S/6 plus/6S plus, 7/7plus, 8/8plus
Samsung Galaxy Tab A/E/S, S6/ S6 Edge, S7/ S7 Edge, S8, Note 2/3/4
LG, HTC, Sony, Nexus, Motorola, Blackberry, Asus, Acer, Nokia, Bluetooth headset, Bluetooth Speaker and other Android/ Windows tablets
8 Ports Quick Charge Price and Availability:
The 8 Ports Quick Charge is currently available on Banggood for $33.59 and Aliexpress store for just $25.28. This is a very good price So, don't miss out on this great deal. And to view its price or buy it, you can access the offer by clicking on the store icon.
USB Charger 8 Port
AC Cable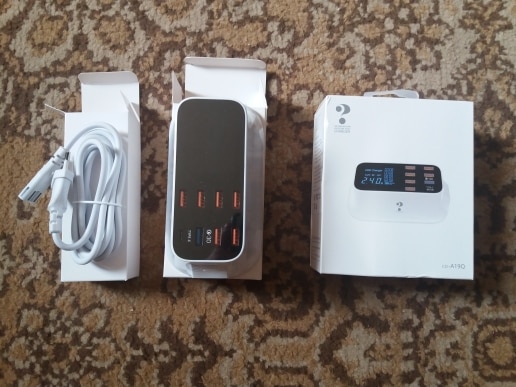 Specifications 8 Ports Quick Charge
Color: White
Material: ABS + PC
Total Output Current: 5V-8A
Output Current Automatically Recognizes : 0.5A-2.4A
Type-c Output : 5V-2A
QC3.0 Output : 5V-3A 9V-2A 12V-1.5A
Output Power : 40W(Max)
Type C Out: DC 5V/3A
QC 3.0 Out: DC 5V/3A , 9V/2A, 12V/1.5A
Socket Size: 13.8 x 7.5 x 5 cm (L x W x H) Plug
Standard: UK plug, US plug, EU Plug, AU Plug (optional)