Docking Station Baseus Bend 6-in-1 the best hub designed for iPad Pro, You are allowed access to all your favorite file and devices with any ports, its solution to everything that you would need for your iPad, you are able to simultaneously connect with HDMI, USB 3.0 and SD card, USB C, and 3.5-mm jack, USB type-c PD charging, So this is a very good set of outlets that help you stay organized and contribute to increasing the efficiency of your work.
Can be attached hub securely by aligning its l-shaped holder against the corner of your iPad pro you just plug the integrated cable to the type-c port and slide the body to your iPad. unlike other USB C hubs that have hit the market for iPad, this one seems designed from especially for the iPad pro.
Features of Baseus Bend Hub
Superior 4K HDMI Video Output
5Gbps Fast Data Transfer
60W Fast USB-C Power Delivery
Easily Read SD/Micro SD Card
3.5mm Audio/Mic Stereo Port
Adaptive Bend Angle Design
Compact Design for On the go
Anti-fingerprint / LED Display / Portable / Light Weight
You may also like 8 Ports Quick Charge 3.0 Led Display USB Charger Review – All You Need to Know.
Design:
Baseus Bend Hub 6-in-1 made of aluminum Stylish design classic deep space grey color, little lighter than the one Apple uses. With curved angle ensures incredible durability and heat dissipation, and Lightweight and Compact make it simple to take with your on-the-go. Ideal for business travel, office, home, and game. Just need one hub instead of all the other extra messy cables.
Overall this is a great hub to get if you use, your iPad Pro as a computer, because it gives you everything you need and is slim and portable, and it attaches directly to your iPad Pro.
Performance Baseus Bend Hub:
The best part of Baseus Bend Hub, It comes on the side of the iPad Pro, and only takes up one corner. So this hub takes the iPad Pro's single Type C port and gives you a considerable amount of ports. which is available to mirror and extend the screen, to transfer photos, videos, and data, to listen and charge sync, and to connect a keyboard or thumb drive. all you have to do is remove the rubber gasket. So that was one thing that I wasn't expecting this hub to have. This multiport hub works with both 11″ and 12.9″ iPad Pro.
IPad once connected you'll see the adapter image appear in that top right-hand corner on the blue background. And you see an LED light on the hub when you get it connected, that means this working. like I said this is probably one of the better solutions to list it's nothing hanging off the side.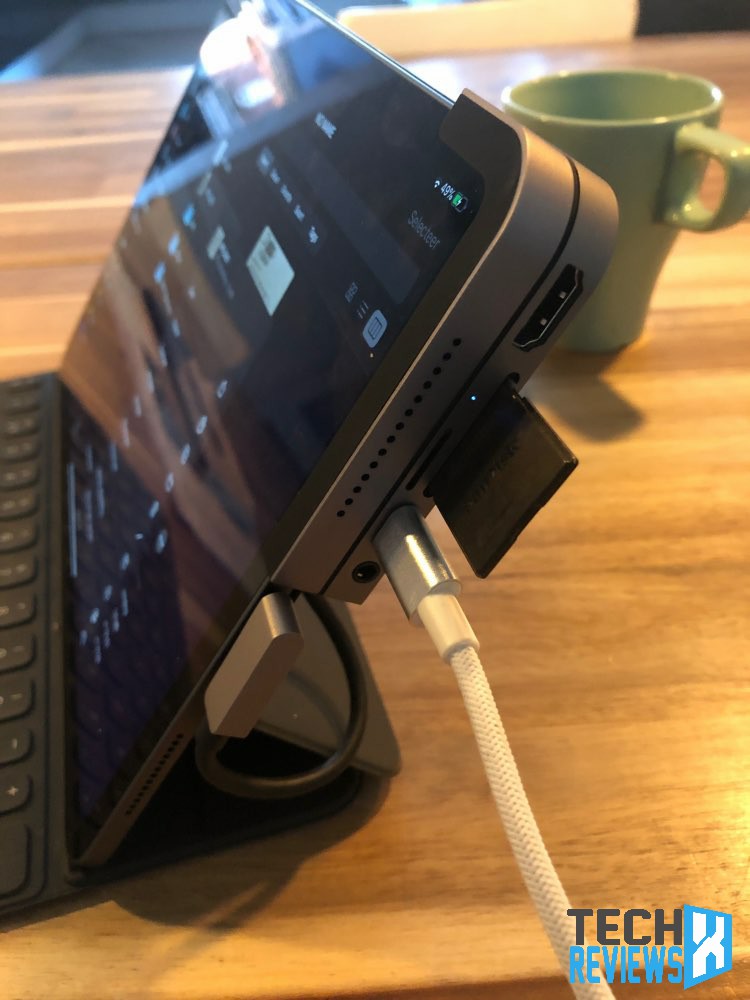 But the main thing we're actually concerned with is productivity, With using a hub you can access to photos and videos from your iPad pro or even connect and download from your flash drive with the SD and microSD port you can easily download your footage right after shooting, with the 3.5-millimeter headphone cord you can start using your wired headphone, with the HDMI port supports HD video output you can enjoy your video on a bigger screen or project your PowerPoint to a TV, the USB type-c port supports 60 watts PD fast charging the iPad.
The precision-milled set of speakers will keep the sound as good as it was meant to be both hubs is small portable and powerful get it today and make the full use of your iPad both all ports in one sleek adapter.
You can plug-in hard drives really like any external you have and just move files between them so we'll hub as this becomes really important you're trying to get a lot of work done and you have some external files that you need to deal with you now have access to them in the Files app and any third-party applications that support the files app and that Browse function so if we want to move something around so we have some file stored on our sd card I want to move them I can move them straight to my iPad or I can move them to iCloud Drive or in this case I can take a photocopy it and paste it right onto my USB drive takes.
The Baseus Bend Hub 6-in-1 multi-function:
The Baseus Bend Hub 6-in-1 multi-function has 6 Ports, USB Type C Hub instantly turns your iPad Pro port to:
HDMI port that can output in 4K @30Hz HD On-screen Display Support HDCP 1.4/2.2 (iPad Pro 3rd Generation can only output 2K),
USB Type C charging port that delivers up to 60W power, quickly charge iPad Pro while using the other ports.
3.0 USB port Data Transfer 5Gbps,
and 3.5 mm Jack Earphone Headphone Speaker you listen to music at the same time, keep your focus on-call or music,
Micro and Standard SD card slots.
NOTE:
iPad Pro for iOS 13 and above is needed for using all functions.
This USB HUB is Type C Port and suitable for iPad Pro 2018 (iPad Pro 3rd)
Does not support 2017 & earlier iPads
Due to the limitation of the Apple system, only JPG or GIF format pictures and MPEG4 formats videos in U disk or SD/TF card be read.
Because of the one-way operation of Apple, it is impossible to export and iPad Pro album to a U disk or SD card/TF card instead, supports microSD, SD, SDHC, SDXC, and other memory cards.
How to use Baseus Bend Hub:
The dongle is 'plug and play' which means Every function is controlled by an independent intelligent chip to ensure outstanding performance. Plug and play, no need to install any driver/software, connect your USB-C dongle directly to your devices. perfect for simultaneous use for outstanding performance.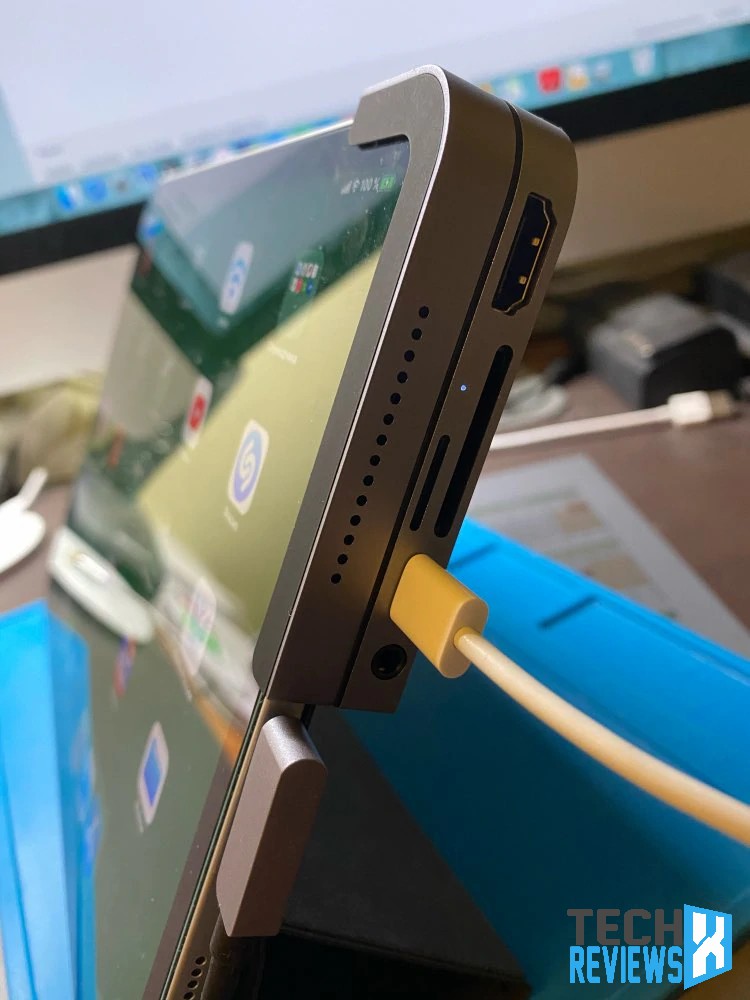 Baseus Bend Hub Price and Availability:
The Baseus Bend Hub is currently available on Banggood for $55.69 and Aliexpress for $42.99. This is a very good price to Hub 6-in-1 for iPad Pro So, don't miss out on this great deal. And to view its price or buy it, you can access the offer by clicking on the store icon.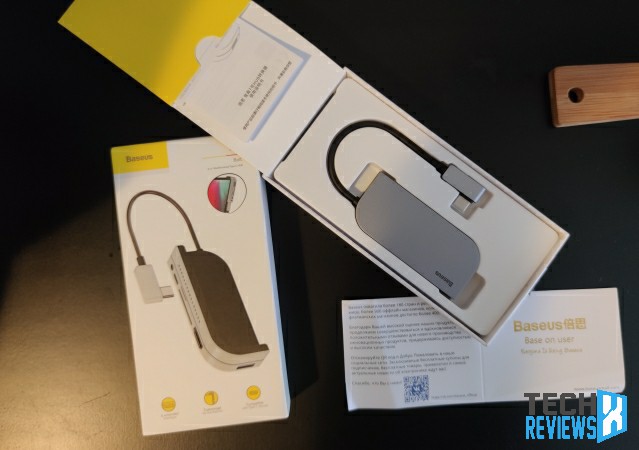 Compatible with most laptops that support DP Alt Mode, such as MacBook Air 2018/2019, MacBook Pro 2016/2017/2018/2019, MacBook 12″ 2017, Huawei MateBook.
Compatible with Type-C Tablets, like For iPad Pro 11″(2018), iPad Pro 12.9″(2018), Samsung Galaxy Tab S5e, and Samsung Galaxy Tab S6.
with smartphones that support DP Alt Mode(Not a full list):
For Samsung Galaxy Note 10/Note 10+/Note 9/Note 8/S10e/S10/S10+/S9/S9+/S8/S8+
Huawei Mate 30/Mate 30 Pro/Mate 20/Mate 20 Pro/Mate 20 X/Mate 10/Mate 10 Pro/P30/P30 Pro/P20/P20 Pro
OnePlus 7/OnePlus 7 Pro
OPPO RX17 Pro in Europe/Oppo Reno 5G
Microsoft Lumia 950/Microsoft Lumia 950 XL
Specifications of Baseus Bend Hub 6-in-1
Color: Deep Grey
Material: Aluminium alloy + TPE
Technology: CNC
working temperature: -25°C to +45 °C
Interface: USB 3.0 External Interfaces*1, SD*1, MicroSD*1, Audio Interface*1, HDMI*1, Type-C USB*1
SD/MicroSD: compatible with SD, MicroSD, SDHC, SDXC, and other memory cards, support capacity up to 2TB
Audio interface: compatible with 3.5mm audio interface audio output
HDMI: compatible with HDMI 4K/30Hz video output, supporting HDCP1.4/2.2
USB-C: PDSupport 5V/9V/14.5V/20V 4.3A (max)