In this review, we'll look at the ALSEYE H120D CPU Air Cooler, fully-optimized NIT noise reduction design, providing a balance between quietness and high performance with 6 heat pipes. It has a lifetime of up to 40,000 hours to ensure easy and worry-free installation on all platforms.
Design:
Design-wise, the H120D is a really good looking single tower CPU cooler that comes in a full matte black design. And included with pair of 120mm RGB fans for a push-pull setup on the heatsink This is common in Cooling systems and results in keeping the case and processor at an acceptable temperature. also, the RGB giving your desktop beautiful, bright lighting.
In addition to that, It contains 6 U-shaped heat pipes for fast heat transfer and pure copper base to make the heat of the CPU evenly distributed throughout the aluminum fins for being high density for accelerated thermal distribution to shift your computer case to the coolest possible especially if you have a powerful processor. And this 6 Copper heat pipes are one of the highlighted features of the H120D with TDP ranging from 150W to 220W.
The Cooling Coating of H120D from Super Nano, it is an electrolytic compound applied to thermal pipes and fin surface to make antioxidants and high-quality antifreeze.
Install ALSEYE H120D:
As for installation, the H120D is compatible with most Intel and AMD sockets, Interestingly, the included packet doesn't come with any screws nor backplate or secure bracket to the motherboard, For this, you must keep your backplate, This is because the push pins design Similar to Intel stock cooler all you have to do is push on it. In fact, the installation is easy, but in the future, in the case of making repairs or changing the thermal putty, you may face some problems in removing it, so you must be careful, and if you are wondering about the weight of the coolant if it will bear, my belief, there is no risk that it is not that big weight.
The fans are held to the heatsink using metal fan clips, this design it's very easy to install and remove.
Support Sockets ALSEYE H120D CPU Cooler:
Intel LGA 771/775/1150/1151/1155/1156/1366/2011
AMD FM1/FM2/AM2/AM2+/AM3/AM3+/AM4 (For AMD have to keep the original mount on your motherboard and just buckle the cooler on will be fine)
Installation Type: Non-screw mounting and screw mounting(LGA2011)
Performance of ALSEYE H120D:
Despite having a total number of 6 heat pipes, the performance is not a big thing that might surprise you. But, we have to keep in mind that the ALSEYE H120D is a budget cooler offers a really good looking for the show with RGB lighting without overclocking, this is probably one of the best CPU cooler for this.
Other than that, this cooler doesn't offer much more really. It's basically a CPU cooler that is designed for mid-end or lower-end CPUs that don't generate a lot of heat and can't overclock. It will cool your CPU as long as you don't push it too hard.
The RGB lighting for ALSEYE H120D:
The RGB lighting on the ALSEYE H120D fan is bright and vibrant enough to meet the demands of the RGB lighting Lovers. The only downside here is the lack of RGB headers on the fans, meaning that the RGB on these fans will light on its own and cannot be controlled by any means.
ALSEYE H120D Price and Availability:
The ALSEYE H120D is currently available on the Aliexpress store for just US $37.61. This is a very good price for a budget cooler with specs like this, don't miss out on this great deal. And to view its price or buy it, you can access the offer by clicking on the store icon.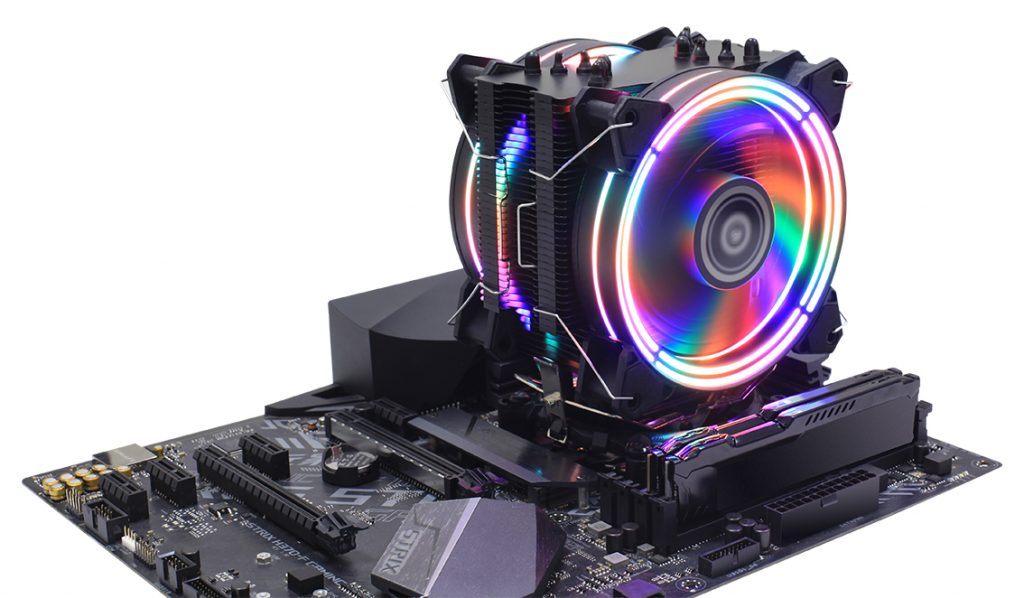 Main device Color carton pack
Mount x 2 (LGA775-1366 & LGA2011)
Thermal grease x 1 (1g)
1-3 adapter x 1
Instructions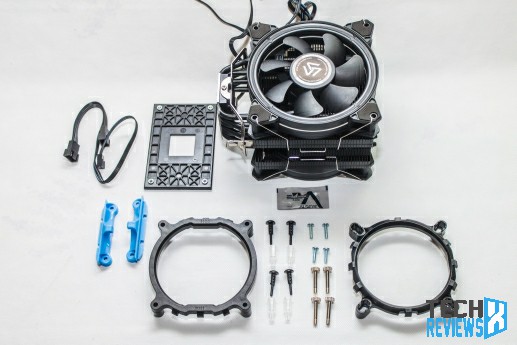 You may also like Arctic Alpine 12 and AM4 Passive silent CPU cooler Review – All You Need to Know.
Specifications of ALSEYE H120D
Dimensions: 120 x 120 x 25mm
Heatsink weight: 518g
Fan connector: 4PIN PWM
Fan Rated Voltage: DC 12V
Rated Current: 0.15-0.3A
Speed: 800 – 2000R.P.M.
Airflow: 18.3 – 45.2CFM
Air Pressure: 0.41 – 2.1mm/H2O
Noise Level: 24.1 – 35.5dB(A)
Heatpipe: 6mm*6pcs
Bearing Type: Rifle Bearing
Fan Life Expectancy: 40,000 h
Power: 1.8-3.6W
Airflow: 10.8-29.7CFM
Noise: 24.1-35.5dBA
TDP: 220W