Bone conduction headphones have recently emerged into the wireless headphones world, and they have been getting a lot of traction because they're new and fundamentally different from regular in-ear earphones with nozzles, they have a lot of advantages related to health and sports in comparison with regular headphones, but also have downsides related to their design, and while we have talked before about the Lenovo X3 pro Bone Conduction Headphones, in this post we present you one of the finest cheap options from Lenovo, the Lenovo Thinkplus X5 True bone conduction headphones.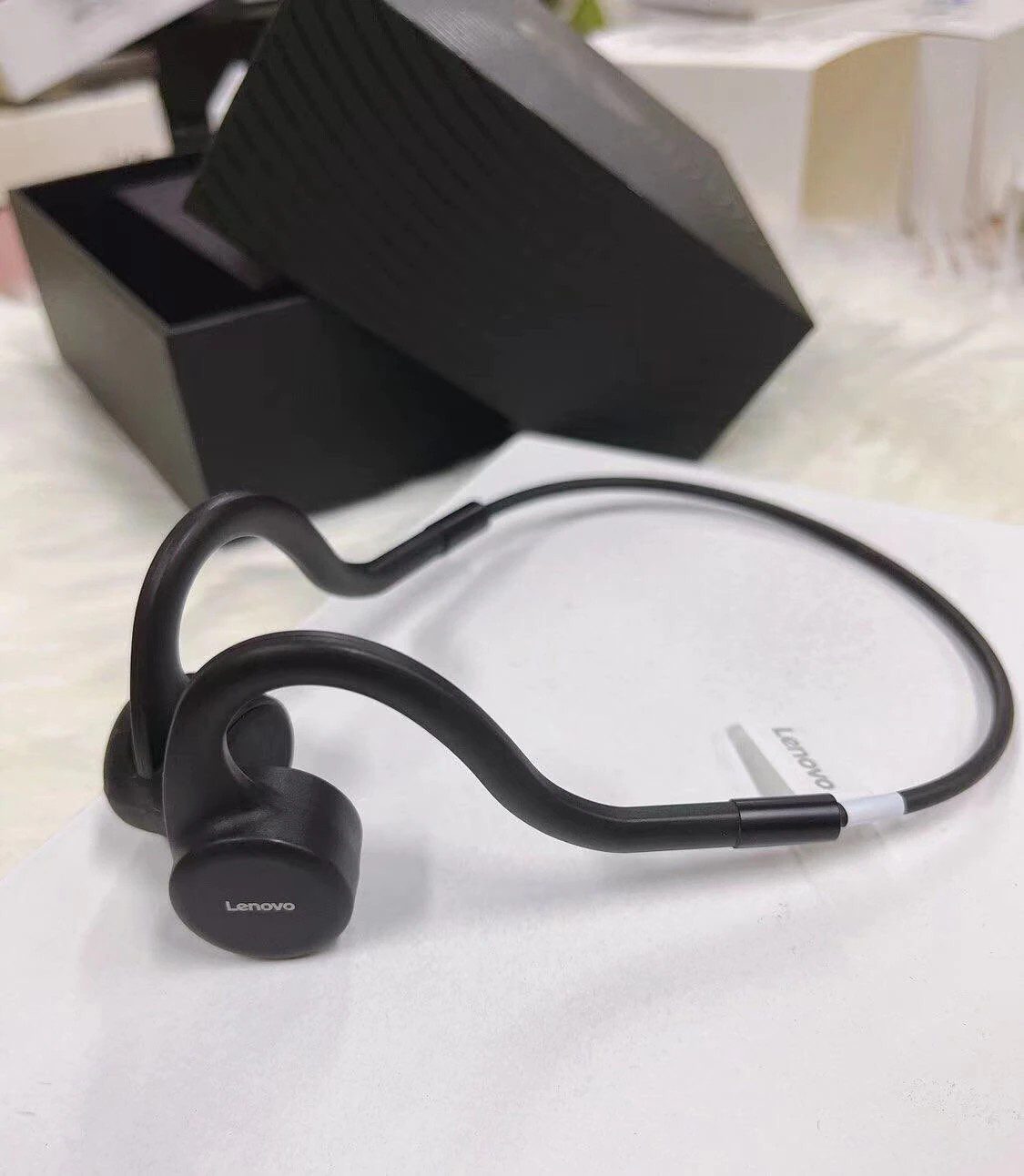 With a frame that is flexible and doesn't cause skin irritation, improved design to stick well to the ears while doing sports, a long-lasting battery with a capacity of 135mAh, Bluetooth 5.2 that offers seamless connectivity with any modern smartphone, IPX8 waterproof rating for swimming, and last but not least, 8GB of memory with an integrated MP3 player to store all you favorite tracks and play them even when not connected with a smartphone, In this review, I will go over this new device in more detail, site its pros and cons to inform and decide whether it is worth getting or not.
Lenovo X5 – Features
Multifunction Touch control
Design and Build Quality
The design of the Lenovo X5 bone conduction headphones is the most interesting of the lineup, it is made out of high quality solid plastic and rubber, the body is flexible and comfortable because it is lghtweight, the U shaped part may seem a little sturdy but you can bend it however you like and it will come back to its original shape to fit perfectly around your neck with easy access when you put it on or off, on each side, it has got a rubberized plastic piece that comes in contact with your ear, but doesn't penetrate it, on the right side we find simply the Thinkplus logo and on the other side we find the power button right on the center of the circle characterized by the power logo, this button also serves as music playback control and for accepting and rejecting calls, all around the button we can notice four contact pins that help charge the earphone using the proprietary charger that comes in the box, on the same side we also find and LED that lights blue when charging, you can also attach rubber cover to portect the device from water and give it an IPX8 waterproof rating.
The wear is very comfortable and it has been improved from the last generations by making it more lightweight and smaller in size so you can't feel it on your ear, the ear hooks fit perfectly around your ear and the earpieces stay right on the bone without penetrating your ear, that's why you can use them for long periods of time without worrying about damaging your ear or even being bothered by them which is perfect for students, workers and people who listen to music during sports, the overall build quality is good, the materials are high quality and it feels sturdy and not cheap which gives me a good feeling about its durability on the long run.
Lenovo Thinkplus X5 – Touch Control
The Lenovo X5 headphones have only one touch control button on its right side, right off the bat, this has one major advantage and one issue, the advantage is that you can perform all the commands with just one button rather than separate the commands on two buttons like the usual, but the downside is that there a good chance you will execute the wrong command due to having only one button, but don't worry about it because as time goes by, you will get used more accustomed to the commands, additionally, the round surface is wide and the touch button takes a good portion of the center which reduces the chance that you will miss the button even if you are walking or running.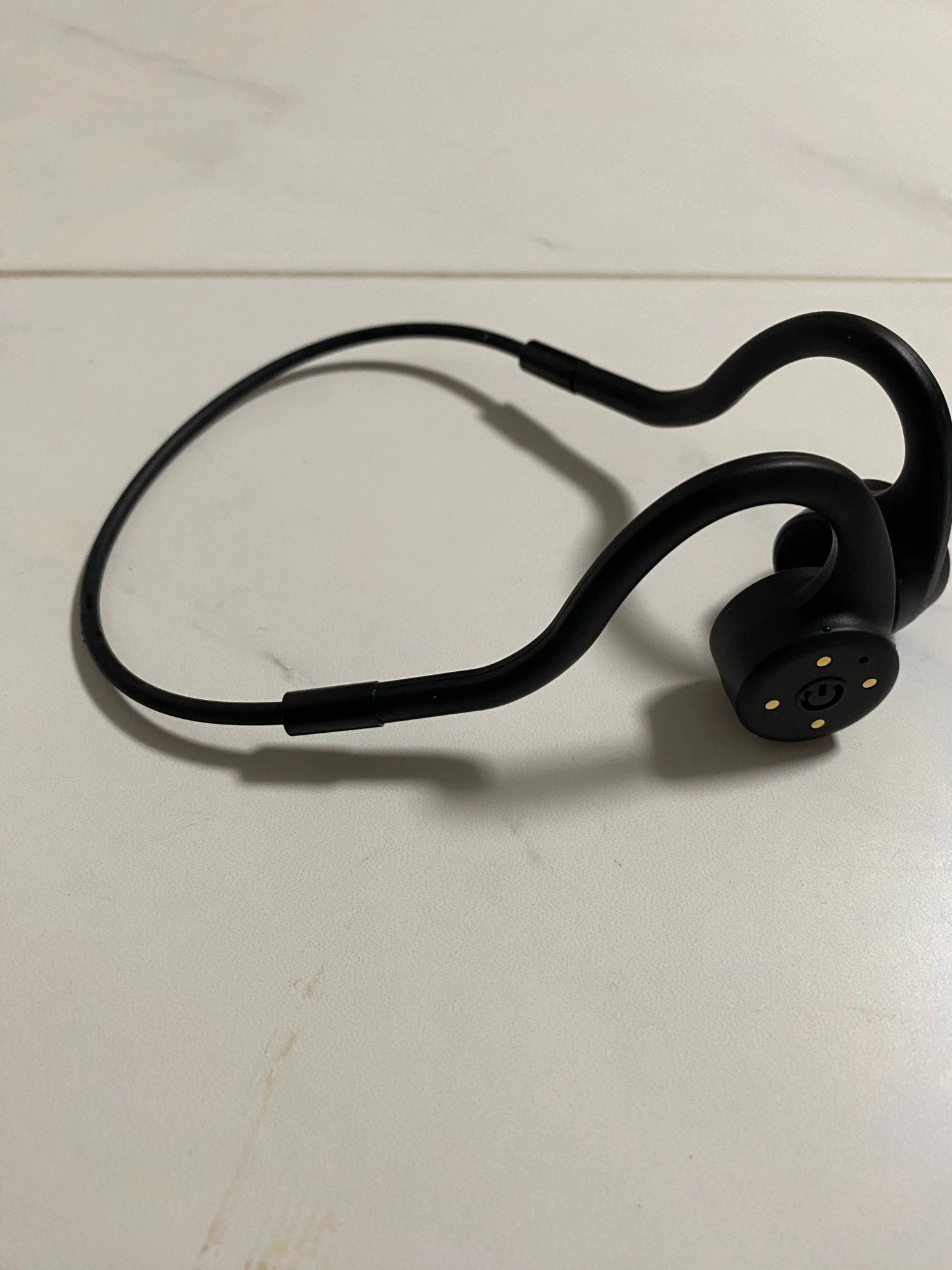 The multifunction touch button allows you to control music playback, volume as well as calls and activate Siri/Google assistant, especially since this device can operate in both Bluetooth and mp3 mode, the commands are listed below:
Bluetooth mode:
Touch twice to play the next track
Touch three times to play the previous track
Touch for 5 seconds to turn off the device
Touch twice to answer/hang up on a call
Touch four times to switch to mp3 mode
Touch for 1 second to activate Siri
MP3 mode:
Touch four times to switch to Bluetooth mode
Touch twice to increase the volume
Touch three times to decrease the volume
Touch for 5 seconds to turn the device off
Touch for 1s to play the next track
Lenovo Thinkplus X5 – Waterproof IPX8
Lenovo claims that the Thinkplus X5 bone conduction headphones are IPX8 waterproof certified, on paper IPX8 signifies protection against water jets from any direction and submersion underwater, which means you can swim wearing this device without ever worrying about it getting damaged, in order to get the waterproof you will have to put the rubber cover around the right earpiece.
The way I see it, the cover is a bit loose and doesn't seal the earpiece very well, I don't see how that can protect the earpiece from water let alone make the device IPX8 waterproof, for this reason, I don't recommend using the X5 underwater, to avoid causing any damage to the device, still, it is safe to use the device under the rain and you won't be alarmed by any harm caused by sweat during sports.
How To Pair Lenovo X5 With Your Smartphone
The pairing of the Lenovo X5 bone conduction Bluetooth headphones with any Bluetooth-enabled device is easy, it is compatible with most modern devices thanks to the new and improved Bluetooth 5.2 which establishes a stable connection and supports auto-connect, to connect your device, you will simply have to follow these few steps:
Click on the power button till they turn on and the LED lights, they are now in pairing mode
Turn on Bluetooth on your smartphone and put it in discovery mode
Look for Lenovo Thinkplus X5 and pair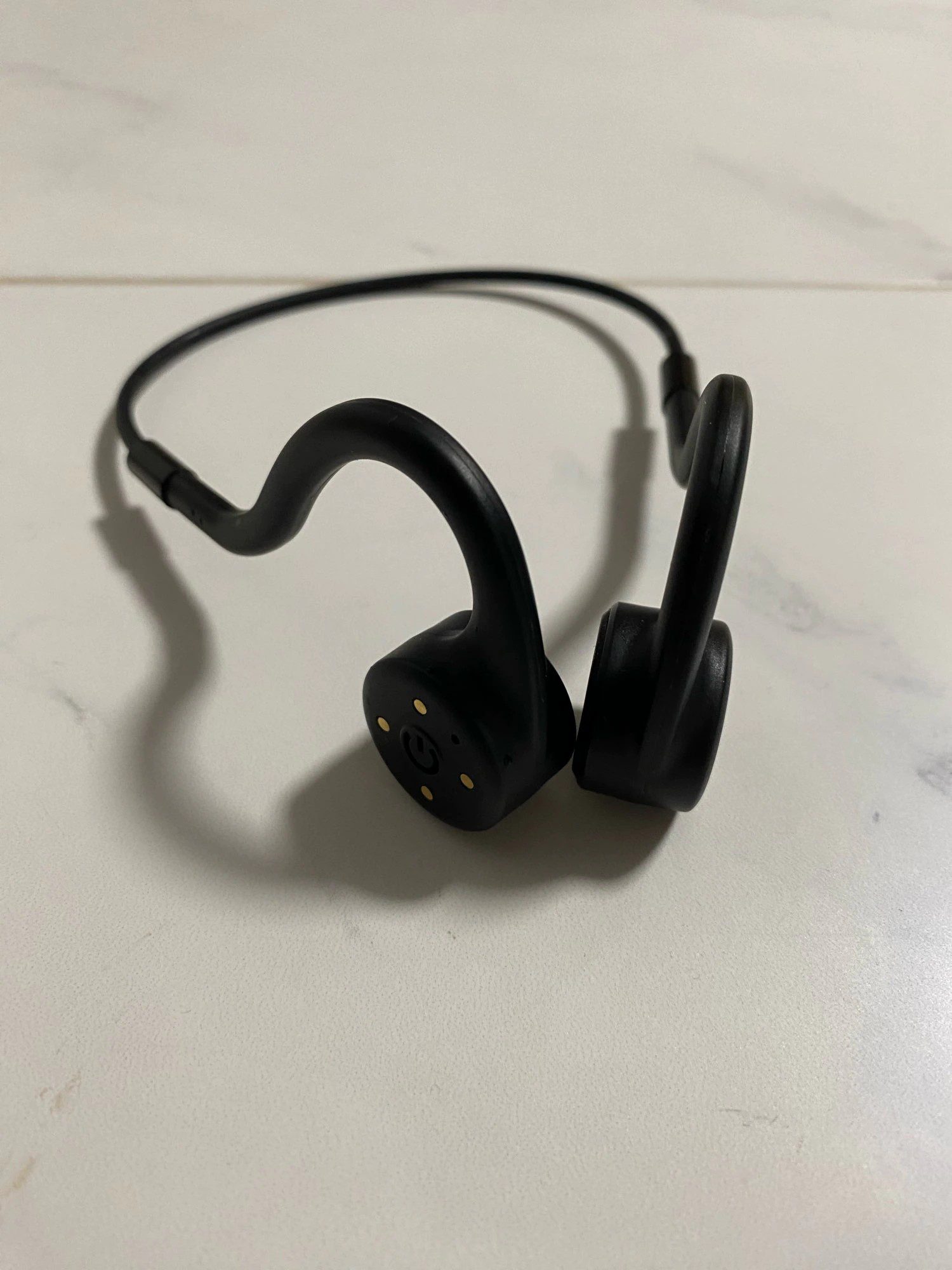 After that, you can start using the headphones for listening to music or receiving calls, also, this process is only required on the first pairing, the next time you want to use the headphones with your device you will only have to activate Bluetooth on your smartphone and turn the Thinkplus X5 headphones on and the two will connect automatically
Use The Lenovo X5 Without a Smartphone
One of the main selling points of the Lenovo Thinkplus X5 bone conduction headphones is the integrated mp3 player with the 8GB of storage inside, this feature has been long needed for several reasons, it allows you to use the headphones without the need for a smartphone, which eliminates any possible connectivity issues, increases the battery life of a single charge, but most importantly, it is just a better option for people who practice sports, since often phones can be inconvenient because you have to carry them with you on the move, especially that many sportswear doesn't have pockets for phones.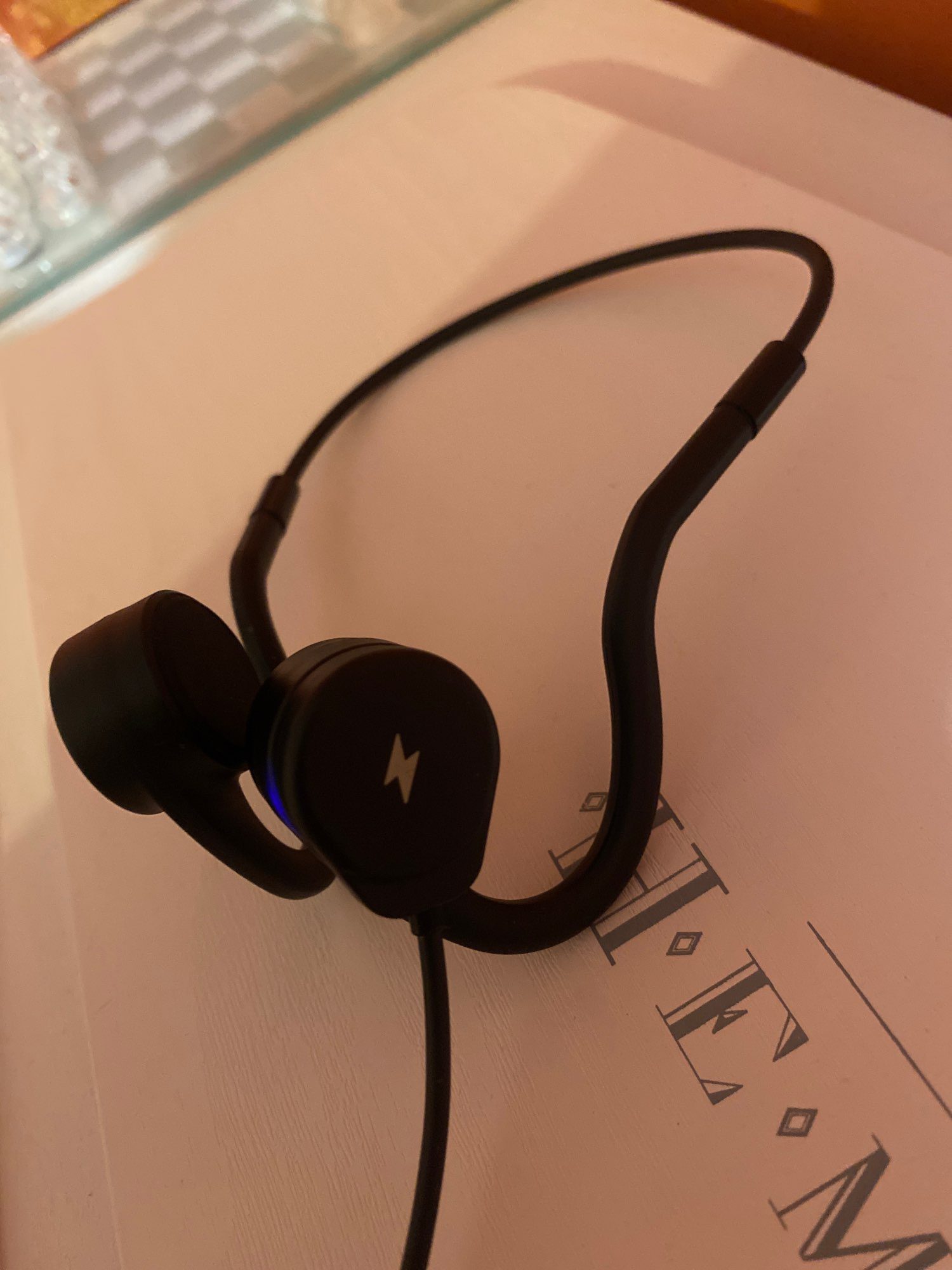 To take advantage of this feature you will first have to put some tracks inside the storage of the Thinkplus X5 headphones, you can do that by following these few steps:
Turn on the Lenovo X5
attach the cable to the pins on the headphone's end, and plug it inside the USB A on the computer's end
Send audio files from your computer to the headphones
With that, your headphones are ready to operate separately from a smartphone, you can switch back and forth between Bluetooth mode and MP3 mode by tapping 4 times on the touch control button, it's worth noting that this feature comes with one major downside which is that the mp3 compression reduces the audio quality, the second major issue is the use of proprietary ports, it's a shame that a company as big as Lenovo didn't adopt the universal USB C port in all of its products, the use of proprietary ports has a set of problems such as increasing waste which hurts the environment, it is hard to repair and if the cable gets damaged it is near impossible to find a replacement just you are going to have to throw it away.
Audio Quality Of The Lenovo X5
As for the sound quality, the Lenovo X5 bone conduction offers audio that will satisfy most users, it would be fair to say that it sounds almost if not exactly like the other models of the same lineup the X3 Pro and the X4, to get the best result you will have to place them on the right spot right on top of your bone, you will be able to clearly hear the sound but it's not enough to enjoy music, the mids are okay-ish but the bass is outright flat which is to be expected on a bone conduction headphones, additionally, when operating the device independently from a smartphone, the mp3 compression drives the sound quality even further down, another major issue with this device specifically and with the bone conduction technique generally is the mighty audio leakage at high volumes which you have to be mindful of to not disturb others around you.
All in all, we can see how the Lenovo X5 is not the best when it comes to delivering a pleasurable sound quality for listening to music, otherwise, if you tolerate this detail, you will be able to enjoy tracks and podcasts fine and even music if you don't pay much attention to the quality while jogging or during a workout without the need to carry your phone around. If sound quality is your number one priority, I would suggest you check out the Lenovo XT88 or the Lenovo LP40 Pro earphones.
Microphone Quality
The Thinkplus X5 Bone conduction headphones have an integrated microphone to receive phone calls and communicate with peers, it is also equipped with CVC noise reduction technology to reduce external noise from getting through your microphone to the recipient, and the call quality is acceptable in quiet environments and you will be heard well, in complex environments, the quality takes a hit and people on the other end of the call will have a very hard time understanding what you say, this issue is present in nearly all of the cheap wireless headphones and even pricy ones so for most people it is not a deal breaker as they don't intend to use wireless headphones as their primary call means.
Lenovo Thinkplus X5 – Latency & delay
This device performs surprisingly well when it comes to synchronizing the audio with the video even when streaming from platforms that have a reputation for being challenging such as youtube and Netflix, you will be able to enjoy consuming content without being alarmed by any noticeable delay, as for gaming, I deem this device as totally not suitable for gaming because the delay between what you see on your screen and what you hear is a bit too much around 500ms which renders the gaming experience unpleasant, for gaming, we recommend you check headphones made specifically for that purpose such as the Lenovo GM2 Pro which provides the lowest latency of all the other models.
Battery & Charging Of The Lenovo X5
Battery life wise, this model offers a decent battery thanks to the integrated 135mAh battery, you could use this device for 12 hours straight of listening to music at 70% and passing calls with no issues, as for charging, it charges through the 4 contact pins charger that comes included in the box while its LED lights up Blue indicating charging state, the charging is very fast, 30 minutes can give you up to 8 hours of autonomy which makes this device a perfect companion on the go.
It would have been better if they used the regular USB C for charging instead of this proprietary charger, simply because it is irreparable and the parts are irreplaceable, which means if there ever is a problem with it it will get thrown away, although I don't have any doubts it will last a good while because the build quality is good.
Final Verdict
In my opinion, the Lenovo X5 bone conduction headphone is a fine option for people who simply want to listen to podcasts while protecting their ears, it's true that the sound quality is not the best but for that same reason, you can wear them for long hours without ever worrying about damaging your ear drums plus their battery life lasts a very long while so you can rely on them as a daily driver, additionally, you can wear them and still hear your entourage and communicate with your friends which is something you can't do with in-ear style earphones.
Price and Where to Buy
The Lenovo X5 bone conduction earphone is available for purchase on Aliexpress Store for a discount, check it out and grab this deal.
Package Content
Lenovo X5 earphones
charging cable
Protective rubber piece
User manual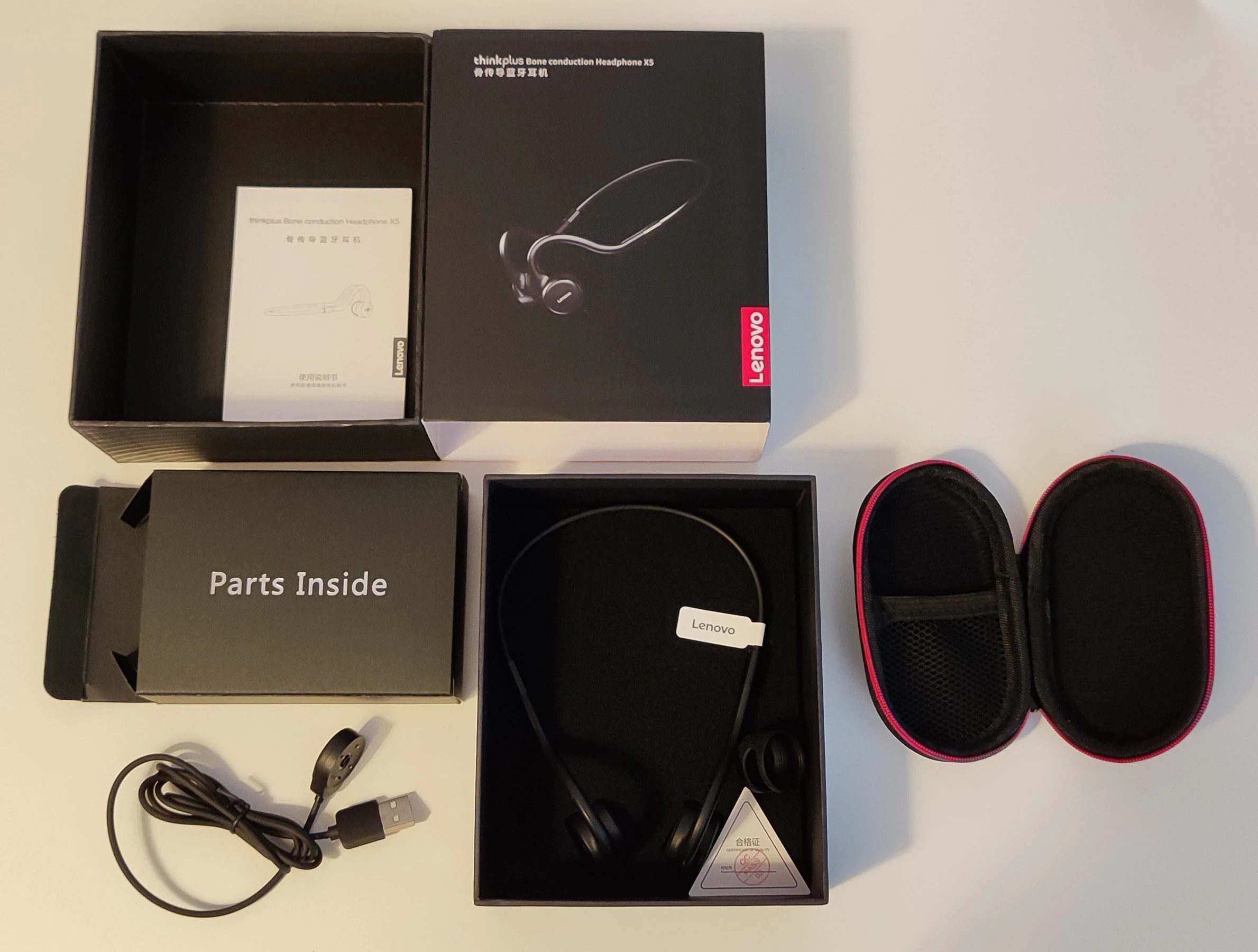 Lenovo X5 Bone Conduction – Specifications
Model: Lenovo Thinkplus X5
Bluetooth Version: V5.2
Earphone style: Bone Conduction
Battery capacity: 135mAh
Usage Time: About 12 hours
Charging Time: About 1.5 hours
Interface: Proprietary 4 Contact Pins
Frequency Range: 20hz-20KHz
Transmission Distance: Over10 meters / 33 feet