Alldocube has achieved great success and wide resonance thanks to the leadership and efficiency of its tablets in the market, with amazing specifications and high capabilities, in addition to its appropriate prices compared to other devices most importantly, its commitment to building the latest in elegantly designed technology to deliver great tablet experience for a budget. However, in Alldocube, the pace of technological innovation has never stopped by working on improving its tablet series through the new upgrade from the iPlay series under the name Alldocube iPlay 50.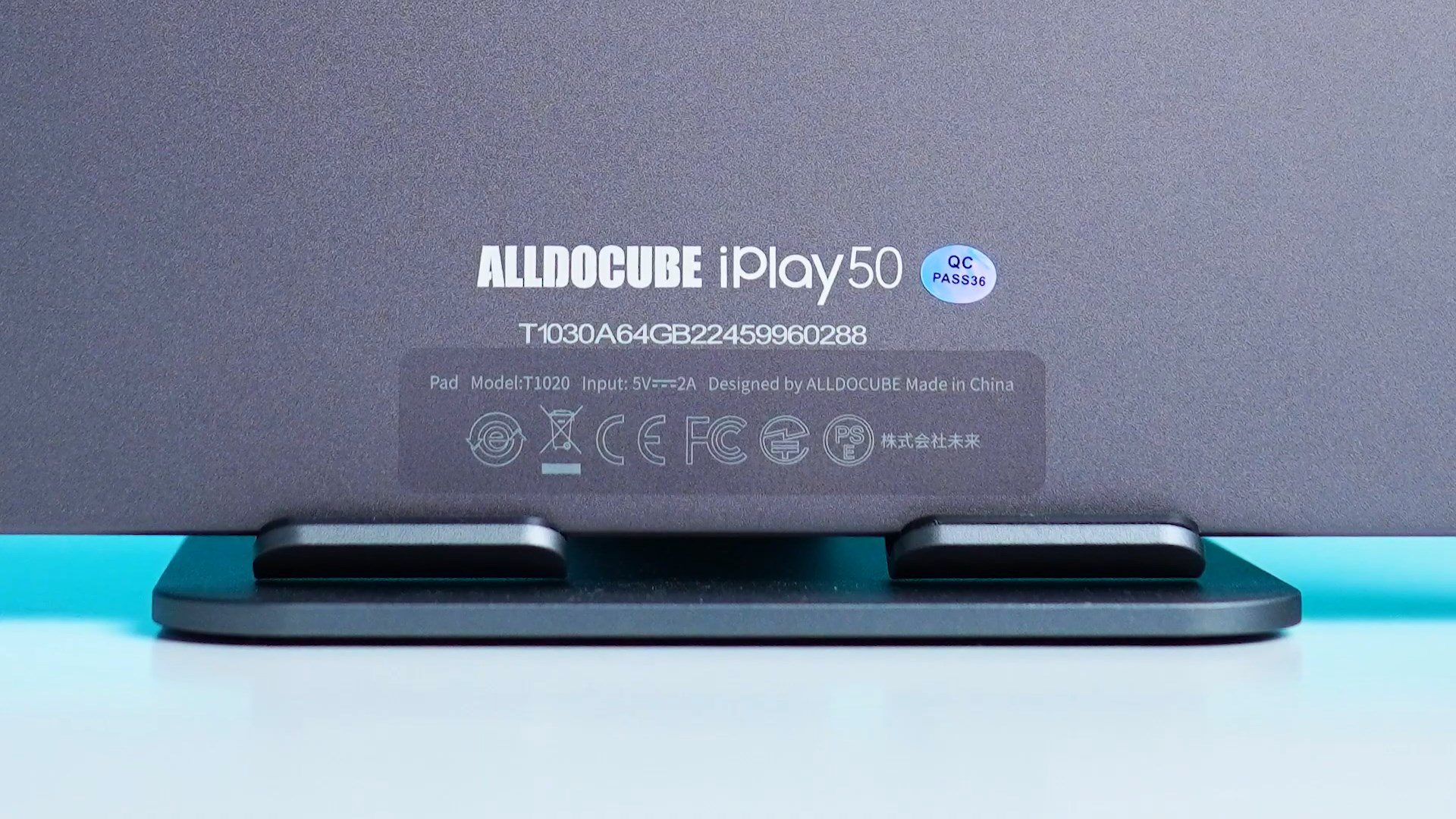 So if you are looking for a tablet at a budget price, the iPlay 50 should be one of the good options, equipped with a larger 10.4-inch FHD screen and Android 12 and support a 4G LTE network and this is handled by the Unisoc Tiger T618 processor, 6GB RAM, and 128GB storage space, adding that there is more and more about the efficiency of the processor for games, size and battery life, camera quality, live streaming services, all of this I will talk about and more in this review, so without wasting time let's move on to the article.
Alldocube iPlay 50 Features
Ultra-slim Body & Premium Design
Android 12 OS
Unisoc® Tiger T618 Octa-Core SoC
6GB RAM + 128GB ROM
10.4″ FHD+ Display
8MP Rear Camera, 5MP Front Camera
6000mAh Battery
Dual Smart PA BOX Speakers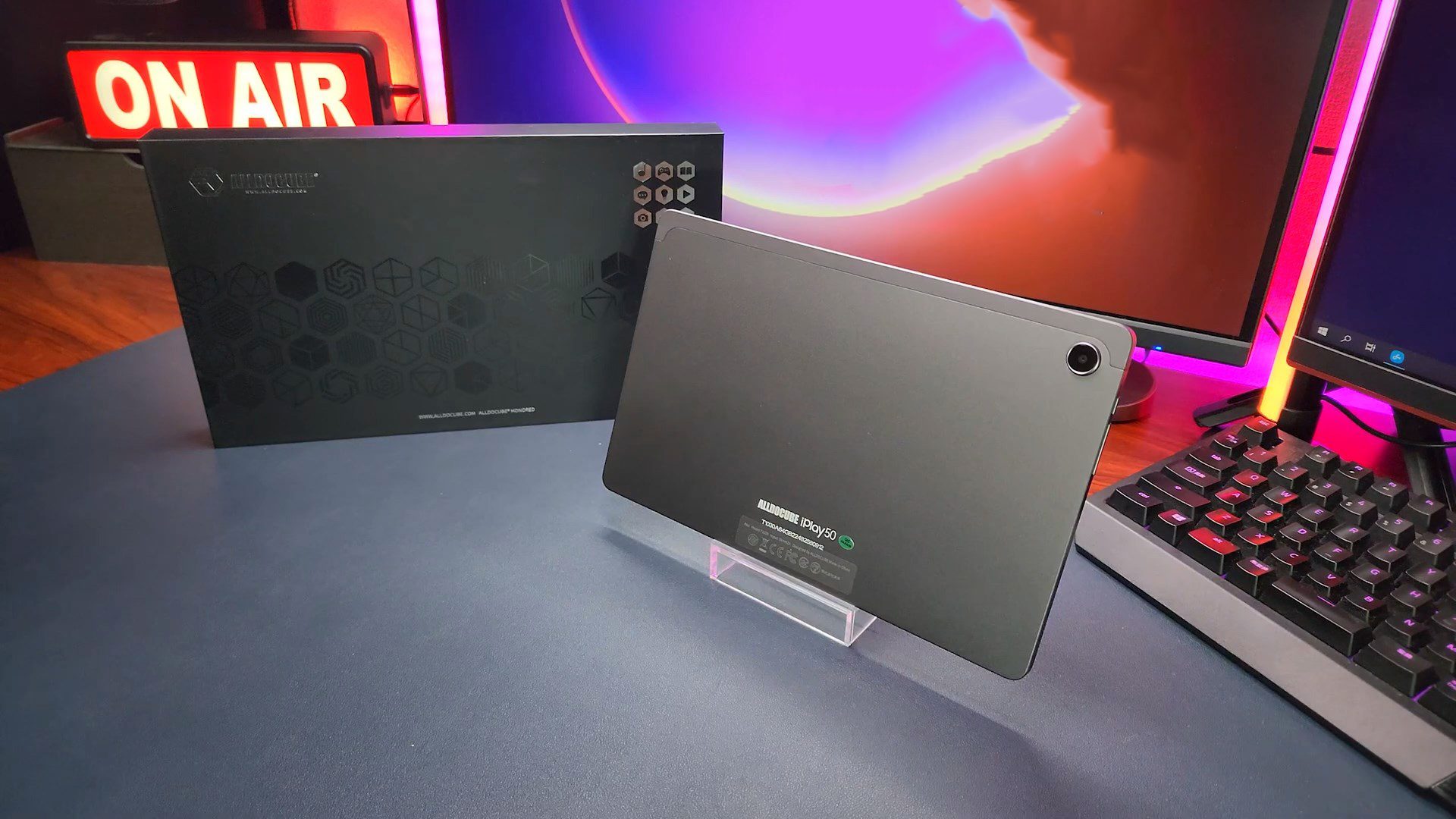 Design And Build Quality
At first acquaintance, the Alldocube iPlay 50 makes a good impression and has got a rendition of the budget tablet design. It looks more expensive than it really is. While it is barely premium when it comes to its appearance, the iPlay 50 managed to put together a stylish look without cranking up its price. It has a practical design with an interesting texture that fits comfortably in the hand and does not try to slip out, and the finish is extremely thorough. All of the parts have been superbly put together. As a result, the tablet appears tough. All the elements fit perfectly, the materials feel reliable, and everything is fine in this regard. Despite its aluminum frame, it feels super solid when you hold it in your hands. The edges, ports, buttons, and all the other exterior components have a precise finish, which further boosts the feel-good factor.
The iPlay 50 features an aluminum body on the back with a length of 246.7mm and a width of 156.5mm with a frame that gives a kind thickness of 8.2mm a wonderful feeling when held in your hand, despite its weight of 475g. If you ask me about the quality of the manufacturing, there is nothing to complain about it, because Alldocube is always working to provide high-quality products to users all over the world at affordable prices. So, The design and build of this tablet are very satisfying.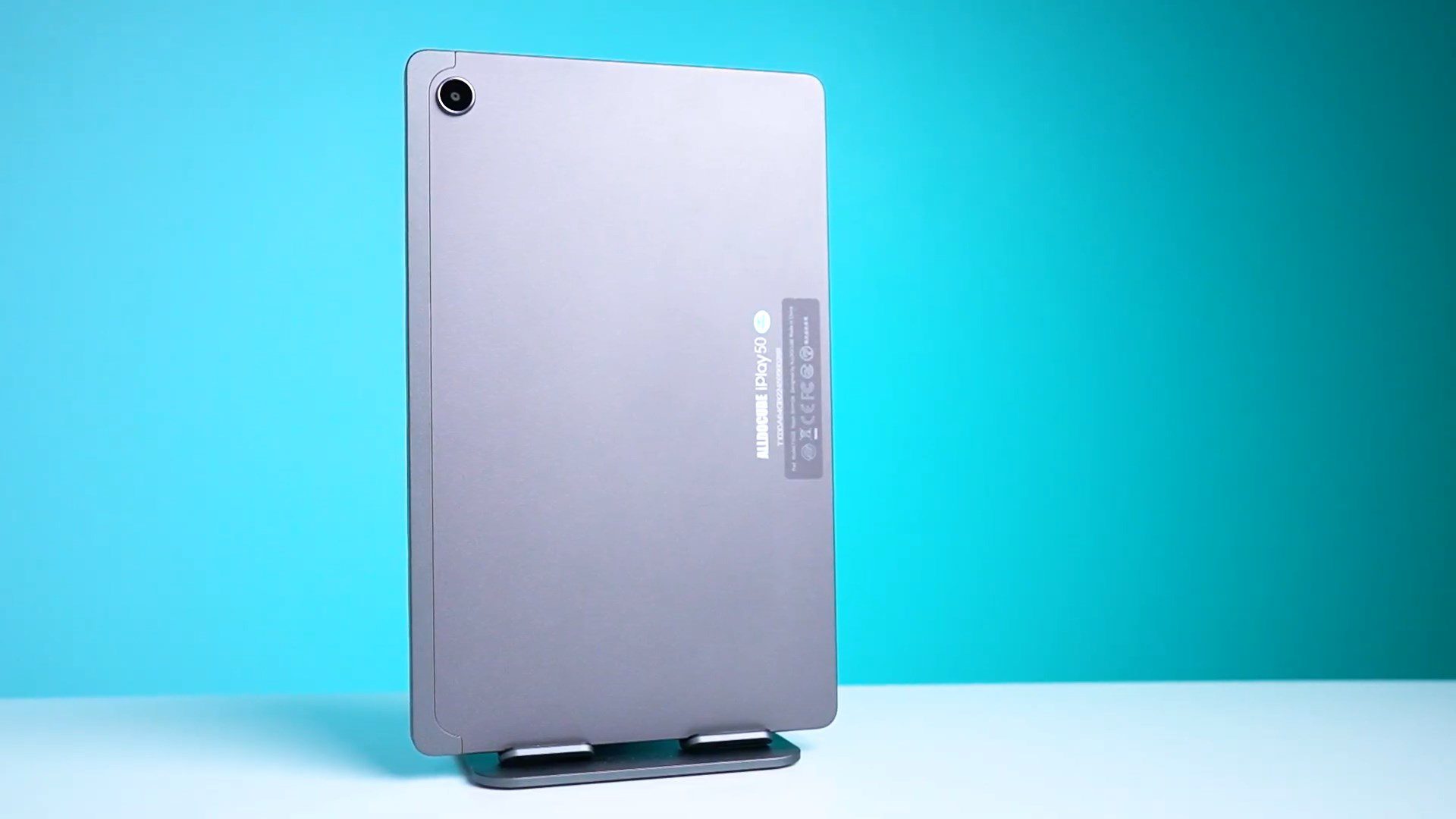 On The Front
The design of the iPlay 50 is beautiful with some touches that make it look more eye-catching and more premium. In front of the device, you have a full screen of 10.4 inches takes 83% of the body. The bezels around the screen are neat, but with prominent edges. The notch for the front camera is classic with a 5MP camera on the middle of the top for taking selfies and video chats, which we will talk more about soon. What kind of glass is used here is unspecified.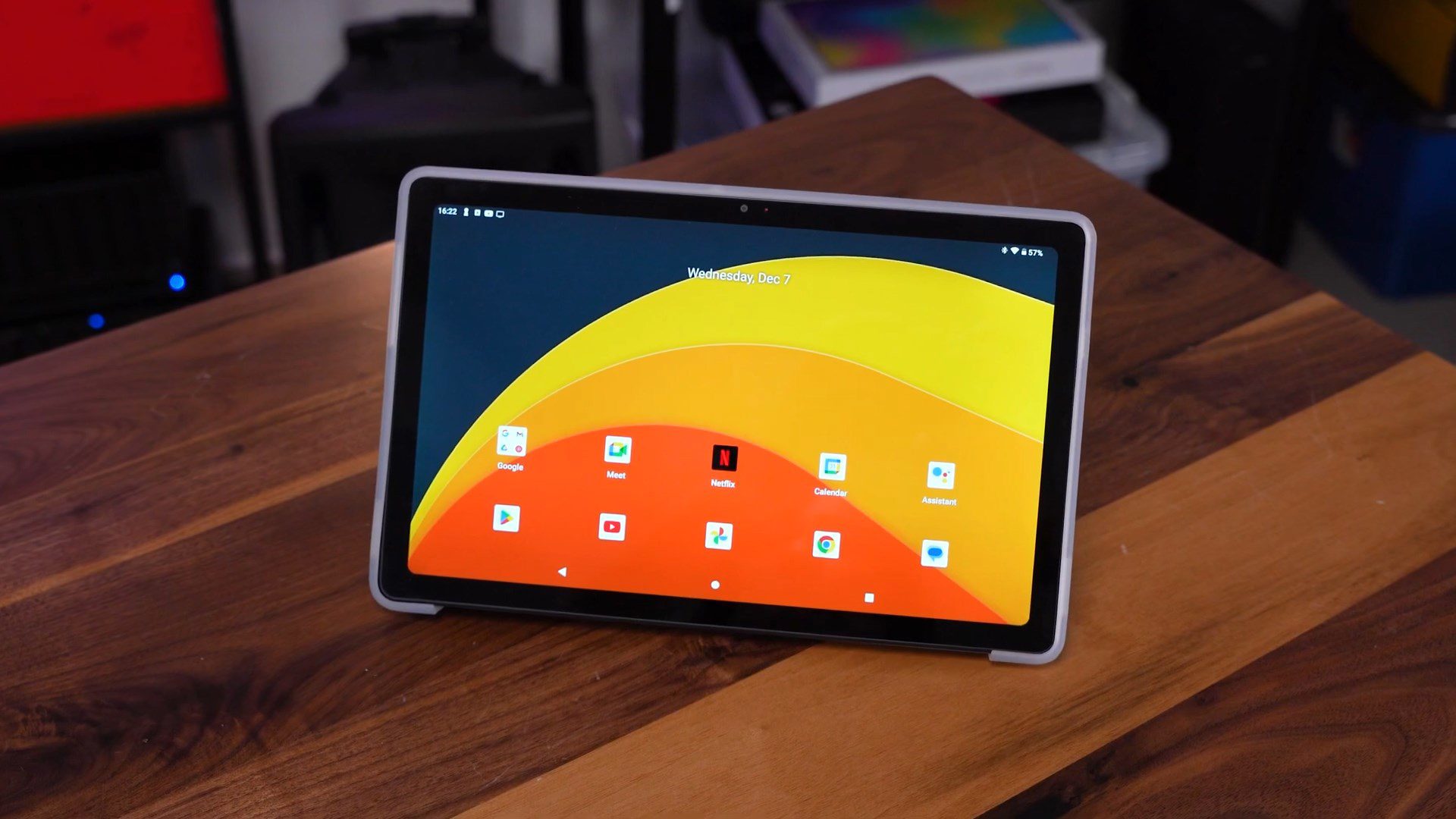 On The Back
On the backside, you have a flat and clean panel from metal with a premier look and came in Silver color, what catches your attention is one camera setup, with a rather bump that literally rises a millimeter above the body and an embossed Alldocube iPlay 50 logo at the bottom.
Ports And Buttons
For ports and buttons, as usual, there is the power button and volume buttons, dual 4G SIM card slot with micro SD, USB-C charging port, and two speakers. Without forgetting the 3.5mm audio jack, which has become rare in modern devices.
Fingerprint
Through all this, it is clear that there is no fingerprint reader, which is what bothers me the most here because for me and for many users it makes unlocking the screen a lot easier. Fortunately, iPlay 50 supports face unlock, which is not as secure as a fingerprint, or even effective in all circumstances, but it does exist.
Alldocube iPlay 50 – Display Quality
Now, let's move on to why I fell in love with this tablet. The display on the Alldocube iPlay 50 is one of the best that you get with almost every other budget tablet nowadays, with a 10.4-inch IPS with FHD+ resolution bigger than the 10.1-inch display from other competitors like Teclast M40 Air, with up to 4% wilder view enjoyment. And has a 60Hz refresh rate with a high resolution of 1200 x 2000, so you can enjoy any content on the tablet with good color accuracy and brightness, The bezels around the screen are thin to deliver a better experience.
The first thing that caught my eye was the colors on this display, which look more vibrant than you'd expect from a low-cost tablet. Even the black levels are pretty good for the price, and that very well explains why the screen has a good contrast ratio and vibrant colors, and the content on the screen doesn't look very sharp. But that's what you get for the price.
While on a sunny day the screen does not fade and remains readable, Of course, this does not apply to direct sunlight. This type of screen is the best you can get on a budget tablet and provides good color reproduction with no picture distortion and blue light protection for comfortable reading. Yes, this screen is not better than an AMOLED screen, but it remains better than other LCD screens and is suitable for this price range. In short, It has by far the best display I've seen in a budget tablet, and I find it perfectly adequate for web browsing and content consumption., you will get the best value for what you pay, a large and high-quality screen suitable for media consumption, whether you are watching the video, playing games or browsing the social media.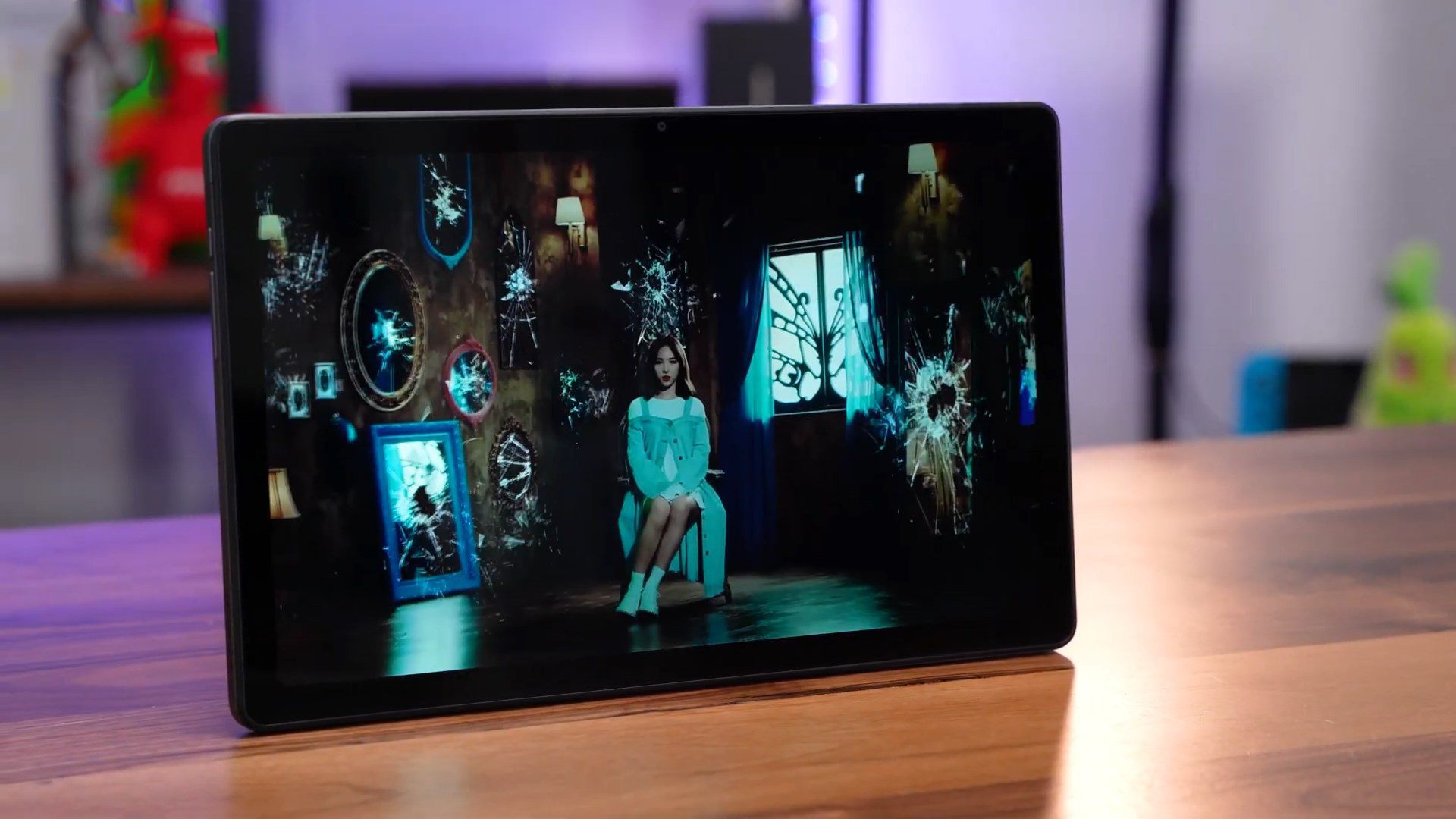 Alldocube iPlay 50 – Cameras
Rear Camera
So far, the overall rating of the Alldocube iPlay 50 tablet is more than great, but this does not mean that it's ideal, especially when we are talking about a low-cost tablet, The iPlay 50 has a single rear camera with an 8MP sensor without LED flash. That is typically what you get with any affordable tablet nowadays and maybe not be capable of capturing the details, colors, or ranges to produce high-quality images. So, you should not expect too much in terms of photo quality.
In spite of very basic camera hardware, the iPlay 50 manages to capture pictures with decent image quality, at least in daylight. The images look bright, vibrant, and quite detailed for the price. But, Low-light environments bring out the limitations of this camera. Although the pictures look bright, they have a really bad dynamic range and lots of noise. The level of detail is also low, which makes the image look soft and unimpressive. Suffice it to say, if you are expecting better camera performance then perhaps you should consider spending a bit more.
Video Recording
The Alldocube iPlay 50 can record videos at up to 1080p resolution and 30fps. Although that looks good on paper for a tablet of this price tag. The quality of the videos is really bad, the amount of detail in 1080p videos is so low. The videos also come out very shaky and have poor colors and dynamic range and this is not a big difference from other tablets.
Front Camera
Thankfully, the Alldocube iPlay 50 adopted a 5MP front camera that was in the acceptable range provided there is a lot of light. Selfies taken with the tablet look bright and have a healthy amount of detail. The colors look slightly washed out, but that's something that other similarly-priced tablets also suffer from. So, iPlay 50 gets a pass here, the images taken with the front camera in daylight are certainly social media worthy.
But, selfies captured in low light have significantly fewer details and contain a lot of noise. But you have to keep in mind that other similarly-priced tablets also suffer from those issues. Fortunately, the images at least look bright and have good color reproduction.
Alldocube iPlay 50 – Overall Performance
If we talk about performance, then in normal use, the Alldocube iPlay 50 is quite nimble and perfectly copes with daily tasks – messengers, mail, web surfing, social networks, videos, and even games. as everything worked efficiently and without facing any problems with stopping applications or high degrees.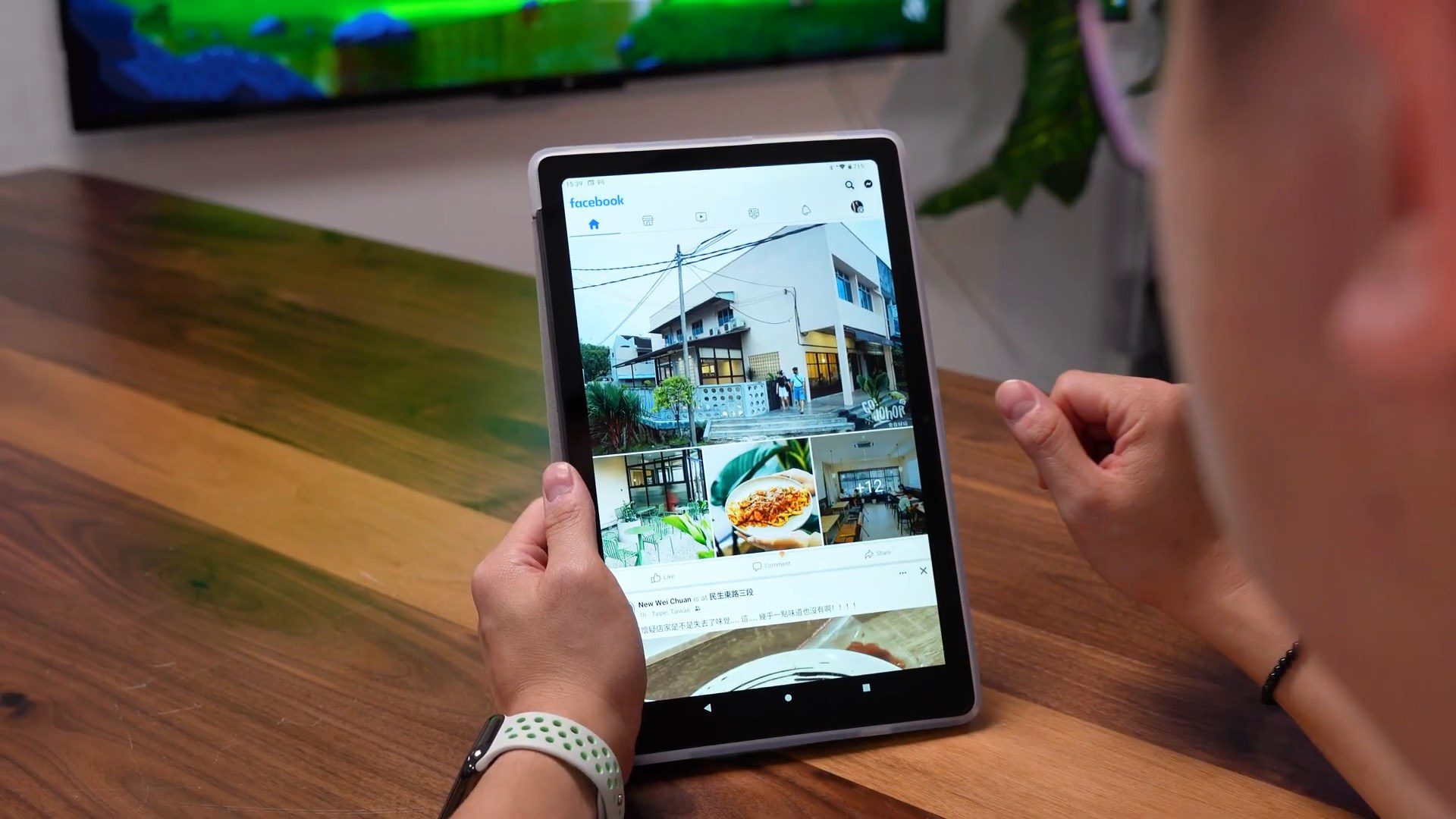 Okay, let's talk seriously, Well, the iPlay 50 has a Unisoc T618 processor, Although is not the most powerful chipset among affordable tablets, it is going to handle all the basic tasks including multi-tasking. When exposing Alldocube iPlay 50 to some tasks that need more effort and there is nothing better than playing games with high settings, the conditions differ according to the application, game, or any type of program that need large resources, and because the processor used is Unisoc T618 based on Octa-Core 2.0GHz processor and 12mm architecture was one of the most powerful processors used in mid-range tablets, everything was smooth even in medium-graphics games like PUBG or COD Mobile or other requirements games, however, if you play on low settings, You will enjoy smooth gameplay, decent frame rate, play these games and even video decoding.
This processor is based on the two ARM Cortex-A75 up to 2.0 GHz and six Cortex-A55 cores up to 2.0 and a Mali-G52 MP2 GPU which is an integrated mid-range graphics card for ARM-based SoCs (mostly Android-based) and uses 2 clusters (hence the MP2 name). The G52 is based on the Bifrost architecture and is intended for mainstream phones and tablets. ARM claims that the G52 series offers 30% more performance density and 15% better energy efficiency compared to the ARM Mali G51 series. The performance of the G52 MP2 in our benchmarks is comparable to the Snapdragon 665 user in smartphones like (Realme 5, Oppo A9 2020, and Redmi Note 8).
Benchmark
In numbers, iPlay 50 achieved about 230,000 on the Antutu benchmark, and this tells you about the hardware performance of this tablet. However, games should not be the main reason for purchasing this tablet. Generally, the performance is more than impressive and maybe the best in this category. so far it's a fierce competitor compared to Alldocube iPlay 40 Pro or Alldocube iPlay 40H.
Memory
Most of the applications ran very quickly because Alldocube iPlay 50 comes with 6GB RAM and 128GB storage, and if that is not enough can be expanded the storage via a microSD card up to 2TB, So multitasking, browsing between applications was smooth and more than enough for most of the tasks that you can do with a tablet such as keeping many applications or large games running in the background. In Short, the capacity it offers is very good and you do not have to think about choosing, and for this price, it's a good deal and will give you a very positive experience.
Those specs are a recipe for midrange performance, and that's indeed what you get with the Alldocube iPlay 50. Expect performance to be suitable for basic use, it's an octa-core CPU, so you will be able to use it for calling, messaging, video streaming, gaming, listening to music, and so on.
Playing Content
Playing the content on YouTube, was very smooth. You can play videos at a maximum of 1080p at 30FPS without any problems or lag, and up to 2K at best with some slight stutter. Unfortunately, the iPlay 50 tablet does not have Widevine DRM Level 1, so paid services like Netflix and Amazon Prime cannot be viewed in 4K, and this level maybe not be found on all Chinese tablets without exaggeration. However, you can still enjoy Netflix and all other streaming services in 480p resolution.
Sound Quality
Blackview also did an excellent job with the speakers. In terms of audio capabilities, the tablet punches above its weight with dual loudspeakers onboard. The sound is great for watching movies or listening to music, with rich and detailed sound. Thanks to the dual box speakers, Alldocube iPlay 50 brings ultimate enjoyment of a sense of technology so that you can enjoy the epic theater-level movie at home with ease. The clear sound produced by the Dual Smart PA BOX Speakers without distortion whips you into extreme excitement and thrill when gaming, listening to grand symphonies and watching movies.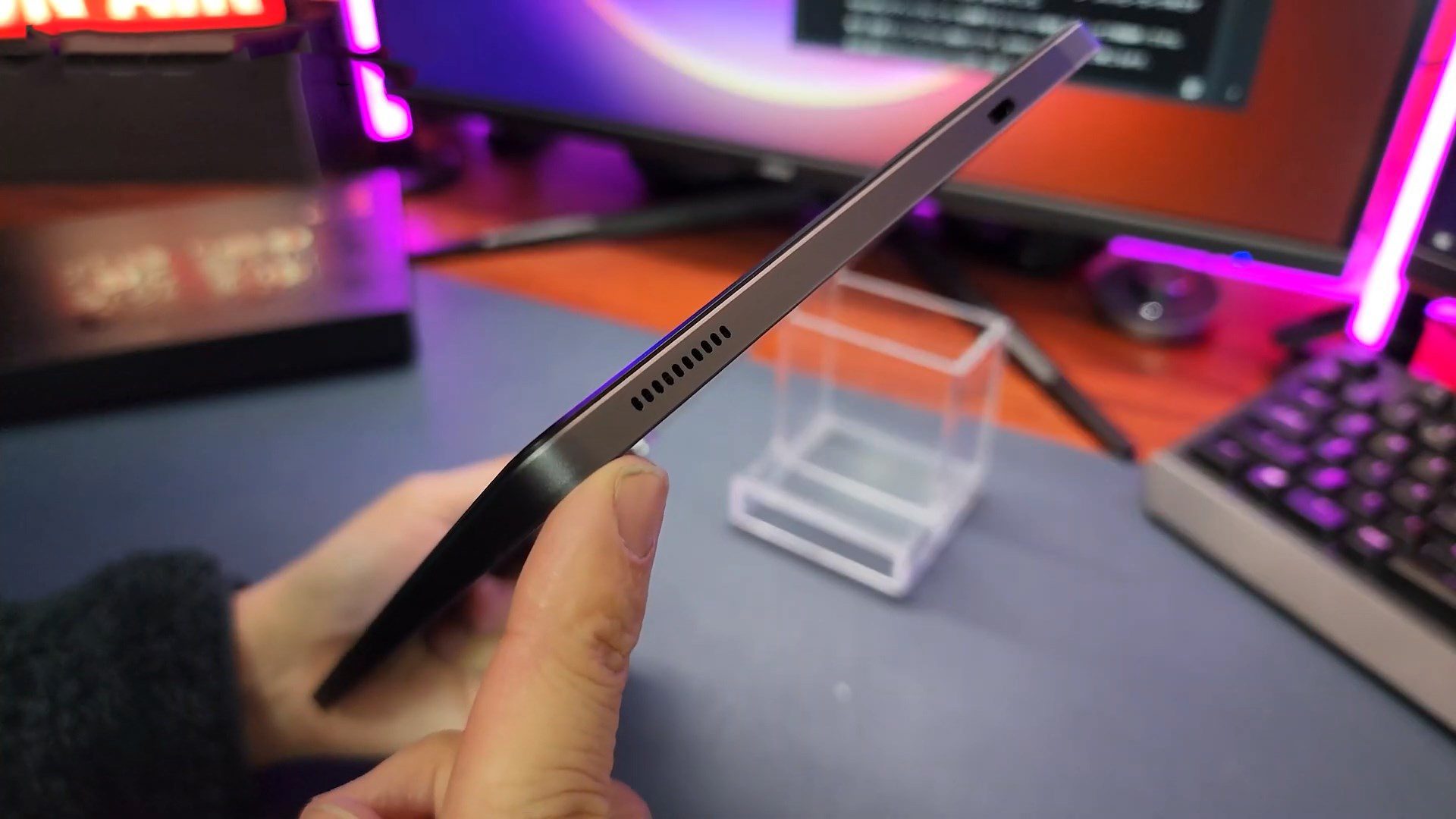 Android 12 OS
Alldocube iPlay 50 is shipped with the Android 12.0 version, bringing new features like screen recording, one-time permission, privacy dashboard, split screen mode, and some interesting customization additions with UI that has better gesture navigation controls, a dark theme, and contains most of the features that come with the system, the most important of which is the presence of all Google services, Making the tablet experience smoother and more personalized.
Connectivity & Call Quality
Connectivity options for this tablet include a high-speed Wi-Fi network that supports 2.4GHz / 5GHz AC power that works well and provides your maximum internet speed, Meanwhile, this tablet supports BDS, GPS, GLONASS, GALILEO the top 4 satellite navigation systems, and A-GPS internet assisted positioning not the best but it works. Also, has Bluetooth 5.0 and 4G LTE multi-band to offer good signal quality and coverage for making phone calls and accessing the Internet easily.
Alldocube iPlay 50 Battery And Charging
Budget tablets nowadays offer a great battery life. The Alldocube iPlay 50 has a large 6000mAh battery pack as well as a display and a processor that consumes very less power. Yes, the processor is not as efficient as that of its rivals, but it certainly consumes less energy than mid-range or high-end SoCs, owing to its low clock speeds.
This is very nice for an inexpensive device and goes around 6 to 8 hours of screen-on time without any worries of continuous use for surfing the Internet, Google, YouTube, and following social media, of course, the time is less when playing games. And with moderate use, it will stay with you for a whole day on one charge it mostly takes about 2 hours to fully charge using Type-C with 10W charging speeds. However, I can say that the battery was satisfying.
Final verdict
Alldocube iPlay 50 is a good tablet that has the potential to beat its competitors in the price range it belongs to and is considered a low-cost tablet, I think is one of the best budget tablets in 2022, with a good processor, abundant memory of 128GB, 6GB RAM, and an FHD screen, but that does not make it flawless as it lacks a fingerprint reader, low camera quality and you cannot watch Netflix in HD resolution, however, it gives you powerful performance at a low price, so if you are looking for a tablet at this time, you will not get anything better than iPlay 50 in this price range.
Alldocube iPlay 50 Price & Availability
Usually, better performance means a higher price, but not in the case of Alldocube iPlay 50. The tablet is now only priced at $150 on Aliexpress. So, don't miss the chance to snatch up at one, And to view its price or buy it, you can access the offer by clicking on the store icon.
Alldocube iPlay 50 Tablet
Type-C Cable
Power Adapter
SIM Tray Ejector
Quick Start Guide