BlitzWolf has announced the BW-AT2C smartwatch, with a sporty look and health features, and an integrated Bluetooth speaker, all that for under 40$. This cheap smartwatch offers neat features for this price point such as heart rate, blood oxygen, and blood pressure monitoring, IP54 waterproof, and customizable watch faces. Find out more about it in this review.
BlitzWolf BW-AT2C Smartwatch Features
1.3inch Touch Screen
Bluetooth Call
400mAh Battey For 30 days Standby
Custom Watch Dials
Automatic Heart Rate Monitor
GPS Run Route Track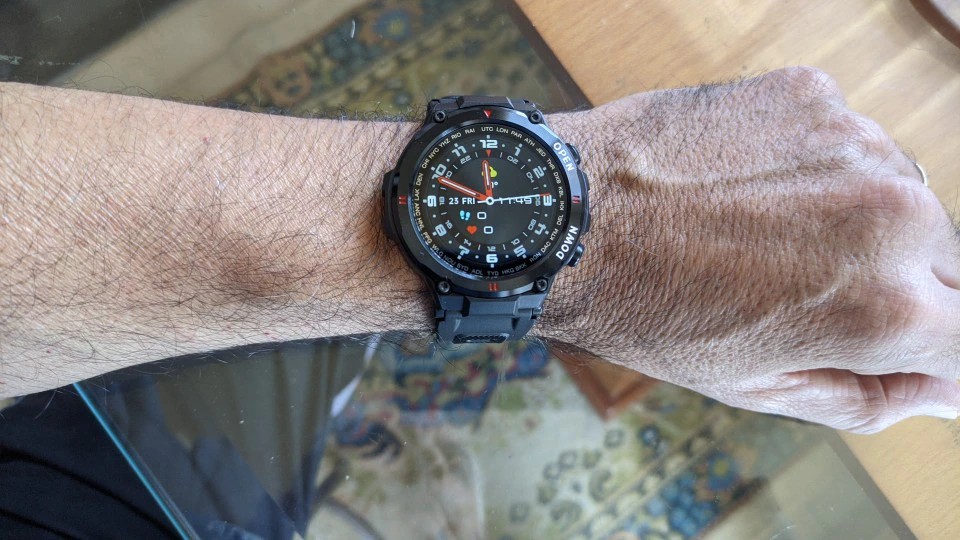 Design And Build Quality
Design-wise, the BW-AT2C smartwatch looks very casual and sporty, circular with two buttons on the side, the upper one to turn on-off and to go back, the second one is for scrolling through menu elements. It consists of plastic which is common for cheap smartwatches and comes in 3 color choices, either grey, black, or green.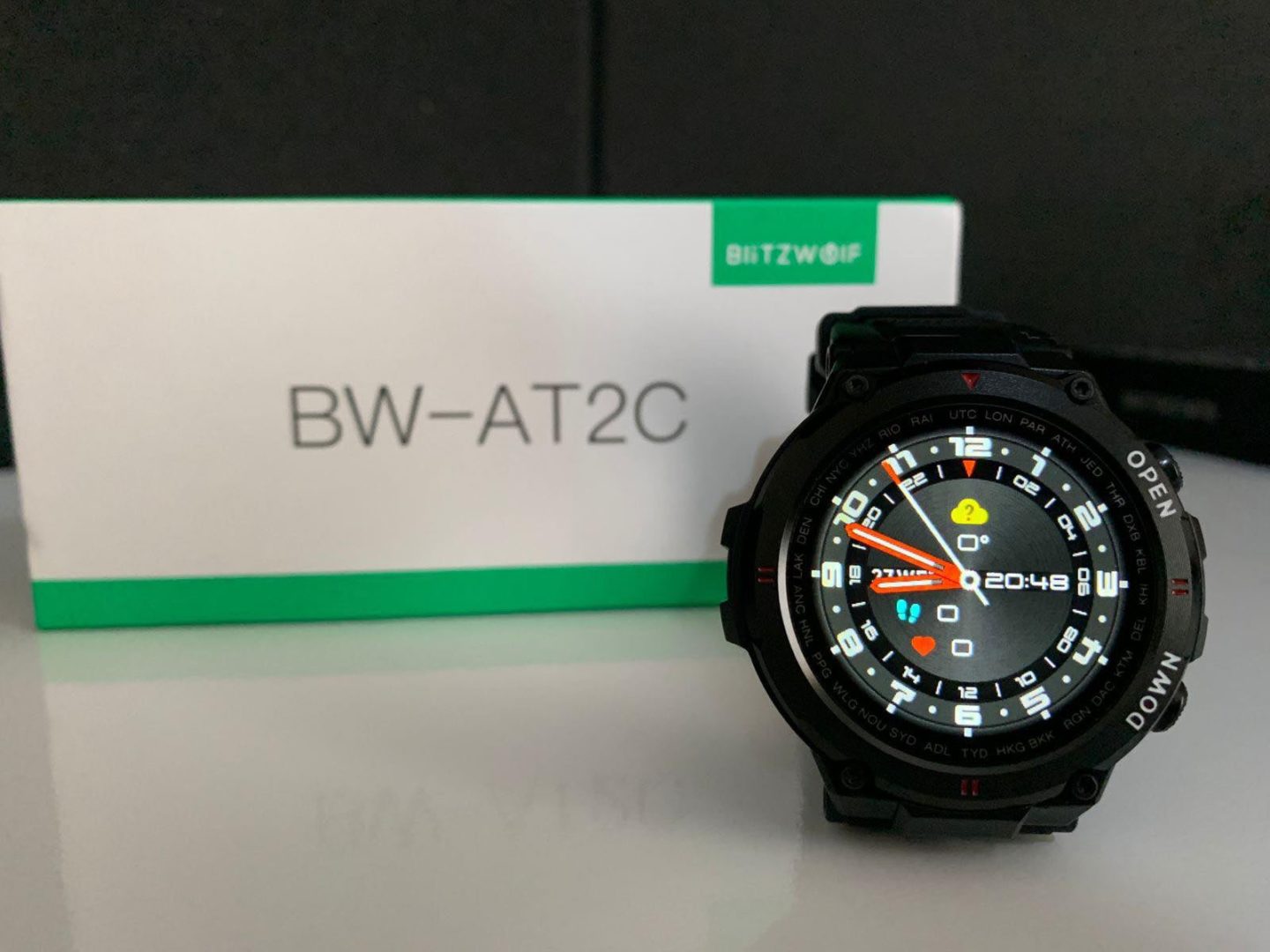 On the top, you have the 1.3″ display along with the black frame and the two buttons on the right side, on the bottom, it has a light emitter that lights up when it measures blood oxygen or blood pressure, two metal contact pins to connect it to the oriented magnetic charger which plugs in quite easily.
The strap is made from silicone, it's removable so you can swap it with a universal 22mm detachable strap. The available colors are grey, black, and green, but you can also get any other color or material you want if you go with the universal one.
BlitzWolf BW-AT2C Display Screen
The BlitzWolf BW-AT2C smartwatch has a 1.3-inch IPS full touch screen with a resolution of 240* 240pixels, in short, the screen is acceptable but not the best thing, the sharpness of colors and brightness are good, you won't have problems reading the screen under direct sunlight.
BlitzWolf BW-AT2C Watch faces
In the app you can choose one of the 5 available watch faces, choose a photo you like, or download other ones, the remarkable thing is that once you choose a watch face on your phone, the change happens almost immediately on your smartwatch which is impressive and shows how good of a connection there is.
Waterproof
The BW-AT2C smartwatch is IP54 waterproof certified, so it is protected from rain and sweat but shouldn't be submerged completely underwater to avoid damage and preserve it for a long time while giving you the freedom to effectively use it in sports or any activity that causes sweat.
BlitzWolf BW-AT2C Health & Fitness Functions
The BW-AT2C Smartwatch is equipped with multi-sports modes for 7 modes including Indoor and Outdoor sports such as rope skipping, running, walking, badminton, basketball, football, and cycling.
Apart from the sports features, you can monitor your heart rate in real-time to check whether it's beating normally or not and monitor sleep to measure your total light sleep, deep sleep, and wake time to provide you with an analysis of your sleep patterns, monitor blood pressure and measure oxygen levels in the blood in real-time to improve The ability of the cardiovascular system to prevent the low level of oxygen in the blood that causes discomfort to a person's body.
Although it has a good sensor that is more accurate than other sensors, this does not mean that the measurements provided by this smartwatch are completely accurate, as most of them are largely unreliable because it's not a medical instrument, but it makes you very aware of your health and physical performance. unfortunately, this is often the case with watches in this price range.
Da Fit App For BlitzWolf BW-AT2C
To better use the Blitzwolf BW-AT2C smartwatch, you need to download the official app Da Fit from the play store or app store or just scan the QR code on the box, once you connect them together, it will show you the model name and image, battery level, mac address and a bunch of options to choose from such as: watch faces, notifications, alarms, shutter, favorite contacts, others and upgrade
1st menu has all the health monitoring stuff, such as sleep time, blood pressure, oxygen levels, heartbeat in addition to sport-related measurements such as outdoor running time, pace, and burnt calories. When you click on each chart, you get more detailed information which is a nice and helpful option for those out there who want to be more aware of their bodies and monitor it's health constantly. Keep in mind that this is not a professional health tool, and you should not rely on it to diagnose your health.
in the second, You can configure notifications and messages from all apps you choose such as Instagram, Twitter…etc, you can also use the shutter option to take photos with your phone's camera, but using your smartwatch, and in Others: you can adjust the settings such as language, time format, activate the drinking water and physiological cycle reminder, and weather location for example.


How To Pair The BlitzWolf BW-AT2C To A smartphone
BlitzWolf BW-AT2C has Bluetooth v5.0 so, it's easy to connect the Smartwatch to your phone. After installing the Dafit app from either the play store or AppStore, all you have to do is add a device, and the phone will search and find the watch in seconds, and you must do that by searching for the Bluetooth and the watch through the app's Bluetooth and not Via Bluetooth in the phone. With that, it will communicate directly and without any complications, with automatic setting of time and language, GPS location, weather, in addition to phone call features, and update the smartwatch software if available.
Bluetooth Call On the BW-AT2C
One additional feature for this smartwatch that doesn't exist in most other similar devices is the Bluetooth speaker, after you turn the smartwatch on, it goes to pairing mode, on your phone you'll find a device under the name BW-AT2C_968F, that's the integrated Bluetooth speaker, once it's paired you can go to your android or iPhone and launch an audio or video and listen to the audio from your smartwatch.
The sound quality isn't great as you would expect it, but I assume it's just an additional feature to show off and make the device special among other competitors.
BlitzWolf BW-AT2C Battery Life & Charging Time
The BW-AT2C Smartwatch performs surprisingly well battery wise, Blitzwolf promises 10 to 15 days of battery life with continuous usage, and the product lives up to the expectations, testing has proved that it can last at least 10days of light to moderate usage everyday, and it only takes 2 hours to fully charge from zero.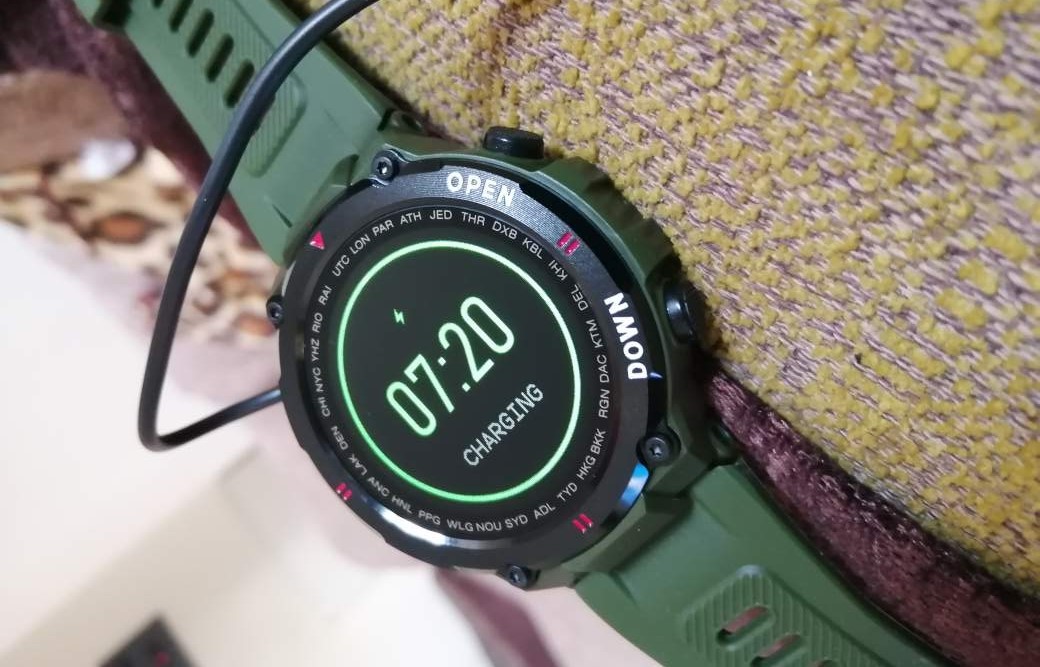 Charging the BW-AT2C is fairly easy, all you need is to stick the charging pins to the corresponding pins in the back of the watch, and it will connect thanks to the magnets.
BlitzWolf BW-AT2C Price And Where To Buy
The BlitzWolf BW-AT2C Smartwatch is currently available on the Aliexpress store and Banggood for a very good price, so don't miss out on this great deal. And to view its price or buy it, you can access the offer by clicking on the store icon.
Package content
BlitzWolf BW-AT2C Smartwatch
Charging Cable
User Manual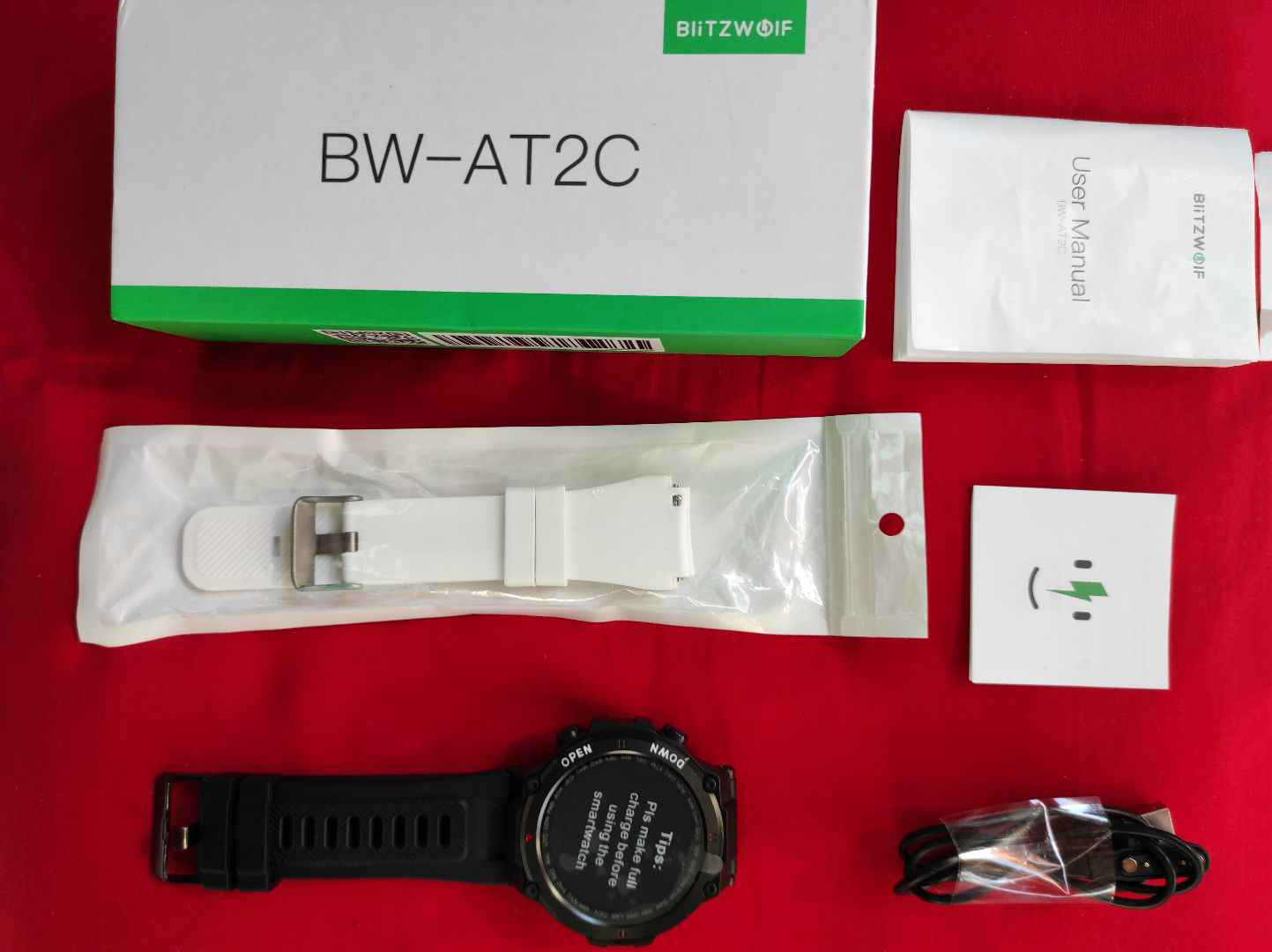 BlitzWolf BW-AT2C Specifications
| | |
| --- | --- |
| Brand | BlitzWolf |
| Model | BW-AT2C |
| Bluetooth Version | BT 5.0 |
| Compatible OS | Android system 4.4 version or above; iOS system 8.0 version or above |
| Operating Mode | Full Touch Screen+ Press Button |
| APP Name | Dafit |
| App Language | Danish, Ukrainian, Russian, Bulgarian, Bokmal, Norwegian, Hindi, Indonesian, Turkish, German, Italian, Czech, Japanese, Pushto, French, Polish, Thai, Swedish, Simplified Chinese, Traditional Chinese, Romanian, Finnish, English, Dutch, Portuguese, Spanish, Vietnamese, Arabic, Korean |
| Watch Language | English,Chinese,Japanese,German,French,Spanish,Arabic,Russian,Ukrainian,Russian,Portuguese |
Waterproof
IP54 (Life Waterproof)
Sensor
G-sensor, Heart Rate Sensor
Screen
Size: 1.3 inch
Type: IPS
Resolution: 240*240 pixels
Battery
Battery Capacity: 400mAh Big Battery
Using time: About 7-10 days
Charging Time: About 2 hours
Charging Type: Magnetic charging
Band
Material: Silicone
Size: 22mm (support universal 22mm detachable strap)
Weight and Size
Product size: 52*12mm Product Weight: about 55g