Bluedio Launched new model Fi is on sale and with over 30% off! New generation TWS earbuds Fi, Which comes with high-tech Qualcomm chip, APTX, and more. Let's take a look at how it performs.
Design And Comfort:
In terms of design, the Bluedio Fi case didn't come as anything to impress, the exterior design seems to be steel but in fact, it is plastic and ABS But is made of premium quality, and from the top, the bad thing about it is that it is vulnerable to fingerprints and scratches, from the inside it lighting in the Fi mark in the middle when it is Earphones charging. The good thing is that it comes with a Type C port.
As for the earphones, they are comfortable and fit the ears perfectly and look elegant compared to other headphones of the same category, And equipped with three different types of earphone sizes to suit different personalities, they are silicone earplugs and memory foam earplugs, that can make wearing more comfortable. And It is not easy to fall off during use and vibration if you are walking or exercising and jogging, So, you can enjoy HIFI sound quality without any difficult.
in addition to the presence of a round touchpad with an acceptable response speed.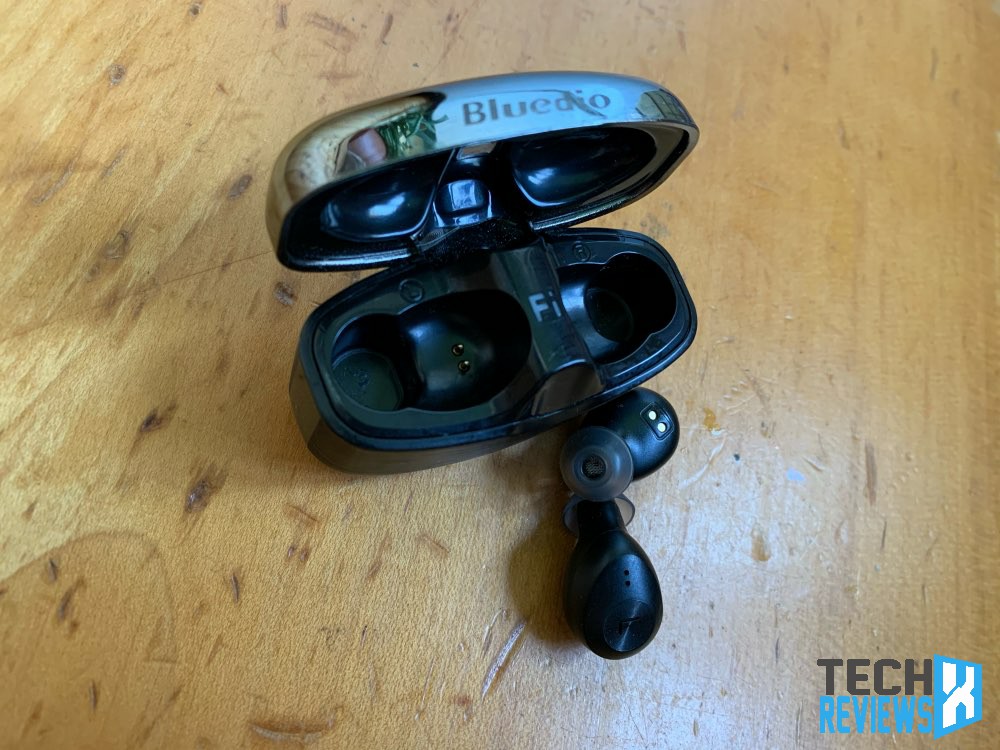 And Because the Bluedio Fi earphone is small and easy to carry, it is very comfortable no matter where you place it, such as in your bag, your hands, cars or just put it in your pants pocket.
To explore other options, read about the Bluedio HI TWS Earbuds Review.
Performance of Bluedio Fi:
Bluedio Fi adopted bigger 6mm drive unit to bring you better bass effect and clear sound quality, you can also have amazing experience in making phone calls and enjoying music.
in which Bluedio Earbuds can help you locate the accurate enemy position in-game by listening sound, enjoy stereo when watching a movie, say goodbye to a boring time when taking the subway, more calories burning when doing exercise and safe drive.
Supporting most audio transmission formats, less restriction, enjoy more fun freely! WAVE, MP3, MPEG, MPEG-4, WMA.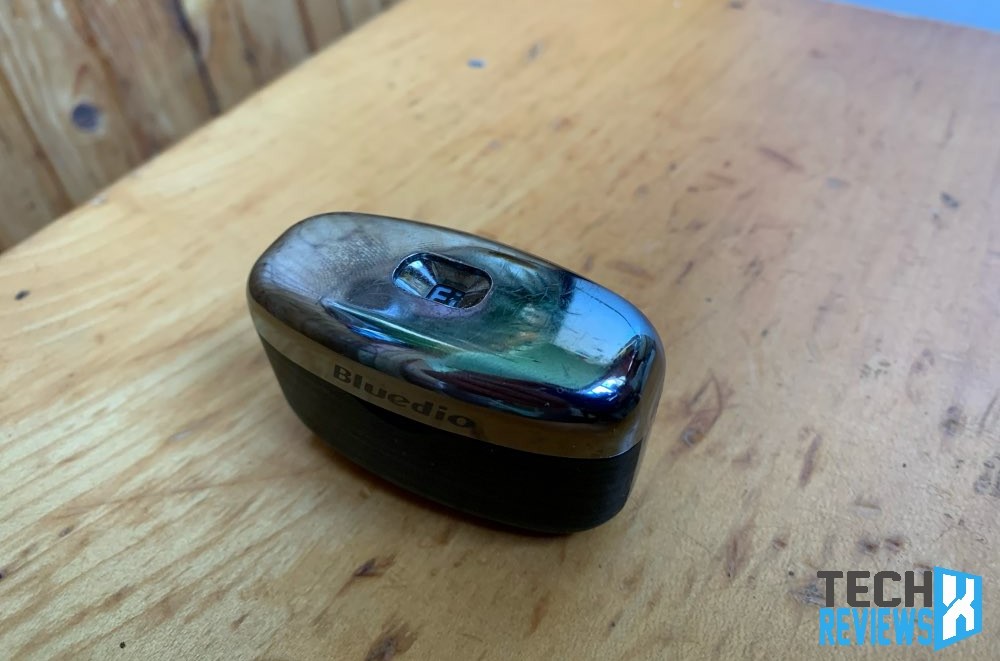 Touch control:
And With a feature Touch control, No need to press the button, but just touch it lightly you can control them according to functions and switch to the modes you want. Play or pause music with a single tap on the round touch panel. Tap twice on the right bud to increase the volume, twice on the left one to decrease it. With three taps on the right bud, you advance a song – touch the left piece thrice to return a track. Holding aside for 2 seconds activates the voice assistant on your smartphone.
She also came with an Auto pause feature, Depending on the face recognition technology, the music play when you wear earphones, music stop when taking off earphones, This helps to help save battery Significantly.
It's also possible to switch easily between listening to one and two earpieces.
Bluetooth 5.0:
Bluedio Fi Equipped with a new generation Bluetooth 5.0 chip, bringing you lower power consumption and more stable use. Wonderful game experience with almost no delay in your playing… Besides, the amazing switching technology makes the operation easier and more convenient, providing you excellent control.
Qualcomm chip:
Adopted Bluedio On advanced Qualcomm chip in a FI, to greatly reduces the latency and lower the power consumption provides you more stable Bluetooth using and faster transmission. In addition to his support the Bluetooth APTX to achieve more lossless transmission. And it has the advantages of low latency in transmission, great fault tolerance, and high sound quality. Lower consumption, more fun in enjoying the amazing sound effect.
The sound quality of the Bluedio Fi microphone:
If you are wondering about the sound quality on the Bluedio Fi microphone during making calls, it is reassuring that it produces a very clear sound even if you surround it with any kind of noise, it will reduce it nicely and this is done by replacing it with an artificial sound that looks comfortable, allowing the Others by listening to you more clearly and with the lowest possible noise.
This is called VFT technology, if you haven't heard about it before, it is a particular patented technology, developed by an engineer Bluedio in many years later, VFT vector current boost control bass compensation( patent No: ZL20160848544.8), with this the technology used you can enjoy HIFI sound quality with no noises and better-talking experience in making the call.
Waterproof:
The most important thing she Waterproof, With improving waterproof ability, Fl can effectively prevent the damage from water splashing in daily life.
Battery:
The Bluedio Fi charging case comes with a 650mAh battery capacity that can charge the earphones up to three times to recharge again, and since the Type-C charger does not take a long time to do so. And the headphones let you have about 5 hours of playing music or if you use one ear you will with me 10 hours, and these results are good for headphones at such a price.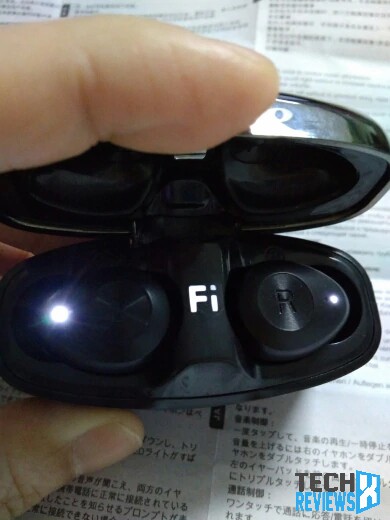 You may also like BlitzWolf BW-FYE8 TWS Earphone Review – All You Need to Know.
The Bluedio Fi Price and Availability:
The Bluedio Fi is currently available on Aliexpress for $33.25 and Gearbest for just $29.99. This is a very good price So, don't miss out on this great deal. And to view its price or buy it, you can access the offer by clicking on the store icon.
2 * Headphone
Charging box
Charging cable
User Manual
Specifications Bluedio Fi
Headset type: wireless headset
Headphone material: plastic
color: black
Headphone output source: HiFi
Waterproof performance: IPX4
With or without microphone: with wheat
Wearing method: in-ear
Plug type: Bluetooth
Whether by wire: No
Compatible platforms: ANDROID Windows Phone AliOS iOS YunOS
Smart type: does not support smart
Applicable music type: Universal
Impedance: 16Ω
Sensitivity: 25dB / mW
Frequency response range: 20-20000Hz
Headphone sounding principle: the ring iron combines the left and right cavity of the headset
Connection method: wireless connection
Pairing name: Fi L / Fi R
Charging box battery capacity: 650mAh