The Alfawise V7 TWS has an aesthetically appealing appearance. It has excellent sound quality and decent active noise cancellation. It is capable of playing Bluetooth 5.0 thanks to an intelligent chip that allows the connection to be switched on and off as the user wishes. it has got the so-called "6D" that is, an extremely enveloping sound like those in movie theaters.
Design:
The overall body shape is circular and sturdy. The black color of earbuds gives it a glossy and shiny look. the outer side of earbuds has some matte black patterns that look amazing. Most interestingly, the first panel of the earbud case describes the battery condition of both pairs of earbuds. The front side has the micro-USB port to recharge and three LED indicators.

Thanks to better design, the comfort level is best during listening things through Alfawise V7. It does not create a vacuum inside the ear. While running or racing, the earbuds don't jump off of the listener's ears because of the perfect fitting.
The Alfawise V7 TWS features an Outstanding sound insulation effect Thanks to super lightweight earplug, three sizes of earplug and in-ear hanging For this it's Safe and Comfortable.
the particularity of this model lies in the circular-shaped case, which can be opened by rotating the two halves.
Finally, These earbuds are made for the sportsmen because it is water-resistant and certified with IPX5, So you can use them safely in the rain or in the gym as they resist sweat without problems.
Sound of Alfawise V7:
The audio quality is the most critical feature to buy such a product. The company claims that Alfawise V7 can offer a 6D sound experience, which is an extremely enveloping sound like those in movie theaters. Because it has adopted the graphene sound unit, which adds depth to the music. The clear sound quality has a frequency range of 20hz to 20000hz and impedance of 32 ohms. It also features CVC 8.0 noise reduction functionality, which ensures better sound quality for you.
Bluetooth 5.0 technology: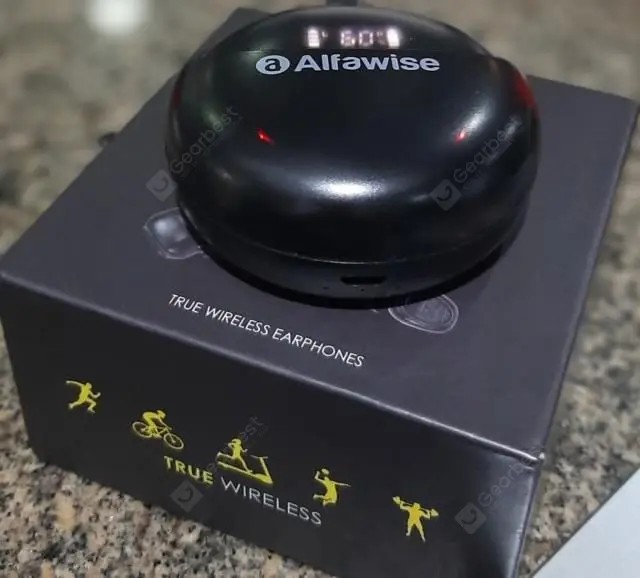 Alfawise v7 TWS has equipped with Bluetooth 5.0 technology, the latest Bluetooth technology currently available which guarantees greater autonomy, lower power consumption and a more stable and long-range connection between 10 and 15m with devices equipped with the same Bluetooth version.
Moreover, the earbuds are compatible with various devices such as play-stations, Androids/IOS, and computers, etc. It has auto powerup and pairing up mode for the convenience of the user.
Note: Bluetooth Name of Alfawise V7 TWS Earphone: YH-03
Pairing method:
Switching on and pairing with the device is automatic. So is the connection between the two earphones. Alfawise V7 can also be used in mono to manage phone calls.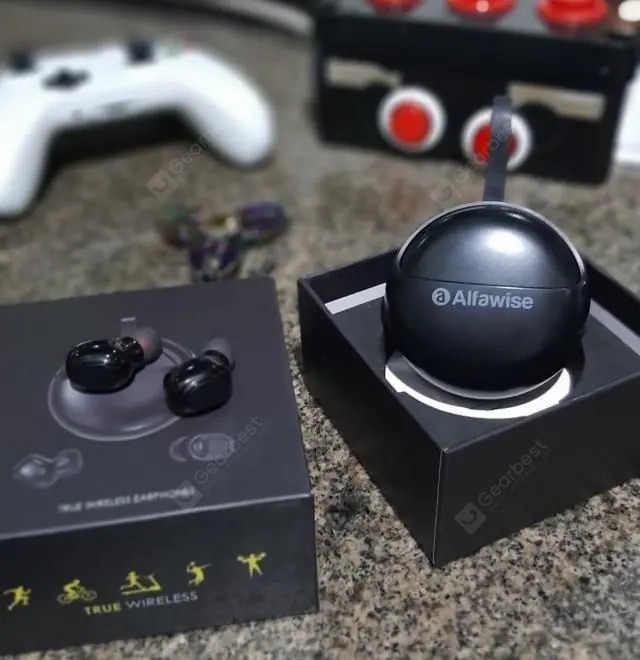 Battery:
Alfawise v7 TWS has 4 to 5 hours of battery life. It can charge 2 to 3 times by the case. To recharger the battery, the earbuds have the micro-USB interface on the front side, the 4000mah case can be charged in 1.5h. And the percentage of the left charge is shown through a small LED display on which it is indicated numerically. allows you to know more intuitively about the power and predict the duration.
You may also like Alfawise Watch 6 Review: Best Cheap Smartwatch Under $40 In 2020 – All You Need to Know.
Alfawise V7 Price and Availability:
The Alfawise V7 is currently available on the Gearbest store for just $15.99. This is a very good price So, don't miss out on this great deal. And to view its price or buy it, you can access the offer by clicking on the store icon.

Alfawise V7 TWS Headphone.
Charging Base (400mAh).
USB Cable.
2 x Earplug.
English User Manual.
Bluetooth 5.0 + EDR: the device supports automatic power-on and automatic connection, providing a strong and stable signal, faster and more stable transmission.
6D Sound Quality: Presents a stereo surrounded effect, taking you to experience the shock of being in a theater. Excellent sound quality, dynamic drivers and graphene diaphragm add extra depth to the full and clear sound, making your music sounds wider.
Charging Case for Continuous Power Supply: Large-capacity charging case to charge the headphones at any time. Each headset can be used as a separate Bluetooth headphone and two headphones can be used in rotation for a longer time.
Safe and Comfortable Fit: Outstanding sound insulation effect, super lightweight earplug, with three sizes of earplug and in-ear hanging.
IPX5 Waterproof Rating: Supports IPX5 waterproof, calmly cope with the double challenge of rain and sweat. Meet multiple sports scenes of life, running, bodybuilding, or traveling on a rainy day.
LED Design for the Power Display: Intelligent LED electricity display screen, charging box, and headphone power at a glance, lets you know more intuitively about the power and predict the duration.
Specification of Alfawise V7
General
Type: In-Ear
Material: ABS
Features: Active Noise-cancelling, Cool, Extra Bass, Surround Sound
Wearing type: In-Ear
Main Functions: Answering Phone, Bluetooth, HiFi, LED indication, Microphone, MP3 player, Noise Cancelling, Song Switching, Sweatproof, Voice control, Volume Control, Waterproof
Color: Black
Product Details
Driver unit: 8mm
Frequency response: 20-20000Hz
Impedance: 32ohms
Plug Type: Micro USB
Sensitivity: -92dB
Sound channel: Two-channel (stereo)
Charging Time: 1.5H
Music Time: 4-5H
Talk time: 4-5H
Working Time: 4-5H
Headphone Sensitivity: 106db
Micphone Sensitivity: -42dB
Bluetooth
Bluetooth: V5.0
BT distance: W/O obstacles 10m – 15m
Battery
Battery Type: Non-removable
Capacity(mAh): Headphones 45mAh * 2, charging case 400mAH
Dimensions and Weight
Product weight: 0.0520 kg
Product size (L x W x H): 6.80 x 6.80 x 2.80 cm / 2.68 x 2.68 x 1.1 inches