If you own multiple Apple devices such as iPhone, Apple Watch, or even AirPods, you know that wireless charging has become an indispensable feature for daily use. However, your desk will be full of clutter with charging cables and devices. In such cases, a multi-use charger will be useful. So, in this review, we talk about a new device from COOMOOY that will solve all these problems.
Coomooy 3-in-1 Wireless Charging Stand that can charge Apple devices like iPhone, AppleWatch, and AirPods Pro at the same time and in one place, and while charging, you don't have to fiddle with cables, so your desk stays neat and saves you valuable time and lets you enjoy a convenient charging experience And easy to use! In addition, it features MagSafe magnetic technology for easy connection and faster wireless charging, which first appeared on iPhone 12.
It may seem that his idea of charging three devices simultaneously has become popular, but it stands out in this crowded market with its high build quality and design plus a reasonable price point under $50, so rest assured that Coomooy will be the last resort in your cable woes. Beautiful, complete and does its job just like any other fast-charging stand. The device can be ordered from the brand's official website, where it costs $44.50 with a discount by using this code 10%OFF.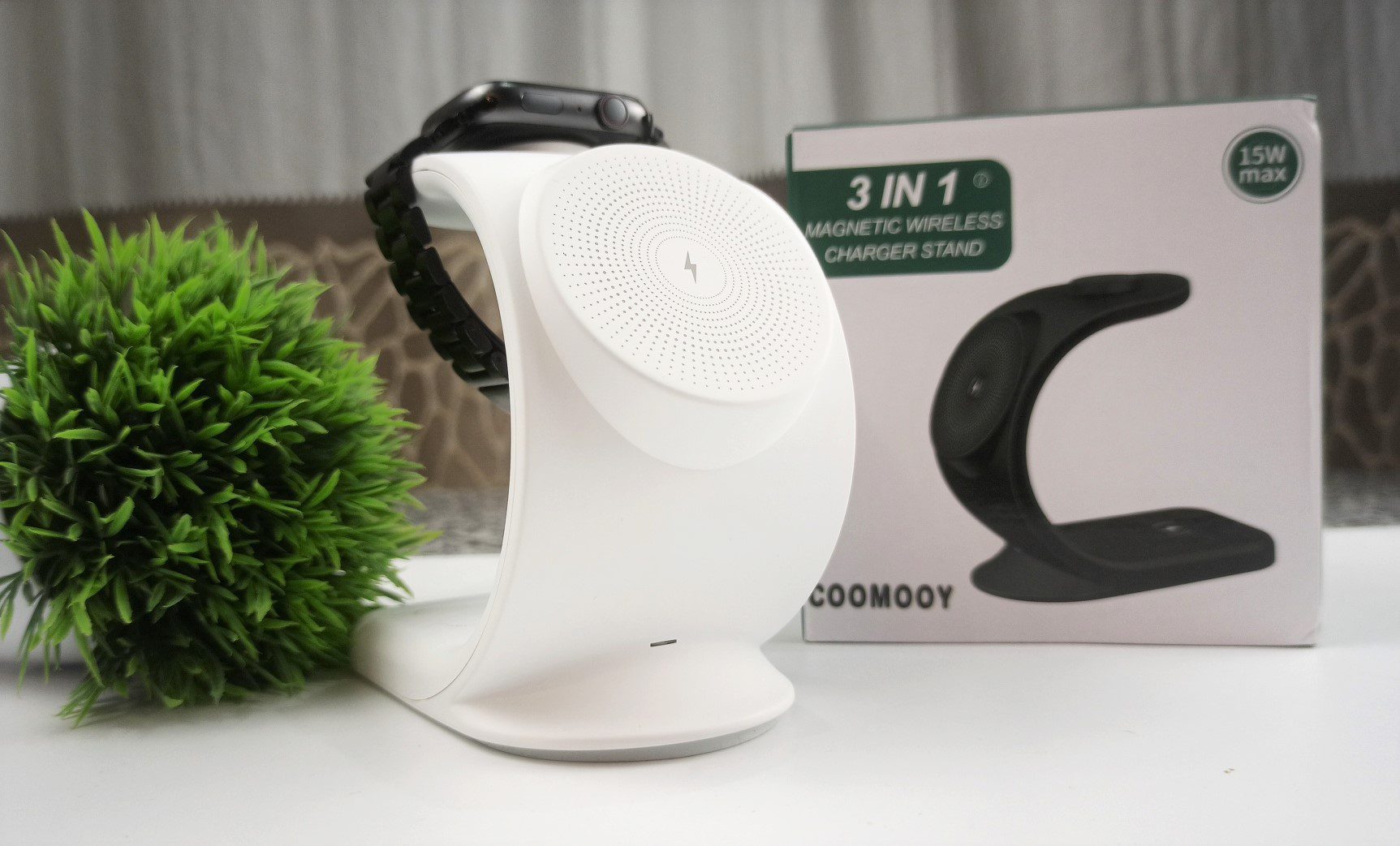 Coomooy Wireless Charger Features
Well-built and sturdy
The charger and phone magnetic attachment is strong
Able to wireless charge three items at once (AppleWatch, AirPods, iPhone)
Simple interface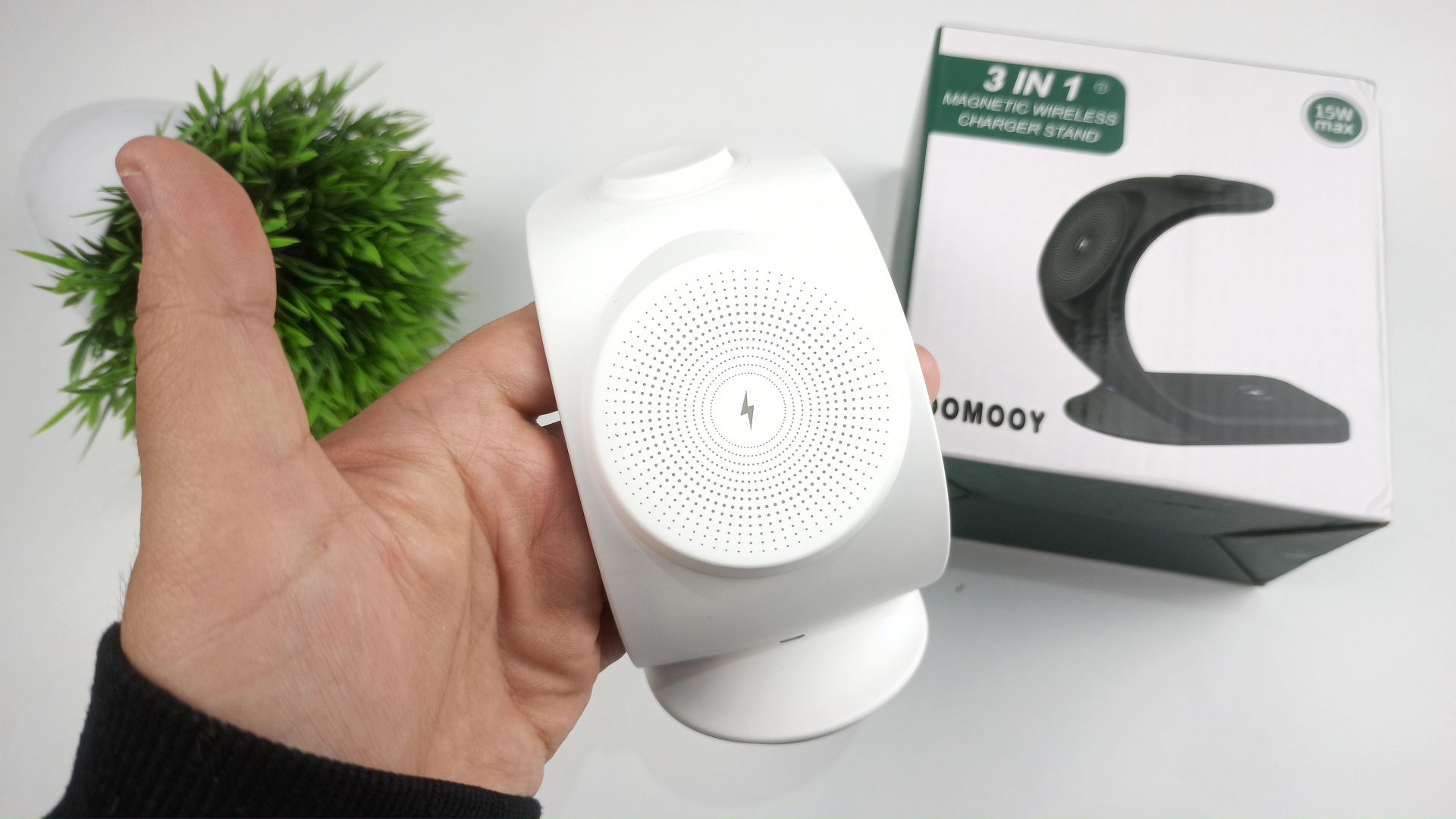 Design & Build Quality
The Coomooy 3-in-1 Magnetic Wireless Charger Station is basically a single piece of white plastic or you can choose black. It has a nice matte finish and does not collect fingerprints and dust, which makes it look modern and clean, especially since there are no useless decorations or logos. . Material-wise, the Coomooy Magnetic Wireless Charger Station looks well-made.
The wireless charging station holds three charging points in a row for your iPhone, Apple Watch, and AirPods. Having them all in one place makes it easy to keep your desktop or nightstand tidy. The Coomooy 3-in-1 Magnetic Wireless Charger Station is designed in such a way that it is compact and does not take up much space, and at the same time, it is a decorative piece on your desktop. This is perfectly fine if you are looking for a 3-in-1 charging device that takes up less space on your desk in the midst of many other devices that serve the same purpose but are often larger and unimaginative to the point that they take up a lot of space on the desk or do not give that satisfactory appearance.
The main feature on the front of the device – the MagSafe pad is tilted at an angle of 60 degrees, so you can watch videos from your phone while charging and it's good that it can be placed horizontally or vertically, which makes it very easy to use. On top of that, there is a small space for charging your Apple Watch. Underneath, there is space to put your earphones or even another smartphone.
Coomooy wireless charging station uses the latest magnet technology to achieve a "quick charging experience". Strong magnetism provides automatic connection and proper alignment when your electronic devices come close to the magnetic charger. The charging station works through the widely adopted Qi wireless charging standard. It is supported by high-end Samsung Galaxy phones, iPhones, Pixels, phones from Huawei, Xiaomi, etc.
There is a nice LED light above the base that glows dimly and does not interfere at night, which will turn green to indicate when charging. Unfortunately, the light cannot be turned on / off, but because the LED lights are placed in an inconspicuous place, the bright lights will not be an eyesore. On the back is a single USC-C port. Of course, it is highly recommended to use a fast charger to get maximum charging speeds.
The base has anti-slip pads attached to the corners enough to keep it on the tabletop if you accidentally touch it.
Coomooy 3-in-1 Wireless Charging – Charging And Usage
Like many third-party accessory makers, Coomooy developed its own magnetic charger compatible with MagSafe after announcing the iPhone 14. However, the magnetic charger that Coomooy uses to charge phones supports 5W/7.5W/10W charging to up to 15W such as Apple and other products. other licensed.
The wireless charger for AirPods is a standard 3W charging pad. While Apple Watch models with 2W maximum charge and Note that support high-speed charging, they also charge at 5W maximum. Charging speeds may not be great, but overall performance should still be more than enough for everyday use. For best results, it is recommended to use a charger with a power of 33W or higher. Charging speeds aside, one of the real advantages of this Coomooy charging stand may be its ergonomic, compact and functional design.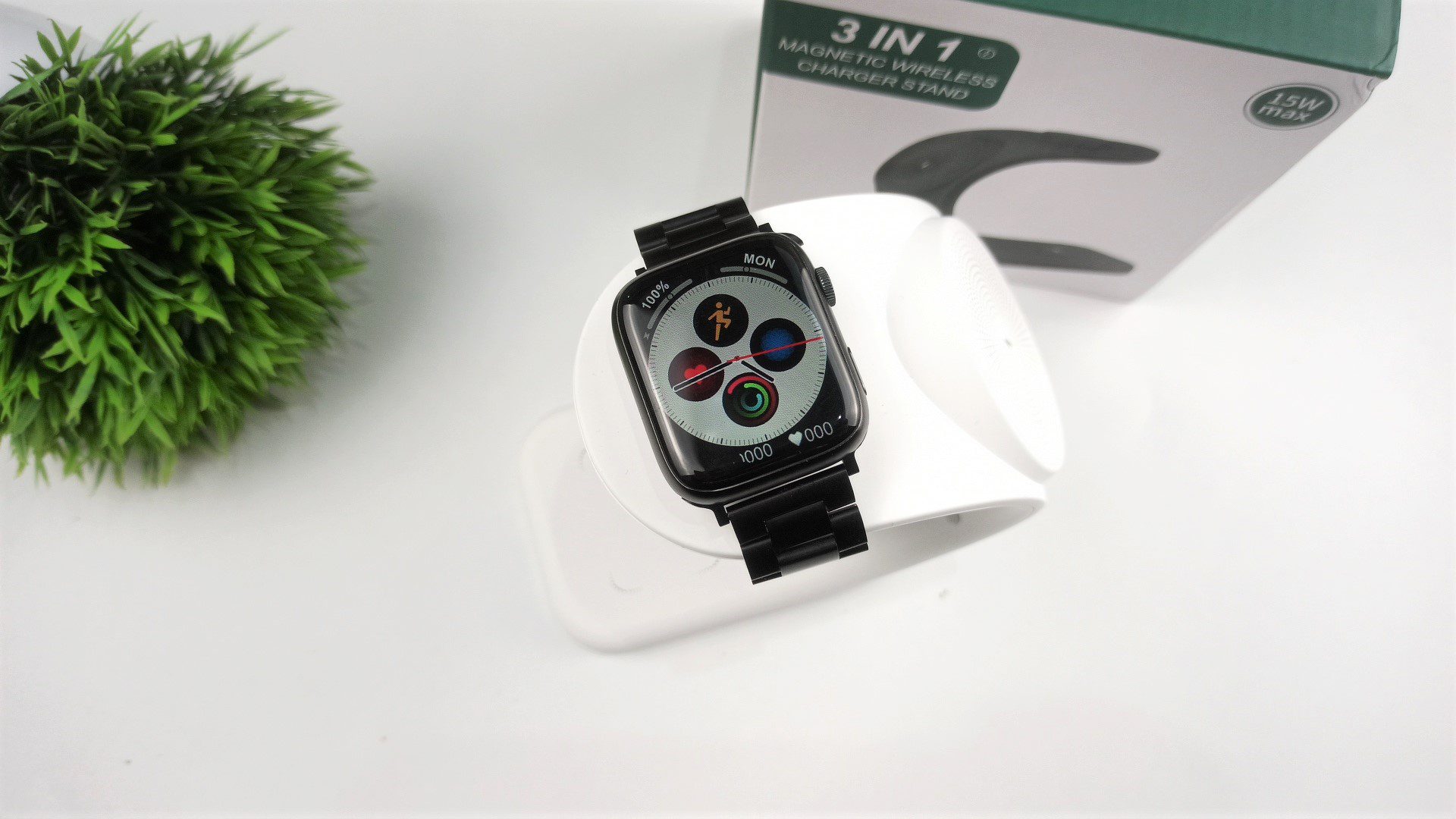 This device is compatible with iPhone 14/14 Pro/14 Plus/14 Pro Max/13/12/13 Mini/13 /13 Pro /13 Pro Max /12 Mini/12/12 Pro Max/12 Pro Max, AirPods2/3/ Pro, Apple Watch SE/1/2/3/4/5/6/7. And since the charging station works through the widely adopted Qi wireless charging standard. It is supported by high-end Samsung Galaxy phones, Pixels, phones from Huawei, Xiaomi, etc. This applies to earphones but not other smartwatches. You can also use phones without magnets by attaching a separate MagSafe ring seal. However, this charger is mostly suitable for iPhones, due to the nuances mentioned above.
For safety matters, the Coomooy in this charger safe provides a fast and reliable charging experience for your mag-safe devices, and the COOMOOY 3-in-1 wireless charger will stop charging if it comes into contact with metal objects such as keys or coins. It also has overheat protection, which protects your electronic devices from harm.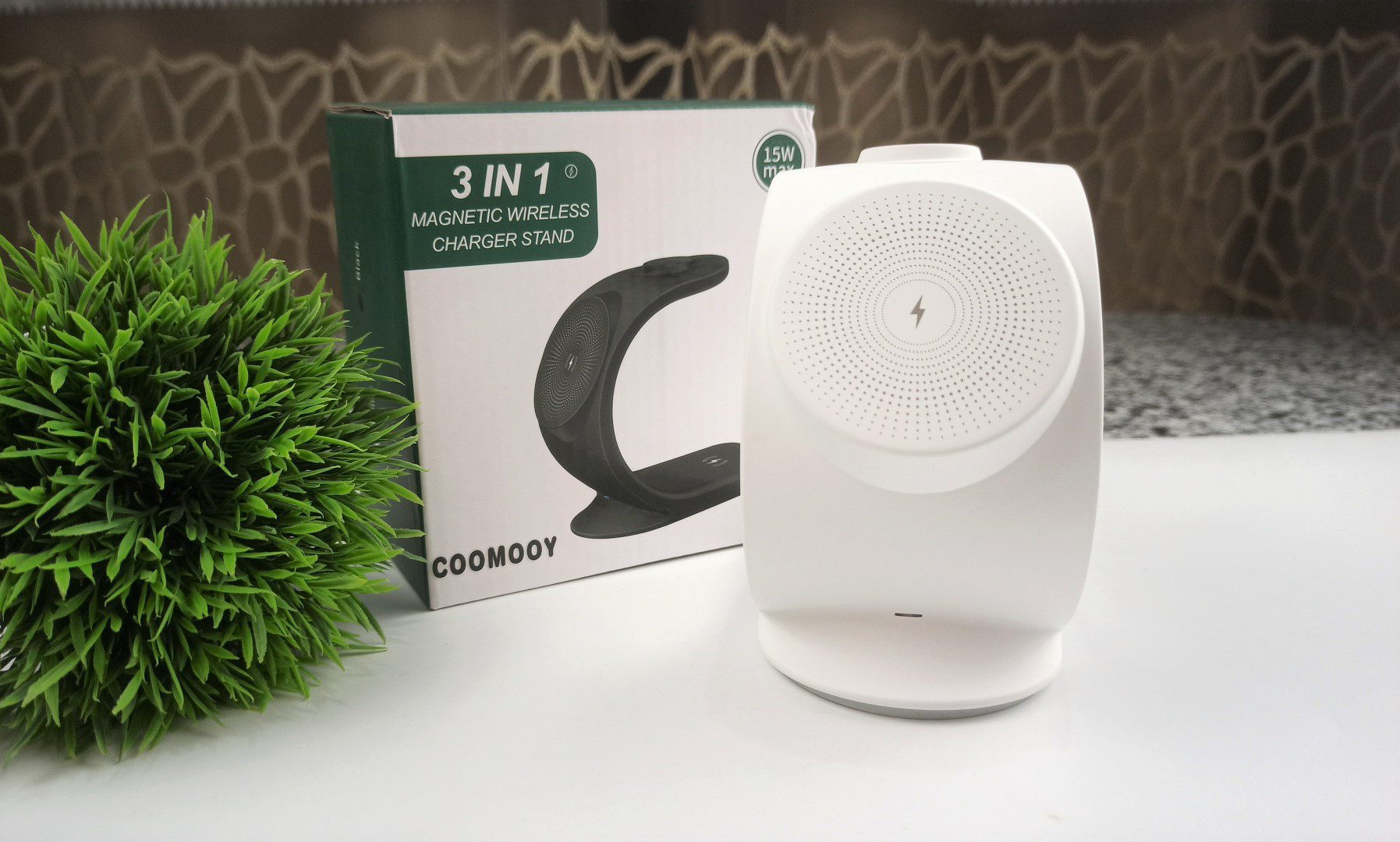 And using it is free of any complications, just plug a power source into the charger – and that's it. Put your phone, headphones, watch the charger and you're done. During charging the station does not heat up. Only the watch/phone/earbuds might be slightly warm – which is normal for wireless charging. However, I would have appreciated if Coomooy evaluated the option of purchasing a power supply with it so that people would not need to worry about wattage or other compatibility issues with their power supply, and avoid any misuse by the basic user.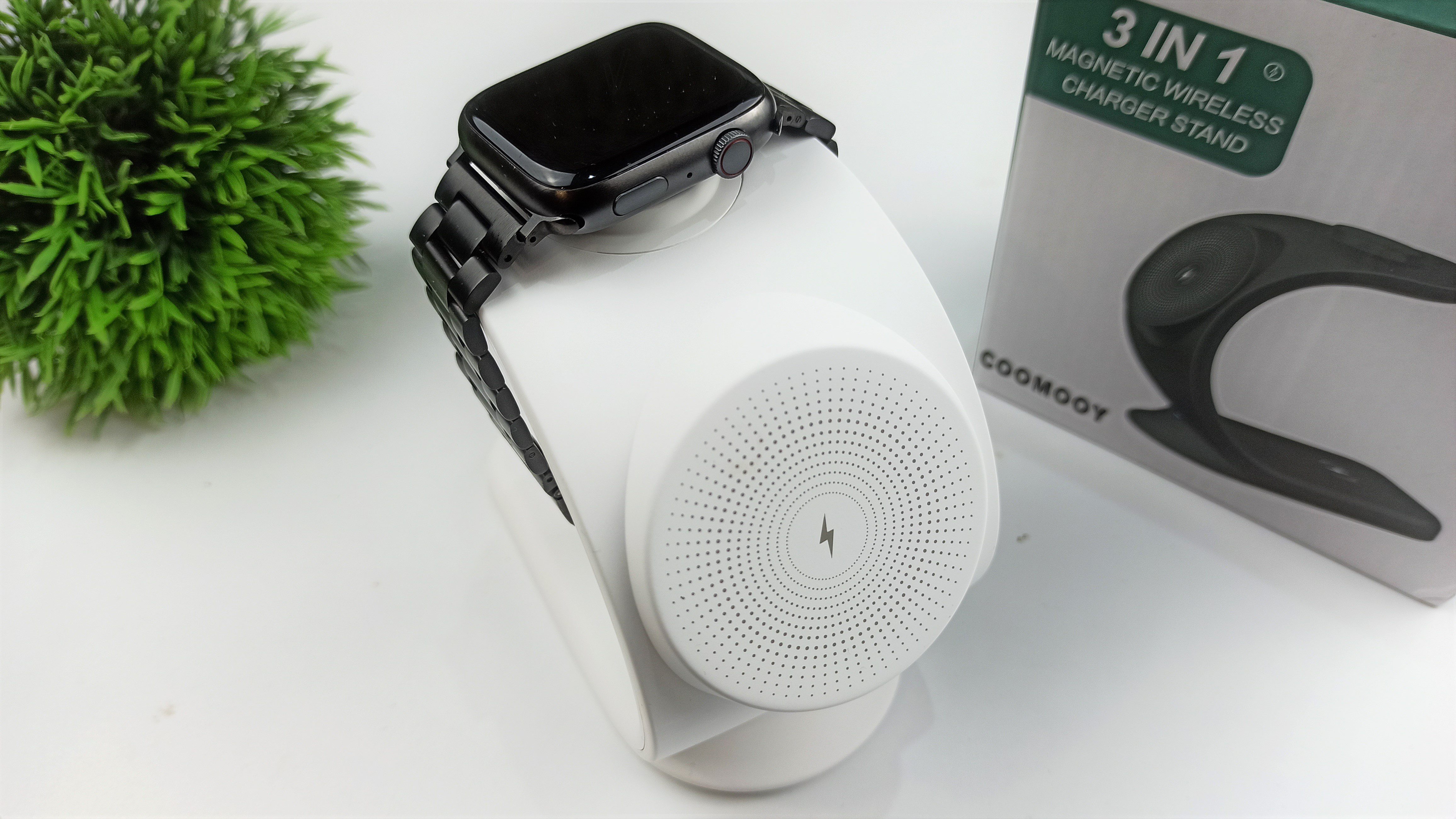 Final verdict
The Coomooy Magnetic Wireless Charging Stand is a beautiful decorative piece and takes up very little space on your desk. As with all simple devices, the 3-in-1 Magnetic Wireless Charging Stand does what it does and does it exactly the way it was intended. It's compatible with new technologies like magnets and wireless charging. It easily attaches to a stand using magnets. It can charge your iPhone, Apple Watch, and AirPods in the same time. I felt it was a highly recommended charger for those who have Apple products that support magnetic and wireless charging.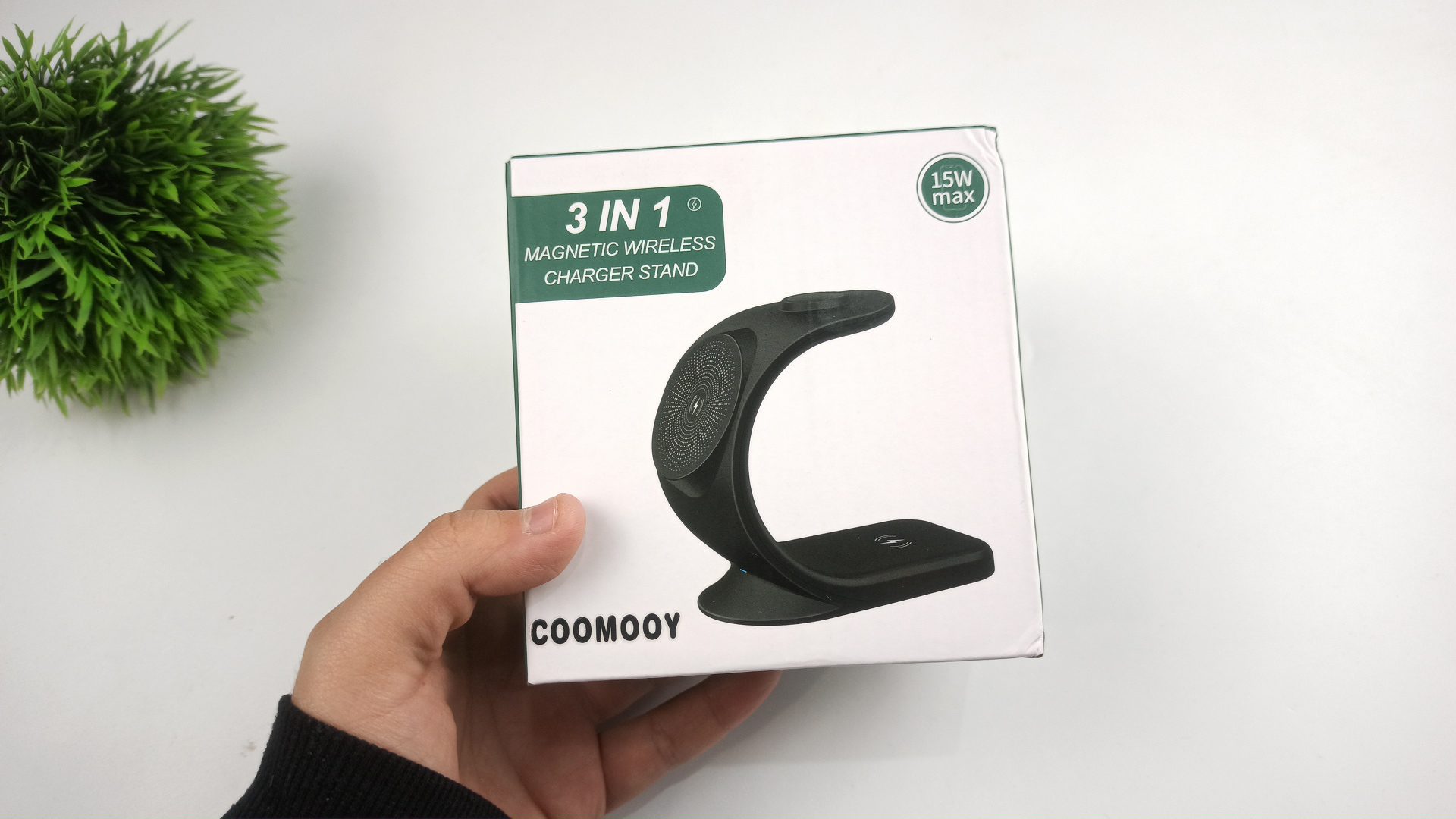 3-in-1 magnetic chargers for Apple devices are not cheap and some can be over $100. But this one from Coomooy for under $50 makes it a compelling option to save some money. On the other hand, it's available for purchase at around $45.50 on the Coomooy official website and you can get a discount using this code: 10%OFF. This makes the price more affordable and provides a unique feature that other chargers of this type are not available.
Coomooy Magnetic 3-in-1 Wireless Charging Stand
Type-C cable
Manual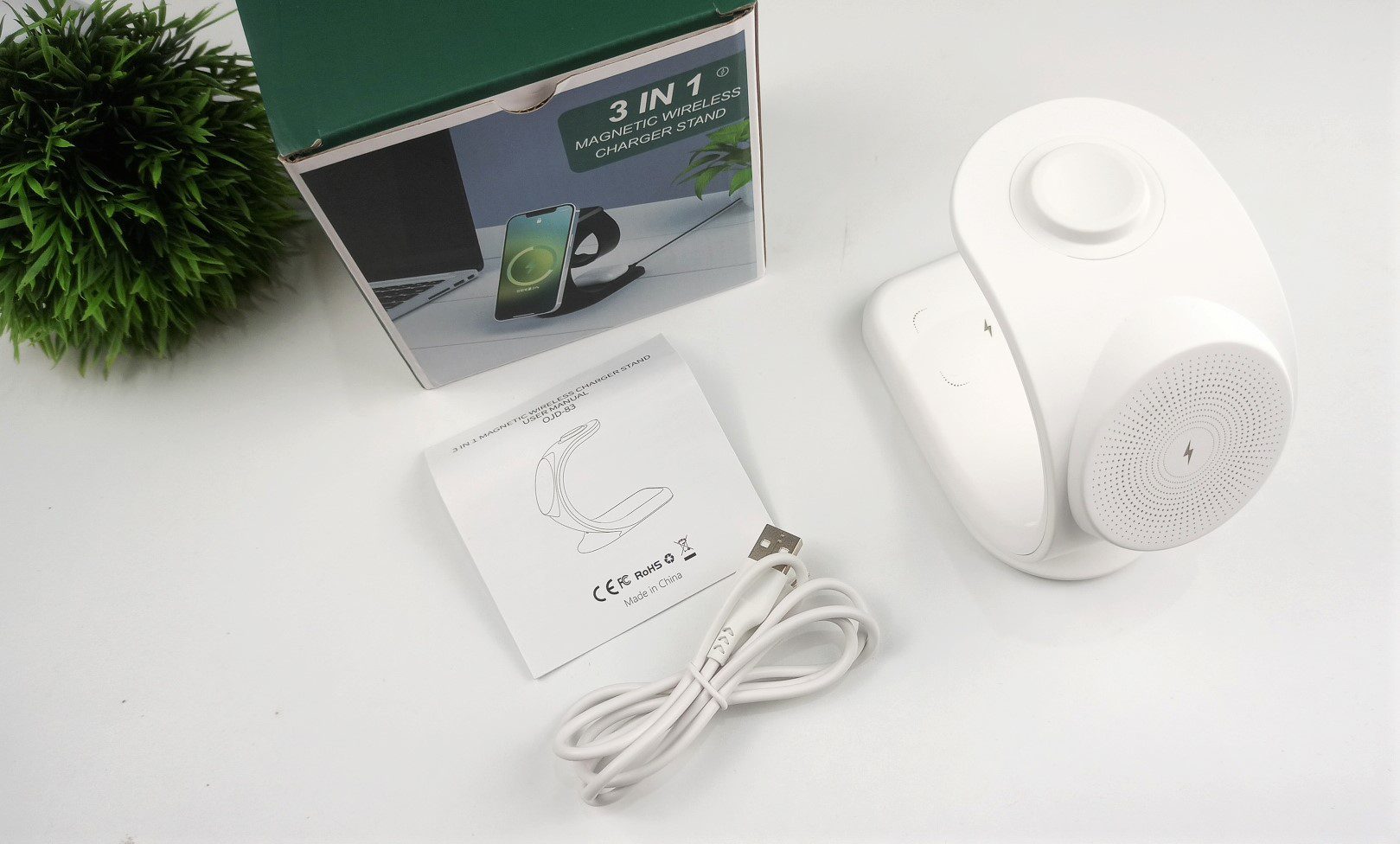 Specs of COOMOOY 3-in-1 Magnetic Wireless Charger
Compatibility: Qi-compatible devices (up to 15W)
Connector: Type-C
Number of devices you can charge simultaneously: 3
Input power: 9V/2A, 12V/1.5A
Apple watch output power: 2W (max)
Earbuds or other device output power: 3W (max)
Phone output power: 5W / 7.5W / 10W / 15W
Dimensions: 127x117x71 mm