The market of smartwatches has witnessed a proliferation of clones attempting to replicate the iconic Ultra Apple Watch's functionality and design. Among the plethora of options, the HK8 Pro Max and Hello Watch 3 have emerged as frontrunners, gaining popularity for their impressive features and AMOLED displays. Everyone seems to have their opinion on which one is better. I have been fortunate enough to use both of these smartwatches extensively, If you are considering purchasing one of these watches, you are in luck because I am here to provide you with a comprehensive video review to help you make an informed decision.
In this in-depth review, we undertake a comprehensive analysis of these two contenders, exploring details and the key differences and features of these two popular smartwatches from design and health sensor performance to user interface, and more, to ascertain which of these clones truly reigns as the ultimate Ultra Apple Watch alternative. So, let's dive right into the details and explore the key differences and features of these two popular smartwatches.
Design and Build Quality
At first glance, both the HK8 Pro Max and Hello Watch 3 appear to be faithful renditions of the original Ultra Apple Watch design. However, upon closer inspection, subtle differences become evident. The HK8 Pro Max suffers from a few design flaws, most notably in the improper drilling of microphone and sensor holes, which can be a concern for some users seeking a seamless and polished appearance.
On the other hand, the Hello Watch 3 excels in precision, boasting correctly drilled openings, and even its crowns exhibit the same size as those of the original Apple Watch Ultra, enabling the use of protective cases designed for the genuine timepiece. This customization option enhances the appeal of the Hello Watch 3 to users looking for personalization and protection.
Also, there is a noticeable difference when it comes to the strap holes on the hk8 Pro Max. Upon close examination, you will notice that they are not fully drilled, which may be a concern for some users. On the other hand, the Hello Watch 3 seems to have its strap holes fully drilled, ensuring a more secure fit.
Size-wise, both watches are quite similar, and the good news is that the original Apple Watch cases fit perfectly on both the Hello Watch 3 and the hk8 Pro Max without any unsightly gaps. Moreover, both smartwatches feature a red dot on the side, signifying their authenticity. Whether you prefer a larger, more prominent watch or a sleek and understated design, both devices offer attractive options.
Water Resistance and Durability
Wearable devices must endure various environments, and water resistance is an essential feature for active individuals. Both the hk8 Pro Max and the Hello watch 3 boast an impressive IP68 water resistance rating, ensuring protection against water and dust. A water submersion test confirmed the durability of both watches, with both devices maintaining full functionality even after being submerged for over 10 minutes. The robust build and water resistance of both smartwatches make them suitable companions for various outdoor activities, including swimming, hiking, and even in adverse weather conditions.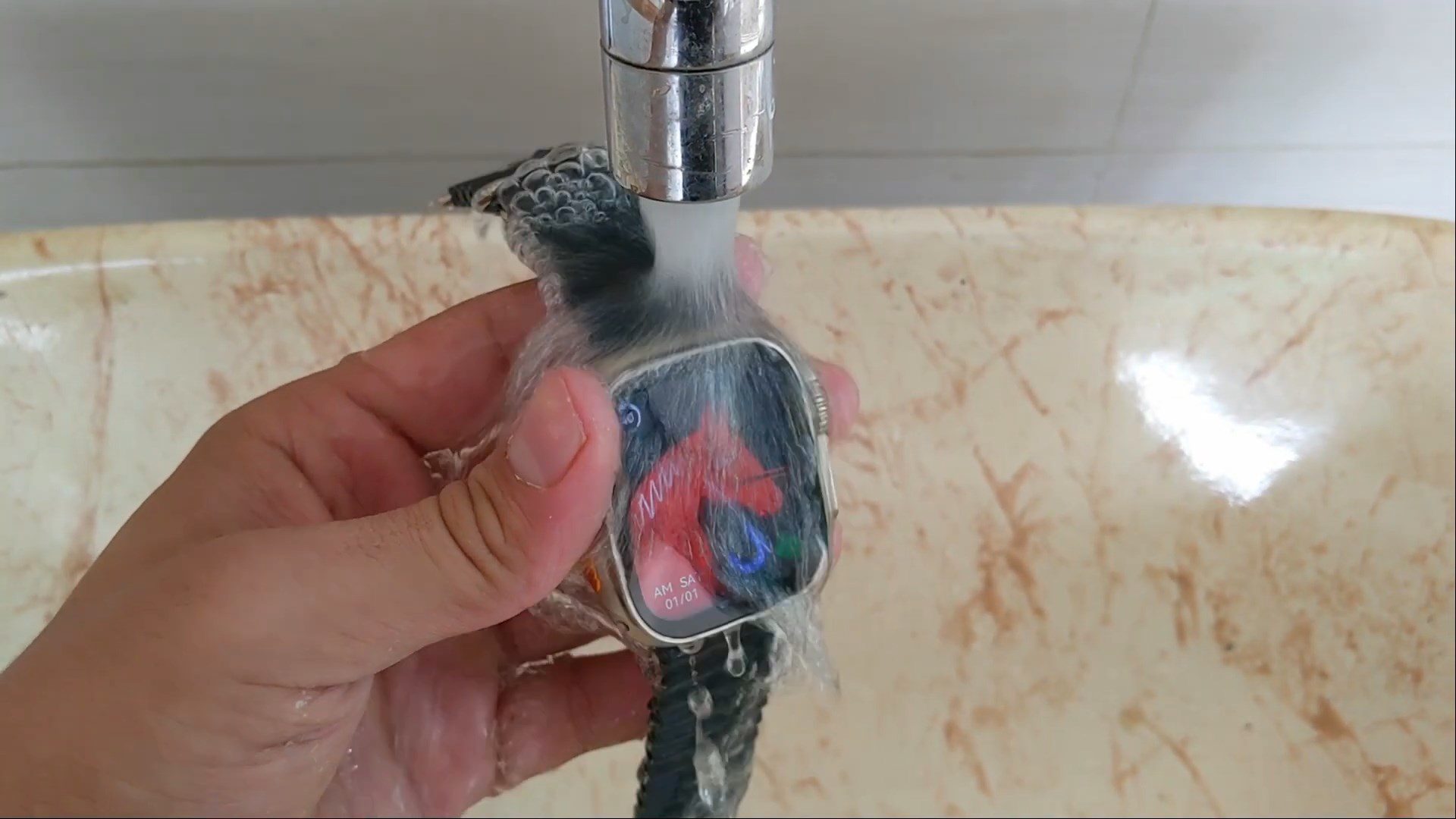 Display Quality
In the realm of smartwatches, display quality and smoothness significantly influence user experience. Both the HK8 Pro Max and Hello Watch 3 feature AMOLED displays, lauded for their vibrant colors and deeper blacks, enhancing visual appeal. Nevertheless, a nuanced examination reveals disparities in display performance between the two contenders.
The HK8 Pro Max stands out with its superior display quality, boasting a more vibrant and responsive screen. The inclusion of a dual-core processor and a two-dimensional image engine equips the HK8 Pro Max with an exceptional level of smoothness in interactions, providing users with a seamless and enjoyable experience. Navigating through menus and apps feels fluid and intuitive, a testament to the HK8 Pro Max's remarkable performance.
On the other hand, while the Hello Watch 3 also utilizes an AMOLED display, some users have reported minor lags and delays in interactions, slightly detracting from the overall experience. Despite this drawback, the Hello Watch 3 compensates with its extensive library of watch faces, offering users a plethora of customization options. The Qifit app, through which these watch faces are accessible, provides a wide array of designs to suit various preferences and occasions.
User Interface and Processing Power
Here is where we see a significant difference between the two smartwatches. The hk8 Pro Max boasts a quad-core processor, providing it with a noticeable edge in processing power and overall speed. The user interface on the hk8 Pro Max feels snappier, and tasks are executed more swiftly compared to the dual-core processor of the Hello Watch 3. The user interface of a smartwatch significantly contributes to its overall usability and appeal. Both the HK8 Pro Max and Hello Watch 3 have made efforts to emulate the Apple Watch Ultra's intuitive interface, but variations in software and features set them apart.
The HK8 Pro Max's user interface closely resembles that of the original Ultra Apple Watch, providing a familiar experience for users transitioning from the genuine timepiece to its clone counterpart. The inclusion of the Wearfit Pro app further enhances the seamless user experience, offering a range of settings and options akin to those of the original watch. The familiarity of the interface is undoubtedly a boon for Apple loyalists seeking a reliable clone.
Conversely, the Hello Watch 3 seeks to carve its own identity by utilizing the Qifit app, which provides users with a vast selection of watch faces. While this feature is undeniably enticing for users seeking customization, some have noted disparities in the quality of these watch faces compared to those offered by the HK8 Pro Max. However, the Hello Watch 3 compensates with its unique offerings, including 4GB of music storage and Bluetooth headphone connectivity, promising an unparalleled experience for audiophiles and active individuals.
Personalization and Customization
Smartwatch users love personalization, and both the hk8 Pro Max and the Hello Watch 3 understand this well. The hk8 Pro Max comes equipped with nine pre-installed watch faces, offering a variety of designs to suit different moods and occasions. To switch between watch faces, users need only to long-press the button for a convenient and straightforward process.
The Hello watch 3, on the other hand, provides seven pre-installed watch faces accessible by a simple swipe, making it easy for users to switch up their style in seconds. Both smartwatches offer the flexibility to select custom watch faces from their respective applications, empowering users to add a personal touch to their smartwatch experience. Whether it's displaying cherished memories as the watch face background or selecting a design that complements one's outfit, customization possibilities are abundant with both models.
Additionally, when it comes to gaming, the Hello Watch 3 takes the lead with five engaging games. These entertaining diversions offer users a fun way to unwind and take a break from their busy schedules. On the other hand, the hk8 Pro Max offers a single game named "Game Flivier," which, though entertaining, falls short in comparison to the variety offered by the Hello Watch 3.
Health and Fitness Features
For fitness enthusiasts, health-tracking capabilities are crucial when choosing a smartwatch. The hk8 Pro Max sets the bar high, offering a comprehensive suite of health monitoring features. It boasts accurate heart rate monitoring, blood pressure tracking, and blood oxygen level measurements, making it a reliable and informative fitness companion.
The Hello watch 3 matches the hk8 Pro Max with heart rate and blood oxygen monitoring, ensuring users have essential fitness metrics at their fingertips. However, the standout feature of the Hello Watch 3 is its menstrual cycle tracking feature, catering to the specific health needs of female users. This invaluable addition demonstrates a thoughtful approach towards inclusivity in smartwatch design.
Arguably the most vital aspect of any smartwatch is its health sensor performance. In this regard, both the HK8 Pro Max and Hello Watch 3 demonstrate commendable results. Notably, the Hello Watch 3 astonished users during testing by exhibiting identical data to a medical device, a rarity among clone watches. This unprecedented level of precision places the Hello Watch 3 on a pedestal in the market, setting it apart from many of its competitors.
Conversely, the HK8 Pro Max delivers satisfactory health sensor performance, but it falls slightly short of matching the exactitude demonstrated by the Hello Watch 3. Although the HK8 Pro Max still offers users reliable health data, this discrepancy in performance may be a decisive factor for those seeking unparalleled accuracy in their health monitoring.
Staying active is a priority for many smartwatch users, and the availability of sports modes plays a significant role in their decision-making process. The Hello watch 3 impresses with its extensive range of sports modes, offering over 100 options to cater to various exercise routines. From running and swimming to yoga and hiking, the Hello Watch 3 seems to have it all covered, appealing to fitness enthusiasts of all levels.
In comparison, the hk8 Pro Max provides a more modest 11 pre-installed sports modes, which focus on the essentials for everyday workouts. While it may lack the sheer quantity of the Hello watch 3's sports modes, the hk8 Pro Max compensates with reliable accuracy and real-time data during workouts.
Conclusion
As we conclude our in-depth comparison, it is evident that both the hk8 Pro Max and the Hello watch 3 are formidable contenders in the smartwatch market, each bringing its unique set of strengths and features. The hk8 Pro Max shines with its smooth interface, health monitoring capabilities, and reliable performance, making it a popular choice for many users.
On the other hand, the Hello watch 3 stands out with its extensive sports modes and potential multimedia features, and has the potential to be an outstanding smartwatch, but it is not yet fully functional and may require several updates to deliver the promised features. With its unparalleled health sensor performance, impressively matches data readings with those of medical devices. Additionally, its vast selection of watch faces, 4GB music storage, and Bluetooth headphone connectivity demonstrate its potential for becoming a versatile and feature-rich alternative to the original Ultra Apple Watch.
Ultimately, the choice between these two impressive smartwatches comes down to individual priorities and preferences. If immediate access to photo storage, audio recordings, and local music playback is essential, the hk8 Pro Max is the clear winner. However, those seeking a versatile smartwatch with an extensive range of sports modes and multimedia capabilities might be enticed by the Hello Watch 3.
No matter which smartwatch you choose, both the hk8 Pro Max and the Hello watch 3 have undoubtedly raised the bar for the smartwatch industry, offering users an immersive and feature-rich experience. Whichever device aligns with your lifestyle and needs, you can rest assured that you'll be sporting a cutting-edge piece of technology on your wrist, empowering you to stay connected, active, and on top of your game!
Price and availability
The price and availability of HK8 Pro Max and Hello Watch 3 can vary depending on the seller and location. Both watches are typically available for purchase online on Aliexpress Stores, and their prices may range from $40 to $55. However, it is essential to be cautious while buying clones and ensure you are purchasing from reputable sources to avoid potential scams or low-quality products.