Kospet launched an upgrade to the popular Kospet Magic 2 sports smartwatch, called Magic 2S, and it came at a competitive price and comprehensive sporting features while maintaining the same elegant design, the upgrade included many improvements, the most important of which is the use of Bluetooth 5.0 for better sync between your smartwatch and your smartphone with addition of 40 sports mode to help you keep track of your fitness and health in a practical way, and this watch competes with many leading watches in the same category such as the Microwear L16 and TICWRIS GTS, the upgrade came with other improvements, which we will discuss in the review of Kospet Magic 2S, so if you want to know more, keep reading and take a look at how it performs and is it worth buying it or upgrading to her.
40 Sports Modes
3ATM Waterproof
5 original watch faces + 21 personalized + DIY
Bluetooth 5.0
30 Days Standby
360 x 360 Resolution
128M Flash Memory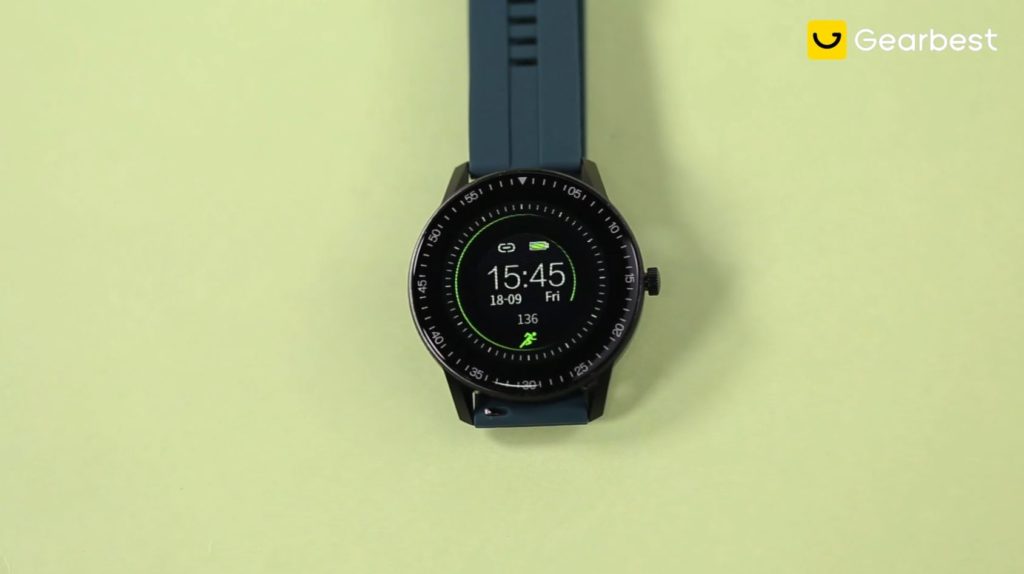 Design:
The Kospet Magic 2S smartwatch features a stylish and sporty design that is the same as in the previous version, with a circular dial design and a physical button on the side to unlock the screen. The body is made of metal with acceptable manufacturing quality, and its maximum weight is 60 grams, so it is light on the wrist and you will not suffer from wearing it for a long time and it is also thin with dimensions of 45 * 45 * 8mm.
The strap of the Magic 2S smartwatch comes with a simple design made of silicone and is removable in the size of 22 mm with many colors, black or black with red, or green and this allows you to change it whenever you are bored of it, in addition to making the watch comfortable on your wrist to daily wear or exercise and for long periods without itching or sweating.
Display:
In terms of the display in the Kospet Magic 2S, there has been no change from the previous version, the same 1.3-inch TFT circular screen with a resolution of 360 x 360 pixels is fully touch screen, protected by a 2.5D curved glass screen, and under the sunlight, contrast and colors are acceptable and You can read the information comfortably.
Watch Faces:
Watch faces in Magic 2S is one of the most important updates that it came with, unlike Magic 2, which had 12 watch faces, but with the new version, you have 5 faces pre-installe on the smartwatch with 21 others on the watch application on your phone that you can easily modify them like color And the position of the time and others, In addition to that, you can create another watch faces by using the images you want, such as personal photos and etc. This is what gives life to the smartwatch and makes it hard to get bored of seeing this watch every time you raise your wrist.
Waterproof:
The watch is water-resistant with 3ATM protection, which is a great upgrade so you can put it on during the shower or in the pool and you can wear it when washing hands or on rainy days, and what makes this rating better than IP 68 is the possibility of using the watch for swimming because it can withstand pressure at 30 meters of depth Water. And this you will not find in any other smartwatch. However, exposure to saltwater or hot water can damage it.
Under the Hood:
The Magic 2S smart watch is equipped with an RTL8762c chip and 128 KB RAM with 128 MB storage memory that is storing watch faces, sports modes and data about your health and sports performance, the specifications may seem bad, but in reality for a smart watch at a cheap price, it is It does not carry a proprietary system like Android and iOS which is what makes it enough to give you a seamless transition between menus and functions. In addition, it is equipped with G-sensor, Heart Rate Sensor, Acceleration sensor BMA253.
Health And Fitness:
Since there are so many sports around the world and everyone has something to love to do, this is why the Magic 2S smart watch has provided up to 40 sports modes to be an ideal companion for you with any kind of sports you like, and I really have never seen such a number of sports before, even Magic 2 has only 30 sports modes.
This watch includes 40 sports modes, Walking, Walking Machine, Treadmill, Stair Sports, Outdoor Running, Trail Running, Outdoor Cycling, Indoor Cycling, Mountain Biking, Elliptical Machine, Rowing Machine, Stepper, Sit-ups, Dumbbells, Aerobics, Pilates, Yoga, Dancing Stretching, Badminton, Billiards, Bowling, Football, Basketball, Table Tennis, Baseball, Rugby, Tennis, Golf, Pool Swimming, Open Water, Skipping Rope, Shuttlecock, Hula Hoop, Mountaineering, Skiing, Triathlon, Taekwondo, Kickboxing, Karate.
We have now come to the health features of this watch, which is the Kospet Magic 2S smartwatch equipped with several sensors responsible for monitoring heart rate, tracking distance, and monitoring blood pressure. And monitor blood oxygen, calories, and sleep monitoring, all of which is to be a close and comprehensive view of your health and follow-up and work to improve your athletic level and maintain your health.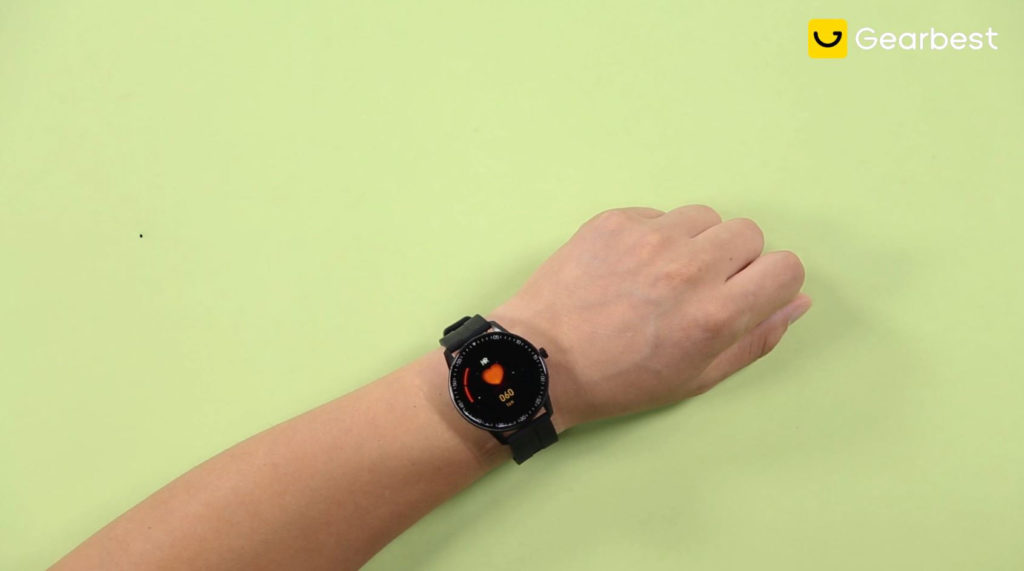 How Connectivity With Kospet Magic 2S:
Magic 2 contains a somewhat old Bluetooth version 4.0 and this is what has been updated in the Magic 2S, which contains the watch on the new version of Bluetooth 5.0 to connect to your smartphone that is effective in saving the battery with better data transmission quality and speed is greater, and the smartwatch works well and is compatible with Android 4.4 or IOS 9 (or higher). The data exchange between the smartphone and the smartwatch is done via the F Fit app which can send notifications from the smartphone to the Kospet Smartwatch and display them as social networks and missed call alerts.
Through the app, you can also monitor your physical activity and health status such as blood oxygen, blood pressure, heart rate monitor, pedometer, sleep monitor, and through the analyzes that your smartwatch makes and the data collected, you can create a program to improve your training results and maintain your health.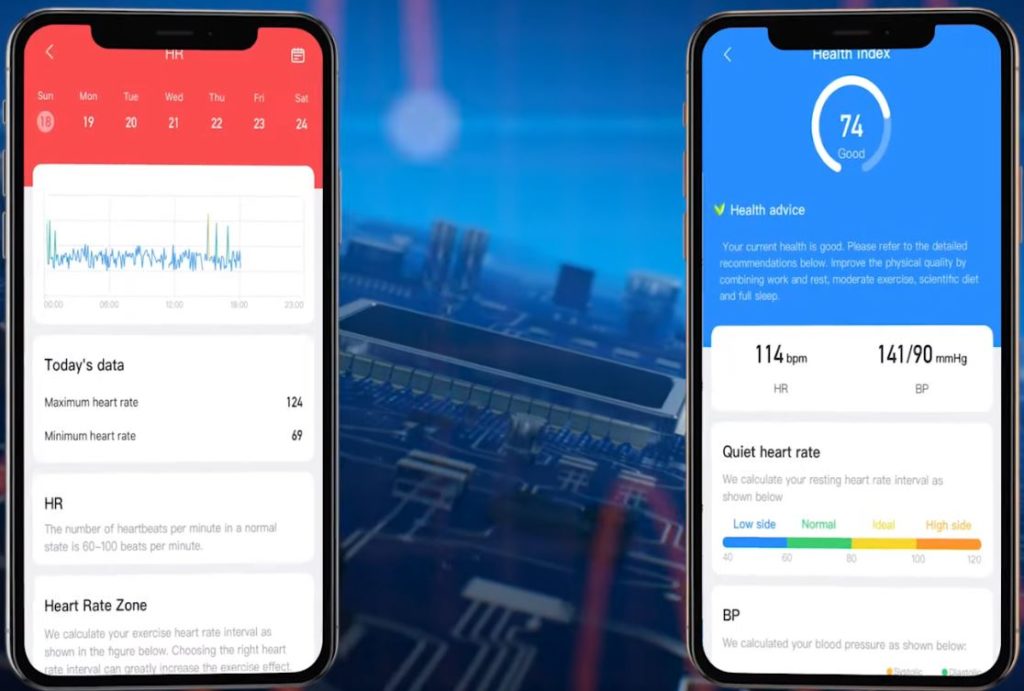 And as we said previously, there are 21 watch faces on the app with the ability to easily modify them in terms of color, time position, and others. In addition to that, you can create other faces using your personal photo or the logo of your favorite team, and you have complete freedom to choose.
About notification, Kospet Magic 2S supports notifications for social apps such as Facebook, Instagram, Kaokao Talk, QQ, Skype, Twitter, Wechat, Weibo, and WhatsApp, in addition to having notifications for calls and messages.
For the functions, it includes a Sedentary reminder, a Drinks water reminder, a Takes medicine reminder, a Music control, Brightness control, a Clock alarm, a Remote Camera, a Pregnancy time calculation, Count down, Find the phone, etc.
Kospet Magic 2S Battery And Charging:
On battery life, there is nothing new in this upgrade, so that the Magic 2S comes with a 200mAh battery capacity that takes between 1 to 2 hours to fully charge by magnetic charging and gives you between 5 to 7 days of battery life in normal using with the monitoring sensor and 30 days of standby time without using the monitoring sensor.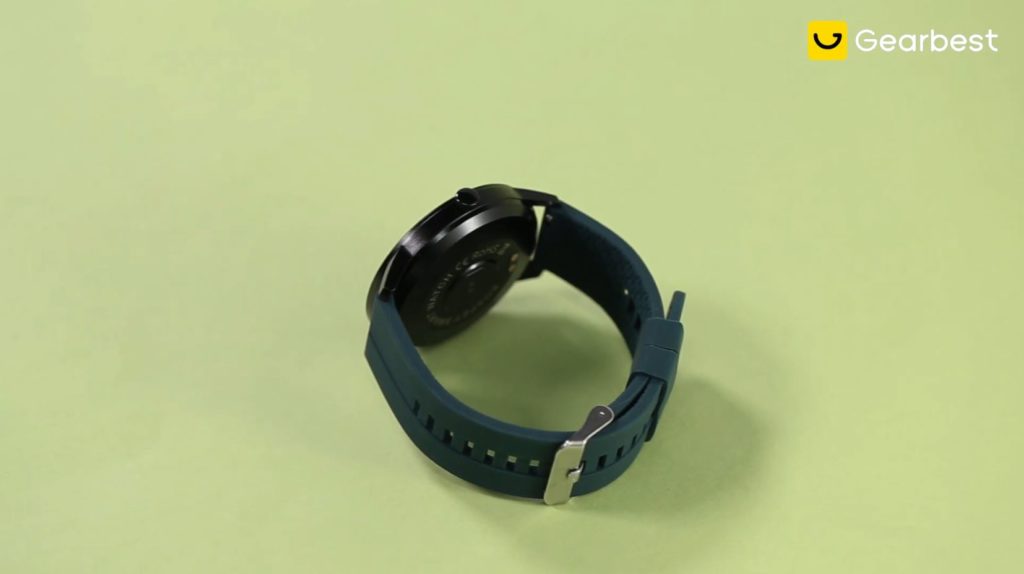 Conclusion:
The Kospet Magic 2S is an integrated watch in all respects in terms of elegant design and performance that it offers with support for 40 sports modes that may make you think about buying this watch especially for the budget price that does not exceed $ 30, But who has Magic 2 already and wants to upgrade this depends on how much you need the new features.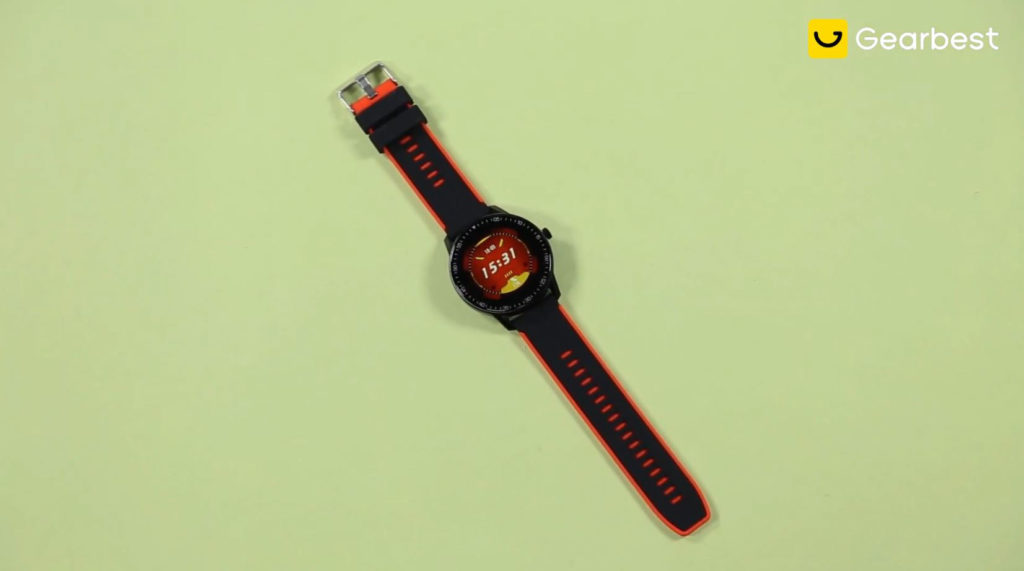 Differences between Kospet Magic 2 vs Magic 2S:
| | | |
| --- | --- | --- |
| | Kospet Magic 2 | Kospet Magic 2S |
| Screen size | 1.3-inch | 1.3-inch |
| Screen resolution | 320 x 320 | 320 x 320 |
| Battery Capacity | 200mAh | 200mAh |
| Waterproof | IP67 | 3ATM |
| Connectivity | Bluetooth 4.0 | Bluetooth 5.0 |
| App | WearFit App | F Fit App |
| Sport modes | 30 | 40 |
| Watch Faces | 12 Watch Faces | 5 original watch faces + 21 personalized + DIY |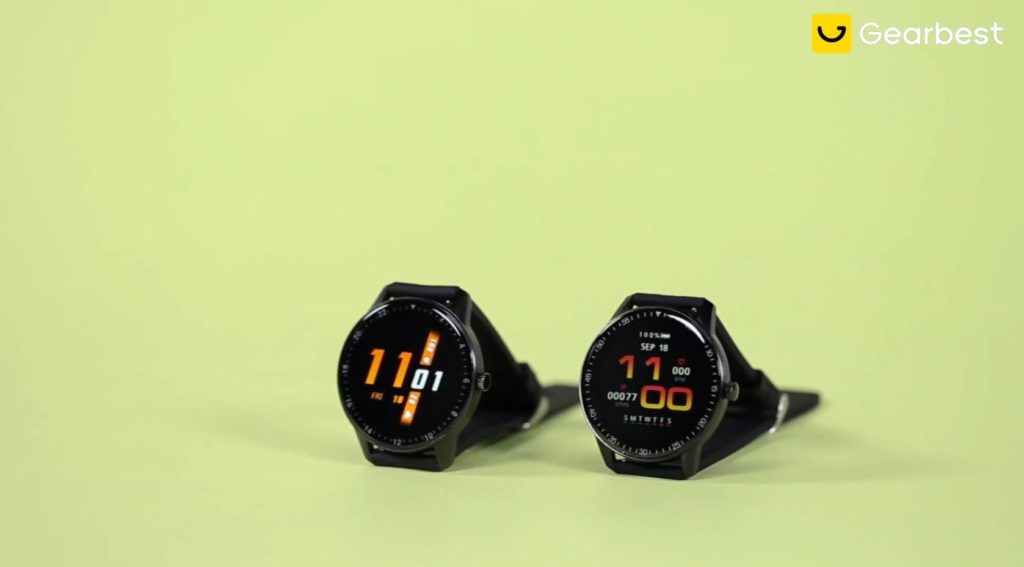 Kospet Magic 2S Price And Where To Buy:
The Kospet Magic 2S is currently available on Banggood for 23.99 to the first 100 pcs and Aliexpress store for $30.99. This is a very good price So, don't miss out on this great deal. And to view its price or buy it, you can access the offer by clicking on the store icon.
If this review helped you towards making your decision, we would appreciate it if you made your order through the following affiliate link(s). This way we will be able to review more products in the future.
Kospet Magic 2S Smartwatch.
2 x Watch Strap.
Charging Cable.
English Manual.
Warranty Card.
2 x Screen Protector.
Kospet Magic 2S Specification
General
Brand: Kospet Magic 2S
Chip: RTL8762c
RAM + ROM: 128KB + 128MB
Bluetooth Version: Bluetooth 5.0
APP Name: F Fit
Screen: TFT
Resolution: 360 x 360
Screen size: 1.3 inch
Waterproof / Water-Resistant: Yes
IP rating: 3ATM
Functions
Alert type: Vibration
Sensor: G-sensor, Heart Rate Sensor, Acceleration sensor BMA253
Health tracker: Blood Oxygen, Heart rate monitor, Pedometer, Sedentary reminder, Sleep monitor
Notification: Yes
Compatible System Version: IOS9.0 and above, Android 4.4 and above
Multiple Dials: Support ( 5 brands original watch faces + 21 personalized watch faces + DIY watch faces)
Step Count: Support
Multi-sport Modes: Support(Build-in 40 sports)
GPS Route Track: Support(Use with APP)
Call or Message Reminder: Support
Reject Call: Support
Call ID Display: Support
Auto Light-up Screen: Support
Stopwatch: Support
Notification type: Facebook, Instagram, Kaokao Talk, QQ, Skype, Twitter, Wechat, Weibo, WhatsApp
More Functions: Support Alarm, Calendar, Camera remote control, Anti-lost, Music control, Brightness control.
Battery
Battery Capacity: 200mAh
Charging Time: About 2 hours
Standby time: 30 Days
Using time: About 7 days
Charging Type: Magnetic charging
Dial and Band
Band material: TPU
Case material: Alloy
The shape of the dial: Round
Band Size: about 246*22mm
Dial Size: about 45*45*8mm
Language
Language: English, French, German, Italian, Japanese, Korean, Malaysian, Polish, Portuguese, Russian, Simplified Chinese, Spanish, Traditional Chinese
Weight
Product weight: 60g