Many budget earbuds from different brands pass by to review, But the surprise is always from Lenovo, which offers earphones at the cheapest prices in the market with features you can only find in headphones that are twice the price. Now Lenovo is has a new upgrade from XT Series under the name Lenovo XT91
This new upgrade comes with a completely new design that is different from the previous versions XT90, better hardware, and features. It's equipped with a digital screen for battery, 8mm Drive and Mic Noise Reduction, Bluetooth V5.0, 5-hour playtime, waterproof, and more, all this for just $15, which gives me a good feeling about their capabilities, So let's take a look deep and see if they are good or just cheap scrap.
Lenovo XT91 Earbuds Features
Noise Reduction
Digital Screen For Battery
8mm Drive
300mAh Battery Life
Bluetooth V5.0
Design And Build Quality
Charging Case
Overall, Lenovo adopts a simple and elegant design. As for the charging case, it features a familiar design in the shape of a rectangular oval, rounded at the corners, very compact, small, and lightweight only 50g, made of glossy plastic with the brand logo the Lenovo is embossed in grey on the top of the charger case.
There is also a long slot in the center of the front to open the case, which is surrounded by a built-in magnet for easy opening and closing with one hand. Once opened, there is a place for the earbuds with an automatic charging start. And the advantage here is that there is a small screen to display the battery percentage.
The bottom of the charging case is flat for easy stability, Also has a battery indicator, and USB Type-C charging port located on the back was good and not on the bottom, which is annoying in some cases.
Lenovo XT91 Earbuds
Now we move on to the stylish Lenovo XT91 Wireless Headphone with a compact design "bean format" with a glossy finish, and most importantly, the lightweight body is only about 3.8g to be comfortable on the ear while on the move with the help of the soft rubber ear bands made of silicone with round pressure relief holes inside the earphone, which can balance the internal and external air pressure and ventilation.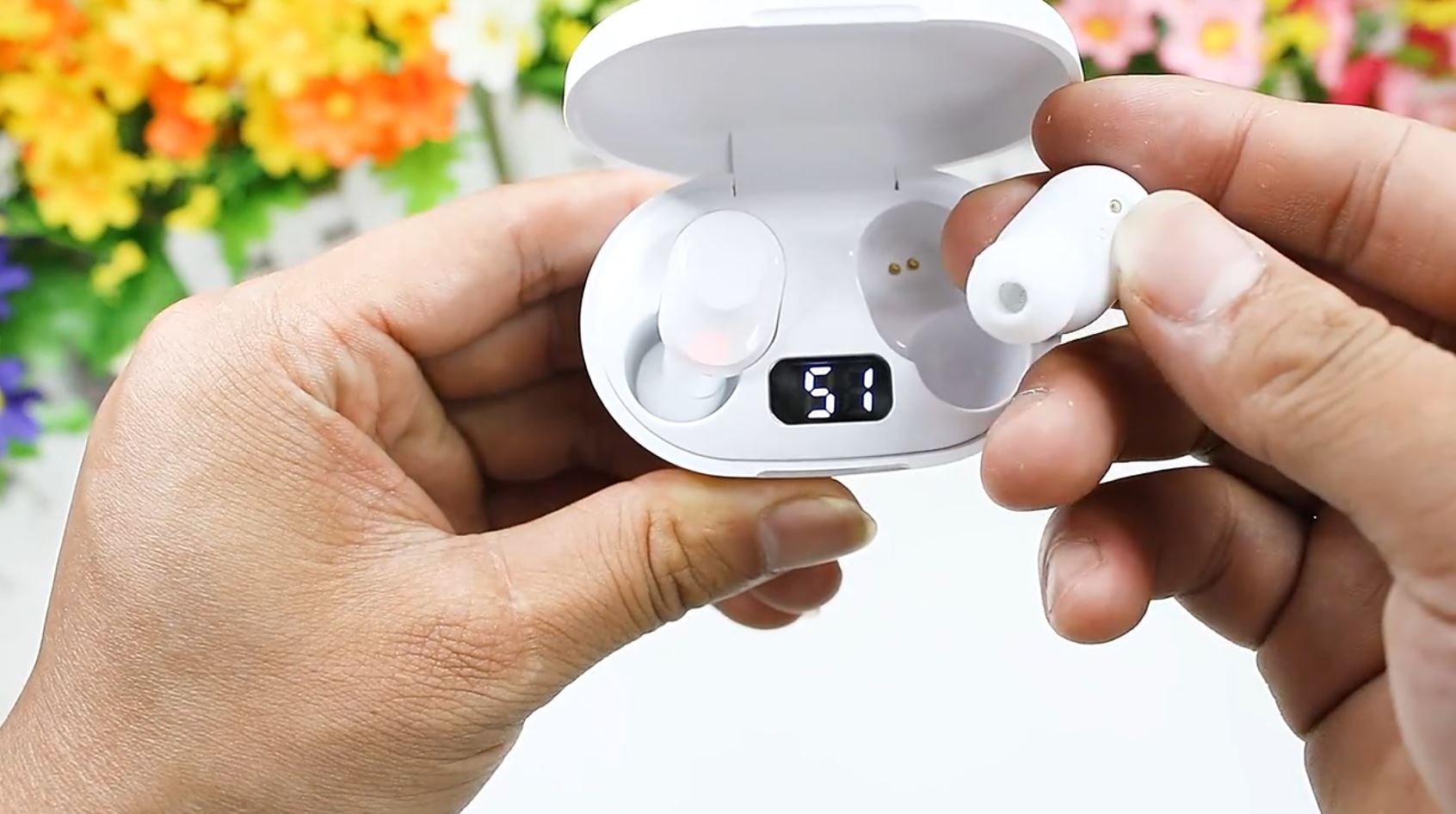 Also, the "L" and "R" are printed on the bottom of the headphone grip to differentiate the left and right ears. Next to the touch control, there is a magnetic charging contact and microphone pickup hole with good and clear sound reception during a call with the help of the noise reduction hole on the outside of the earphone, which cooperates with the microphone to accurately distinguish between human voice and noise. The outer side of the earbuds has a touch control
Touch Control Panel
To control the Lenovo XT91, there is a high-precision touch control panel on the top of the earphone which can achieve precise control with good responsive touch sensitivity. The control consists of answering/rejecting a call, playing/pausing music, activating noise cancellation.
Lenovo XT91 Waterproof
The earbuds were promoted as having waterproof protection but the exact standard was not announced, so it's best not to expose them to a water source to avoid damage, I think raindrops and sweating wouldn't be a big deal.
How To Pair Lenovo XT91 With Smartphone
Lenovo XT91 offers strong compatibility with both IOS and Android devices and adopts Bluetooth 5.0 technology for stable and powerful transmission, lower delay, and smoother connection for high sound quality. And you can enjoy music up to 10 meters long even with thin walls between you and your device.
However, pairing in XT91 is the same as any wireless earbuds, all you have to do is open the charging case and they will automatically turn on and enter the pairing state.
Immediately after that, open the Bluetooth interface of the smartphone, the device name "Lenovo XT91" will be automatically recognized, click it, and the pairing is completed successfully. The pairing is done manually once, after that it is automatic and fast provided Bluetooth is enabled, just remove it from the box and use it.
Lenovo XT91 Audio Quality
The XT91 Earbuds have a wonderful stereo effect, as it contains well-defined tones, as well as powerful bass and crisp mid-highs to deliver perfect performance in the full range with a better sound stage, rich sound, and excellent quality, thanks to the Dynamic Driver that combines dynamic units size 8.0mm, so that dynamic sound delivers smooth, natural sound of pop, rock, and other strong rhythms. The armature driver delivers powerful, more accurate bass to provide more detail and excels in soothing genres such as acoustic and classical.
Noise Reduction Technology
One of the strengths of the Lenovo XT91 is the noise reduction technology that is responsible for microphones on each speaker. Here comes the noise reduction hole at the top that is responsible for capturing the environmental noise while using the internal digital signal processing algorithm to reduce the background noise when making calls to achieve clear sound. So the sound here is satisfying because it's not very muffled and it's not hissing, but that doesn't mean there's no noise at all.
Low-Latency Mode
The Lenovo XT91 is also equipped with a low latency, which can be triggered by tapping three times on the right earphone. You can watch videos or play online games on both iPhone and Android without noticeable audio delay, even in YouTube or Netflix app which is always a challenge on iPhone, However, it did well.
Unfortunately, there is a slight audio delay of about 1 second when playing games, which is almost normal, and you can find it on most wireless headphones in this price range.
Lenovo XT91 Battery And Charging Time
In terms of battery, the Lenovo XT91 charging case is equipped with a built-in 300mAh Li-Polymer battery, and it provides the user with an additional 5 hours of uninterrupted playback, which is great, its above-average autonomy if we compare it with other headphones.
When you put the earphone into the charging case, the earphone will automatically enter into the charging state. The storage box itself can be recharged for 2 hours, then the earbuds can be recharged 4-5 times with a 40mAh battery capacity, which can be used for 4-5 hours on a single charger at 0-100% of 1 to 2 hours, the standby time is up to 30 hour. The case is recharged via Type-C on the back of the case.
Conclusion
If you ask me if the Lenovo XT91 is worth buying? Yes, it is a good investment with a great combination of good sound quality for dynamic drivers and elegant design, this is to satisfy lovers of sound quality. They are cheap earbuds, but at the same time, they provide you with everything you need in any wireless headphones.
Lenovo XT91 Price And Where To Buy
The Lenovo XT91 Earbuds is currently available on the Aliexpress Store for a very good price So, don't miss out on this great deal. And to view its price or buy it, you can access the offer by clicking on the store icon.
Lenovo XT91 Earphone with Charging Box
Type-c Charging Cable
3 pairs of Eartips
Manual
Lenovo XT91 Earbuds Specifications
| | |
| --- | --- |
| Brand | Lenovo |
| Model | XT91 |
| Color | Black, White |
| Wearing Type | In-ear |
| Material | ABS+PC |
| Microphone | Yes |
| Bluetooth Version | V5.0 |
| Supported Profiles | HSP/HFP/A2DP/AVRCP |
| Transmission Distance | 33 feet (10m) |
| Frequency Response | 20-20kHz |
| Sensitivity | 90±3dB |
| Driver Diameter | 8mm |
| Battery Capacity | Charging Box: 300mAh |
| Charging Time (h) | 1.5h |
| Interface | Type-C |