Lenovo company has recently been making a lot of budget-friendly wireless earphones, each one for a different group of people such as gamers, students, and people who simply want to listen to music and consume content, and we have noticed that each new model that comes out, the specification keep getting better and better, the sound quality has been improving, and so does the battery life and the latency, So, today we are reviewing their new model the from XT series under name Lenovo XT99. But different from Lenovo XT88 from the same series we reviewed recently.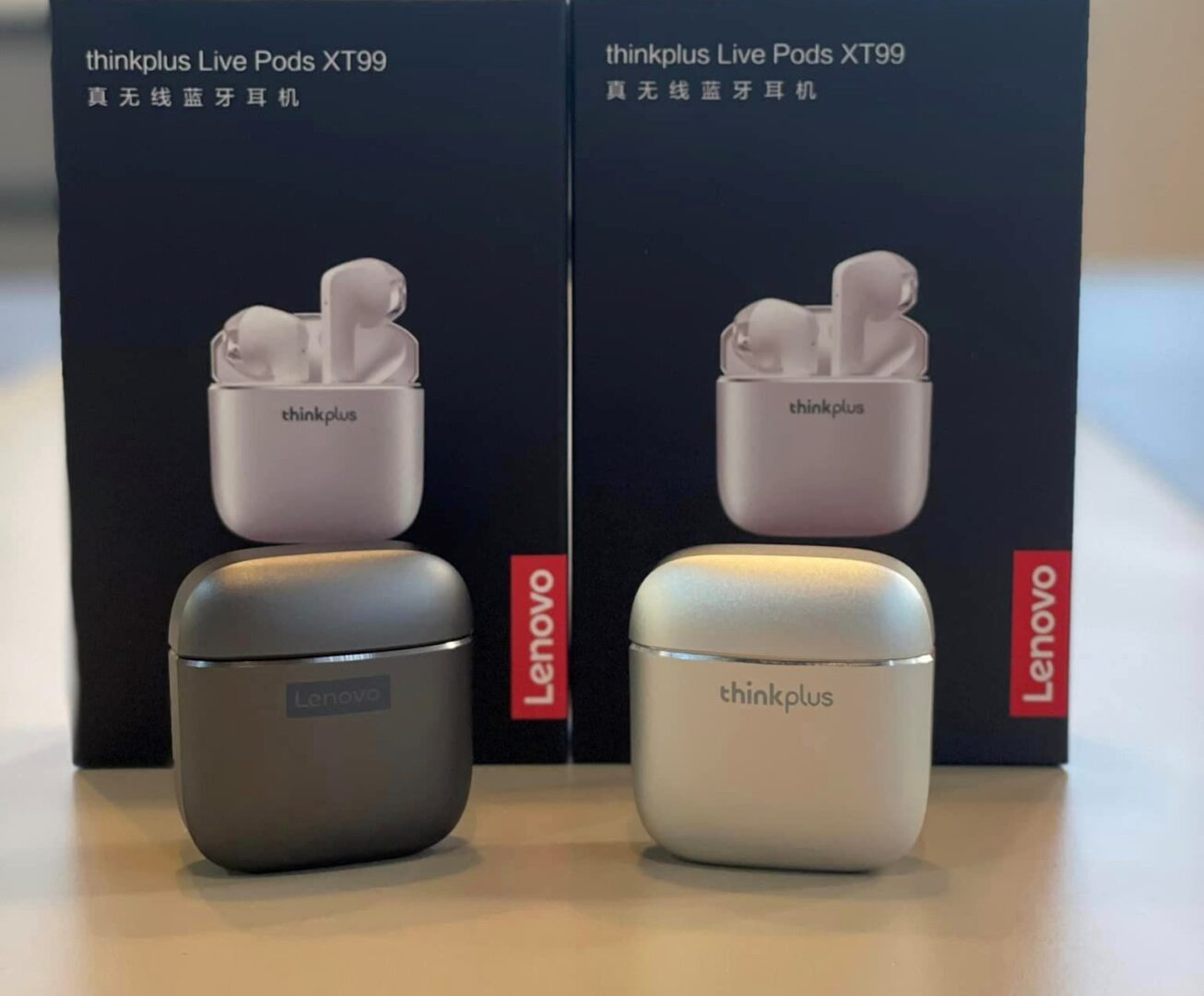 These wireless earbuds come in very small sizes and are equipped with a new and improved Bluetooth 5.2 chip with AAC/SBC double decoding & 10mm Drivers For High Audio Quality, 40ms Low latency, and 20h battery life, check it out in more detail in this review.
Lenovo XT99 Features
Innovative Design & Comfortable Fit
13mm Dual Drivers For High Audio Quality
AAC/SBC HD Audio Codec
Touch control, Easy to use
40ms Ultra-Low Latency
Bluetooth 5.2 Chip
20h Long Playtime

Voice Assistance
Design And Build Quality
Charging Case
From the aesthetic, Lenovo adopts a simple and elegant appearance. The charging case of the ThinkPlus XT99 has a rectangular shape with nice curved edges that make it comfortable to hold in one hand, it comes in a small size and a lightweight, it is made out of ABS plastic with a nice matt finish that keeps its new look for a long time, doesn't get scratches easily and doesn't leave fingerprints. We also notice a long cut right in the center which helps open the lid up, from the backside we can notice the Lenovo Logo. From underneath there is only the USB C charging port.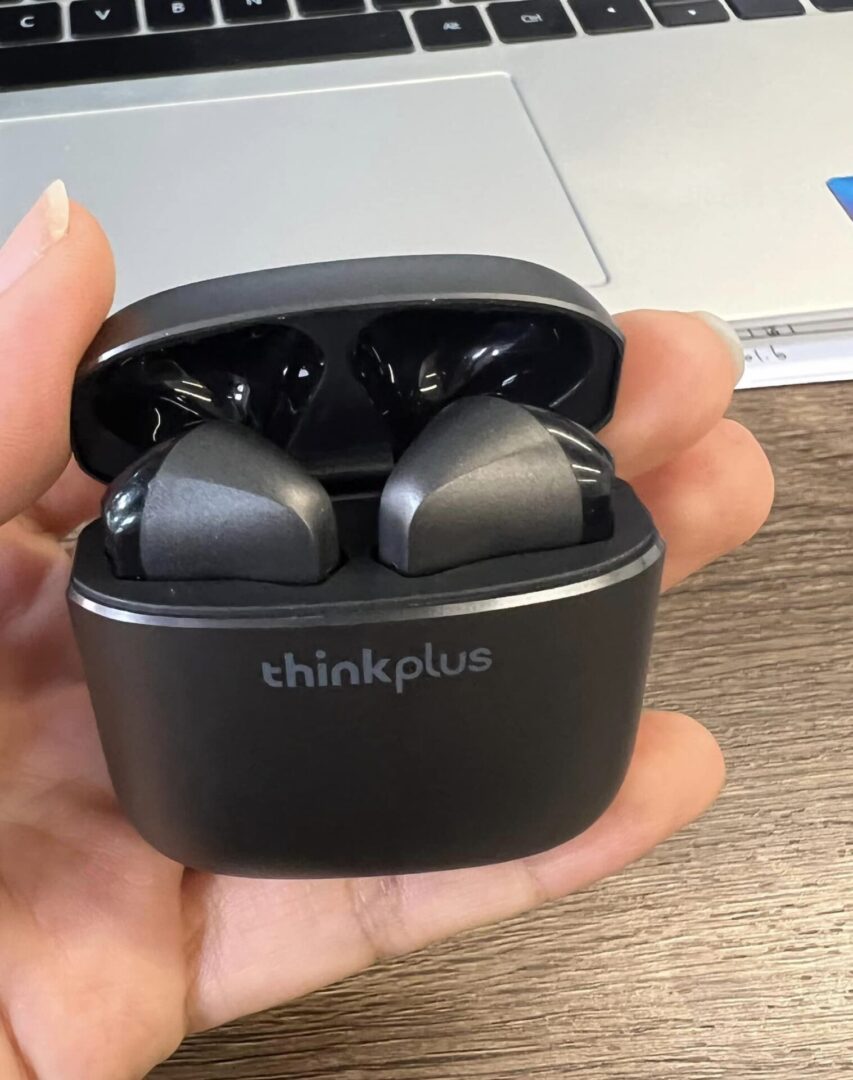 The lid is held firmly to the rest of the body with magnets and doesn't open no matter how hard you shake it, but at the same time, it can be easily opened with one hand, underneath we find the compartments for the earbuds made with plastic with a glossy finish to help the earbuds slide in quickly, deep down we can see the contact pins that charge the earbuds, good thing is that the hinge doesn't budge which gives me a good feeling about the durability of this device.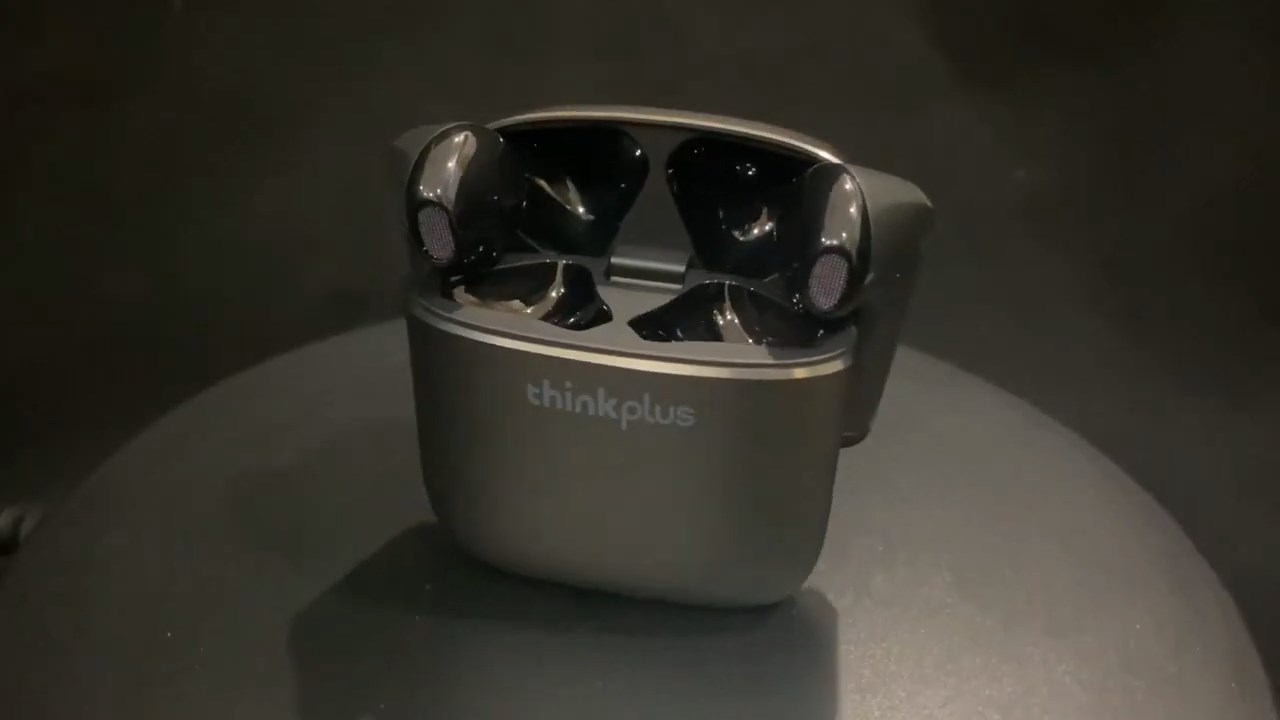 From underneath, you will only find the USB C for charging which at this price point is a great deal since most companies decide to cut corners on these things to make their product cheap but not Lenovo I guess.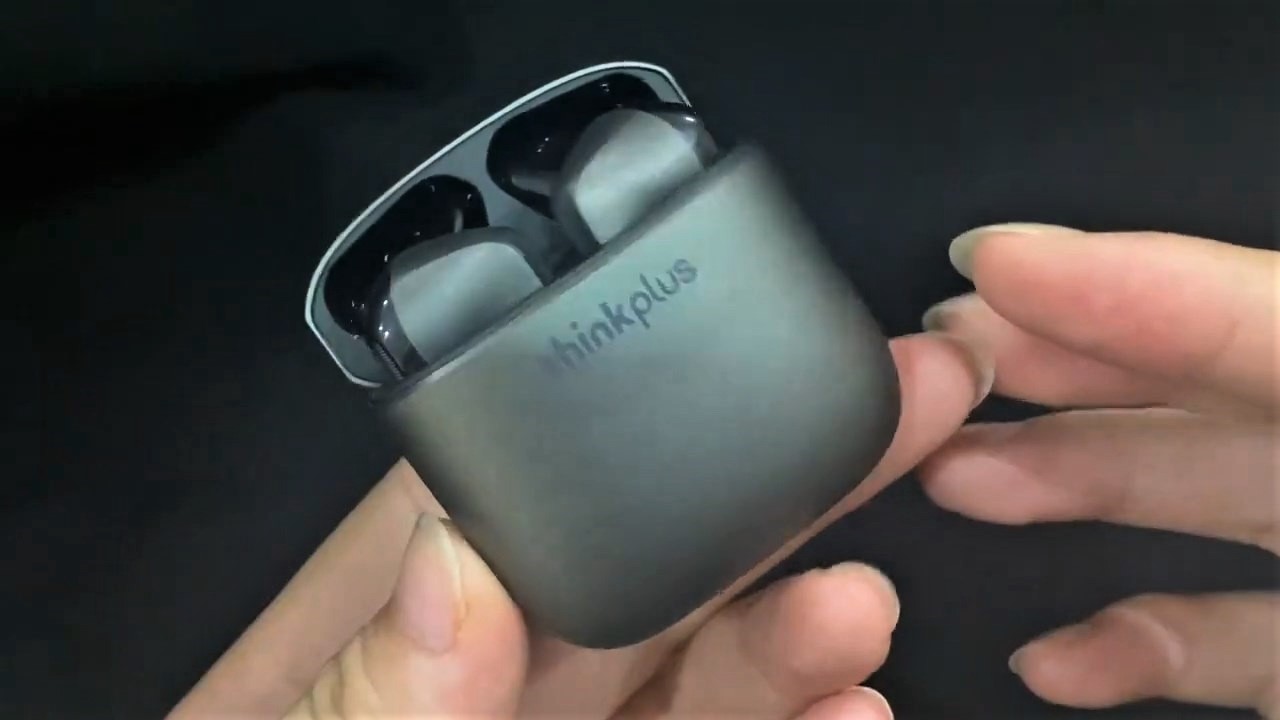 The overall build quality is quite high for a budget-friendly, even though it is made out of plastic, the casing doesn't feel cheap or ill-made, it has a nice grip and they have done an amazing job with the hinge and the USB C, even the earbuds are held very tightly inside the case that you don't have to worry about them falling off when they are inside your pocket or anywhere really.
Lenovo XT99 Earbuds
The earbuds you find inside the charging case are also made of the same plastic as the charging case, they are matte, their design is one of the most minimalistic ones with no logo or anything written on them, just unicolor with a darkening on the head, the part that goes inside your ear is of average size and fits all so it should stick inside your ear just fine and not hurt when used for extended periods of time, but the stem is huge, it has a shape of a cylinder and looks quite bulky which I personally don't like, simply because smaller is better, but they are still weigh only about 4g and feel comfortable in your ears.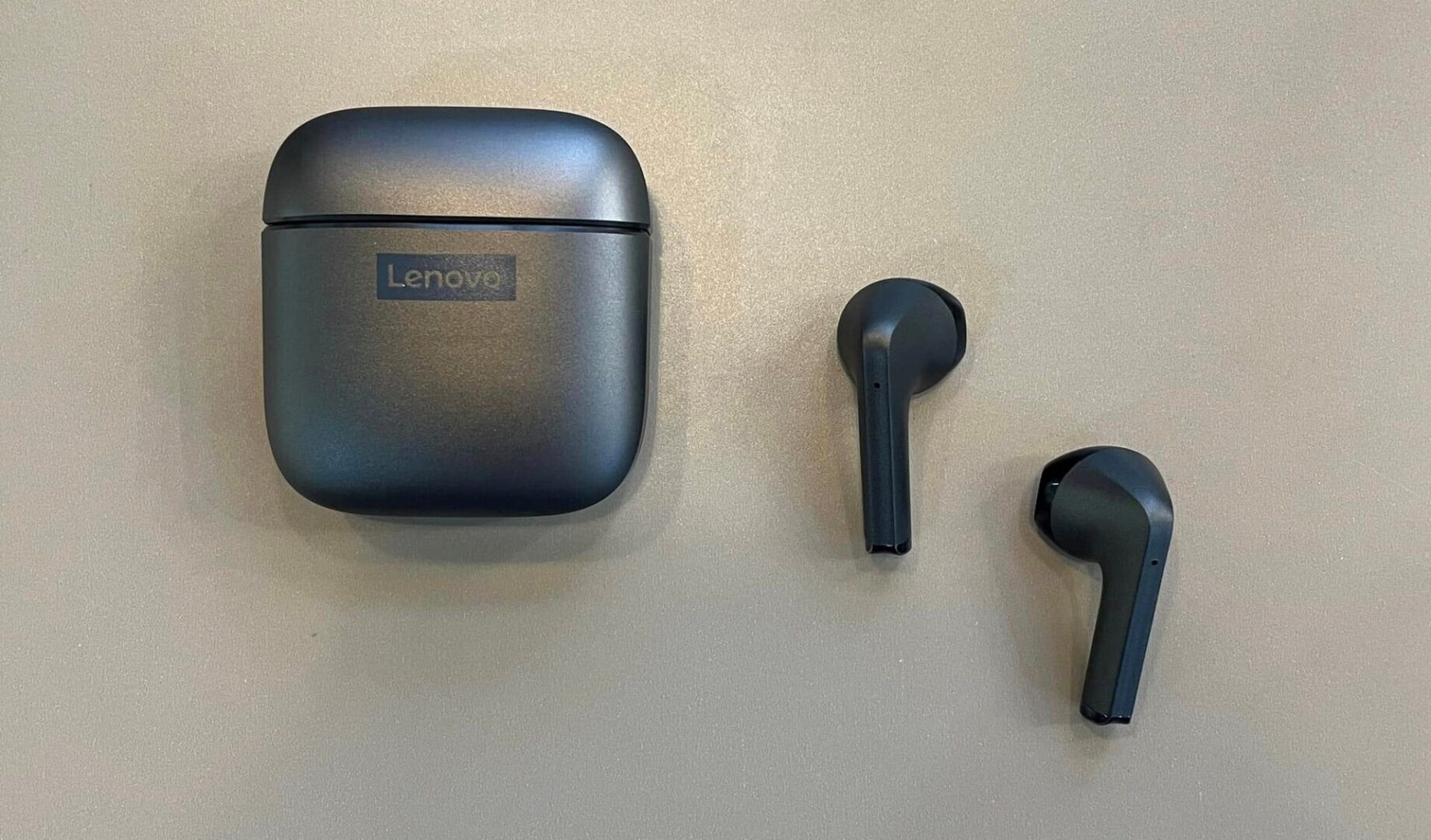 On the lower side of the earbuds, you will find the magnetic pins that help keep the earbuds still inside the case and charge them as well as the touch control area which we'll get into in a second in addition to a 2 microphone hole in each bud for all the communication, it's worth mentioning that this earbud doesn't come with noise-canceling technology, except that because of the way it's built, it's impossible to hear your surroundings at a certain high volume.
One more thing you'll love about this pair of earphones is that they will stick inside your ears very well and won't fall off no matter how hard you shake them which is essential for people who intend to use these to listen to music while doing sports such as running and jumping rope, or just get by your day making phone calls using your earbuds.
Touch Control Panel
The touch control on the Lenovo XT99 has been tremendously improved from previous models, it is now located at the top of the earbud's stem and responds only when touched intentionally for the most part which has been a drag to deal with in previous models, you can use the touch panel to reduce the need to pull your phone in order to control music playback, increase or reduce volume, answer and reject a call, and to activate voice assistant and give it commands using the built-in high-quality microphone, all these can be done with few touches.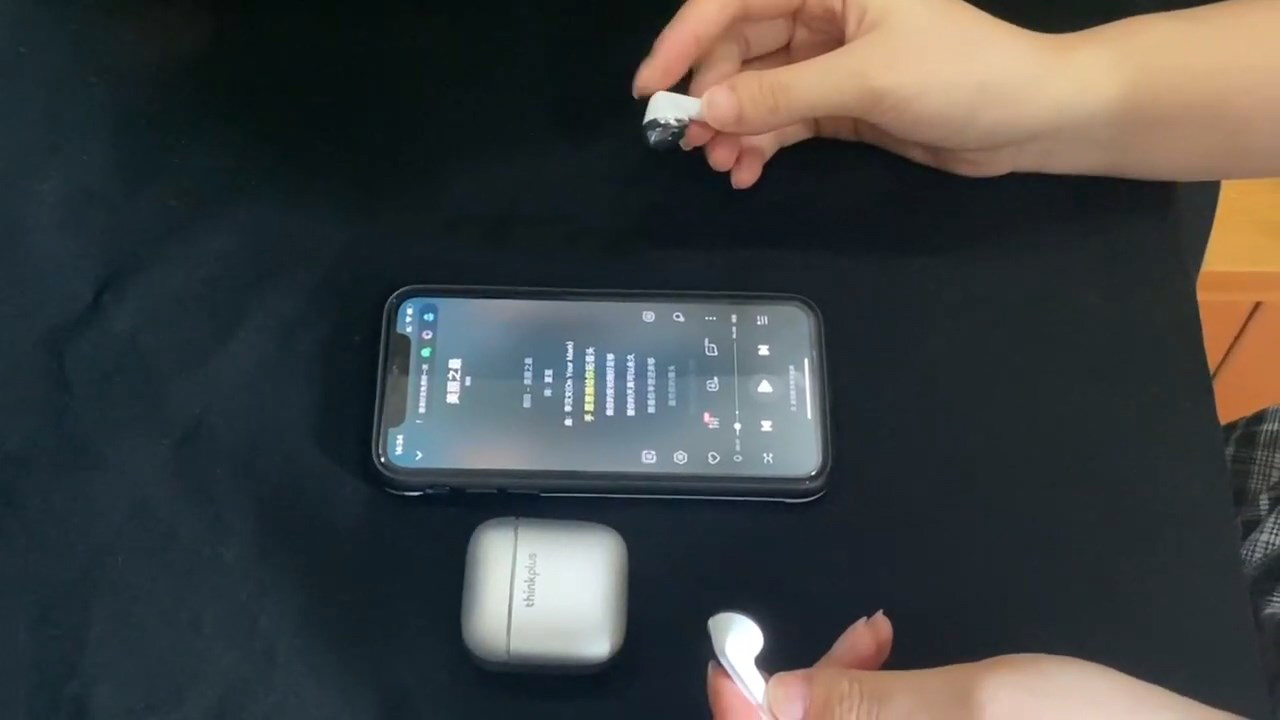 The commands and their gestures are as follow:
Next song = Touch the right headphone 3 times continuously
The last song = Touch the left headphone 3 times continuously
Louder = Short touch the right twice
lower the volume = Short touch the left twice
Pause/play = Short touch the headset once
Answer or end = Short touch the headset once
Ring off = Long press the multi-function touch key
voice assistant = Long press the left button to switch
Music/game mode switching = Long press the right button to switch
Voice assistance
The voice assistance feature is also present on the Lenovo XT99, you only have to Long press on the left earbud, and the voice assistant will be activated, then you can speak directly to the XT99's microphone to execute a command such as calling a contact or playing music, this feature is handy outside when you don't want to be taking your smartphone out of your pocket every time you try to execute a simple task such as a phone call.
How To Pair Lenovo XT99
Lenovo XT99 offers strong compatibility with both IOS and Android devices for two devices simultaneously and automatic switch between devices. Also, it's quick and easy pairing thanks to adopting a premium chipset that uses Bluetooth 5.2 for stable and powerful transmission, lower delay, and smoother connection for high sound quality. and supports the most popular audio decoding for SBC and AAC unfortunately, there is no aptX Adaptive codec, however, this is to be expected in this price category. And you can enjoy music up to 10m long even with thin walls between you and your device.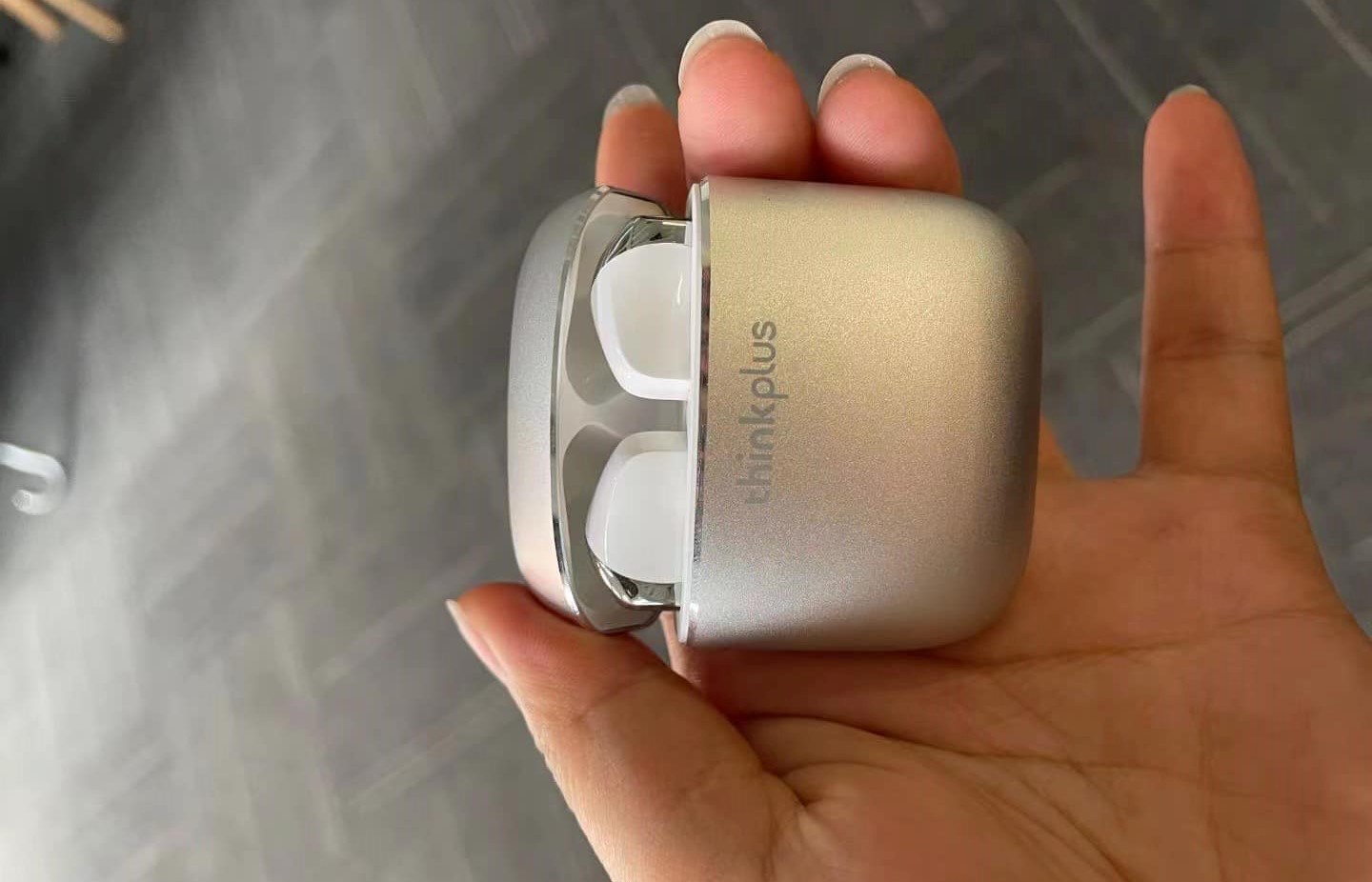 However, pairing in ThinkPlus XT99 is the same as any wireless earbuds, quick and easy all you have to do is open the charging case and take them out and they will automatically turn on and enter the pairing state. Immediately after that, open the Bluetooth interface of the smartphone, the "Lenovo ThinkPlus XT99" earphone will automatically be recognized, click it, and the pairing is completed successfully. Pairing is done manually once, after which it's automatic and fast with Bluetooth enabled, just remove it from the box and use it. You can also choose to connect only one earphone at a time without any problem.
Lenovo XT99 – Audio Quality
The audio quality must be one of the strongest points for the Lenovo XT99 this year, it provides the experience you would expect from a more pricey device, thanks to the 13mm dynamic drivers inside the headphones combined with the new Bluetooth 5.2, the sound quality presented here is unmatched by other devices of the same price range, with a high-resolution HIFI HD sound quality and improved clarity and bass, in addition to AAC and SBC audio decoding technologies which allow you to immerse perfectly in the sounds, the low bass accent surround sound grants you the feel of every detail for perfect audio quality.
It is worth noting that even though I liked the sound quality, I still noticed that when the volume is very high you can hear a tiny little bit of unpleasant distortion, which is very normal for cheap earphones and I would say that it won't bother you since it is loud and clear anyway without the need to put the volume all the way up, but if you still want to crack the volume all the way up without hearing distortion and that I recommend you check the SoundPeats Air3 Pro.
Microphone Quality
The Lenovo Thinkplus XT99 is equipped with two microphones one in each earbud for calls, and one microphone on the right earbud for recording audio, first we'll talk about the single microphone on the right, the audio quality it provides is actually quite decent, I have tested it multiple times and the recordings were clearly audible, this one microphone can be used to send vocal messages to friends to reduce the typing and to talk to the voice assistant, now even though these do not have electronic noise canceling, when tried in noisy places they prioritize the closer sound over the ones far away, nevertheless they are optimal in quiet spaces, these microphones in combination with the touch control will help you reduce the phone usage and the need to pull your phone out in public.
Call quality
For calls, the XT99 has a double microphone one in each earpiece, I must say that the audio from these is significantly less than the previous one, but it still gets the job done, for instance, I made calls using WhatsApp and the recipient confirmed that my voice was loud and clear, additionally, Lenovo has integrated some algorithms of call noise reduction to allow you to pass calls smoothly even in complex environments, this technology effectively shields external sound, it accurately collects higher closer voice and amplifies it against the background noise and enhances the Bluetooth calling experience.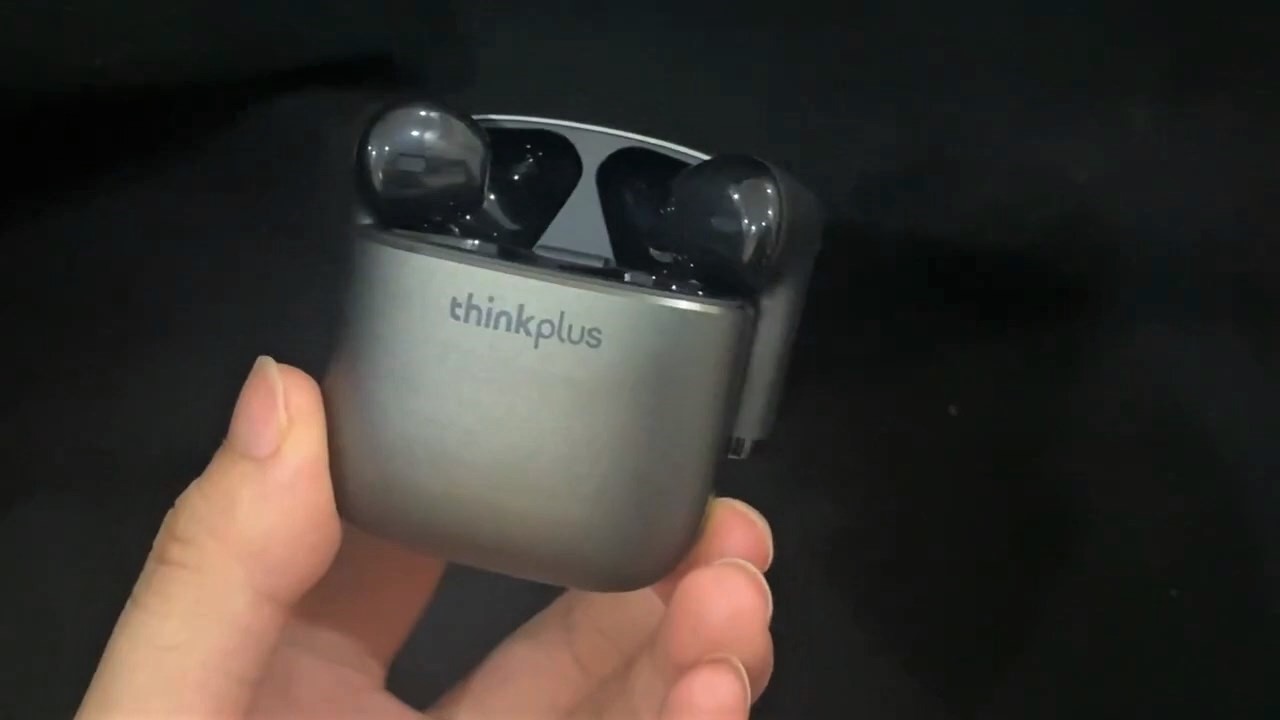 Low-Latency & Gaming on the Thinkplus XT99
The Lenovo company made these headphones with gaming in mind, The Lenovo XT99 features low latency technology, so you can watch videos or play online games on both iPhone and Android without noticeable audio delay, even in YouTube or Netflix apps which is always a challenge. but I think the most important feature for gaming here is the low latency audio of less than 40ms all made possible by the advanced Bluetooth 5.2 and microphone technologies.
Unfortunately, there is a slight delay in audio when playing games of about 300ms, which is, by all means, normal for this price range, and you can find it on most wireless headphones in this price range, but they're definitely better options for that made specifically for gaming such as the Lenovo XT92 TWS.
Battery And Charging Time of Lenovo XT99
Battery life wise, the case has a capacity of 300 mah, and it charges in no more than two hours, as for the earphones, they have a battery of 25mah that charges in an hour, but lasts around 3 hours of continuous usage, the whole package should give above one day of autonomy which can confirm, that means one charge overnight and you won't have to charge them until the next, assuming you use them all the time which is often not the case, so realistically we talking 2 days of autonomy here, unmatched by any other model, thanks to the optimized BT5.2 chip that consumes less battery than the previous generation and delivers better audio, this will allow you a great autonomy, you don't have to ever worry about your battery dying out mid-day, enjoy your music and calls freely, these headphones will be your companions for the longest duration possible.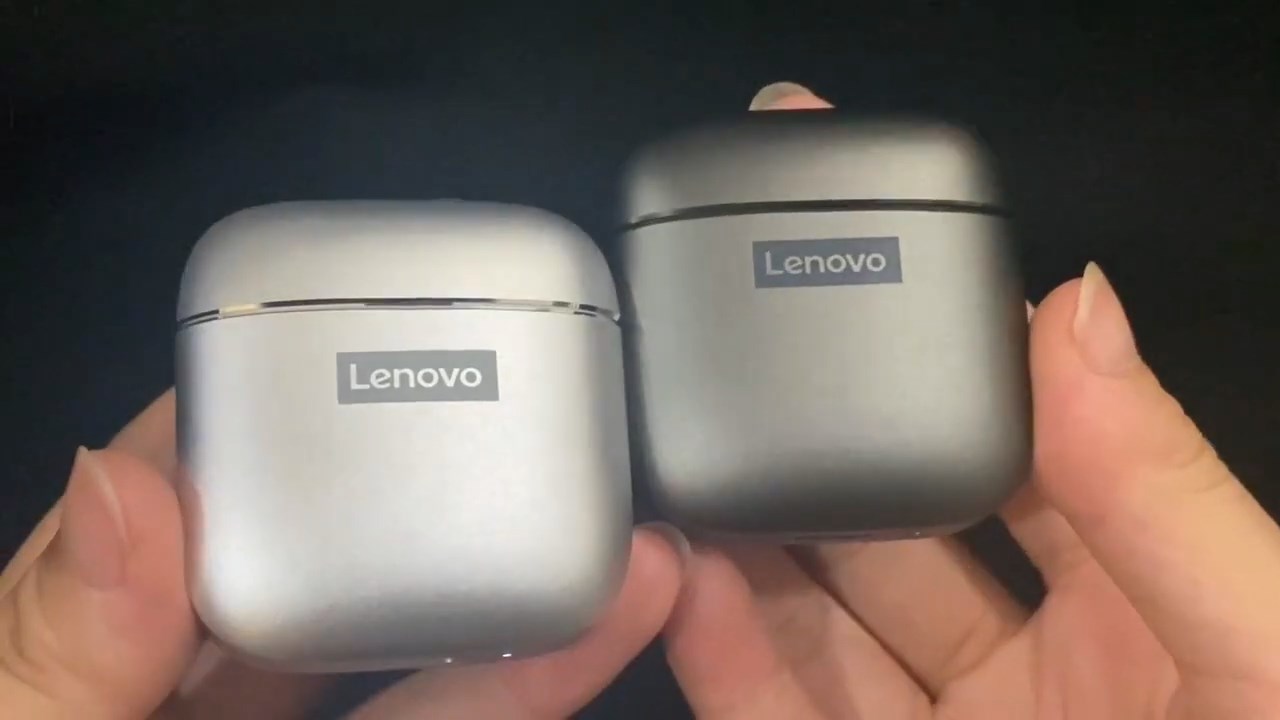 additionally, it charges through the USB C port with the USB C cable that comes included in the box in about 2 hours, and it takes the same time to charge an earbud by placing it inside the charging case. make sure to use a charging brick that is no more than 18 watts to avoid damaging the device, the earpieces charges automatically as you put them inside the case.
Final verdict
In my opinion, I feel like this device combines features from multiple wireless headphone models offered by Lenovo and tops everything with a huge battery for a very affordable price, for that I would recommend it to people who simply want to enjoy their podcast on the way to work or wanna watch a youtube video, especially if you hate silicone earplugs, Also, the features of this product were amazing, it has so much to offer from the sound quality the microphone, low latency, and the seamless pairing experience not to forget the long duration of the battery and the very accurate touch control that almost never misses, for a price that puts it in the budget category, thus, I definitely recommend it over any other budget wireless headphones.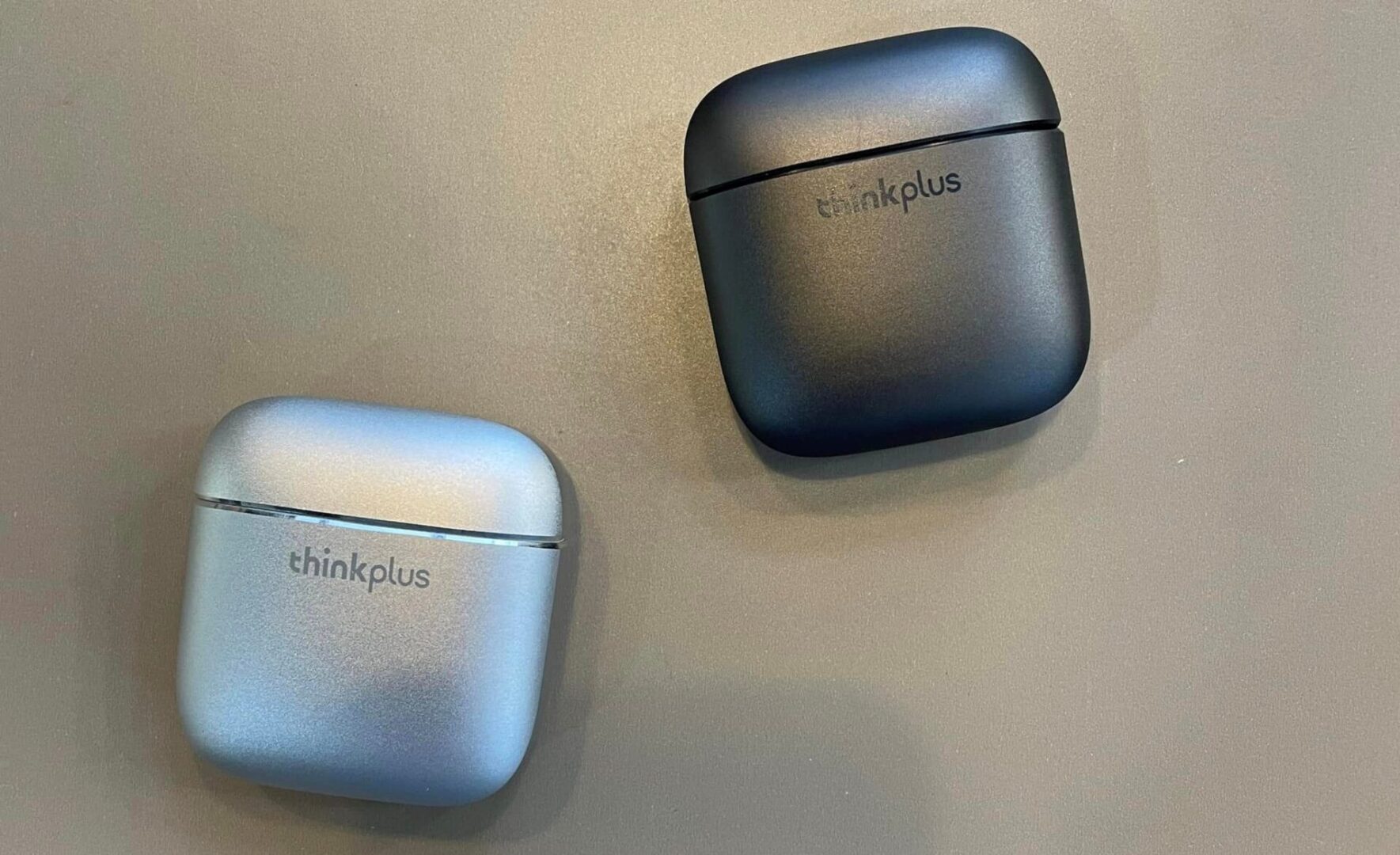 Price And where to buy
The Lenovo ThinkPlus XT99 is currently available on the AliExpress Store for a very good price So, don't miss out on this great deal. And to view its price or buy it, you can access the offer by clicking on the store icon.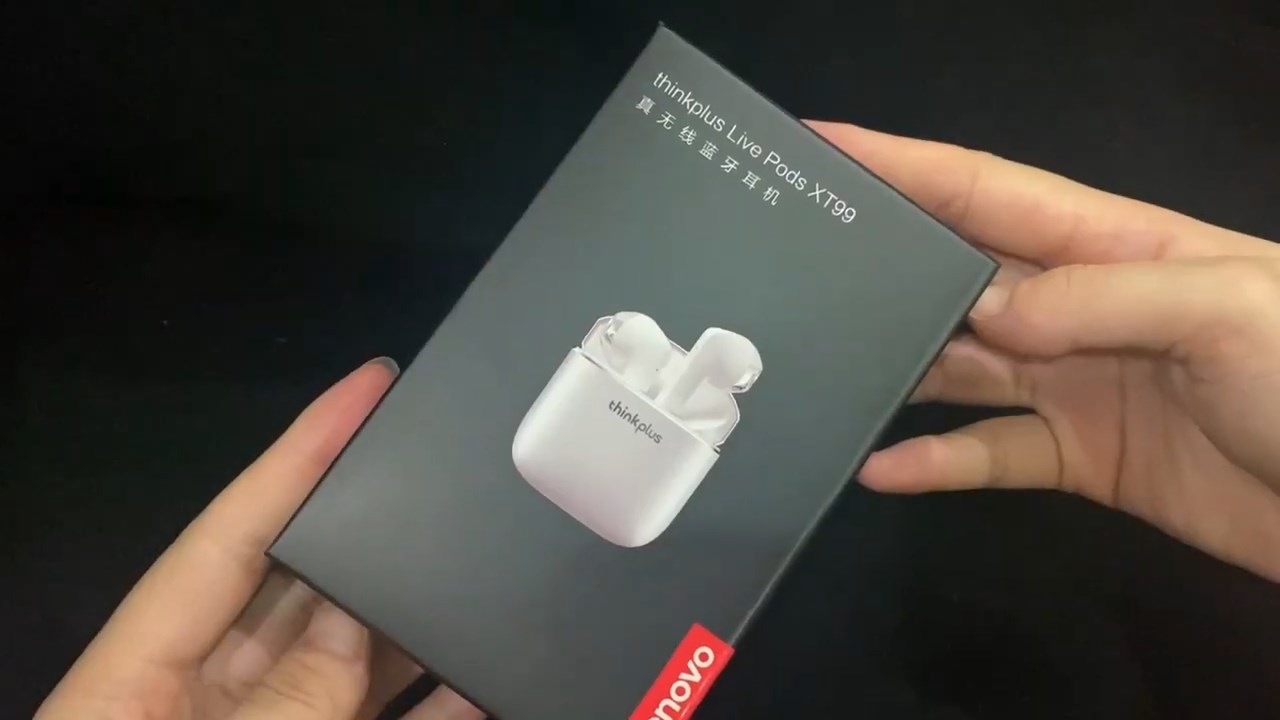 What's in The Box?
Charging case
Lenovo XT99 earphones
USB C to USB A charging cable
User manual
Lenovo XT99 Specifications
Color
Black, White
Wearing Type
Half-in-ear
Material
plastic
Microphone
Yes
Bluetooth Version
V5.2
Supported decodings
AAC/SBC
Transmission Distance
33 feet (10m)
Frequency Response
20-20kHz
Battery Capacity
Earbud: 25mAh*2
Charging Box: 300mAh
Charging Time (h)
2h
Music Time
3h
Charging Port
Type-C