Today with me LOKMAT APPLLP MAX in my first review of one of the best smartwatches from this series similar to smartphones, that has a significant fan base, this new version is equipped with MT6761 Quad-Cores chip, Android 9.0, and even a dual camera, in addition to comes with 64GB storage and 4GB RAM, 4G LTE support with a large battery. The amazing thing about this smartwatch is the large rectangular screen 2.88-inch and for a cheap price compared to what you will get, you can say that the APPLLP MAX is a smartphone on your wrist. Without needing more details, let's dive into this review.
LOKMAT APPLLP MAX Features
MT6761 Quad-Cores chip
Android 9.0
2.88inch Detachable Screen
4GB RAM+64GB ROM
Dual Camera 5MP + 13MP
Multi-Sport Modes
2300mAh Battery
4G-LTE Network | GPS Navigation
Design And Build Quality:
The first thing that catches your eye about the design of the LOKMAT APPLLP MAX is undoubtedly the uncommon size that is specially designed for lovers of smartwatches with a large screen so not everyone would like this, the weight here is unexpected more than 132g, interestingly, it can also be used as a phone except for the strap, So I don't think you will wear it all day, it will be tiring for sure.
I cannot tell you that it is beautiful or vice versa because it is according to your taste, but what distinguishes it is a rectangular design with a 2.88-inch screen and a strong structure made of ceramic and plastic with high manufacturing quality, and you can choose between black, gray and gold colors.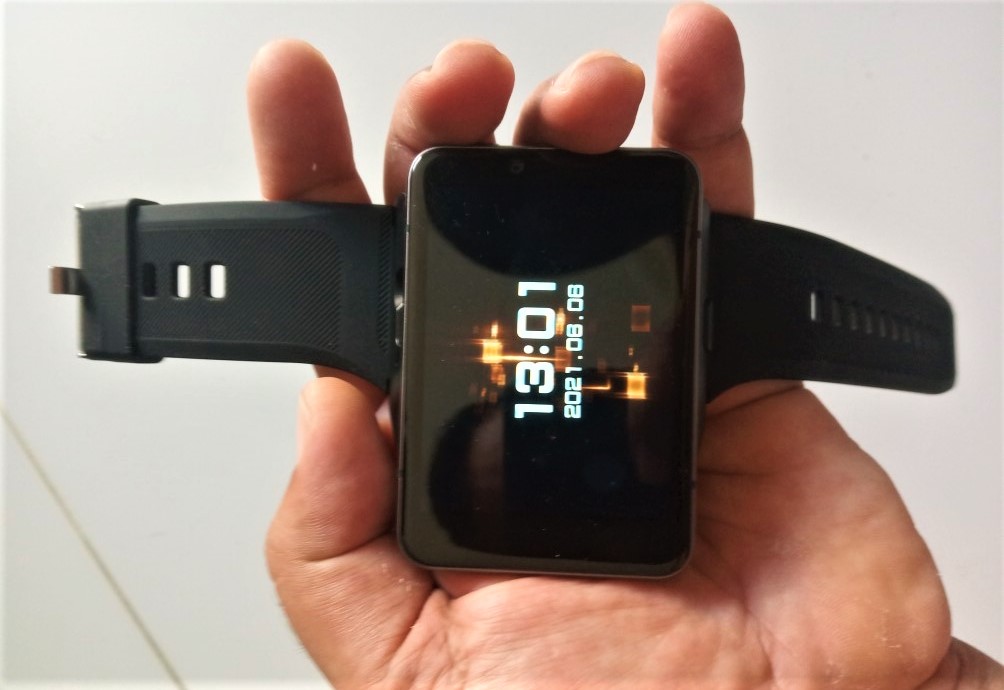 There are two cameras, the first on the right with 5MP and on the side above it there is the power button and the speaker, and from the top, there is the second camera with 13 MP and the microphone. On the other side, there is a Nano-SIM slot and a magnetic charging port, which is very practical. And remains only the heart rate sensor its location known and the strange thing is that its a little prominent and may disturb you while wearing the watch. What I found missing is that this smartwatch lacks volume up and down buttons, although its large size helps.
Coming to the strap, it's large 32 mm non-removable made of silicone which makes it lightweight and comfortable on your wrist but for some it's not comfortable for long-term use.
Waterproof:
Unfortunately, LOKMAT APPLLP MAX does not contain any water or dust protection, meaning that you cannot expose it to any water source so you have to pay attention to this point. But it's designed to be worn for activities, so if it's exposed to water, and to avoid any long or short-term damage, it's preferable to dry the watch before operating it so that it stays with you as long as possible.
Display Screen:
LOKMAT APPLLP MAX Screen There is no doubt that it is a giant and rectangular 2.88 inch TFT screen, 85% screen-to-body ratio, and its resolution is 480 * 640 pixels, which makes the contrast and brightness good but not on the outside. Watching a movie on this big screen is where the strength of this watch is compared to familiar watches, as it has a good touch response.
For Android smartwatches, you need as big a screen as possible, but if it's too small, it could make you struggle with your hand while browsing or typing, which you won't find on APPLLP MAX.
LOKMAT APPLLP MAX Performance:
LOKMAT APPLLP MAX provides overall high and smooth performance without any problems with the speed of opening apps or browsing the smartwatch, thanks to the powerful Mediatek Helio P22 ( MT6762 ) quad-core chip it's a lower-tier smartphone processor that works at up to 1.8 GHz with a 16nm manufacturing process and is based on Cortex-A53 architecture. A Power IMG GE8320 at 650 MHz enables us to run large 3D applications perfectly. Which makes sure the device delivers high performance
If you told me the processor is old, of course, it is, but we are talking about a smartwatch here, and it provides very good performance in games and applications, and there are smartphones that still use this processor, the most famous of which is Elephone E10, LG K42, Samsung Galaxy A10s, Oppo A1k. So, This CPU is suitable for multitasking and running applications that need a powerful processor and this is done with the help of 4GB of RAM DDR3, Which is more than enough for a mid-range smartphone, not to mention a smartwatch.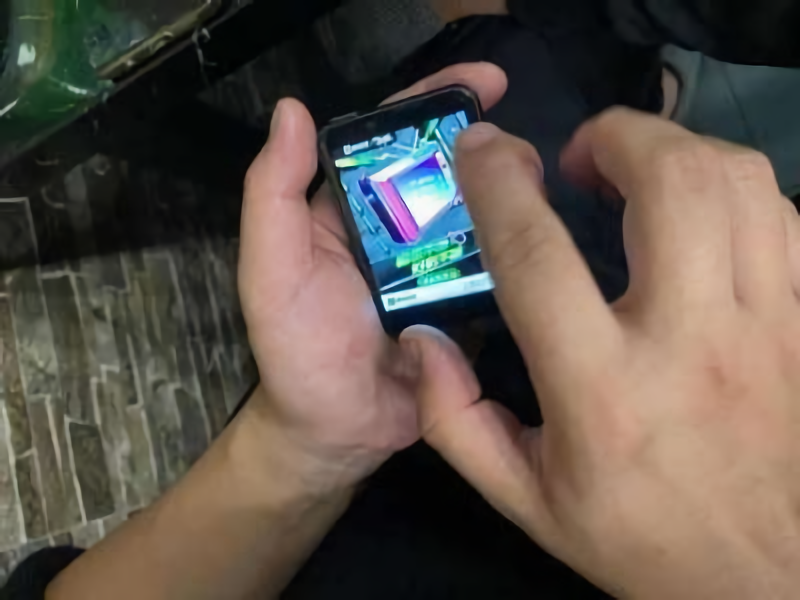 Play games? Of course, you can and believe me even PUBG and COD but the minimum settings, in addition to the experience of playing car games, was great, and I will not say more the best experience is the big screen similar to the smartphone and this is what makes the games and applications that run more efficiently compared to smartwatches running Android And have a small, circular screen.
In terms of storage, there is 64 GB eMMC 5.1, Yes, it's a very large space that can be used to download apps, music, movies, or anything you want. You just have to make sure that it is compatible with the formats supported by the watch from the specification table below.
Also, has Bluetooth 5 technology support Bluetooth calls and makes the watch low power consumption and a more stable connection. This version is compatible with Android 6.0 and later or iOS 10.0 and above so that the connection is through the HEBSWatch app.
Watch videos:
You can watch the video content on this smartwatch through YouTube, Netflix, or any platform you want, with a good experience because the big screen helps a lot but the resolution will not be the best thing.
Software:
LOKMAT APPLLP MAX is a new smartwatch that runs on Android 9.0 that has been optimized for APPLLP MAX with a good interface that is very easy to navigate and smooth, adding Ul icons for various interactive special effects.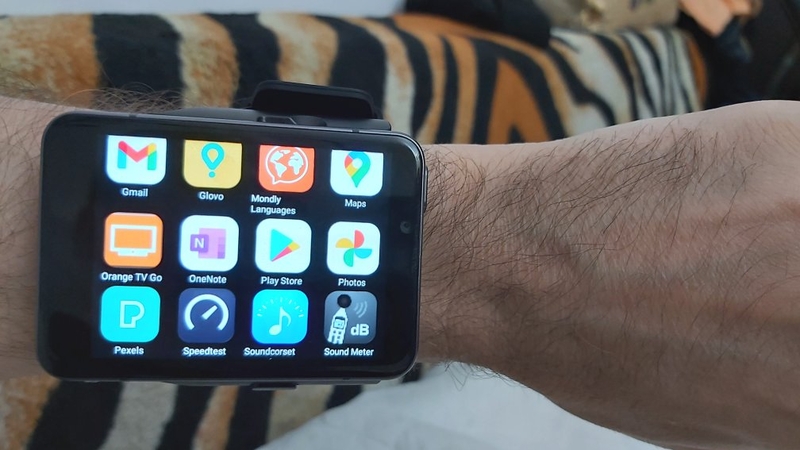 The system allows you to install almost any app and game from the Google Play Store, Unfortunately, many apps do not work from the Google Play Store at launch. The LOKMAT APPLLP MAX comes with more than enough specifications for a smartwatch, so most likely you will not find any problems with the performance and smooth operation of applications.
All social media applications were fully functional such as Facebook, Instagram, Twitter, and especially WhatsApp because there is a SIM for making calls.
Touch screen operation:
Swipe up on the clock interface to call out the notification center;
Swipe down on the clock interface to call out the control center.
Slide the clock interface to the left to the widget;
Swipe right on the clock interface to enter the main menu.
HEBSWatch App For LOKMAT APPLLP MAX:
LOKMAT APPLLP MAX is compatible with the HEBSWatch app for Android and iOS to help you set up and use your watch more efficiently via synchronization. You can take advantage of some features, stats, and functions without the need for any additional equipment, such as steps taken, hours of sleep, heart rate measurements are taken, all done by integrating watch data automatically on the home screen with the ability to view it on a daily or monthly basis. Also set exercise goals and encourage yourself to complete the amount of exercise each day with a simple and easy-to-understand operating interface with sections such as steps, distance, notifications, alarm, and more.
The app is downloaded through the Google Play Store or the Apple App Store, so you know it is a safe app.
How To Pair LOKMAT APPLLP MAX To A Smartphone:
It's easy to connect the APPLLP MAX Smartwatch to your phone. After installing the HEBSWatch app and setting it up, all you have to do is log in and the phone will search and find the watch in seconds, and you must do that by searching for the Bluetooth and the watch through the app's Bluetooth and not Via Bluetooth in the phone. When this is done, it will be connecting directly and without any complications.
LOKMAT APPLLP MAX Watch Faces:
APPLLP MAX Smartwatch has many different pre-installed watch faces, and you can switch between them easily by the long press in-home screen or via the HEBSWatch app for more additional watch faces with customization capabilities for a variety of colors, retro, analog, 3D, and digital faces available or you can even use your own photos as a watch face background or any wallpaper.
Making Calls On APPLLP MAX:
Of course, you can make phone calls directly from the watch. We have a microphone and a speaker. Keep in mind that if you use this watch connected to your smartphone, you will not be able to make phone calls to it through the phone. But if you have a SIM card inside, you can make phone calls just as you would from a regular phone.
Notifications:
With nano SIM support, you can have an independent call, you can also send and receive messages directly from the smartwatch. Have a video call and its front camera.
Health And Fitness:
Unfortunately, The LOKMAT APPLLP MAX is loaded with only 4 sports modes, included: outdoor running, walking, indoor running, and Hiking.
Apart from the sports features, you can track your location thanks to the built-in GPS function and view your exercise path and is not the fastest and accuracy is not the best. In addition there real-time monitoring of your heart rate to check whether it is beating normally or not, Monitoring blood pressure and measuring blood oxygen levels in real-time to improve the ability of the cardiovascular system to Prevent the low level of oxygen in the blood that causes discomfort to the person's body, and it does not have sleep monitoring.
Although it has a Tianyi Hexinxin HRS3300 sensor that is more accurate than other smartwatches, this does not mean that the measurements provided by this smartwatch are not completely accurate, most of them are highly unreliable as they are not a medical instrument, but it does make you fully aware Your health and physical performance.
Network & Connectivity:
One of the most important features of LOKMAT APPLLP MAX is the ability to connect to 4G LTE networks, so the ability to insert a SIM card works independently and this allows you to do many things without the need for your phone and access the Internet everywhere.
In addition, they have dual-band 2.4GHz-5GHz Wi-Fi and Bluetooth 5.0. This means that you can connect some Bluetooth headphones and then you can listen to music or make phone calls.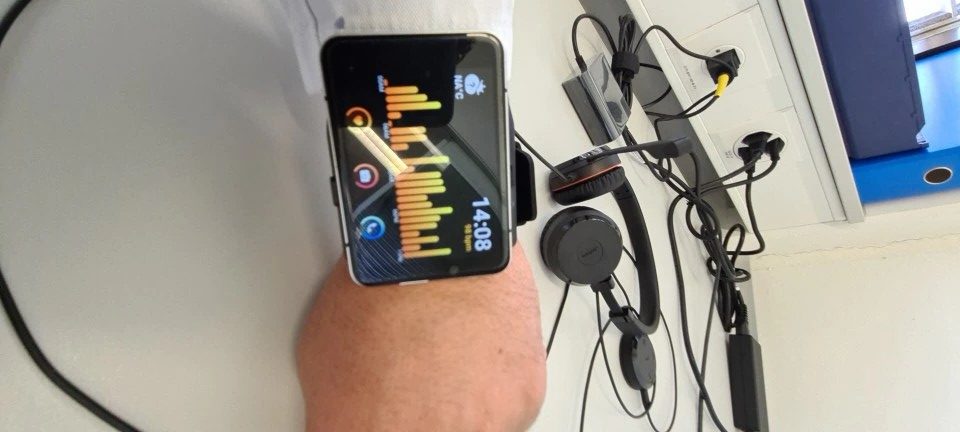 If you are using this watch with a SIM inside it means you can make calls and send/receive SMS even without using your phone as it is compatible with most frequencies, you can use APPLLP MAX like any normal smartphone. And If you receive a notification, you can respond to that notification. However, if you are using this watch connected to your smartphone, you will be able to see the notification but will not be able to respond. You need to use LOKMAT APPLLP MAX as a phone to be able to respond to notifications.
What's the difference between inserting a SIM card or not?
You can't make phone calls without a SIM card, but you can surf the Internet and use apps after connecting to WIFI. After inserting the SIM card, you can make a phone call from the watch.
Dual Cameras In LOKMAT APPLLP MAX:
The camera is an indispensable thing in such a smartwatch because it is closer to a smartphone, thus LOKMAT APPLLP MAX gives you a dual camera that you can use both cameras to record videos, take pictures, or video calls, and pictures are taken better in bright light conditions.
The front camera is 5MP that gives you high-quality photos and a reality that I didn't find too bad for a smartwatch on your wrist and you can make video calls with acceptable quality and a fast face unlock.
On the side is the main 13MP for taking high-quality photos, and since it is on the side, it can take great pictures for shooting sharp angles, which cannot be taken with a regular camera.
LEMFO LEM15 Battery And Charging:
The battery in the LOKMAT APPLLP MAX has a capacity of 2300mAh, yes it's large, the battery remains acceptable and lasts as it gives you 2-4 days max. So you can finally spend a whole day and more on one charge, this may seem normal to you, but believe me, with such specifications it is difficult to achieve such a result.
However, it all depends on your usage of the watch as we know that Wi-Fi networks, GPS, and running high applications consume more power. About the charging time, from 0 to 100% usually takes no more than 3 hours with the use of magnetic charging.
Verdict:
LOKMAT APPLLP MAX is a special smartwatch targeting a segment interested in this type of device, and let's be honest, it's not intended for sports, it is more like a smartphone than a smartwatch.
LOKMAT APPLLP MAX Price And Where To Buy:
The LOKMAT APPLLP MAX is currently available on Banggood and the Aliexpress store at a very good price So, don't miss out on this great deal. And to view its price or buy it, you can access the offer by clicking on the store icon.
Note: The LOKMAT is the brand for this particular watch, it is sold under the Jingtider S999 or just S999 as well as other names.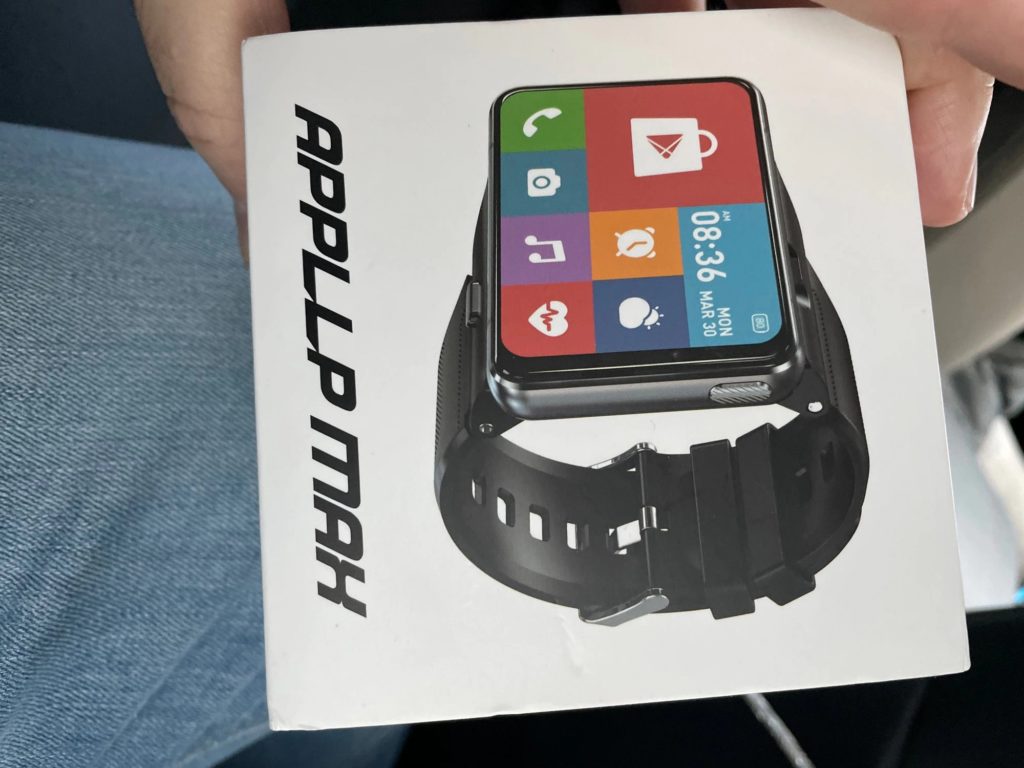 LOKMAT APPLLP MAX Smartwatch
Strap
Screwdriver
Magnetic charging cable
User manual
LOKMAT APPLLP MAX Specifications
Hardware
CPU
MT6762
Display Screen
2.88 inch TFT
Touch Screen
Rectangular full touch
Resolution
480*640
RAM/ROM
4G+64GB
SIM card
Nano SIM
The Internet
2G/3G/4G
System
Android 9.0
Frequency Band
GSM: 850/900/1800/1900
WCDMA: B1/B2/B5/B8
TD-SCDMA: B34/B39
LTE-FDD: B1/B2/B3/B5/B7/B8/B12/B17/B20
LTE-TDD: B38/B39/B40/B41(100MHz)
Camera
camera 5MP, side camera 13MP
Bluetooth
5
Heart Rate Sensor
Tianyi Hexinxin HRS3300
Battery
2300mAh
WIFI
Support 2.4G/5G
GPS
GPS+Go
Bluetooth Effective Distance
>10 meters (open environment)
Battery Life
3 days
Charging Method
Magnetic charging
Charging Time
3 hours
Material
Watch Case
Aluminum alloy
Strap Material
Silica gel
Head Size
77.2*53.6*15mm
Strap Size
32mm width, total length 288mm, adjustment range 190-270mm
Manual Language
Chinese, English, French, Spanish, Portuguese, German, Italian, Japanese, Russian
Product Weight
132g
Package Size
103*103*75mm
Function
Product Features
Support manual language selection on the watch, make and receive calls, phone book, send text messages, download third-party apps, video calls, photos, alarms, calendars, calculators, recordings, local music playback, weather, voice search, step counting, heart rate, Multi-sports mode, find mobile phone, stopwatch, music control, raise your hand to brighten the screen, dial replacement, message push, etc.
Support System
Android: Support original operating system 6.0 and above, (Settings-about the device, check the android version)
IOS: Support 11.0 and above system version. It can be set through the mobile phone-General-About this machine, check the version, if the user is lower than the 11.0 version, please upgrade first.
Support Language
Chinese, English, German, Spanish, French, Indonesia, Italy, Netherlands, Norway, Poland, Portugal, Vietnam, Turkey, Greek, Russian, Ukrainian, Hebrew, Persian, Arabic, Thai, Korean, Bengali, Hindi (this is a relatively accurate translation language) The translations in other hundreds of languages are not very accurate
Full-time Display
1) Date, week, clock, minute (real-time display);
2) Time system: 12/24 hour dual system;
4) After the mobile phone APP Bluetooth is connected, the watch will automatically read the mobile phone time, date, format, and synchronize.
Walking Movement Monitoring
1) Accurately monitor walking (number of steps), physical energy consumption (calories), walking distance (Km);
2) 24-hour full-time monitoring.
Information Reminder
After connecting with the mobile phone APP Bluetooth, the watch will vibrate in time to remind you of incoming phone calls, SMS, QQ, WeChat, Twitter, Facebook, Whatsapp, Skype, and other information.
Bluetooth Off Shortcut Key
The user can turn off or start the Bluetooth push function of the mobile phone according to the actual function, so as to appropriately reduce the power consumption of the watch and turn on (or off) the information push reminder.