The Melanda Brand has launched a new smartwatch under the name of MELANDA 2021 MD15, that I find very promising since it has IP68 water and dustproof certification, in addition to many other features such as customizable watch faces, multiple sport modes, and other things, check them out in this review.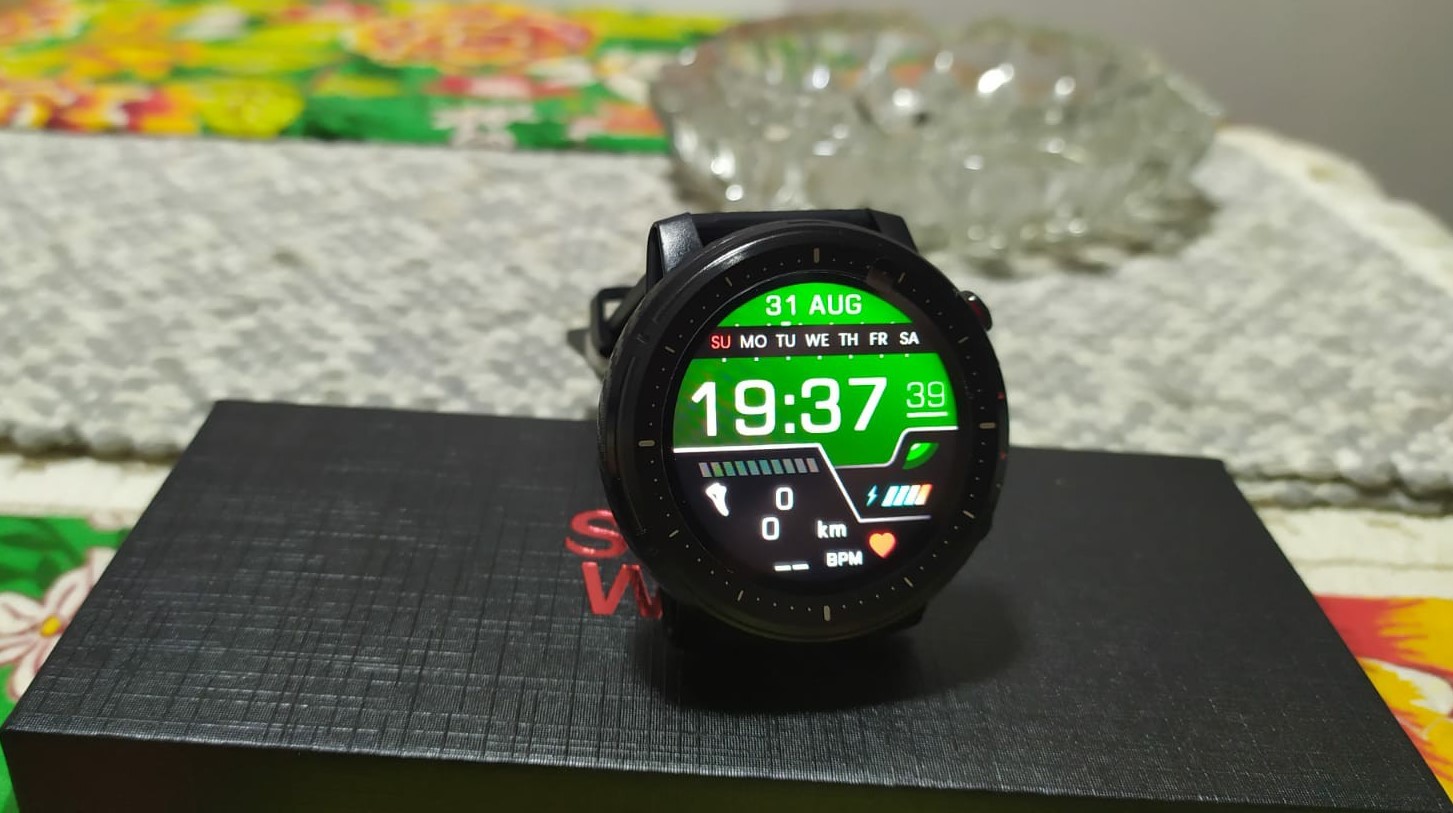 MELANDA 2021 MD15 Features
1.3 inch Touch Screen
370mAh Battery
IP68 Waterproof
Multiple Watch Faces
Design And Build Of The MELANDA 2021
The MELANDA 2021 has got a casual and sporty look, it's circular with two buttons on the right side, the upper being a little bigger, and used to turn the smartwatch on-off, the second one is for scrolling through menu items. Most of the smartwatch is made of plastic with a carbon fiber back case, that's because of the low price, they offer it in 2 colors black, and the red. Overall it's not too big nor too small in size, the smartwatch alone is 48mm in diameter and 13.2mm in thickness.
On top you have the 1.3″ round display with thick bezels and a black frame, two buttons on the right side, from we find the green optical sensor LED that measures Blood pressure, blood oxygen, along with two magnetic charging pins to help you easily charge your device.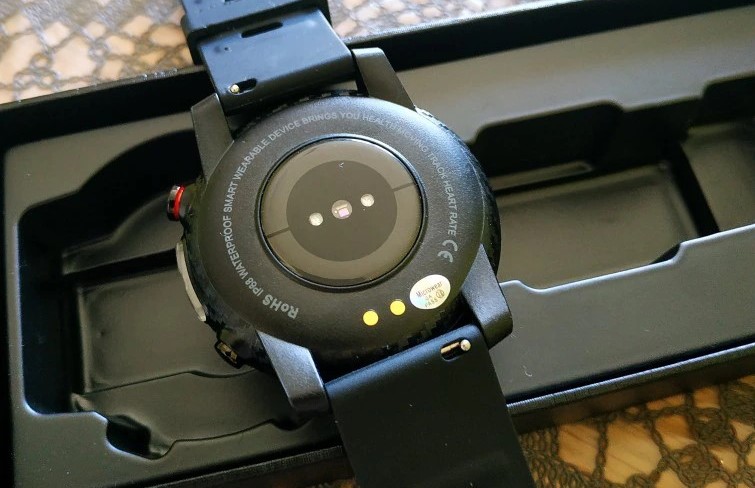 Between the two buttons, you'll find the torch LED light with two LEDs similar to those on your smartphone, this feature can come in handy in many situations instead of using a full-hand torch.
The detachable strap has a perimeter of 254mm. it consists of silicon and is about 254mm of the perimeter, they should be comfortable on the wrist with no problems.
MELANDA 2021 Display Screen
The smartwatch has a super retina 1.3-inch full rounded touch screen with a resolution of 360*360pixels, The colors are good with a wide color gamut 98% adobe RGB with very high accuracy, it has an Ultra-wide viewing angle, the whole thing is covered mineral-strengthened glass mirror which gives it extra durability. The reflections on the screen can be a little distracting, but overall you won't find a problem using it.
MELANDA 2021 Watch Faces
The smartwatch offers multiple watch faces to choose from depending on your style, you can either choose one from the device itself or use the ones available on the app, you can also download new watch faces in the app and push them to the smartwatch to satisfy your taste.
IP68 Waterproof And Dustproof
One important feature available on the MELANDA 2021 smartwatch is the IP68 dust and water resistance, you can wear this smartwatch and dive into the water for up to 30 minutes with a maximum depth of 1.5m with dust resistance as well, you can wash it, wear it under the rain, take cold baths and even swim with it, it also means that you don't need to worry about sweat damaging the smartwatch while performing sports such as rope skipping or running for example.
It is a little bit surprising to see an IP68 rating on a device at this low price range of around 30$, most similar devices can hardly get washed without getting damaged. You should never put your smartwatch under hot water or sauna.
MELANDA MD15 Smartwatch Health And Fitness
The Melanda 2021 Md15 is a sports smartwatch, it has features that will help you keep track of your progress and monitor your health such as 10 built-in sports modes which are running, walking, cycling, climbing, table tennis, badminton, rope skipping, swimming, yoga, and basketball, there also is a history tab where you can check previous data.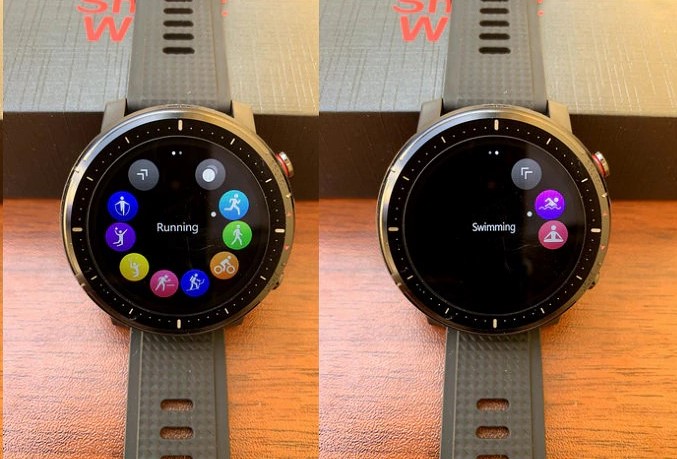 Apart from the sports features, you can monitor your heart rate in real-time to check whether it's beating normally or not and monitor sleep to measure your total light sleep, deep sleep, and wake time to provide you with an analysis of your sleep patterns, monitor blood pressure and measure oxygen levels in the blood in real-time to improve The ability of the cardiovascular system to prevent the low level of oxygen in the blood that causes discomfort to a person's body.
With all that, always put in mind that this is not a medical tool, the results it shows such as heart rate and blood pressure are merely an approximation and inaccurate data that you can' rely on to diagnose your health
Fit Cloud Pro App For The MELANDA 2021
In order to better use the Smartwatch, you need to download the "Fit cloud" app available on android and IOS smartphones by either scanning the QR code on the box or click on the logos below. The smartwatch uses bluetooth5.0 technology so it is compatible with Android 4.4 and IOS 8.0 and above.
The app offers a variety of options to better utilize the smartwatch such as a better more organized display of the data collected, it allows you to answer calls or reject them from the smartwatch and also display the call journal and contact list, control music playback and take photos with your phone through the smartwatch.
Battery Life On The MELANDA 2021
The smartwatch has a battery of around 370mAh of capacity, that is at least 10 days of continuous usage in one charge with no issues and the company promises up to 40 days of battery life in standby mode. while it only takes four hours to fully charge it from 0. The charging cable comes in the box, it is a USB on one end and two magnetic pins on the other, to charge the smartwatch, you need to connect the cable to the back of the smartwatch right on the pins, which will plug in very easily thanks to the magnets.
MELANDA 2021 Price And Where To Buy
The MELANDA 2021 Md15 smartwatch is available at a discount on Aliexpress, go check it out!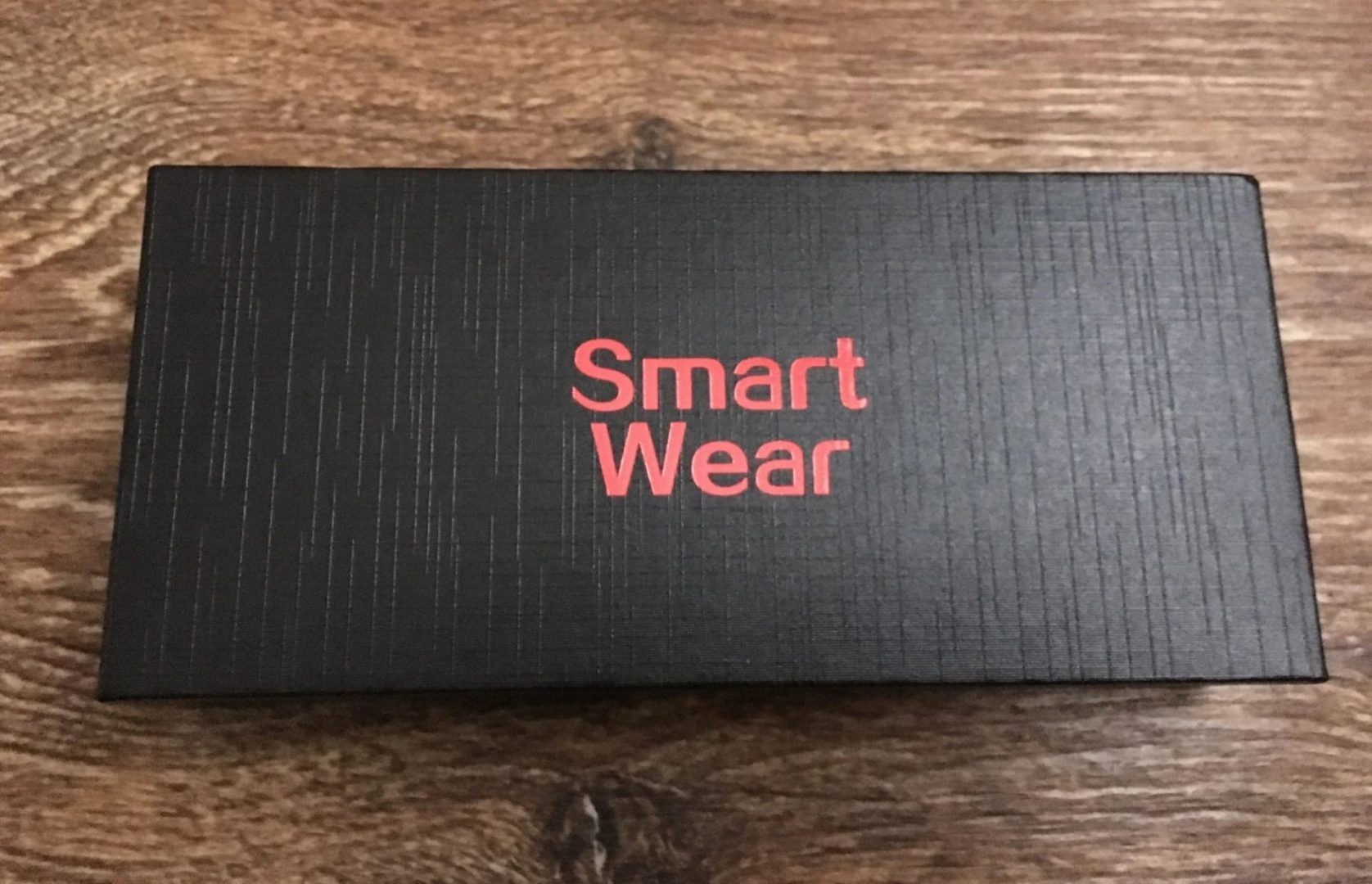 Package content
Original Box
MELANDA 2021 Smartwatch
Charger Cable
Instruction Manual
MELANDA 2021 Specifications
Brand
MELANDA
Model
MD15
Bluetooth Version
BT 5.0
Compatible OS
Android system 4.4 version or above; iOS system 8.0 version or above
Operating Mode
Full Touch Screen+ Press Button
APP Name
Fit Cloud Pro
App Language
Dutch, Russian, Norwegian, Ukrainian, German, Italian, Japanese, French, Polish, Korean, English, Spanish, Portuguese.
Watch Language
Dutch, Russian, Norwegian, Ukrainian, German, Italian, Japanese, French, Polish, Korean, English, Spanish, Portuguese.
Waterproof
IP54 (Life Waterproof)
Sensor
G-sensor, Heart Rate Sensor
Screen
Size: 1.3 inch
Type: IPS
Resolution: 360*360 pixels
Battery
Battery Capacity: 370mAh Big Battery
Using time: About 7-10 days
Charging Time: About 2 hours
Charging Type: Magnetic charging