The Mibro is one of the most famous and best producers of original smartwatches, After your success with the Mibro X1 smartwatch is back with a new series under the name Mibro T1. These new series come with an improvement that includes hardware and design, and the main selling point is the 1.6-inch AMOLED Display with built-in many watch faces, and this watch makes calls more convenient via Bluetooth, In addition, to the Health & Fitness Functions, also a 2ATM Waterproof, and there are many more. In short, you will get the latest technology that you will not find in any other smartwatch, with a stylish design. So there is some optimism about this smartwatch.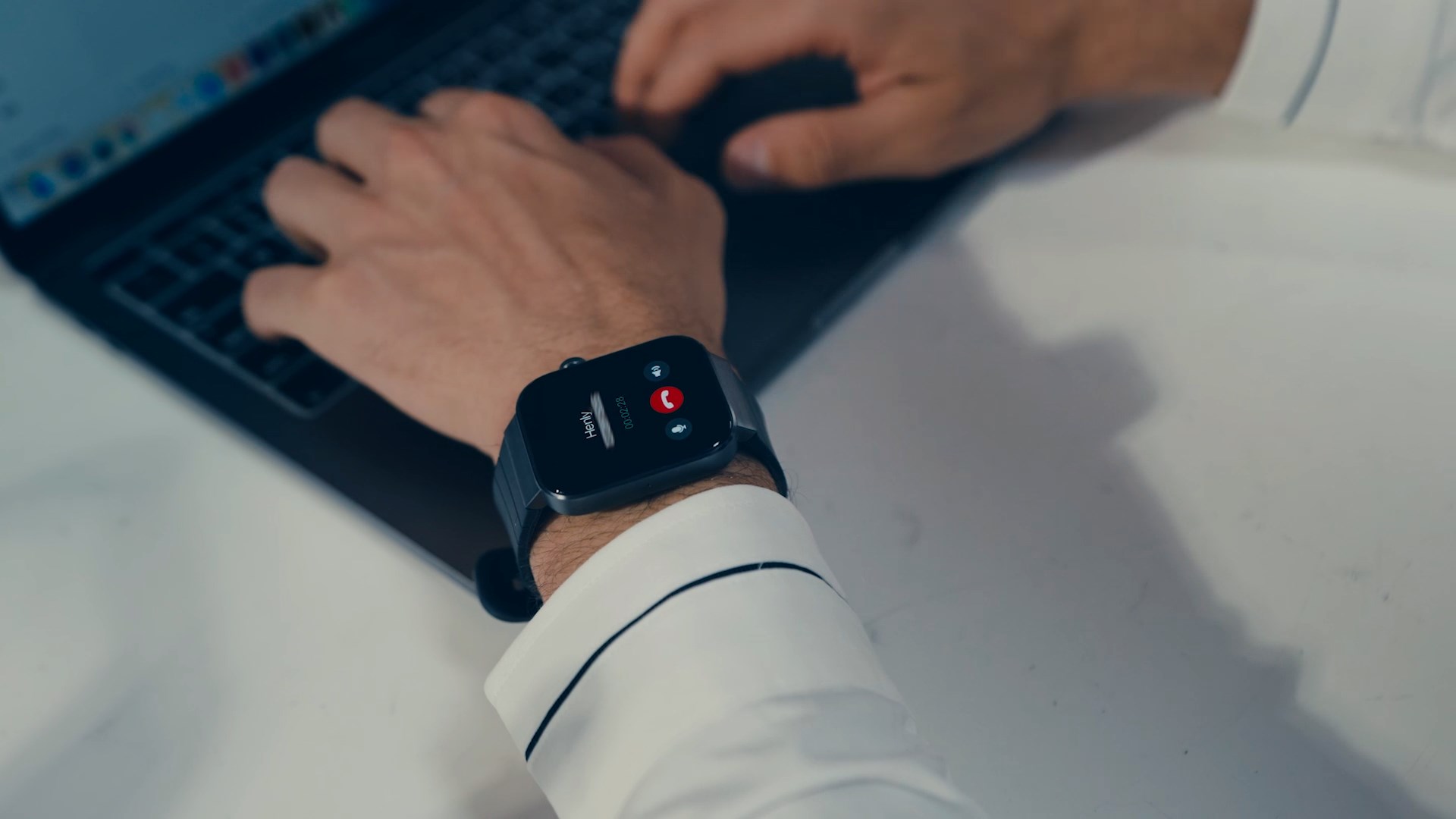 Making & Answer Calls via Bluetooth
1.6″ AMOLED Display
Light and slim Body
200+Online Watch Faces
Multi-Sport Modes, Health Monitoring
2ATM Waterproof
7-day Battery Life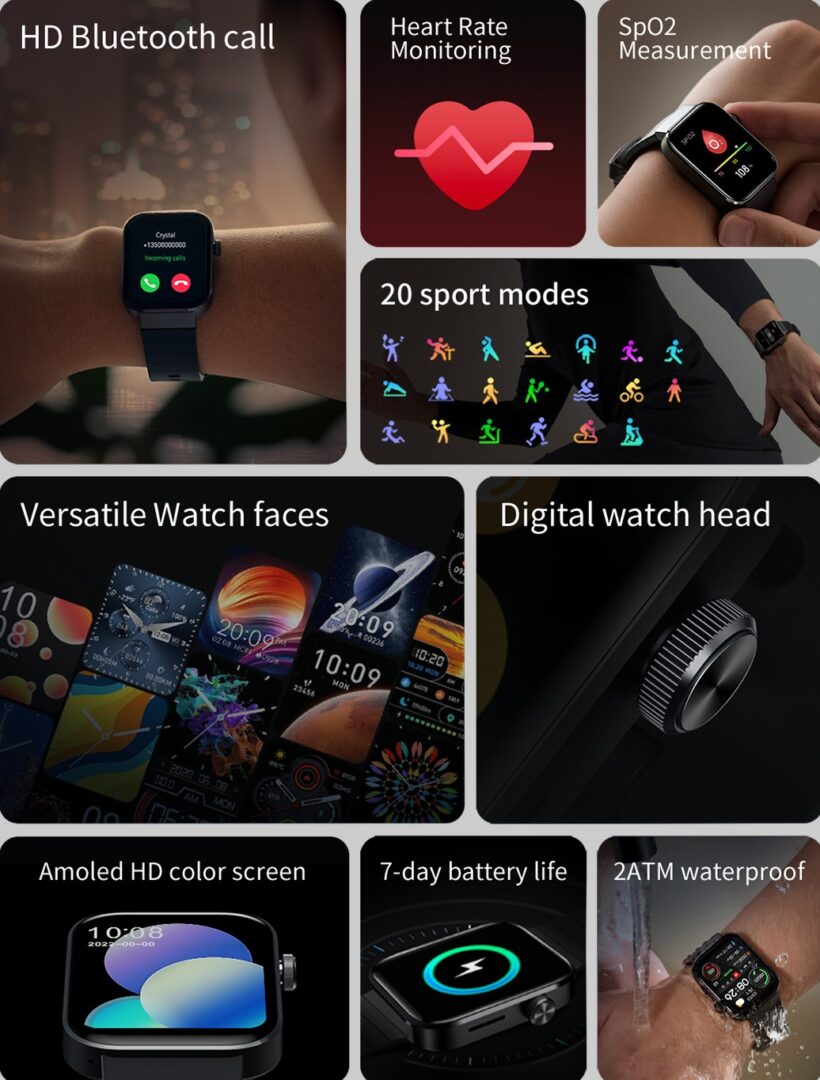 Design And Build Quality
The Mibro T1 smartwatch has a square design that looks very clean and elegant in black suitable for both men and women, and features a smooth 2D curved glass in a metal frame with a brushed finish, giving it the look of an expensive watch, and it really is amazing, On the sides, has a rotatable button that serves multiple functions such as changing watch faces. To make calls, just below the button, you'll find the microphone, the addition of holes in the left part, which is the built-in speaker.
Overall, the body is slim and light and made of high-quality aluminum alloy with 43.5mm large size and 11.3mm thickness, which makes it lightweight at just 50g and therefore comfortable on the wrist. The strap is made of silicone, lightweight and comfortable on your wrist for long-lasting use. You can use any 20mm belt because it's removable and is available in Black.
Display Screen
The screen in Mibro T1 Smartwatch is my favorite type and one of the strengths of this smartwatch, Unlike other budget smartwatches that contain a TFT panel, the T1 has an AMOLED display with 1.6 inches with 341 PPI, which makes it the one of largest among all the budget smartwatches with AMOLED screen. The glass is 2.5D curved to display better content and details with a high refresh rate to continue to optimize the user experience.
In fact, the reason makes this type of screen my favorite is that large and takes over most of the interface, with narrow sides, and this is only found in smartwatches with higher costs. This is in contrast to other inexpensive smartwatches that contain a touch screen, which comes in the middle of the screen and has rather wide sides.
Mibro T1 Watch Faces
If you are tired of the system's default dial background, Mibro T1 Smartwatch has many pre-installed watch faces, you can switch between them easily from the watch or via the app Mibro Fit for more watch faces with over 200 online watch faces are available for download with customization capabilities for a variety of colors, retro, analog, 3D, and digital faces or your own photos as a watch face background or any wallpaper.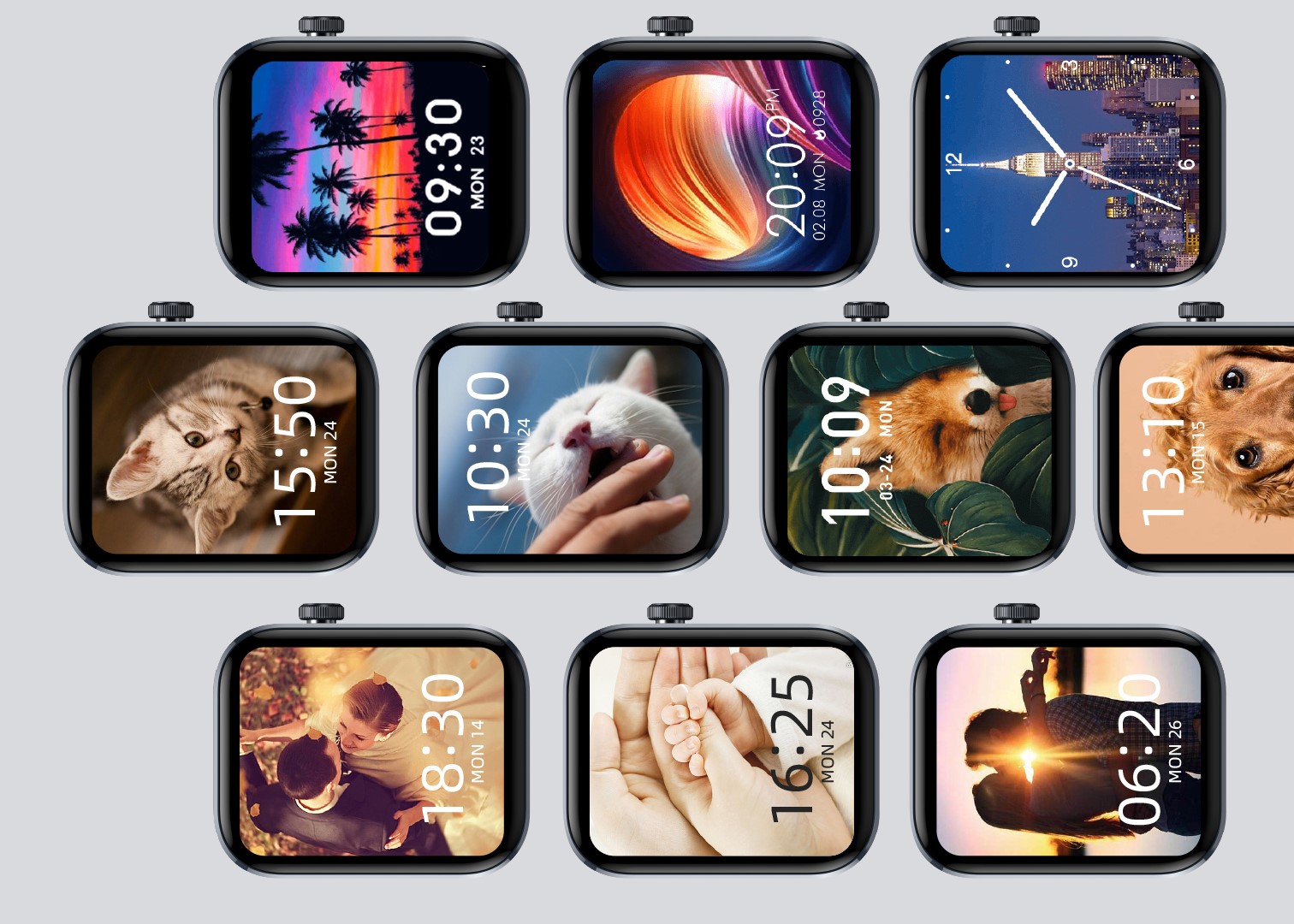 Waterproof
The Mibro T1 is water-resistant with 2ATM protection, which is a great upgrade so you can put it on during the shower or in the pool and you can wear it when washing hands or on rainy days, and what makes this rating better than IP68 is the possibility of using the watch for swimming because it can withstand pressure at 20 meters of depth Water. And this you will not find in any other smartwatch. However, exposure to saltwater or hot water can damage it.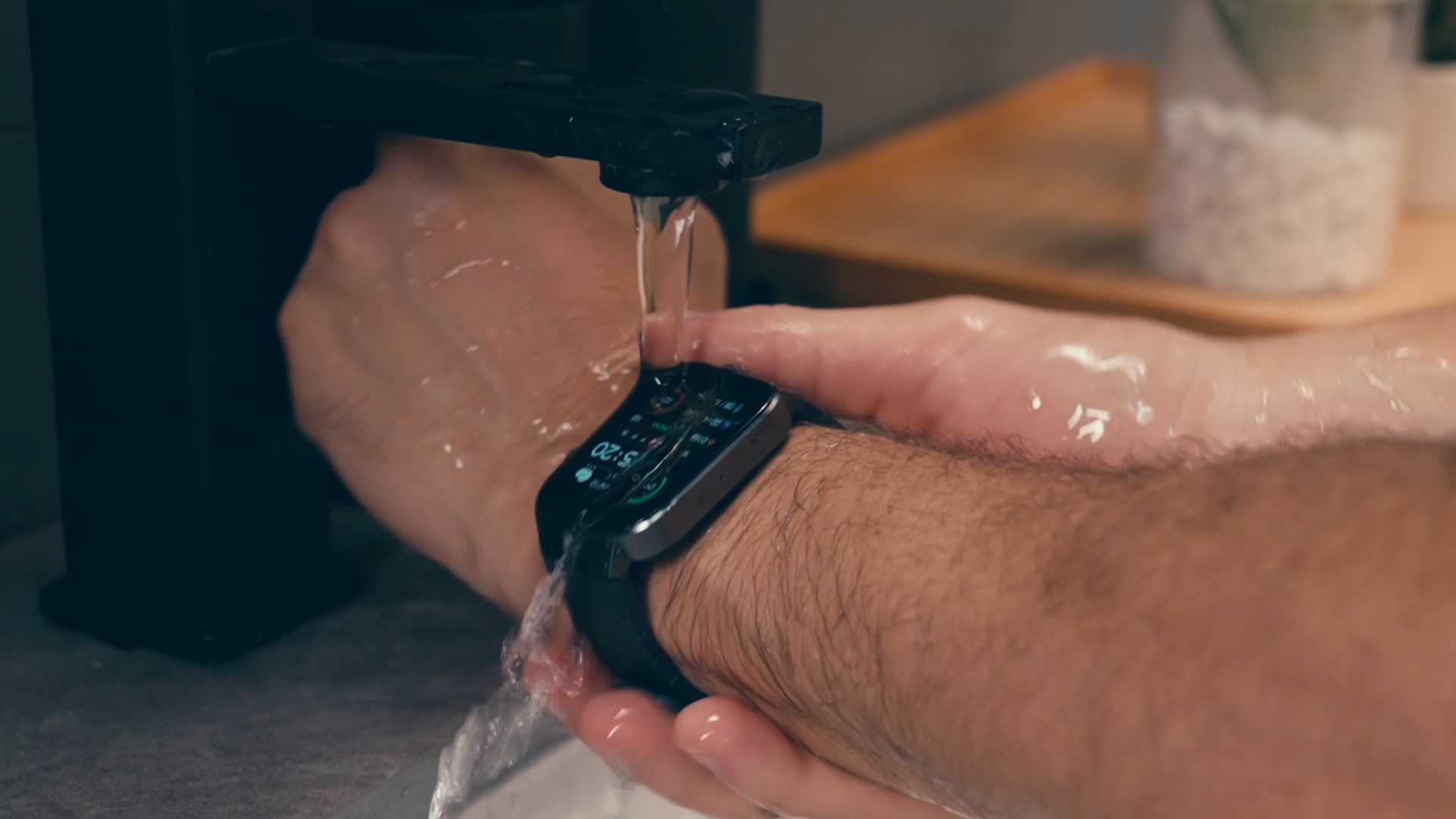 Under The Hood
When it comes to performance, Mibro T1 Smartwatch adopts the built-in chip for faster response speed and faster data processing, For your health, this device has a Low-power dynamic optical heart rate sensor, so this wearable device manages your motion every moment and takes good care of you throughout the day.
This watch has Bluetooth v5.0 support calls So, You will not face any problems in contact because it's the fastest and most stable. And this version is compatible with Android 5.0 and later or iOS 10.0 and above.
Health & Fitness Functions
The Mibro T1 Smartwatch is equipped with multi-sports modes to suit any of your needs, including Outdoor running, Treadmill, Outdoor Cycling, Indoor Cycling, Outdoor walking, Basketball, Football, Badminton, Climbing machine, Elliptical machine, Tennis, Yoga, and more. And it can record real-time exercise data, helping you track and improve your athletic performance.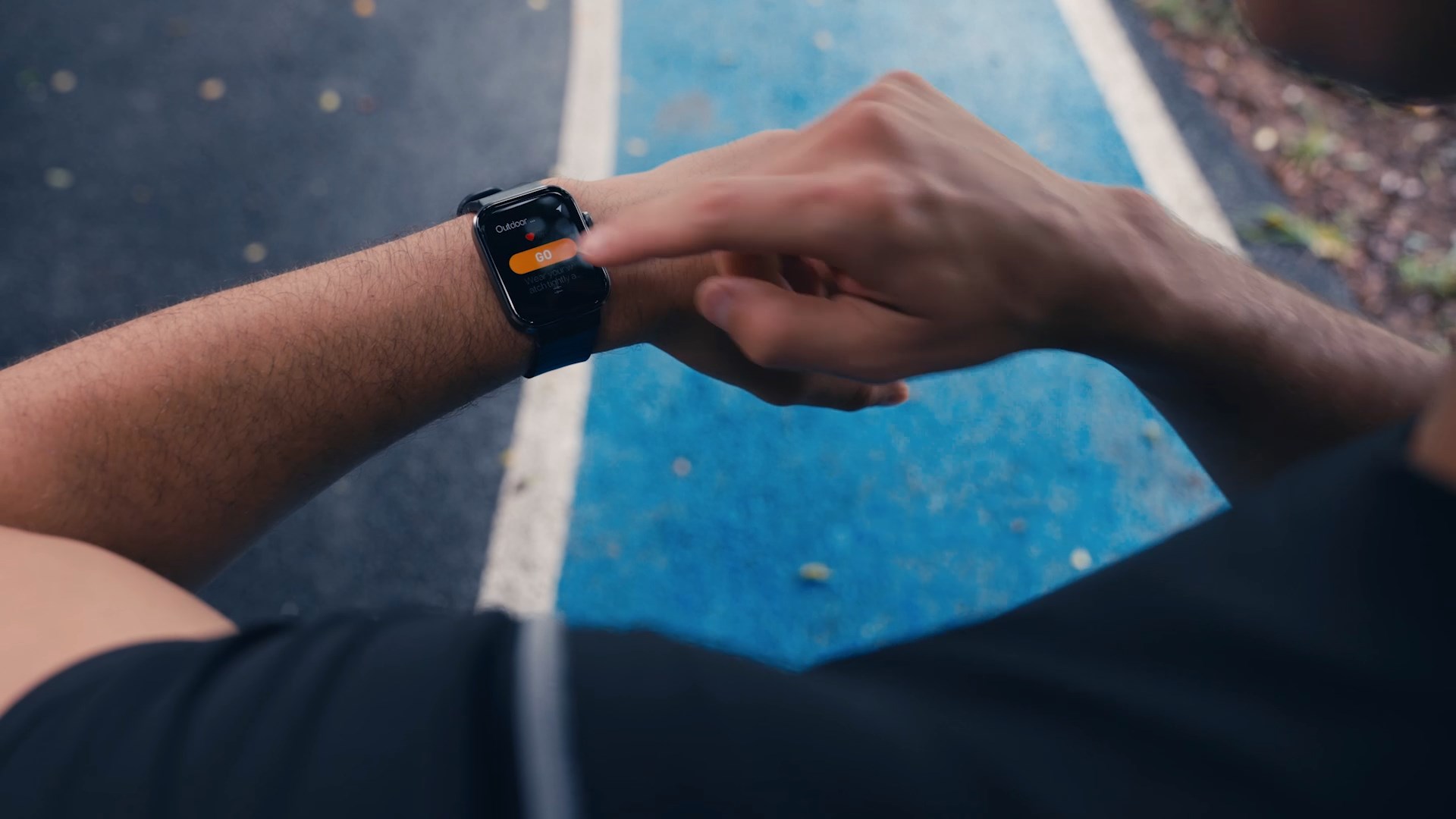 Apart from the sports features, T1 built-in four optical heart rate sensors, with a professional intelligent heart rate algorithm, you can monitor your heart rate in real-time to check whether it's beating normally or not and monitor sleep to measure your total light sleep, deep sleep, and wake time to provide you with an analysis of your sleep patterns, monitor blood pressure and measure oxygen levels in the blood in real-time to improve for the ability of the cardiovascular system to prevent the low level of oxygen in the blood that causes discomfort to a person's body.
Bluetooth Calling Function On Mibro T1
This smartwatch brings one of the most needed features which is the function of making calls more convenient thanks to the high-quality microphone and loudspeaker, you can now pass and accept calls without taking your phone out of your pocket, this convenient feature will cut you the hustle of pulling your phone out to do a simple thing such as calling or answering a call, especially in crowded spaces such as the bus or metro.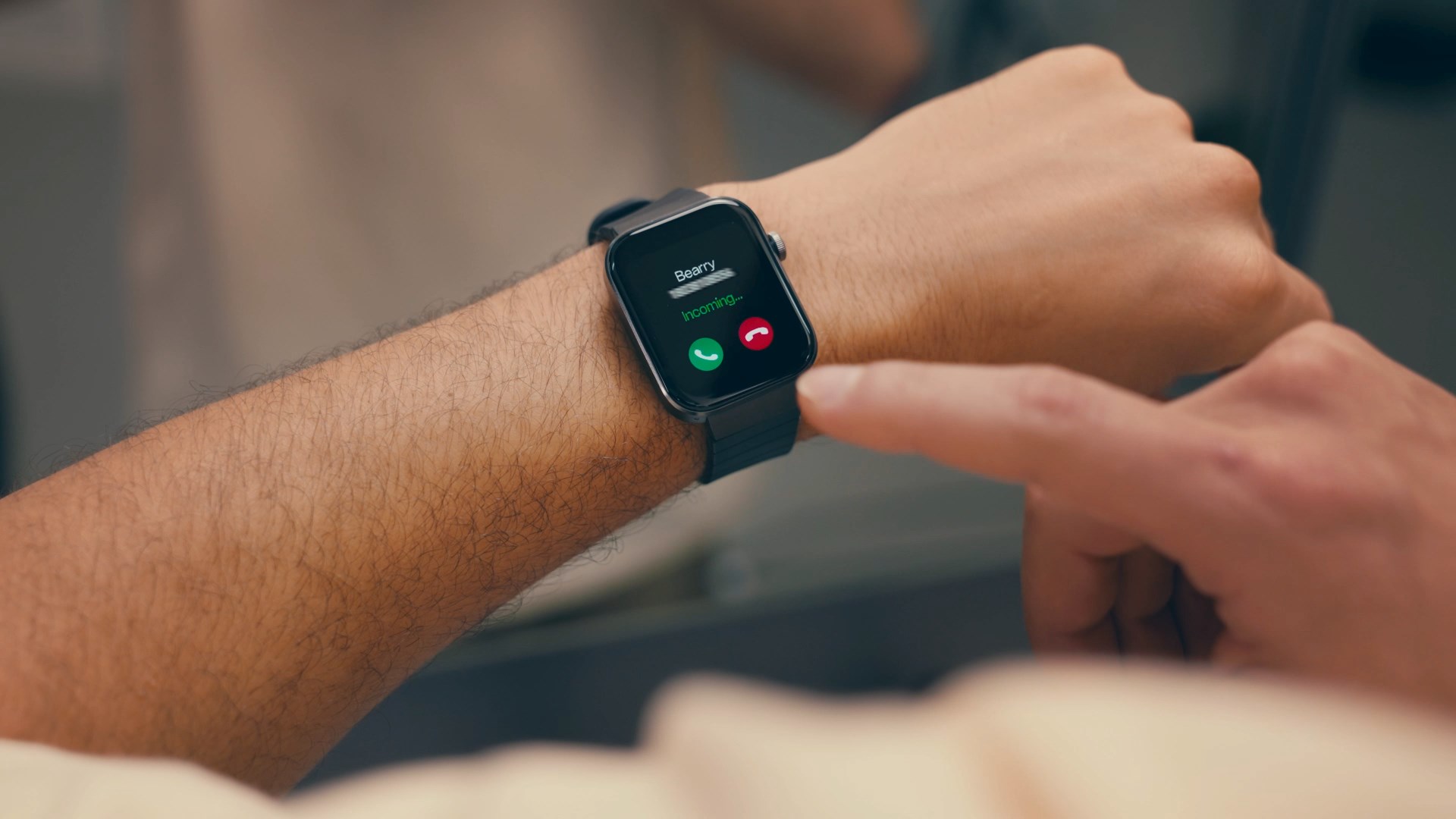 We obviously can receive notifications for calls, messaging apps, and social networks. You can choose lots of different popular apps to give notifications on Mibro T1 Smartwatch, for example, WhatsApp, Twitter, Facebook, Instagram, SMS, WeChat, and other apps are supported.
Mibro T1 Battery Life & Charging Time
In the end, The Mibro T1 Smartwatch offers a decent battery that is considered one of the best in this category, which gives you up to 7 days of battery life. but this is done with the reduced operation of the heart monitor, turning off notifications, and other features. But when using heart rate monitoring and notifications turned on you get just 2 days, and it will charge through the magnetic charger in about 1.5 hours.
Final Verdict
Let's agree that with an AMOLED screen you will definitely enjoy it, and it has really amazing 2ATM water resistance, with the possibility to make calls more convenient via Bluetooth, so if you want to buy a smartwatch that is sporty and elegant, the Mibro T1 is worth recommending. The T1 Smartwatch is currently available on the AliExpress Store for a very good price and you can use this code MIBROT10926 to get an $8 discount valid up to Sep 30th(PST) 2022, So, don't miss out on this great deal.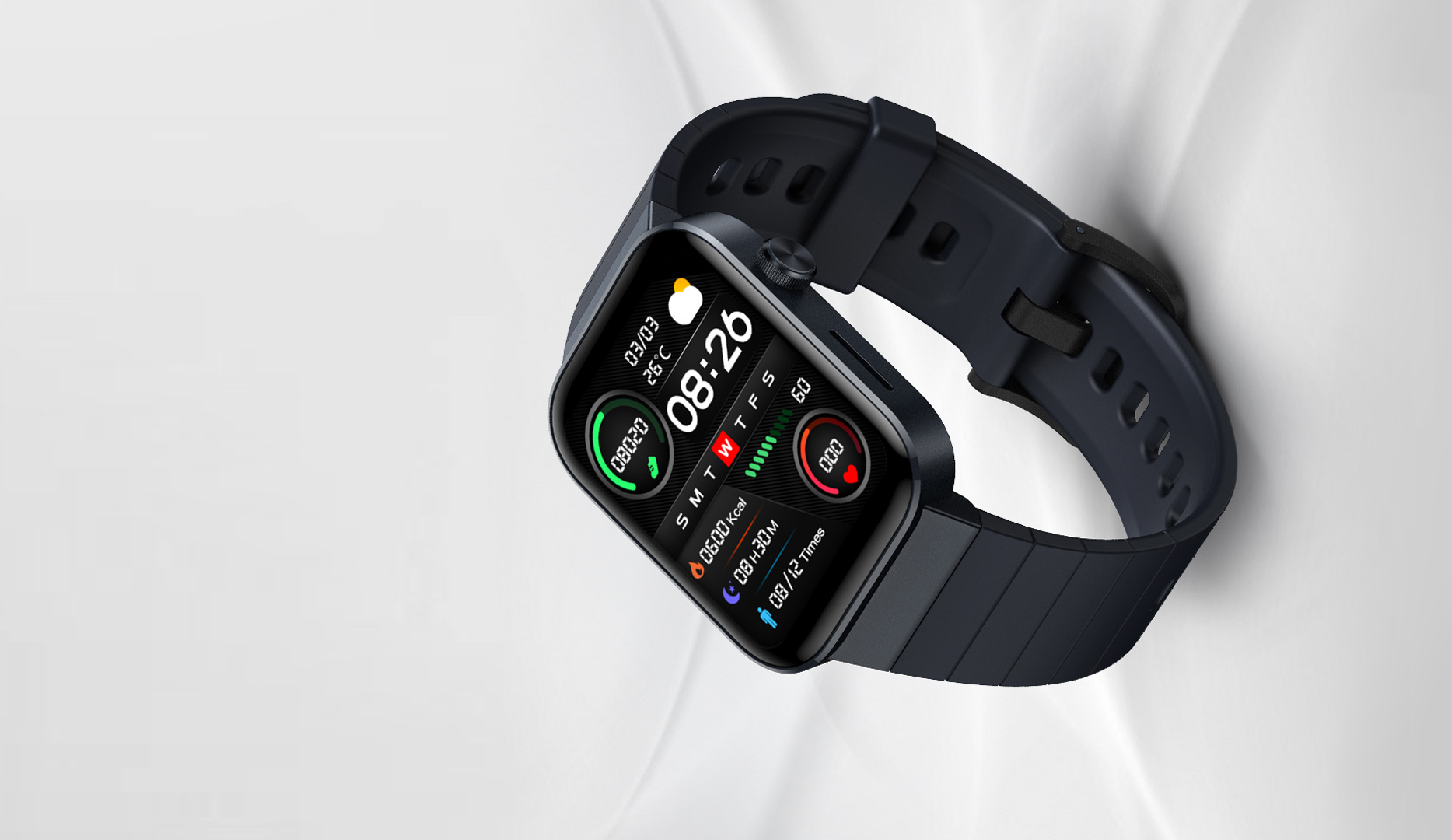 Name: Mibro Watch T1
APP: Mibro Fit
Dimension: 43.5*35*11.3mm (without heart rate boss)
Band size: Width 20mm, expanded length 248mm
Weight: 53.5g (including strap)
Material: Metal + liquid silica gel
Display: 1.6inch AMOLED HD touch screen
Speaker: Sanci composite membrane horn (2ATM waterproof)
Microphone: Anti-interference silicon microphone
Battery life: 7 days for daily mode, 45 days for basic mode
Charging port: Magnetic thimble charging port
Bluetooth: BluetoothV5.0
Sensor: Optical heart rate sensor, SpO2 sensor, accelerometer
Waterproof: 2ATM