Anker company is known for making top-tier audio devices, this time they made the new Anker PowerConf H500 on-ear headsets and packed them with tons of features to cover your work, media consumption, and even gaming needs, it has high-quality audio and microphone, Bluetooth 5.0 MultiConnect, voice shield, and a huge battery, In this review, we'll talk about it in further detail.
Anker PowerConf H500 Features
VoiceShield AI Technology

Meeting Record & Transcription
Comfortable on the ear and the head
Multipoint Connectivity
Ankerwork App/software
Equalizer
Design And Build Quality
The Anker H500 comes in a nice crashproof case with a wrist strap for portability. It is an on-ear headset, made out of plastic, very lightweight, and doesn't put its weight on the head nor pressure the ears thanks to the design and the flexibility. On every top it has a thin band with memory foam so that it sits on your head comfortably and does not hurt you, the size of the headphones is adjustable to fit more head shapes, you can make them bigger or smaller by lifting or lowering the upper side.
The right headset has the microphone boom attached to it, along with the USB C charging port and power Bluetooth/button, if you get the model with the charging stand, there will be charging pins on the right headset. The left one has a multifunction dial that controls the volume via rotating, playing pause, and previous next.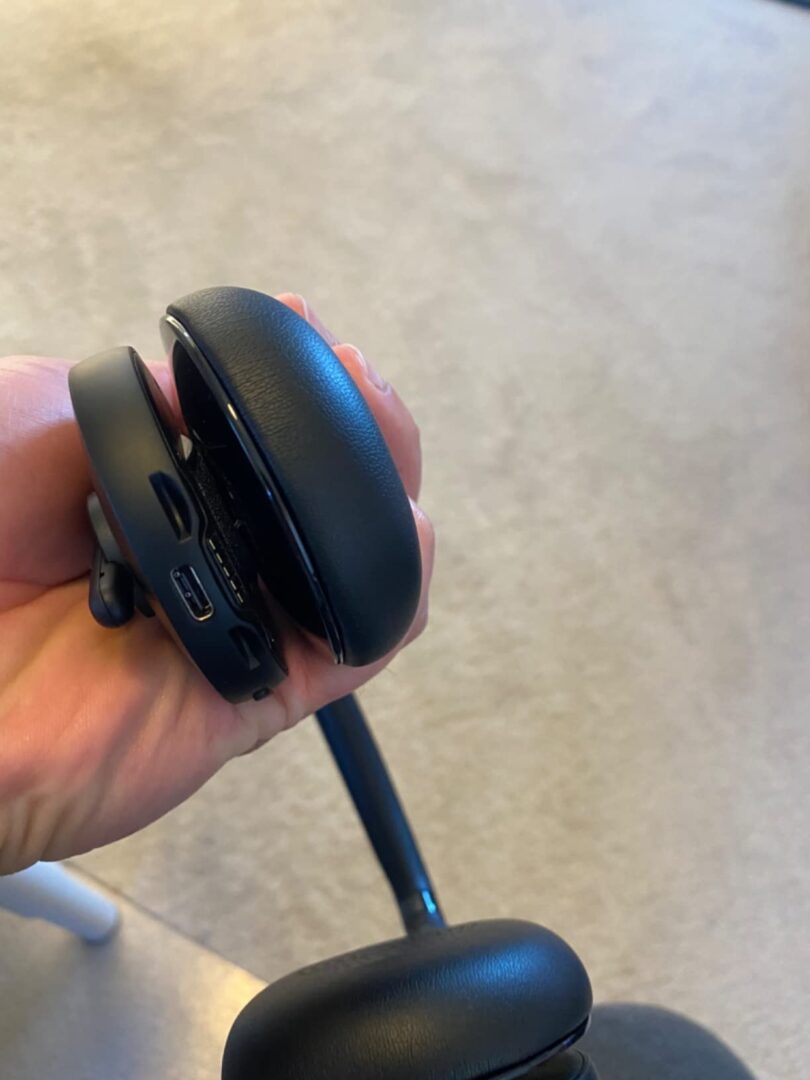 The ear cups come in a very comfortable material, they also rotate 180° and can move around their center to fit perfectly on your ear, overall when you use them, you won't feel your ears heating up or feel pressure on the head.
Anker PowerConf H500 Performance
The PowerConf h500 is equipped with Bluetooth 5.0 with multi connect feature, this will allow you to connect it to two devices at the same time with no issue and high compatibility, for instance, you could connect it with both your computer and your smartphone, and as you are using it for your daily office tasks, you receive a phone call, it will seamlessly switch to your phone, receive the call, then switch back to your computer when you are done.
It also has smart and convenient features such as smart mute, without clicking any buttons and just by raising the mic boom or simply pulling the mic-side ear cup away, the headset will be muted until you put it back to the normal position, additionally, if your computer doesn't support Bluetooth technology, the headset comes with a USB dongle that will work as a Bluetooth receiver, you just plug it in the computer and it will automatically pair with the headset just like any wireless mouse or keyboard.
When passing calls using these headphones, they will use AI VoiceShield technology to reduce the background noise so the receiver can hear you well whether there is wind, people chatting or a baby crying in the background, in addition to that, the design of the ear-cup give them passive noise canceling which is gonna be very helpful for working from home.
Anker H500 Audio Quality
As you would expect from Anker, the audio quality on the PowerConf H500 is pretty high, using a 40mm driver, these headphones deliver clear audio with no distortion nor any noise with good bass and midrange. In addition to that, the on-ear headset has passive noise canceling to allow you to focus more on what you are listening to while keeping a little attention to what's happening around you.
The Software
Thanks to the Bluetooth 5.0 technology PowerConf H500 headphones are compatible with many platforms such as Windows, MAC OS, Android, and IOS with all the features so you can benefit from its potential fully thanks to the app called AnkerWork, it's an official app from Anker available on both Android and IOS devices as well as Windows and MAC OS.
This app or software will display the model you have, and the battery level and gives you equalizer settings to set the audio to your preference, you can also update the firmware through the app and check the recorded audio files from the conferences and also transcribe them.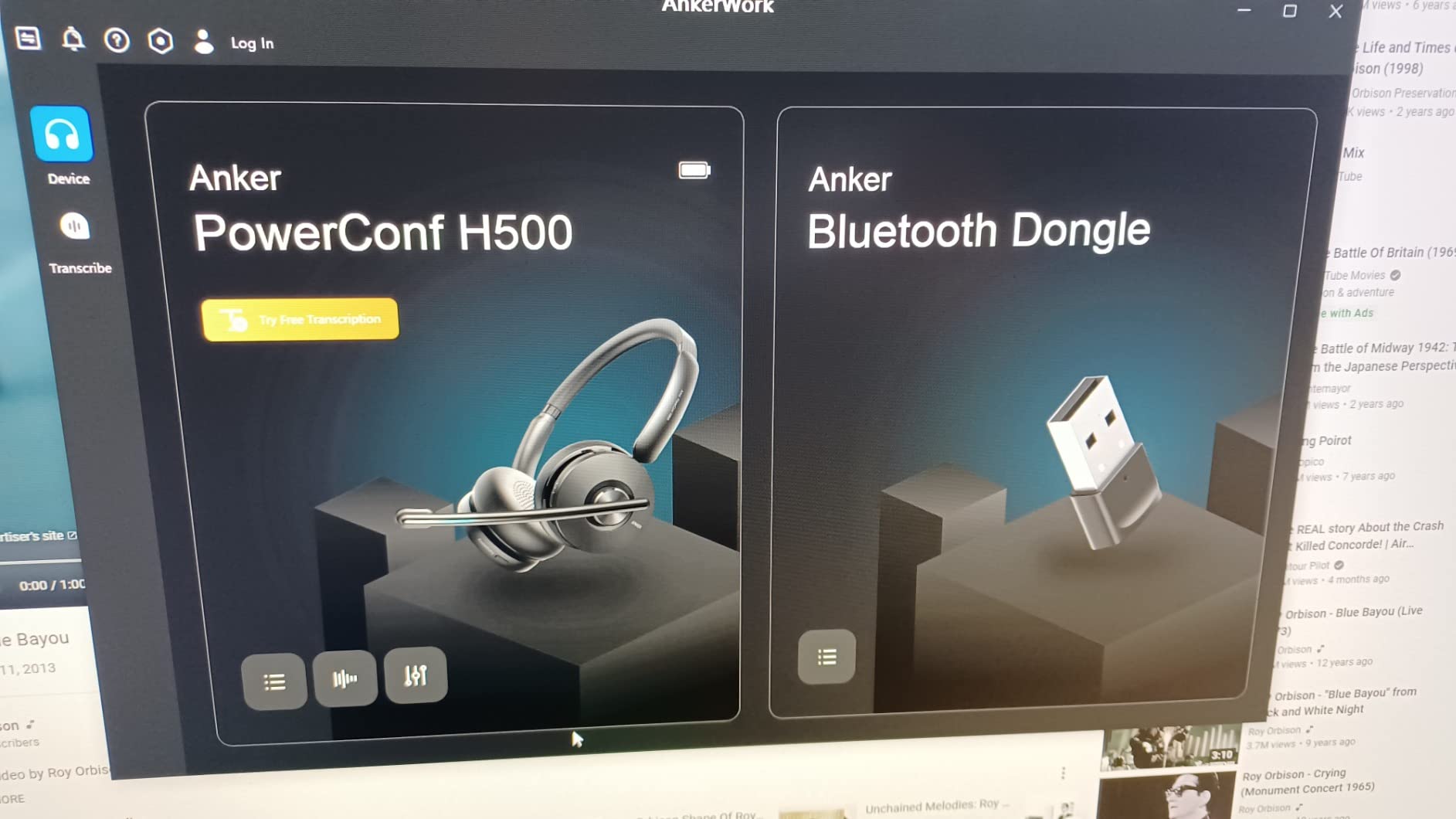 Transcription & Meeting Recordings on Anker H500
One of the main features you might wanna get the PowerConf H500 for is the meetings transcription service, using the AnkerWork software or app, all your online meetings will automatically be saved as audio files plus their transcription, this will make it easier for people to go back and check what happened in the online meetings effortlessly, you can now put all your focus on listening to what the others have to say in the meeting without taking any notes, the app will do it for you!
This feature is compatible with most conferencing apps such as zoom, facetime, and google meet, it is currently available for the English and Chinese languages, also, when you buy the H500, you get 600 minutes of the transcription service for free, after that, you'll have to pay for it for the cheap price of 9.99$/1000minutes.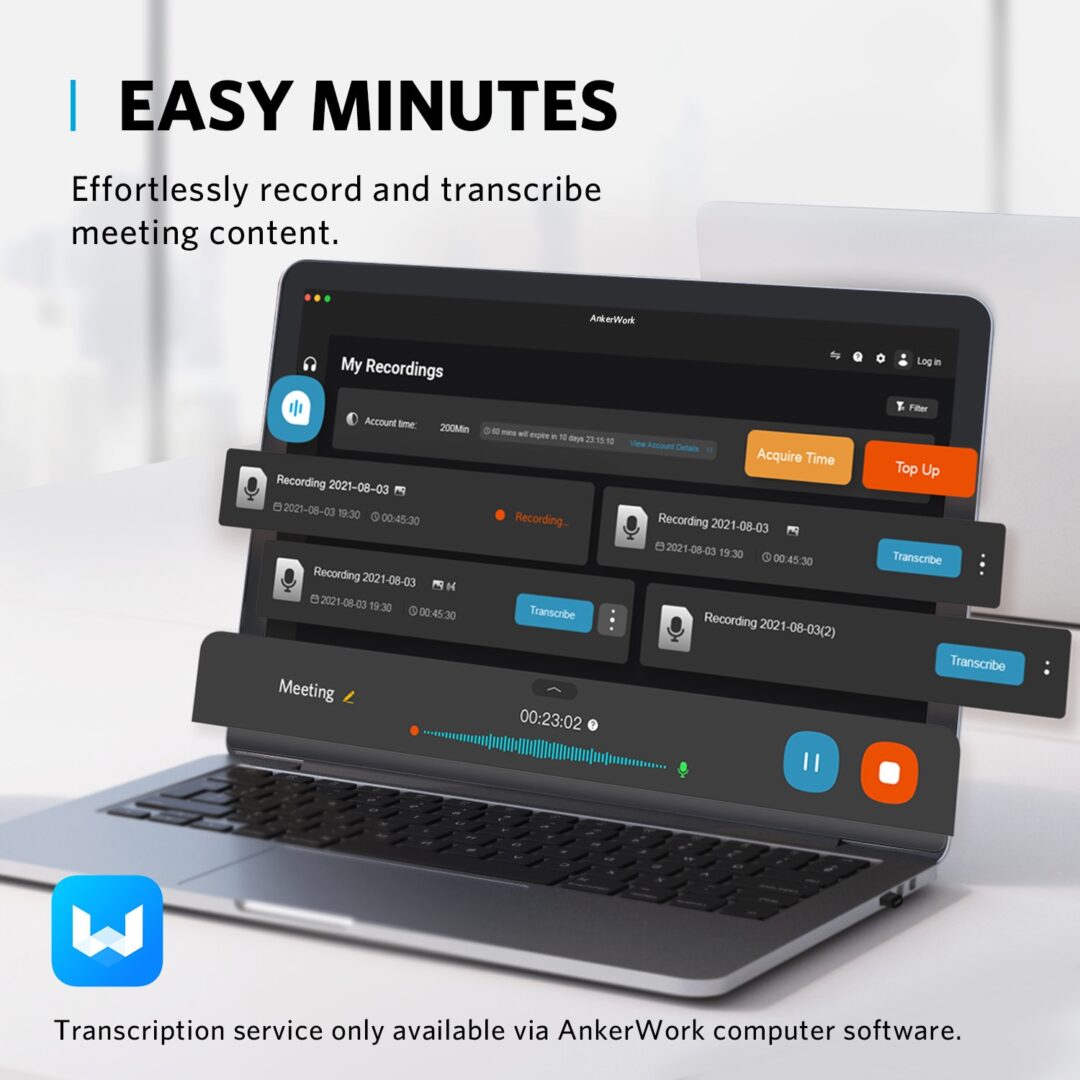 PowerConf H500 Battery life
The best thing about the Anker PowerConf H500 is that it has a huge battery life, this device can last up to 24h of continuous talk and up to 35h of music, furthermore, it charges in only 1h40 minutes and 5 minutes of charging gives you 3 hours of autonomy, the option with the charging stand gives you way more battery life because it will be plugged in most the time, this autonomy is a huge plus to all office workers and even normal users, you won't have to ever worry about your battery dying out and one device can meet both your media consumption and conferencing needs.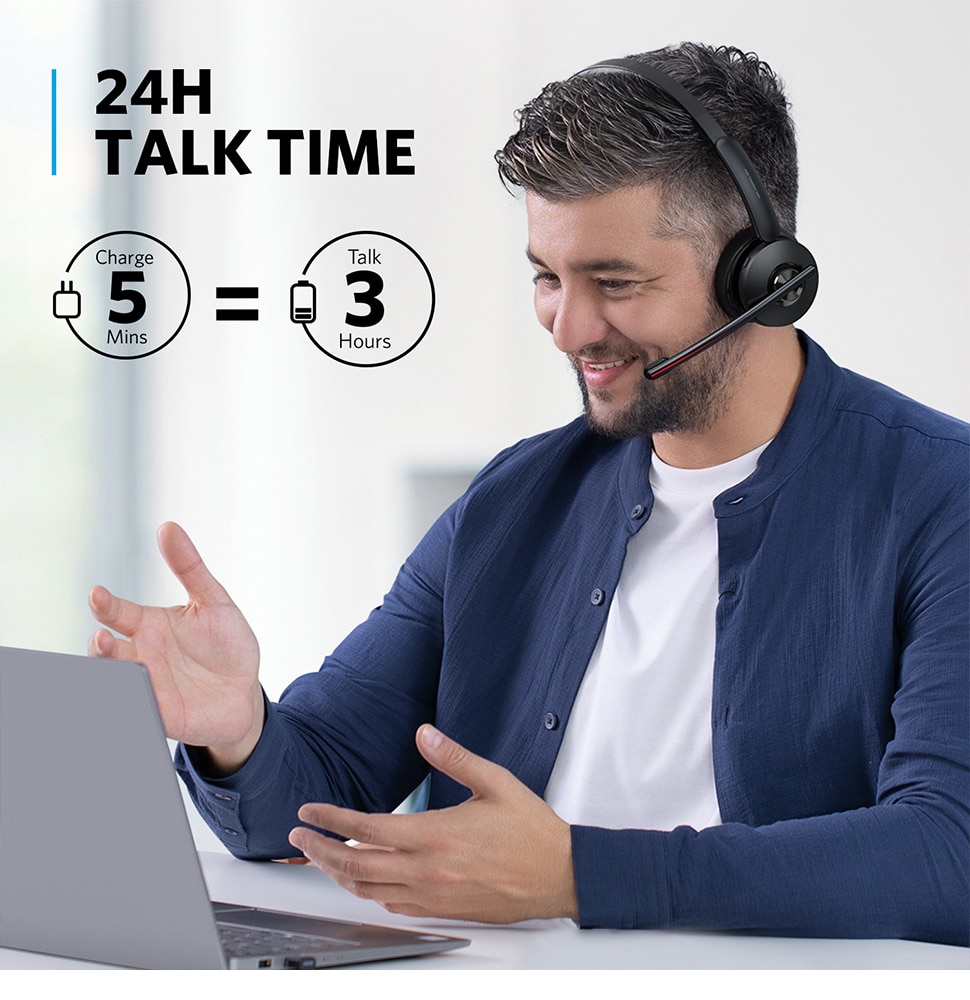 PowerConf H500 vs H700 with Active Noise cancellation
Along with the H500, Anker has made the PowerConf H700 which the exact same product as the H500 in everything except that they added Active noise cancelling techchnology (ANC), this feature blocks all, some or none of the external noise depending on your preference, so i order to activate you can either simply click the corresponsiding button the the left earcup to activate and deactivate it, or head to the app and choose either one of these three options:
Noise cancelling: blocks all external noise and allows and allows you to totally focus on what you are listening to, this mode is especially opotimal for work time when you don't need any distraction, espcially at home where you have your family members chattering or maybe an ifant crying or even a dog barking, using this feature will completely shut off any surrounding noises.
Transoarent mode: this one nis probably what you want to use when you are at home and you have kids that you wanna keep an eye on, or really keep an ear on, because it has two modes, the low and the high, the low just allows you to hear everything around like you would without headsets, and the high boosts external sound so you can hear it even better, that will allow you to work and listen to the necessary audio you need to listen to while stayinng mindful of what your kids for example are doing in the background.
Normal mode: this mode completely deactivates noise cancelling and thus yoi will feel like you are inside a fish bowl because of the passive noise cancelling, this mode is especially practical for saving battery.
Final Verdict
This device is with no doubt among the best options to choose from in the market, many people got it and are very satisfied with it and do recommend it, that's because it has unmatched features on any other device, speak of a huge autonomy, a comfortable design for long hours of usage, VoiceShield technology that eliminates all noise and delivers great microphone audio and the transcription service that makes online meeting a whole lot more convenient.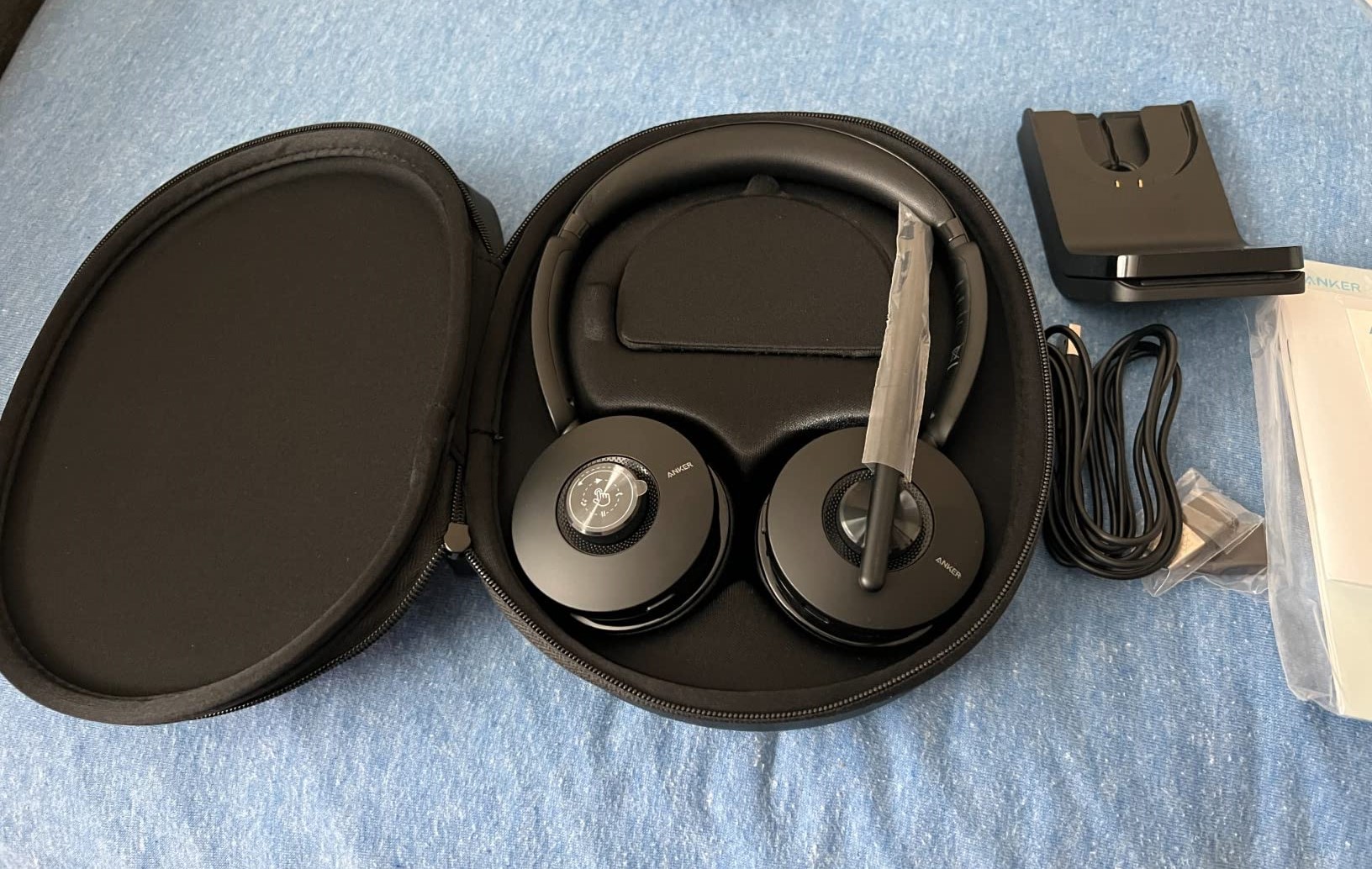 Where to buy
The Anker PowerConf H500 is available on Aliexpress Store and Amazon Store for a good price with and without the charging stand, So don't miss out on this great deal. And to view its price or buy it, you can access the offer by clicking on the store icon below.
Package Content
Anker PowerConf H500 Headset

Crash Proof Case
USB dongle receiver
USB-A to USB-C cable
User Manuel
Charging stand ( only if you chose that model )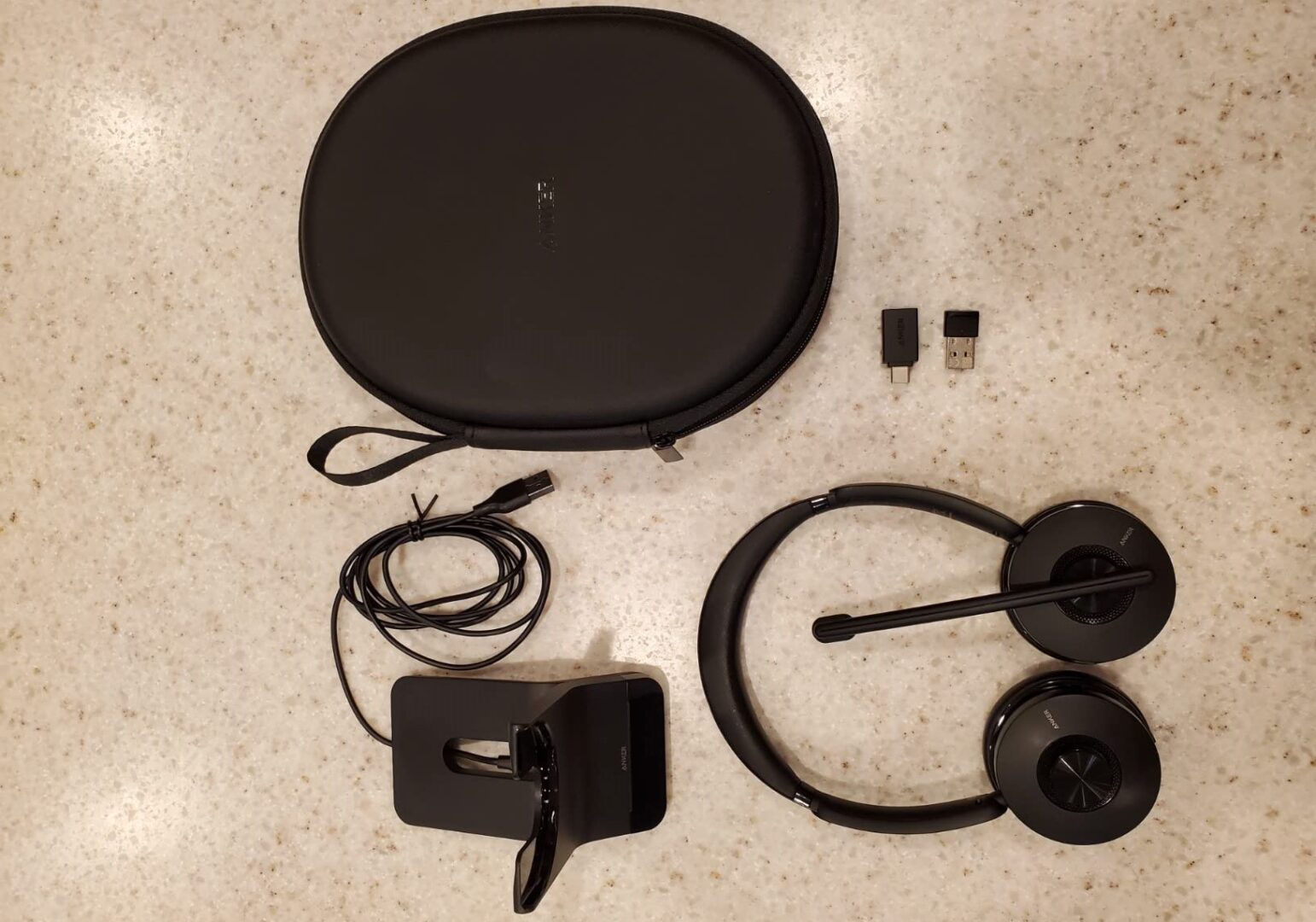 Anker PowerConf H500 Specification
Model: A3511
Driver: 40 mm
Connection: Bluetooth/USB-A Bluetooth Dongle
Bluetooth Version: Bluetooth 5.0
Talk Time: Up to 24 hours
Charging Time: 5 minutes for 3 hours of talk time or 100 minutes for a full charge
Bluetooth Range: 10 m