In this review, we'll look at the TEAMGROUP T-Force Delta MAX SATA SSD, which features an addressable RGB LED that covers its entire top surface, and maybe the first of its kind to cover this space to create the largest visible percentage of lighting effects. T-Force Delta Max RGB SSD comes with a 2.5 "/ 9.5mm SATA modulation factor. SSD is set to be available in 250 GB, 500 GB, and 1 TB, and is based on Silicon Motions SM2258 controller paired with 64-layer or 96-layer TLC 3D NAND memory. The solid-state drive is rated at up to 560/510 MB / s plus a random read / write speed of 90 k / 80 kb.
TEAMGROUP T-Force Delta MAX RGB Solid State Drive lighting modes and effects can be customized via motherboard software for each consumer lighting brand. The product has a 9-pin USB head for built-in lighting effects plus a 5-volt 4-pin head for controlling using appropriate applications, ASUS Aura Sync / GIGABYTE RGB Fusion / MSI Mystic Light Sync / ASROCK-Polychrome Sync, That means you can sync it up with any of your other components with ease. That means you can sync it up with any of your other components with ease.
Simple design mirror can present a mirror-like reflection effect
Exclusive in luminous mode and motherboard synchronization function
The world's one and only independent dual control interface
Using addressable RGB LED module
Leading industry with the largest proportion of the luminous area
Design TEAMGROUP T-Force Delta MAX:
The T-Force Delta Max SSD looks stunning with its glossy and elegant mirror-like appearance, RGB LED covers all the entire upper areas of the SSD leaving with a few extra ranges in the corner with the T-Force logo in the middle in white.
You will feel it is 78 grams heavy compared to other solid-state drives, the thickness of which is higher at 9.5 mm and this is due to RGB LED, it is 2.5 inches size but it may not suit the laptop or PS4, and because RGB lighting is one of its main advantages I don't think you will buy it to put it there.
In the background, there is the main 22 Pin Female SATA connector for storage connectivity and an RGB LED module for running lights. The unit is powered by a micro-USB hub, which can be connected either to a 9-pin USB head or to a 5-pin ARGB head.
When connected to a 3-pin 5-volt head, it will sync with the current RGB motherboard's RGB sync system such as ROG's Aura or other software compatible with your motherboard. For 9- Pin, the built-in rainbow lighting effect cannot be used.
You may also like ASUS FX HDD External Hard Drive – All You Need to Know.
Performance TEAMGROUP T-Force Delta MAX:
TEAMGROUP T-Force Delta MAX is a SATA 6Gbps SSD, over the read speed at 561.83 MB/s. While the write speed is somehow behind at 510.17 MB/s as well as up to 90K/80K random read/write IOPS, the Delta Max keeps cool, even under heavy workloads with the lights cranked up, This performance also places it significantly ahead of the QLC-based SSDs after 5-10 minutes of writing.
That's fairly standard from what you expect from a more mid-range SSD, the Delta Max RGB isn't marketed as an ultra-quick drive, but more as a general-purpose storage device.
In addition to the silicon Motion SM2258 SATA controller and Samsung's 64L or 96L 3D V-NAND.
the disk comes with the technology of NCQ which can speed up the transfer and write performance of the SSD, effectively reducing the performance degradation, Which eventually prolongs the service life of the SSD.
SSD Storage Size Total Bytes Written T-Force Delta Max:
250 GB > 60 TB
500 GB > 120 TB
1 TB > 240 TB
It also has a mean time between failures of 1,000,000 hours.
The drive did well in tests, but the temperatures were not under control as it wasn't shown in any monitoring software, that's a drawback.
Note:
the write speed of SSD in 500GB and 1TB variant is a few percent faster than the 250GB variant.
TEAMGROUP T-Force Delta MAX Connection Method:
There are two ways to control DELTA MAX RGB SSD light effect. According to the corresponding light control source, only one kind of cable can be used for each mode:
• Sync mode uses 5V ARGB 3 pin to Micro B Cable
 Use 5V ARGB 3 pin to Micro B Cable connects DELTA MAX
• Initial Rainbow light effect uses USB 10 Pin to Micro B cable
 Use USB 10 pin to Micro B Cable connect DELTA MAX(MB 9 pin header)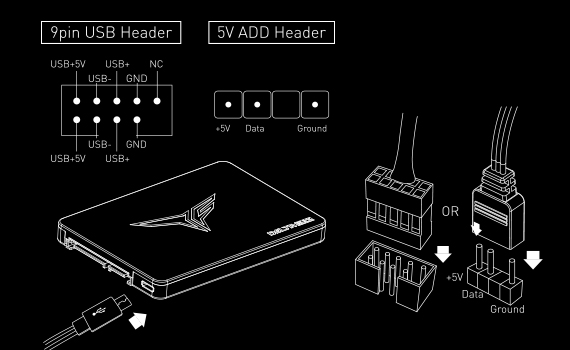 Tips:
Lighting software synchronization control. Its lighting effects will depend on the software of each brand's motherboard.
Transmission speed will vary according to different hardware/software conditions, therefore the data can only be used for basic reference.
Note that it is not possible to connect to the 12V RGB Header, which will cause damage to the product and will lose the warranty.
When using the synchronous light effect use 5V ARGB 3 pin to Micro B Cable connection, if there is already 5V power supply before the synchronization software control is started, that showed initial built-in lighting effect . (Rainbow style)
If you use USB 10 Pin to Micro B cable connect DELTA MAX, only have the initial Rainbow light effect, cannot sync and control by motherboard signal.
Summary:
T-FORCE DELTA MAX is a good product and has an excellent performance because it has a similar good speed to other premium SATA SSD hard drives on the market. And with RGB lighting well, this is a very reasonable offer. But you do need to be willing to pay more for RGB though. If you like RGB then this SSD will love it.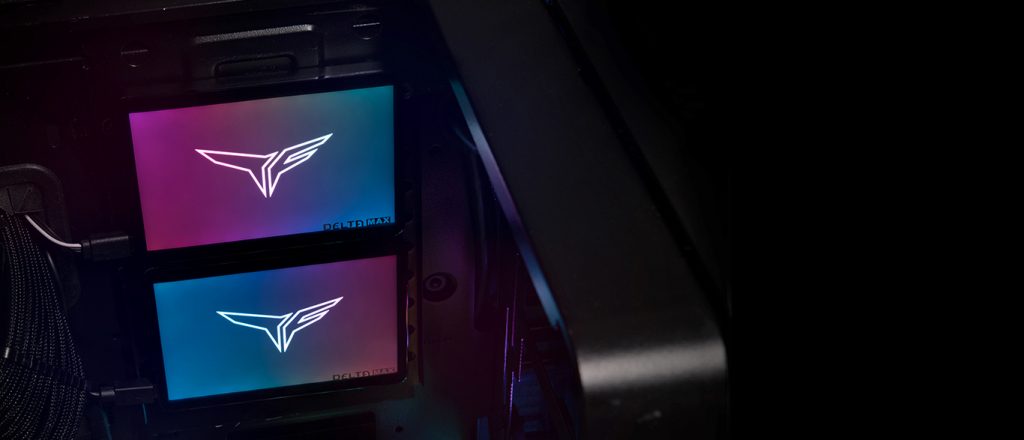 TEAMGROUP T-Force Delta MAX
2 cables for RGB connection
user manual
cleaning cloth kit
T-Force sticker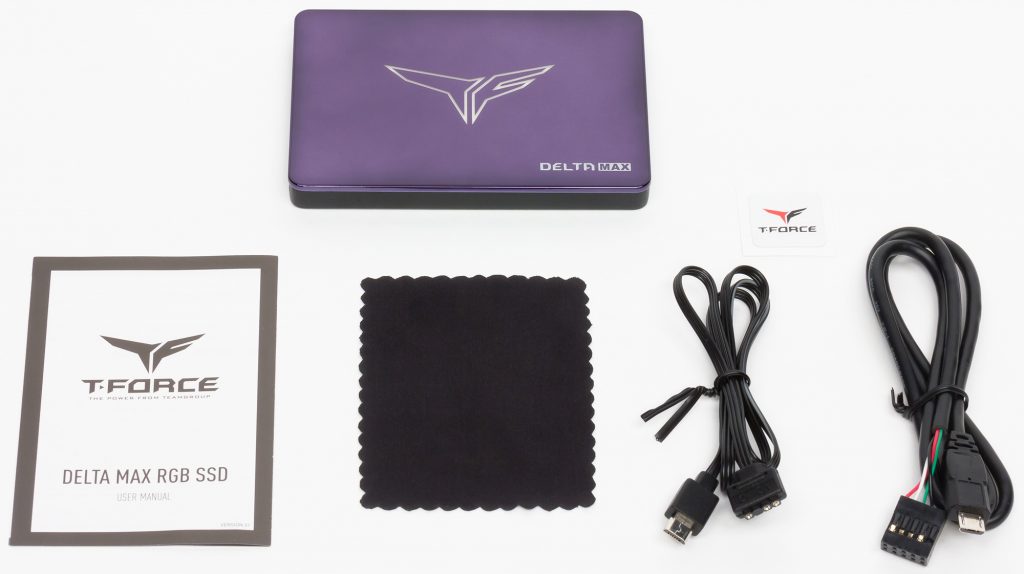 Model
DELTA MAX SSD
Interface
SATA Rev. 3.0 (6Gb/s) –
With Backwards Compatibility to SATA Rev. 2.0
Controller
Silicon Motion SM2258
NAND Flash
3D TLC NAND
Capacity
250GB / 500GB / 1TB
Voltage
DC +5V
Operation Temperature
0°C ~ 70°C
Weight
78g
Dimensions
100(L) x 69.85(W) x 9.5(H)mm
OperatingSystem
Windows 10 / 8.1 / 8 / 7 / Vista, MAC OS 10.4 or later, Linux 2.6.33 or later
MTBF
1000000 hours
DRAM Buffer
Yes, capacity unknown
Pseudo-SLC Caching
Supported