During hot weather, the air around could get really dry which makes breathing difficult and also makes your skin dry and unhealthy. For That we have today the BlitzWolf BW-SH5 Air humidifier, air humidifiers are, literally, a very cool accessory to add to your house, it makes the air less dry and better for your skin, breath, and overall health. Check out this review to learn more about it.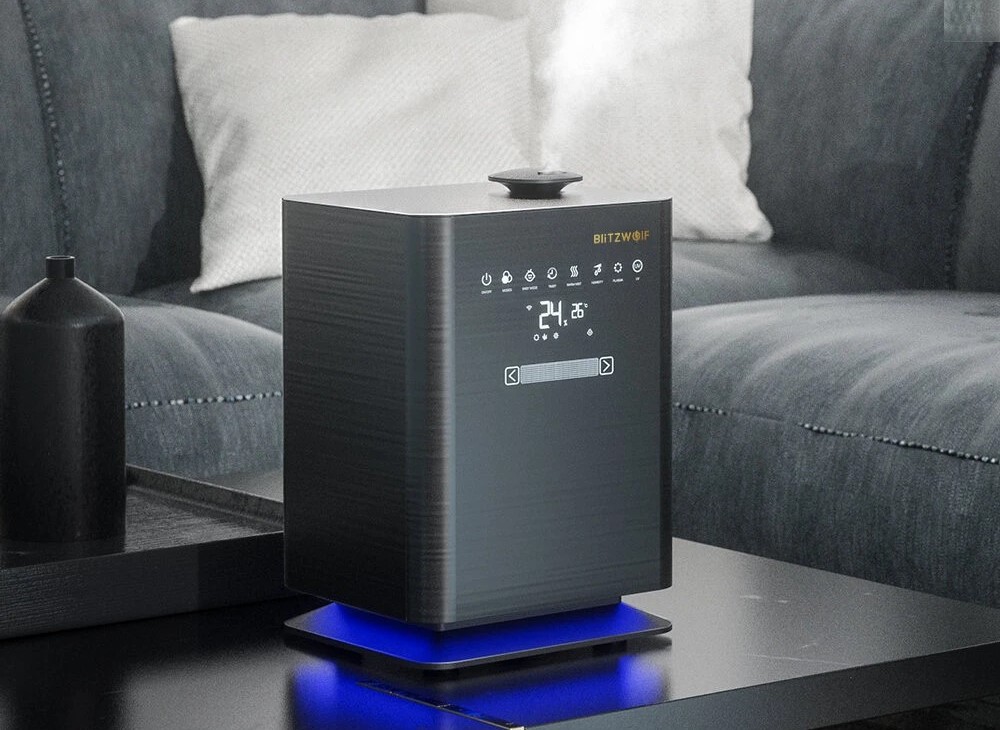 BlitzWolf BW-SH5 Features
APP Remote Control
4.3L Large Water Tank
360° Ultrasonic High-Efficiency Humidification
Constant Humidity
Beneficial to Human Health
UV Sterilization
Design And Build Quality
The BlitzWolf BW-SH5 air humidifier comes in the shape of a black box made of plastic that looks more like brushed aluminum. with the dimensions 23.50 x 20.00 x 34.80 cm and weighs 3.65kg which is around 8.05lbs. It is indeed heavy, but it's no big deal since it will be stationary on a table. The design is quite elegant and simple, just a square box with a base to stand on and a hole on top to release the vapor.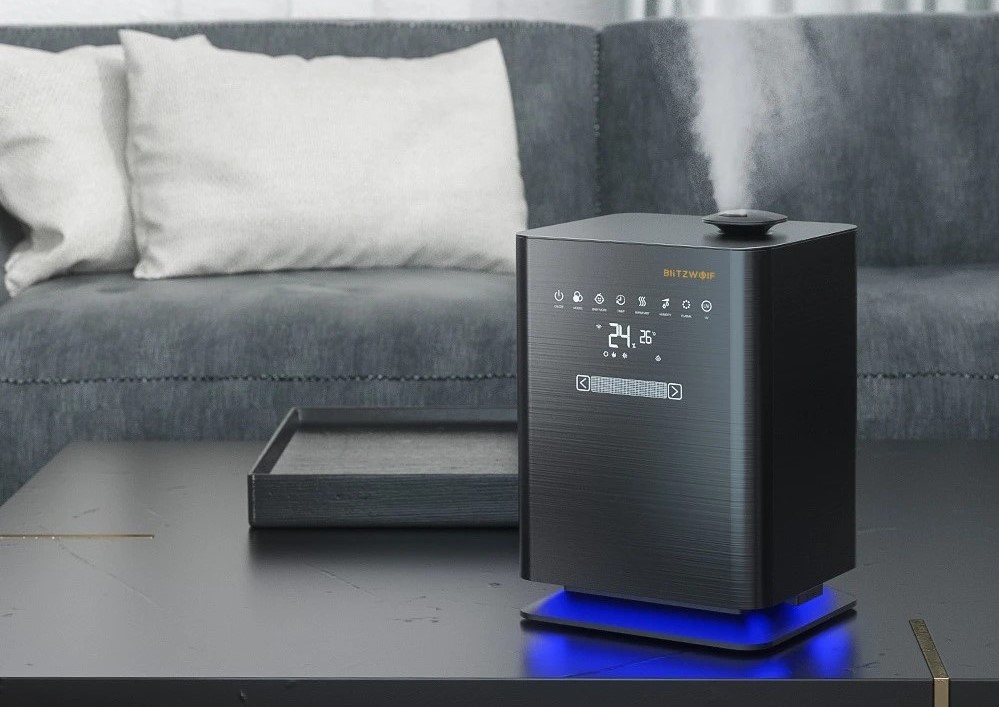 On the front side, we find the LED touch panel that indicates the parameters of the device and allows you to change them, more on that later.
At the bottom, we find the base and the light that you can turn on and off with the night mode.
The tank is removed with ease to fill with water as it can hold up to 4.3L (1.14 gal), which to be candid is small in comparison with the previous models, for instance, the Blitzwolf BW-SH4 and the BW-SH3, but Blitzwolf promises that this air humidifier will last up to 50 hours.
You may also want to check out: Alfawise P2 Air Purifier Review For under 100$.
The LED Touch Display On The BW SH5
On the front face of the Blitzwolf BW-SH5, we find the LED touch display that shows the current parameters and allows you to choose. There are 8 icons:
power on/off: short press it to turn the BW-SH5 On or Off, long press to reset the device to its default parameters, you can set the device to pairing mode using WIFI where you can connect it to the Smart Life app or Blitzwolf app.
mode: you can switch between predefined modes – night, health and automatic
baby mode: baby mode, which is also a predefined state
timer: the device can be timed in 1 hour increments from 1 to 12 hours.
warm fog: heats the water then atomizes it.
humidity: you can set humidity values in 5% steps from 30 to 75%.
plasma: turns the plasma mode on and off, it virtually generates negative oxygen ions
UV light: emits ultraviolet Light from the bottom of the device, you can choose to turn it either on or off.
BlitzWolf BW-SH5 Usage Modes
The BW-SH5 has basically 3 modes to choose from, depending on your mood or what you want, so I'll explain every mode:
In night mode, the BW-SH5 turn all LED's off except for two little icons, even the UV light on the bottom, so as you enjoy sleep in the darkness if that's what you like, all while its functioning like usual humidifying air.
In automatic mode, the device uses its sensors to determine whether to humidify or not, based on the temperature of the room and other data, it either humidifies accordingly or stays in standby mode.
The health and baby modes are pretty much the same, The BW-SH5 turns on fog, plasma and UV light in order to achieve high humidity. In this mode, UV Light is responsible for sterilization and plasma produces negative oxygen ions. but we don't really know how effective that is.
It's worth noticing that the BW-SH5 air humidifier drains water very slowly and lives up to the expectations, it actually lasts up to 50 hours, which is a long time in comparison to similar devices even though it has only got 4.3L of water inside of it.
Also, the device is very quiet, you could put it near you and you won't hear a noise come from it. That's because it only makes noise under 35db, which makes it perfect to put in your bedroom to enjoy a better quality sleep without any irritating noises.
Blitzwolf App And Remote Control
The BlitzWolf BW-SH5 air humidifier can easily be paired and controlled through the Blitzwolf app that's available in the play store for android and the app store for iPhone. Similarly, you can use the Smart life app.
This device comes with a remote control that has multiple buttons for each option, using it is pretty much like the LED touch display.
BW-SH5 Price And Where To Buy
The BW-SH5 is overall a great gadget, and it is available now in the Banggood Store for a cheap price. So if you liked it, go check it out, don't miss out on this amazing deal.
Package Contents
Humidifier
Manual
EU Plug(We will send you an adapter which according to your country)
BlitzWolf BW-SH5 Specifications
Specification
Brand: BlitzWolf®
Model: BW-SH5
Color: Black
Voltage: 220-240V 50/60Hz
Power: 30/110W
Water Tank Capacity: 4.3L
Evaporation Rate: ≥350ml/h(±50ml/h)
Noise: ≤35dB
Dimension
Package Weight: 3.65kg
Product Size: 23.50 x 20.00 x 34.80 cm