Divoom Tivoo Max It is a built-in display with LED on the front for making pixel-art with a speaker on the back that offers a maximum audio experience for listening to music and magic of light that takes you back to the 80s, Learn more in the review.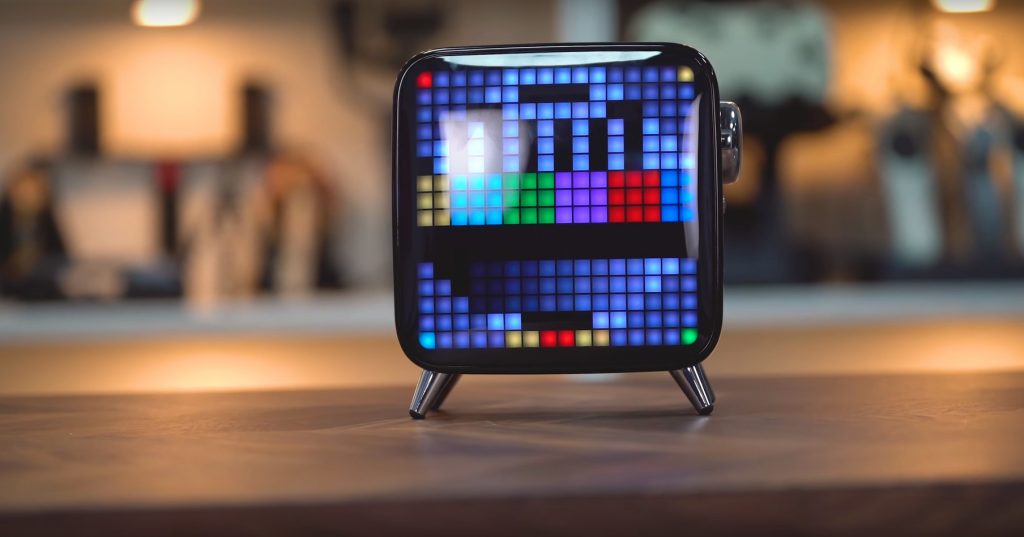 Design of Divoom Tivoo Max:
In terms of design, Divoom Tivoo Max stylized to look like an old CRT television is a fantastic design, You can get it in either white or black, with chrome-colored accents on the dial and legs. looking like an old retro 80's TV, with the curved edges and vents on the sides. It is really cute. Believe me, you will not be able to pass in front of it without drawing your attention. This will be a beautiful piece that adds aesthetic to your desktop, bedside table, or shelf.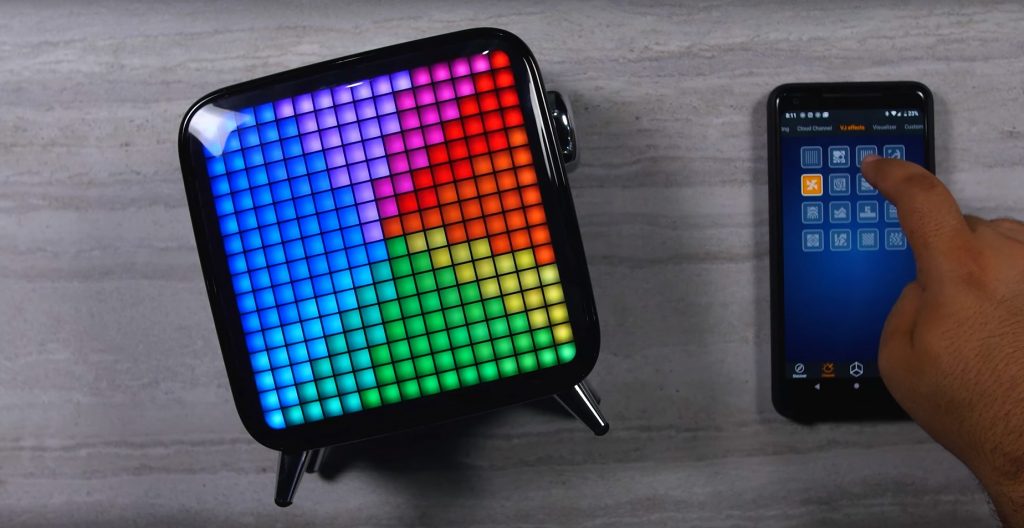 On the top of the device are four touch-sensitive buttons, consisting of volume up/down, play, and alarm. Over on the right side is a dial that scrolls to turn it off, see the current time, set up a nightlight, view the most popular pixel designs, or watch the pixels react to your music by stereo speakers and a subwoofer packed in behind the LEDs. And there are so many other features at this box.
The Tivoo-Max is highly equipped with 256 programmable LED lights, capable of 16 million RGB colors, and provides an immersive lighting experience with 40W built-in Bluetooth speakers, all packaged in the style of an old CRT TV.
Button Instruction:
Button 1. Press: Increase volume; Hold: Previous Song.
Button 2. Press: Decrease volume; Hold: Next Song.
Button 3. Press: Pause/Start; Hold: pick up/Reject a Call.
Button 4:Press: Power offsetting; Hold: Alarm Setting.
Button 5: Switch: Different channel; Press: Lighting effect change; Hold: Brightness change.
Button 6: Press: enter AUX mode; Hold: Disconnect Bluetooth.
Button 7: Press: battery statue; Hold: Power on/off.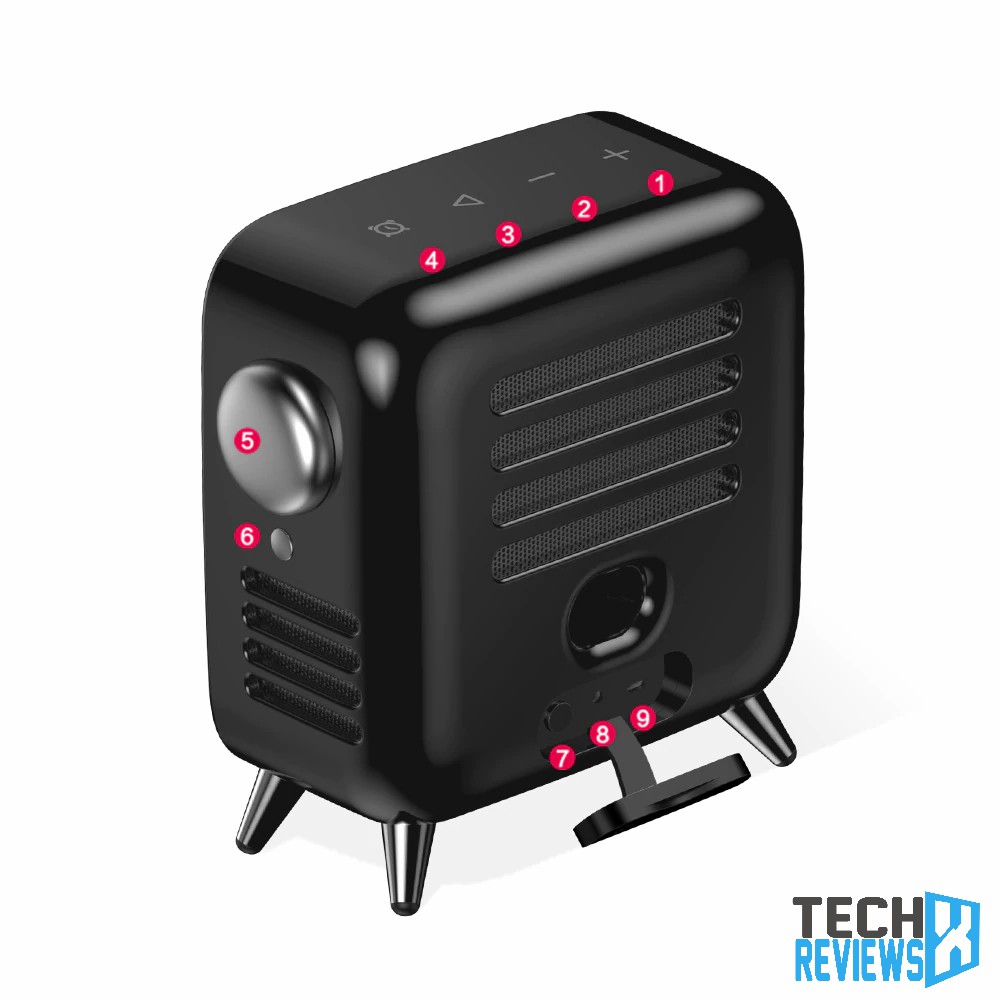 Pixel Art at Divoom Tivoo Max:
Pixel Art is the spirit of TiVo Max and has more than 30 useful daily functions with a constantly updated mobile app, social media notification, smart alarm clock, thermometer and weather conditions, timeline planner, and 24 professional sleep help files, make you enjoy sleep well, Traditional pixel games, voice memo, DJ mixer. Also to Live lighting with huge mobile apps and endless entertainment resources with 50,000 online radio stations.
You may also like LyRay Wireless Bluetooth 4.2 Portable Speaker Double Alarm Clock Review – All You Need to Know
Divoom Smart app:
With the powerful Divoom Smart app compatible with IOS and Android, you can enjoy nostalgic artistic creativity, as well as immense daily functions and smart alarm. You can create any pixel images and animations with the app built-in animated characters, traditional games, superheroes, emoji, So long as you can design it within a 16×16 grid, the possibilities are endless!.
All these thanks to the Divoom Smart app and the huge library of pixel art to you can browse, It's all separated into categories, like "character", "nature", "business", or "pattern". and other a host of features that make you attract to this device, and will add a little magic to your desktop, bedside table or shelf.
Also, When your phone is connected via Bluetooth 5.0, alerts like phone calls, text messages, and social media notifications Twitter, WhatsApp, and Facebook will flash in a simplified icon on the Tivoo-Max screen.
Divoom APP is free to use, it is available to get in Apple store or Google Play.
Sound quality:
The sound quality output for Divoom Tivoo Max is very good. Not only could it be loud, but 2.1 speakers also managed to play some great sound with good bass and a warm overall sound.
Divoom Tivoo Max Price and availability:
The Divoom Tivoo Max is currently available on Banggood and Aliexpress store for just $139. This is a very good price. To view its price or buy it, you can access the offer by clicking on the store icon.
the Tivoo Max speaker
gift box
USB charging cable
Several stickers & Poster
User Manual
Warranty Card