In fact, many TV Box devices have become recently launched, some of them are similar and others different, and few will catch your attention either from their appearance or the specifications they contain and this is what the AX95 DB did, as it looks modern and elegant and equipped with new generation from Amlogic S905X3-B Quad-core processor And with an ARM G31 MP2 GPU, in addition to 4 GB RAM and a large storage capacity up to 120 GB and runs with Android 9 OS, all this to lets you watch and enjoy with thousands of movies and series in 4K so, it is time to talk about this TV Box and know if it's worth investing in it and what its advantages and disadvantages.
CPU: Amlogic S905X3-B Quad Core ARM Cortex A55
GPU: Mali-G31MP
OS: Android 9.0
Memory: DDR3 4GB, eMMC 32GB/64GB/128GB.
Video Output 4K.
2.4G/5GHz Dual Band WiFi

Design:
The design applied in the AX95 DB is really beautiful and modern, and its suitable to place it anywhere, that thanks to its rectangular design and the curvature on top with the two crossed lines in the middle and the AX95 DB logo in the corner with red color, and the whole device is made of high plastic Quality and with gray color, in the front, we find 3 LEDs related to power, network status, and IR. We have become rare to find a TV box without an LED panel.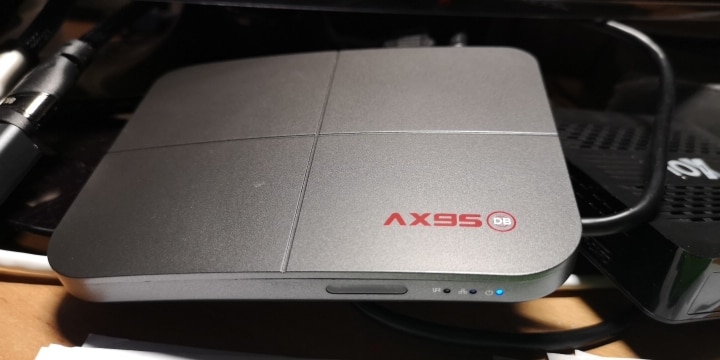 As for the ports, they are mostly from the back and include 1x USB2.0 port, Optical, AV, HDMI 2.1, RJ45 100MB, Power button, and from the side 1x USB3.0, Micro SD and reset button.
The bottom side has some vents for aeration and four rubber feet for stabilization.
Under the Hood:
The SoC used in the AX95 DB is the Amlogic S905X3-B 64-bit quad-core ARM Cortex A55 1.9GHz, which is known for its good manufacturing quality in 12 nm and it gives you the same performance as the regular S905X3 the difference only in the installed multi-channel audio licenses. As for the Mali-G31 MP2 GPU, which delivers good performance without forgetting the 4GB RAM DDR3 for greater multitasking capabilities and provides excellent navigation and application launching results. And the storage capacity, it has 3 options 32GB / 64GB / 128GB eMMC and there is a TF card slot for expansion support up to 32GB GB.
As for the connectivity, this box has 2.4Ghz/5Ghz dual-band WIFI IEEE 802.11 b/g/n/ac However, I find that the network is poor and does not give you the full power of your internet speed, and It has a port LAN 100 MB also is not the best thing.
And has Bluetooth 4.2 is not the latest generation but is It works well, however, is acceptable at this price point.
Software:
The AX95 DB android tv box equipped with the Latest Android 9.0 OS stable to offers you a more efficient, safer operation, better compatibility of the latest applications, so better user experience, and the OS is pre-rooted to access more permission and install applications that require root activation but don't have root switch to disable or enable.
Launcher:
The Launcher is called AX95 DB it's beautiful, simple, and fast And it has an Android TVs look, The launcher comes with the left vertical main panel to scroll through, it consists of a home tab, a favorites tab for adding shortcuts, and apps tab, and a settings tab. what I find missing is the absence of a navigation bar and status bar for easy navigation and multitasking. However, it has a Google assistant for voice control, once you connect a controller that has a voice function.
AX95 DB is compatible with alternative launchers like ADW launches 2 or Pixel launcher, its the most popular the alternative launcher that is compatible with the Amlogic S905X3 chipset, it is fully functional with all features working like drag and drop shortcuts and long click menu popups. Also, you have the ability to use the menu button, navigation bar, and custom wallpaper on this launcher but, the live wallpapers do not work on this box.

Also, the tv box comes with pre-installed apps you are going to need such as the Airscreen, Miracast, Youtube, Disney, and Aptoide, etc. And supports Google services and allows you to install any app that is available in the play store for Android TV and is installed by default which limits the use many of apps or you can a third-party store such Aptoide or you can use Google browser to search the apk app, then download and install any the app you want.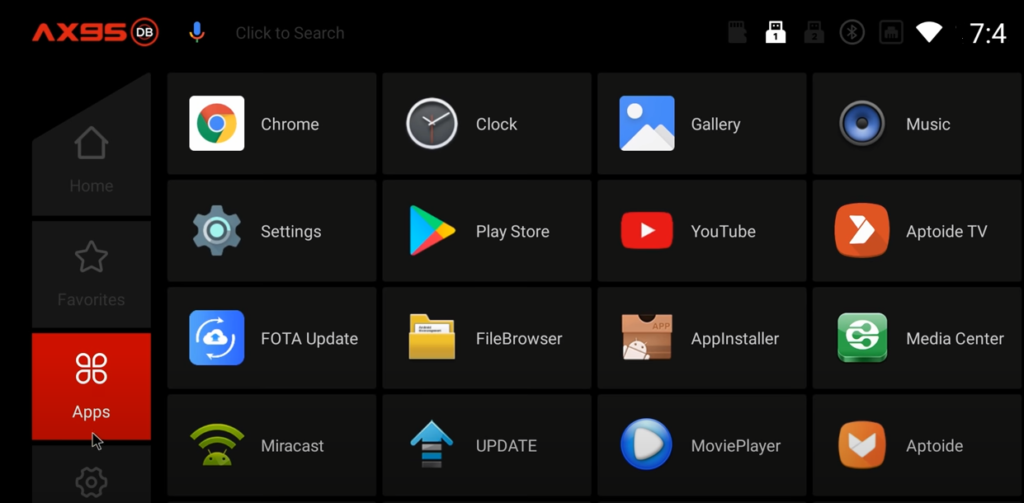 You may also like TOX1 TV BOX With Amlogic S905X3 Under $45 Review – All You Need to Know.
AX95 DB Performance:
The AX95 DB TV Box offers you a good solution if you are a fan of series and movies and like to enjoy the highest possible resolution, then this device will give you a resolution of 4K and compatibility with most programs that display video content with the ability to play games for a great experience.
Video playback:
When playing some 4k video samples from a USB Drive on USB 3.0 port via the included Kodi Media Player, it is shown on 4k 60 FPS, it little struggled to play smoothly, however, on 4k at 30 FPS played ultra-smooth and very nice, And as standard on Android TV OS its comes with YouTube android TV version and it plays up to 4K 2160p quality and you can play with HDR quality.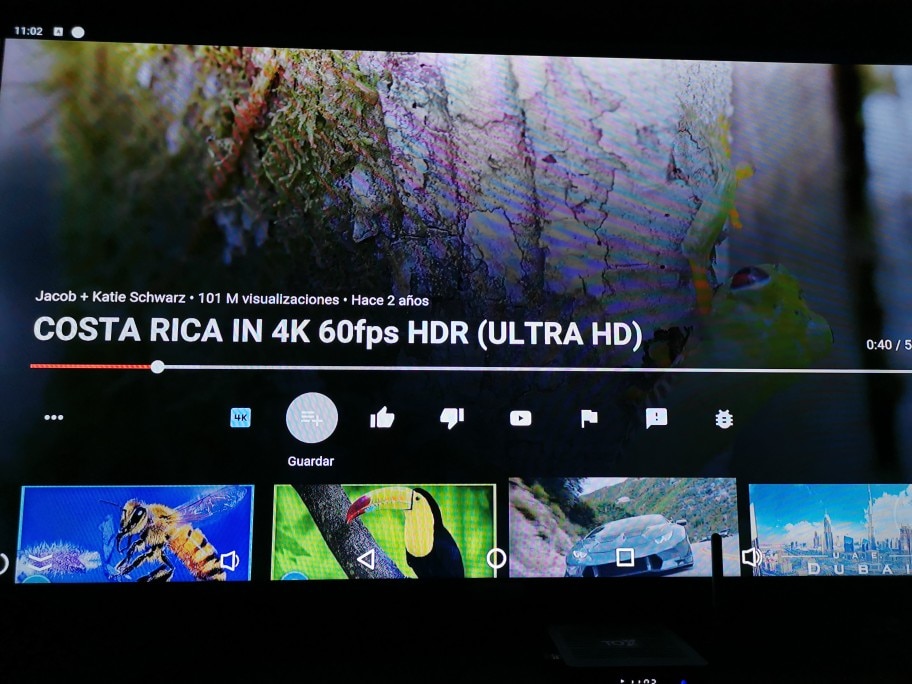 As it's known, it is not possible to watch paid services like Netflix and amazon prime in 4k because these applications requiring specific licensing, This means it don't have the DRM support required to stream HD or 4K from Netflix or other streaming services. Nevertheless, you can still enjoy Netflix and all other streaming services at a smooth 480p, and unfortunately Disney plus does not work. However, IPTV services remain one of the solutions that you will find on this tv box and support high resolutions, and there are also other programs similar to Netflix.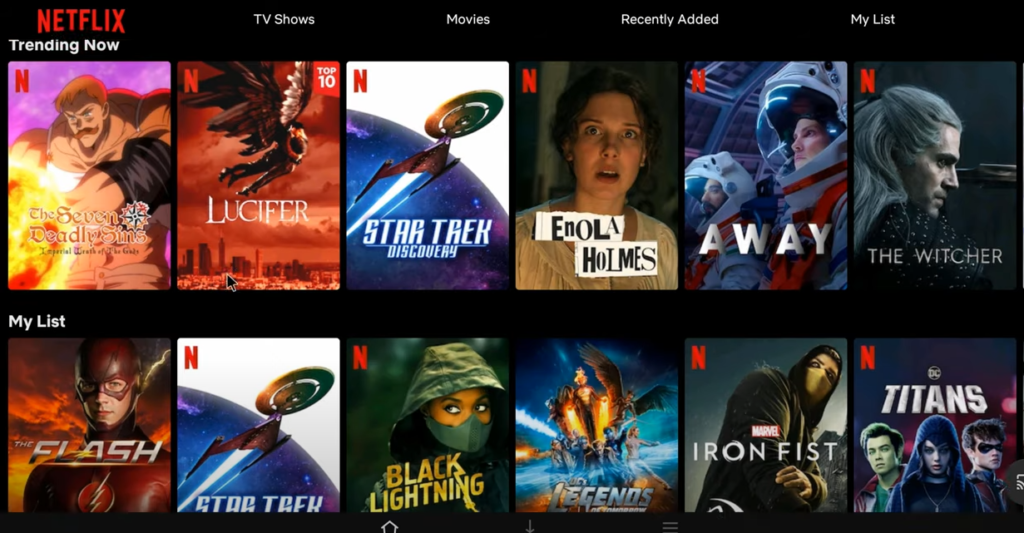 Gaming:
The graphics processing unit in the AX95 DB is based on the Mali-G31 MP2, which offers good performance on medium games like Asphalt 8, as for powerful games like PUBG, COD Mobile you will be able to play but on low settings. This is why I do not recommend trying strong games because it will cause a greater load on the processor, which will release more heat but did not reaching 80ºC, However it may cause a huge performance drop. But on normal use like watch movies, the temperature is acceptable between 60ºC and 70ºC.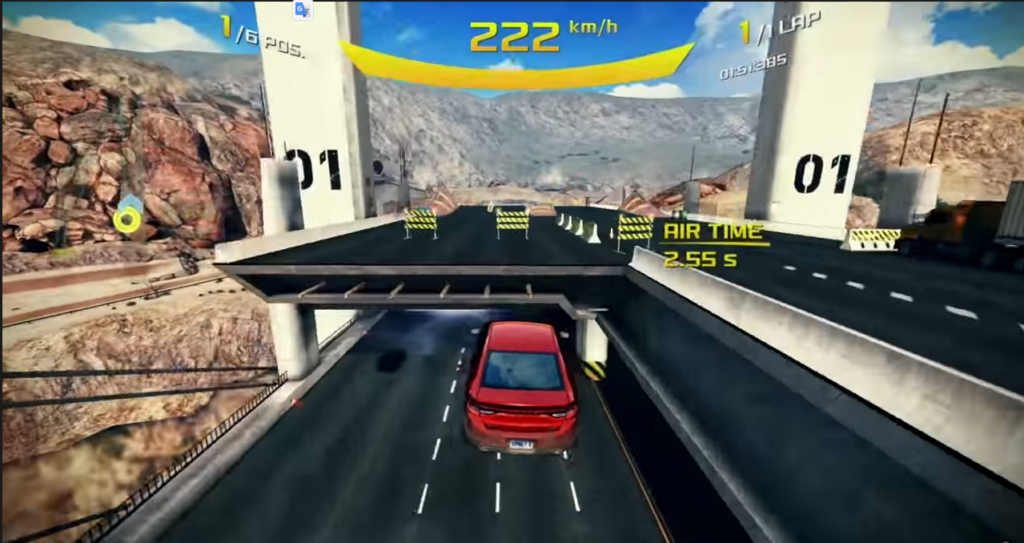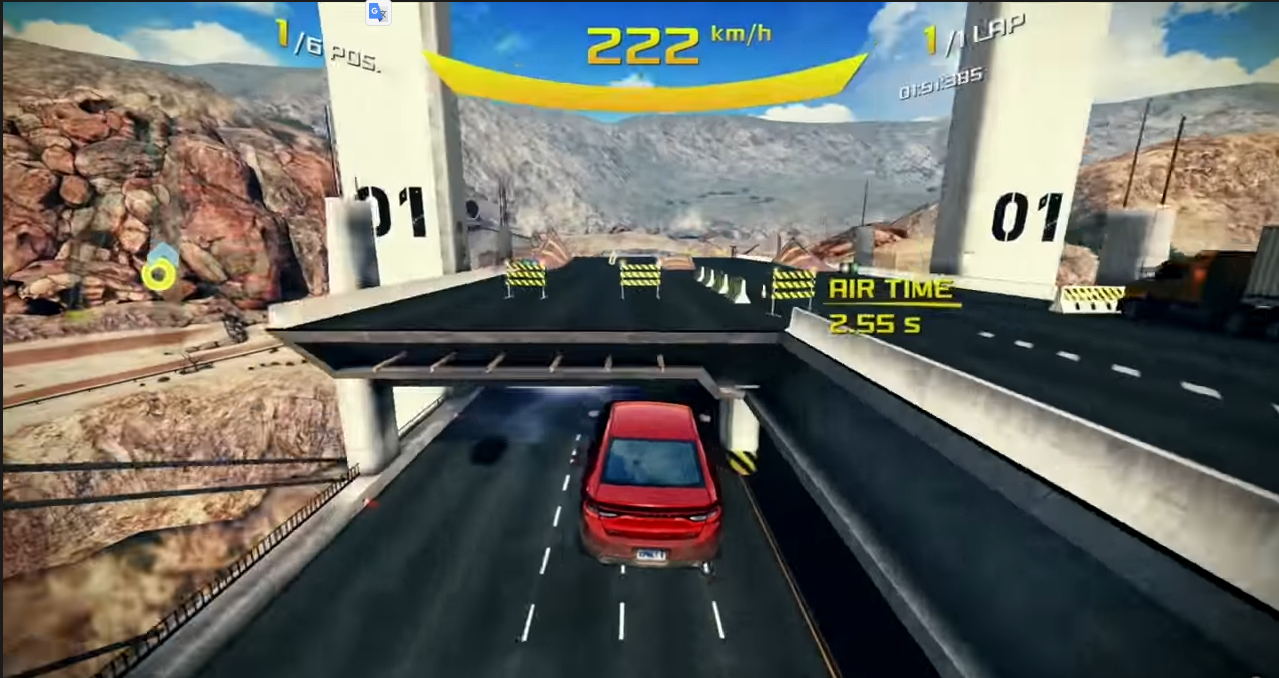 And I find that the cooling system is weak on this TV Box, but this is expected at such a price, but this problem can be solved by providing a cooling fan for the TV box at the bottom.
Remote can't navigate on some Apps, It is a common issue for almost all android tv boxes that hard to navigate on some Apps with the remote, as these Apps are mainly provided for tablets and phones that have a touch screen. I suggest purchasing the iPazzPort mini Wireless Keyboard/Remote, It will make it much easier navigating the screen in apps that aren't remote-control friendly.
Conclusion:
Although there are some flaws in this TV box that we mentioned in the review, some of them do not limit your use of the AX95 DB, but some do, for example, Googe Play from Android TV that limits the finding of many applications in the store and does not mean that this tv box is bad.
so what distinguishes it its multi-channel audio support thanks to the SoC S905X3-B who also has enough power to run any powerful app or games like PUBG, IPTV apps, or use KODI where you can play 4K video without problems. It is also compatible with some streaming applications such as Netflix on 540p and Disney with Dolby Audio So, choosing this device is according to your need and purchasing power, and despite this, there are other good alternatives at the same price and with better features, that you can find it in previous reviews.
You will like also VONTAR X1 New TV Box with Android 10 In 2020 Under $30 Review.
AX95 DB Price And Where To Buy:
The AX95 DB TV BOX is currently available on the Aliexpress store for just $38.93. This is a very good price So, don't miss out on this great deal. And to view its price or buy it, you can access the offer by clicking on the store icon.
There are Three Options for AX95 DB:
4G+32G+Dual Wifi+BT4.2+100M
4G+64G+Dual Wifi+BT4.2+100M
4G+128G+Dual Wifi+BT4.2+100M

AX95 DB TV Box
Remote control
HDMI cable
Power adapter
User manual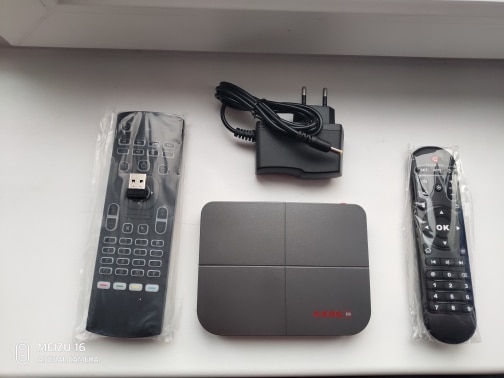 General
Model: AX95 DB
Type: TV Box
Hardware
OS: Android 9.0
CPU: Amlogic S905X3-B Quad-core Cortex-A53
GPU: ARM G31 MP2 GPU
RAM: 4GB DDR3
ROM: 32GB eMMC
Communication
WiFi: 2.4G/5G WiFi.IEEE802.11 a/b/g/n/ac
Bluetooth: V4.2
LAN: 100M
Media
Image: HD JPEG, BMP, GIF, PNG, TIF
Video
Amlogic Video Engine (AVE) with dedicated hardware decoders and encoders
Support multi-video decoder up to 4Kx2K@60fps 1x1080P@60fps
Supports multiple "secured" video decoding sessions and simultaneous decoding and encoding
Video/Picture Decoding
VP9 Profile-2 up to 4Kx2K@60fps
H.265 HEVC MP-10@L5.1 up to 4Kx2K@60fps
AVS2-P2 Profile up to 4Kx2K@60fps
H.264 AVC HP@L5.1 up to 4Kx2K@30fps
H.264 MVC up to 1080P@60fps
MPEG-4 ASP@L5 up to 1080P@60fps (ISO-14496)
WMV/VC-1 SP/MP/AP up to 1080P@60fps
AVS-P16(AVS ) /AVS-P2 JiZhun Profile up to 1080P@60fps
MPEG-2 MP/HL up to 1080P@60fps (ISO-13818)
MPEG-1 MP/HL up to 1080P@60fps (ISO-11172)
RealVideo 8/9/10 up to 1080P@60fps
Multiple languages and multiple format sub-title video support
MJPEG and JPEG unlimited pixel resolution decoding (ISO/IEC-10918)
Supports JPEG thumbnail, scaling, rotation, and transition effects
Supports *.mkv,*.wmv,*.mpg, *.mpeg, *.dat, *.avi, *.mov, *.iso, *.mp4, *.rm and *.jpg file formats
Video/Picture Encoding
Independent JPEG and H.265/H.264 encoder with configurable performance/bit-rate
JPEG image encoding
H.265/H.264 video encoding up to 1080P@60fps with latency
Audio
Supports MP3, AAC, WMA, RM, FLAC, Ogg and programmable with 7.1/5.1 down-mixing
Built-in serial digital audio SPDIF/IEC958 input/output and PCM input/output
Digital microphone PDM input with programmable CIC, LPF & HPF, support up to 8 DMICs
Built-in stereo audio DAC
Supports concurrent dual audio stereo channel output
Other Features
Language: Support Multi-languages
Dimensions&Weight
Product weight: 0.1600 kg
Product size (L x W x H): 13.00 x 13.00 x 4.50 cm