Mi Smart Band 6 is Xiaomi's latest addition to the affordable Mi Band series that has made it one of the most popular fitness bands worldwide. It offers many advantages for a low price, and Xiaomi works to improve them annually by launching a new generation, let's talk about the specifications and features of the Xiaomi Mi Band 6 and explain the most important characteristics that you get when wearing it, as it has been equipped with sensors to track oxygen in the blood and with new sports modes and acquires a Larger AMOLED screen. All this and more to decide whether it will be suitable for you or not?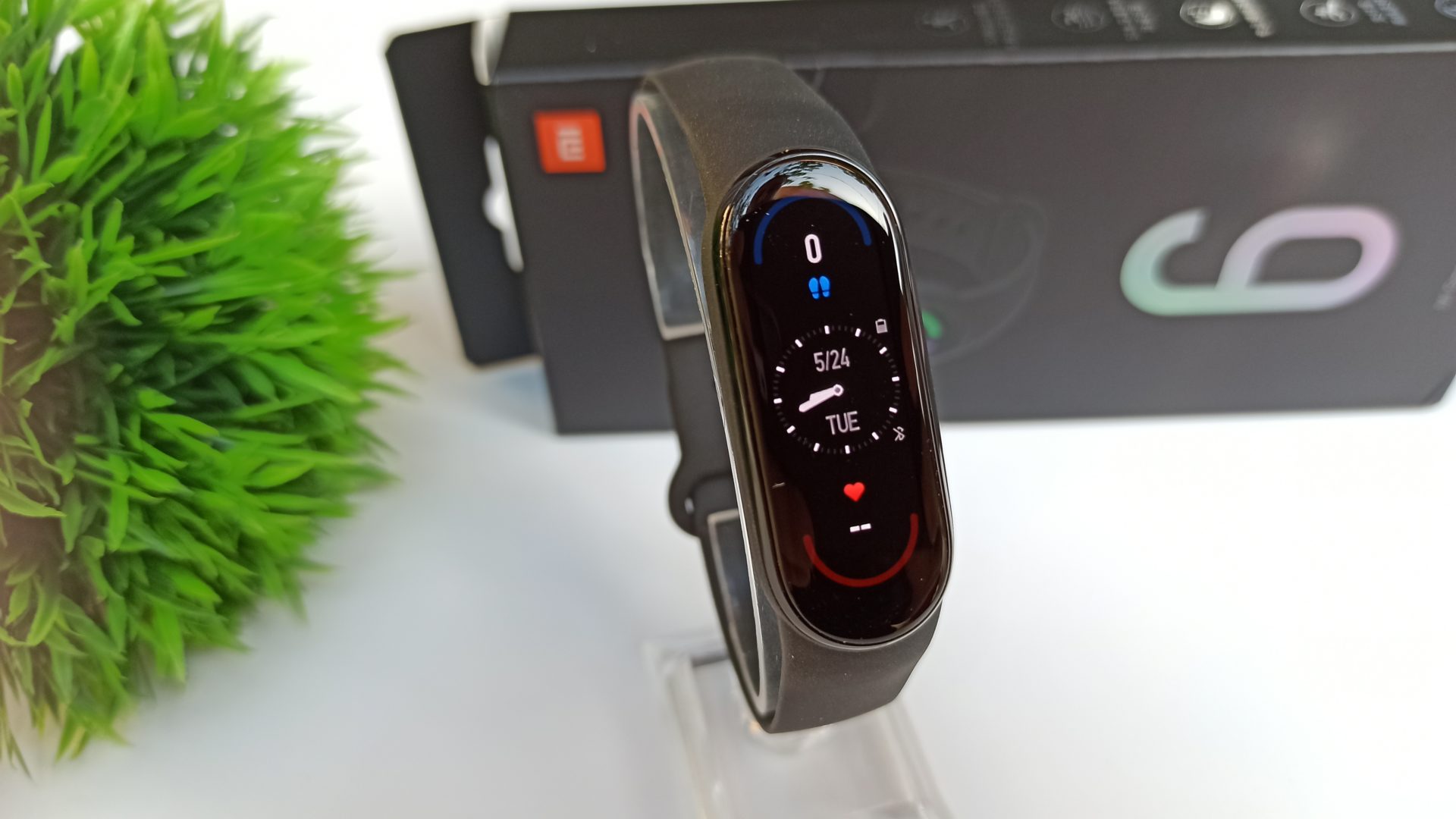 1.56″ AMOLED Display
130+ Watch Faces
30 Multi-Sport Modes
Auto-Detects 6 Fitness Activities
Heart Rate Monitoring, SpO₂ Tracking
5ATM Water Resistance
14-day Long Battery Life
Magnetic Charging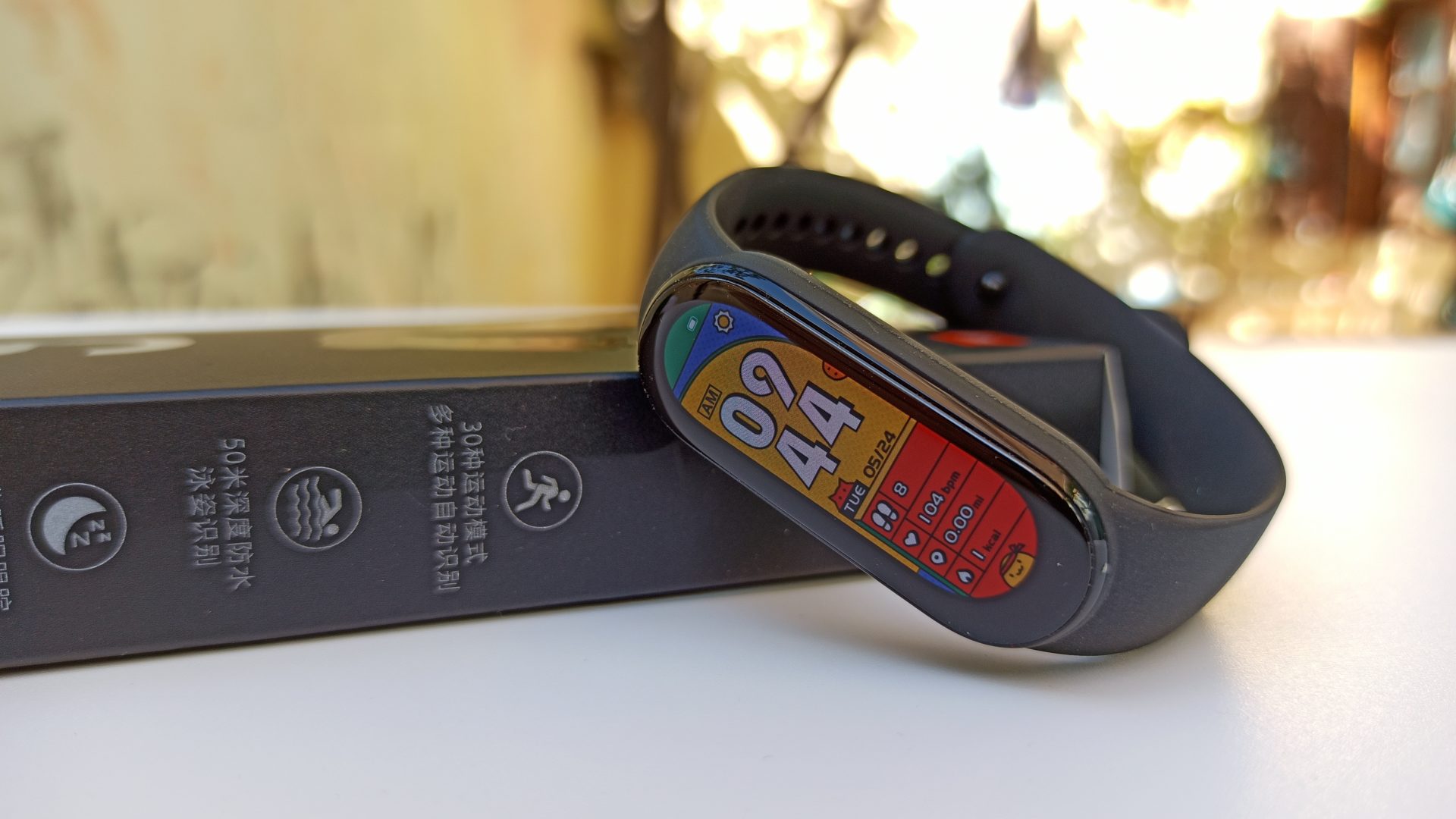 Mi Smart Band 6 Unboxing Video
Design And Build Quality
At first glance, it is difficult to differentiate the Mi Smart Band 6 from the previous model Mi Band 5, as it has not changed the design details and is still made of plastic and a small size capsule in matte black color and topped with 2.5D curved tempered glass occupying the front part Almost entirely, and because it is a touch screen, it allows the brand to do without a physical button. Its only drawback is the slightly larger bottom edge.
On the back of the fitness tracker, you'll see the various sensors and a pair of connectors where the magnetic charger plugs in.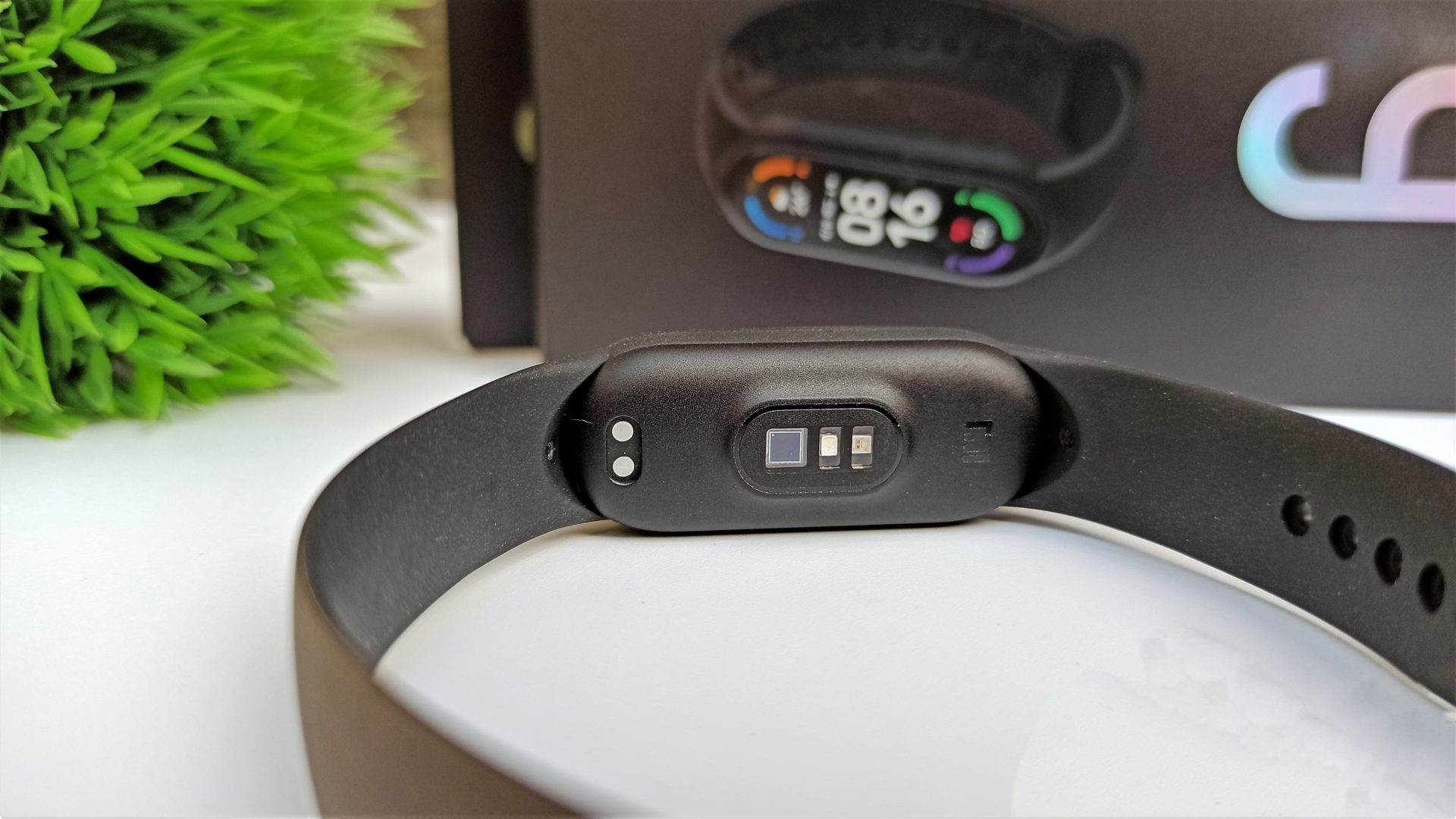 However, I can say that the design is good and bad at the same time. Weird, yes let me explain, the good thing is that the Band 6 is just as comfortable to wear for extended periods of time as we are used to, the bad thing is that the design is starting to look a bit dated now, and may need a bit of an update.
The device carries a thin silicone strap, which is also black in the box by default, which can be removed and replaced if you want to take advantage of another color by purchasing more in different colors from Xiaomi such as white, blue, orange, or yellow. The good news is that all the bands I bought for Mi Band 5 are compatible with Mi Band 6.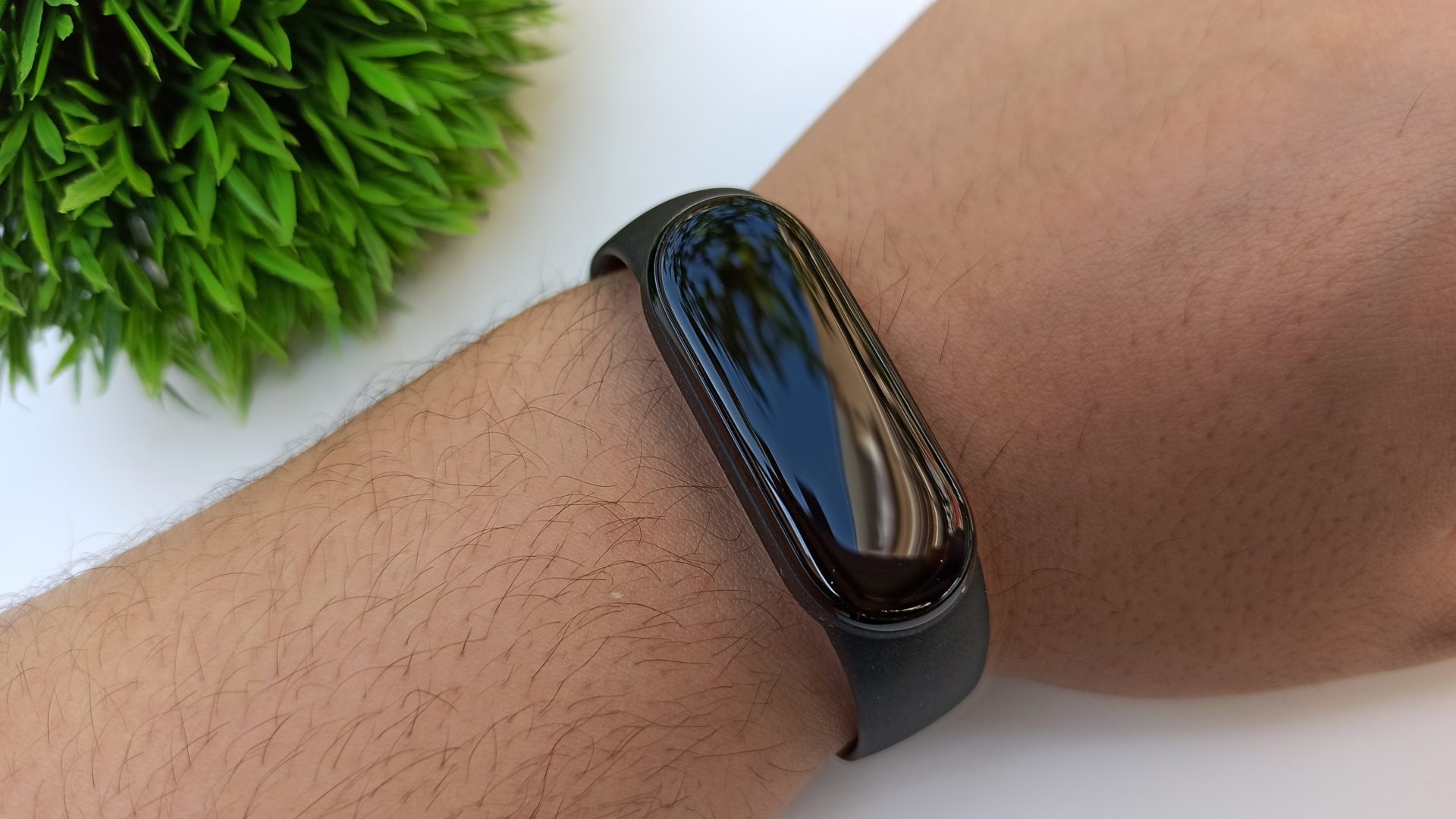 While I'm on the subject of design, it's worth noting that Mi Smart Band 6 is 5ATM water-resistant so that it can be worn while doing water activities like swimming or even showering, but avoid wearing it during activities that involve high water flow velocity and you can remove it from your wrist before going to dive.
Mi Smart Band 6 – Display Screen
The difference in design points for this watch is limited to the screen size which is 45% larger than the previous generation. The Xiaomi Band 6 comes with an AMOLED screen with slightly curved edges and a size of about 1.56 inches with a resolution of 152*486 pixels and this resolution gives a pixel density of about 326 PPI, The brightness is at its maximum of 450nits, which makes it quite vivid and sharp, and due to the larger size, it can accommodate more content and is easy to read.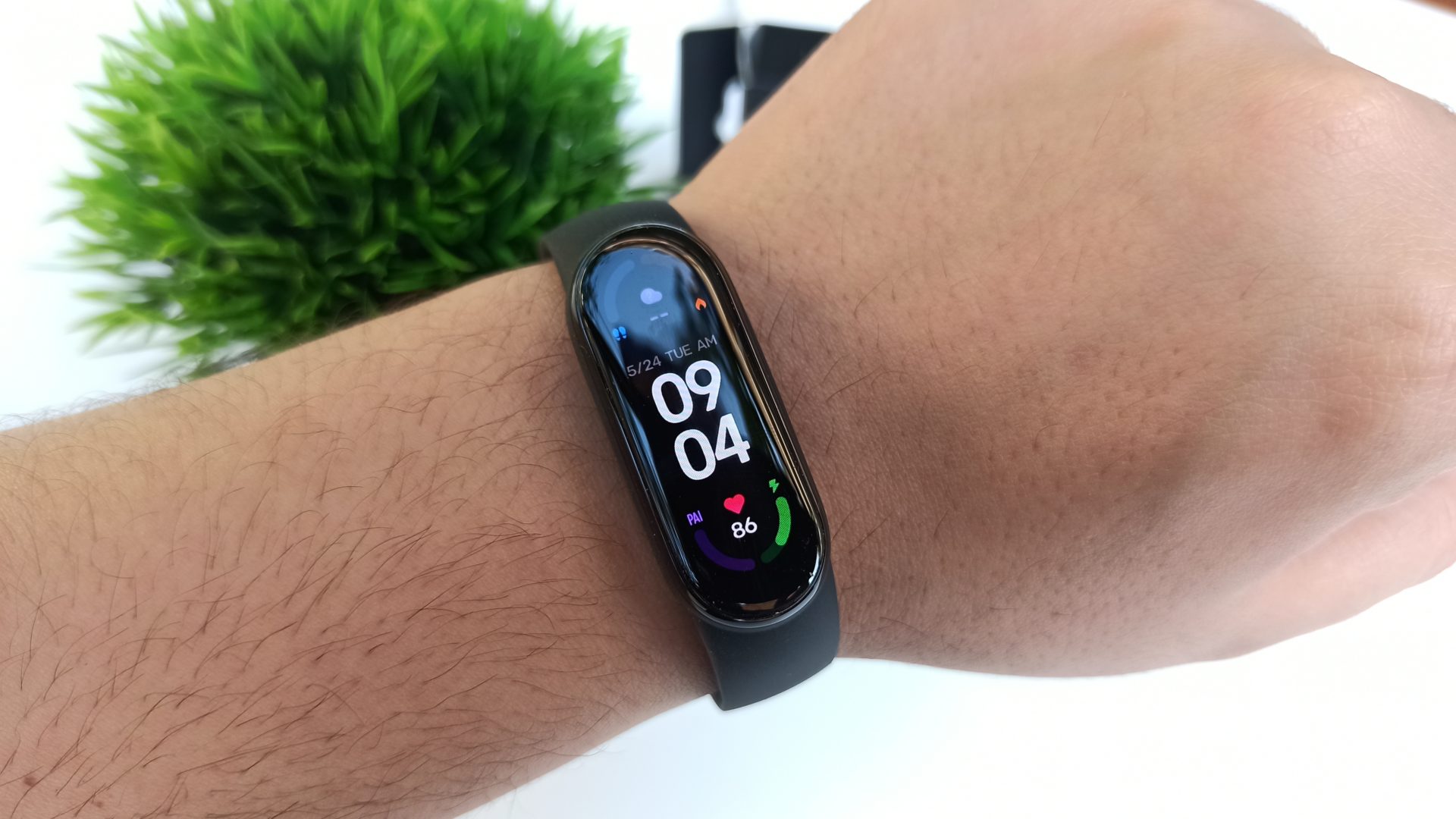 It also has sufficient levels of brightness for use the outdoors and manually changes the lighting when moving between different lighting areas, and we can set a schedule during which the watch goes to the dim light mode, and it can move to that mode at sunset, and then raise the lighting back when waking up, However, we regret the lack of an ambient light sensor, which is clearly impractical on a daily basis. Understand that you will often have to go into the bracelet settings to switch between different intensities.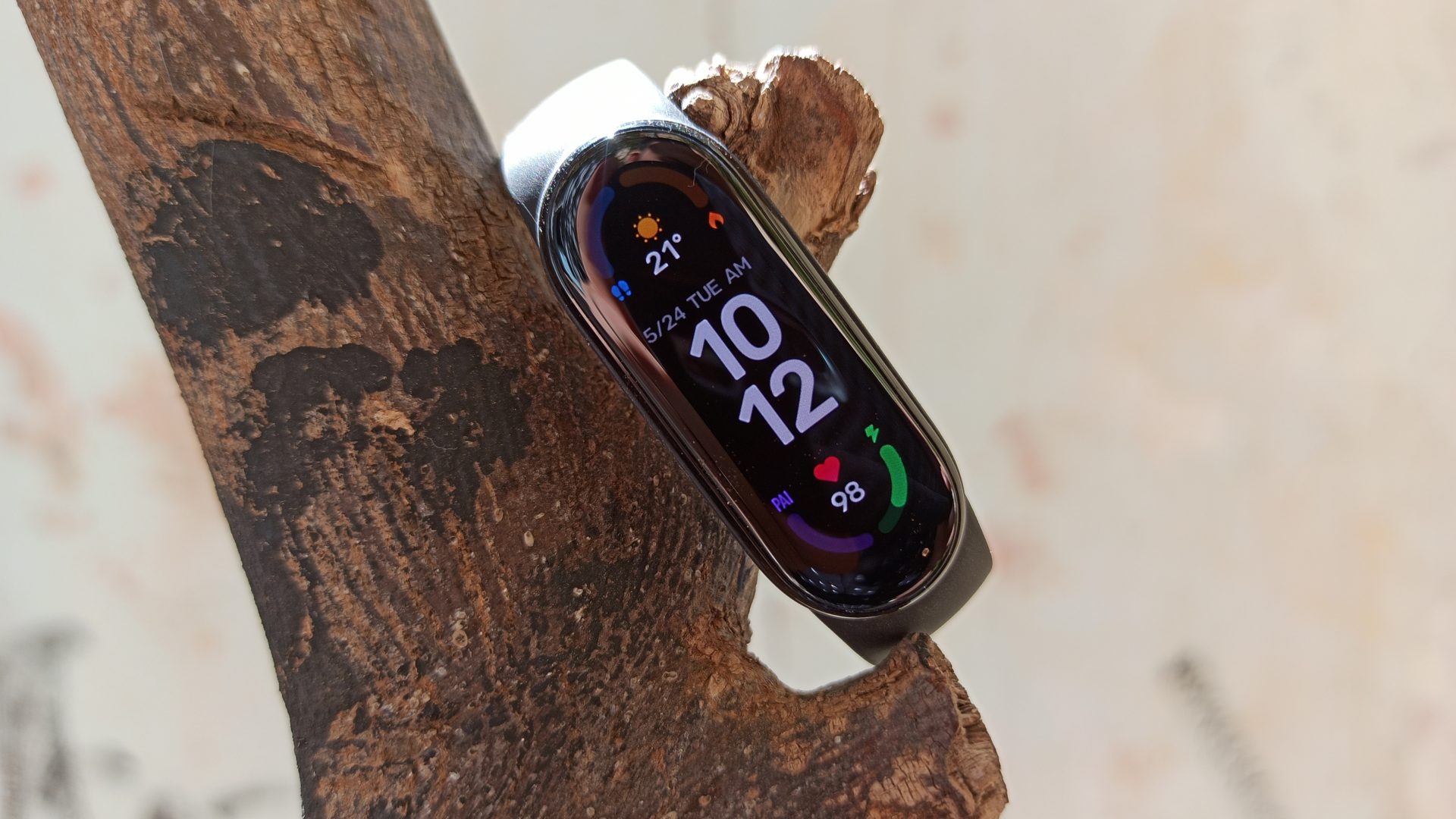 Finally, to exit the screen stop, simply press on it or raise your wrist if the function was previously activated in the settings. BTW, Band 6 display does not offer an always-on display.
Multiple Watch Faces
Coming to watch faces, Mi Smart Band 6 brings you 3 different watch faces pre-installed and you can add another via the app. However, Xiaomi has provided more than 100 main interfaces available in the app, and you will see quite a number of watch face options available for download that show Chinese anime characters and the animated series, which didn't appeal to me much though, there are ample general options available as well, covering categories like fashion, simple, formal, science, technology, etc. The good thing is that you can add your own backgrounds to a set of preset layouts, which gives you some customization options.
Performance & interface
Using the Mi Smart Band 6 on a daily basis is simple, responsive, and easy to use without any major change to the interface from the Mi Smart Band 5 and you will notice that the small touch button at the bottom of the screen is getting bigger, and regardless of enabling the settings you want, all you have to do What it does is tie it to your wrist and let it do its work. You can tap on the screen to activate it, then use swipes and taps to move around.
By default, the home screen displays the time, date, weather, and heart rate. Four metrics for its part indicate the number of steps taken and calories burned during the day, a score of PAI (Personal Activity Intelligence), and finally sensor independence. It is possible to choose another presentation to highlight some information that we consider a priority or simply to take advantage of another design, Xiaomi offers several downloads of the application.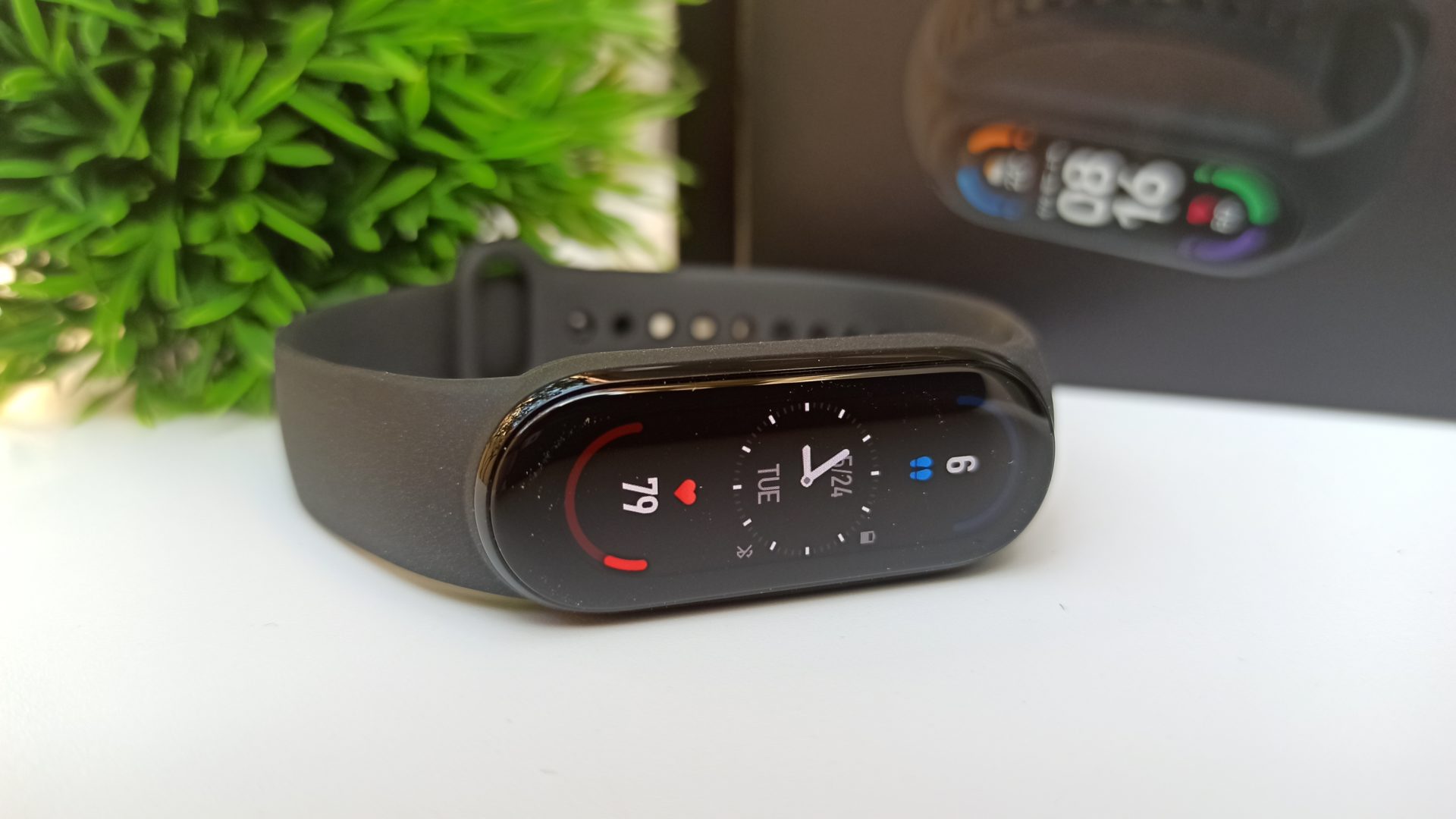 Swiping left or right displays shortcuts like Weather and Music Player by default, respectively, and they can be customized via the app and selected via the app (activities, heart rate monitor, etc).
You have to swipe from bottom to top on the watch face to scroll through the main menu, but it's possible to do the opposite to start the menu from the end – workable if you're looking for the app closer to the end of the list than the beginning. It includes steps, distance, calories), heart rate, SpO2, notifications, workout, events, alarm, weather, music, world clock, settings, and more (contains stopwatch, timer, find the device, camera).
Health & Fitness Monitoring
Mi Smart Band 6 offers the same set of features as its predecessor, along with a host of new features, the most notable being the addition of a SpO2 monitor, a feature that has been of great importance during times of the pandemic. where tracking blood oxygen levels has become crucial. Not only that, there are a bunch of updates on the fitness tracking side as well.
It also showed its superiority in most things when tested in terms of performance and efficiency of measurement and monitoring, as it is able to track steps and measure calories burned and the distance covered in running or walking with complete accuracy, and it also monitors sleep and heart rate throughout the day, but in fact, it is not suitable for determining Locations because it does not include a GPS chip so it is necessary to work with your phone to take advantage of accurate route tracking.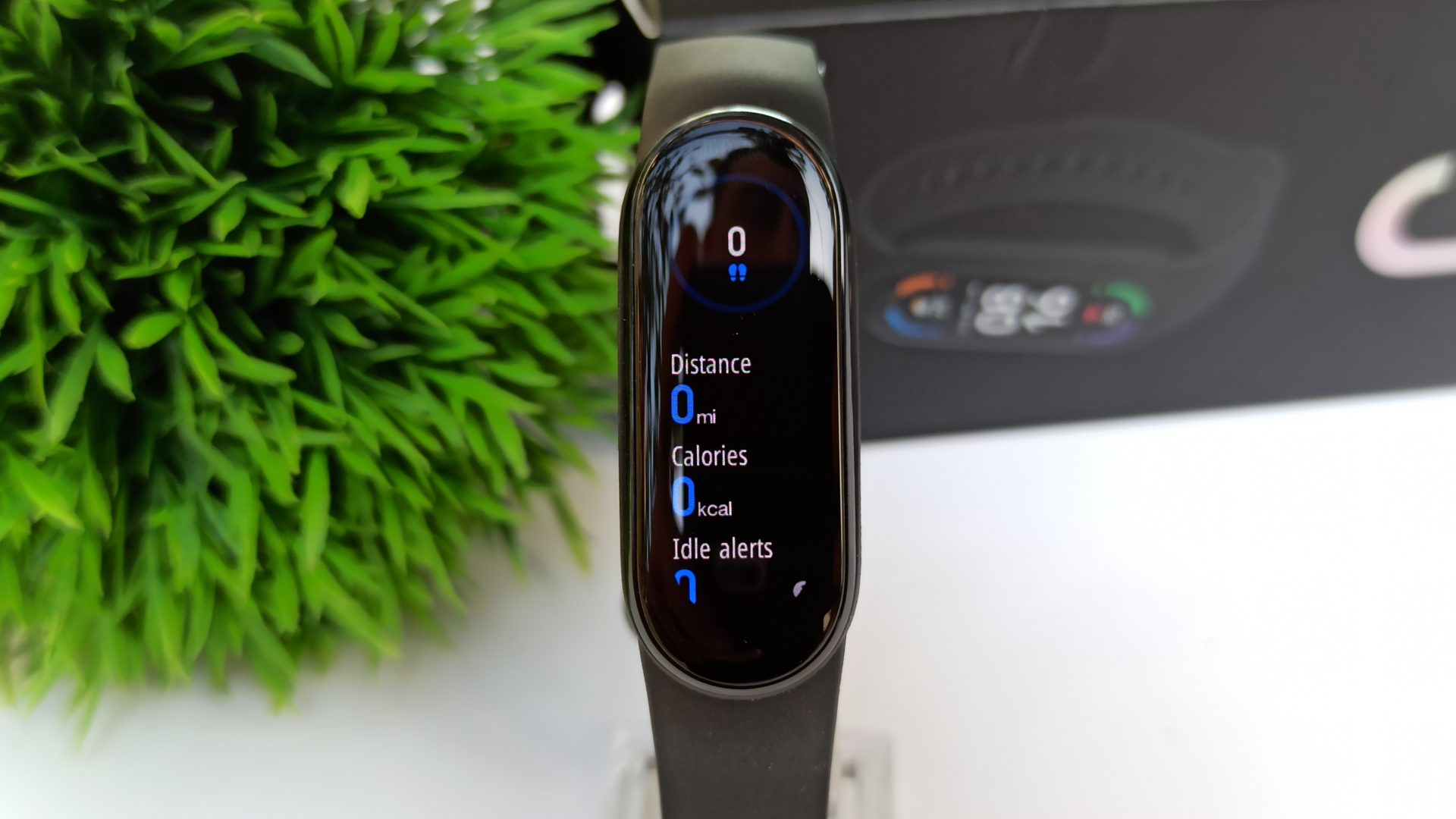 This watch records a detailed report of the heart rate readings during the resting period at an interval set by the user of 30 minutes, 10, 5, or even one minute, noting that measuring every 30 minutes will save a lot of battery charge and provide the most accurate data. Periodically every minute it allows us to learn more details at the cost of significantly reducing battery life.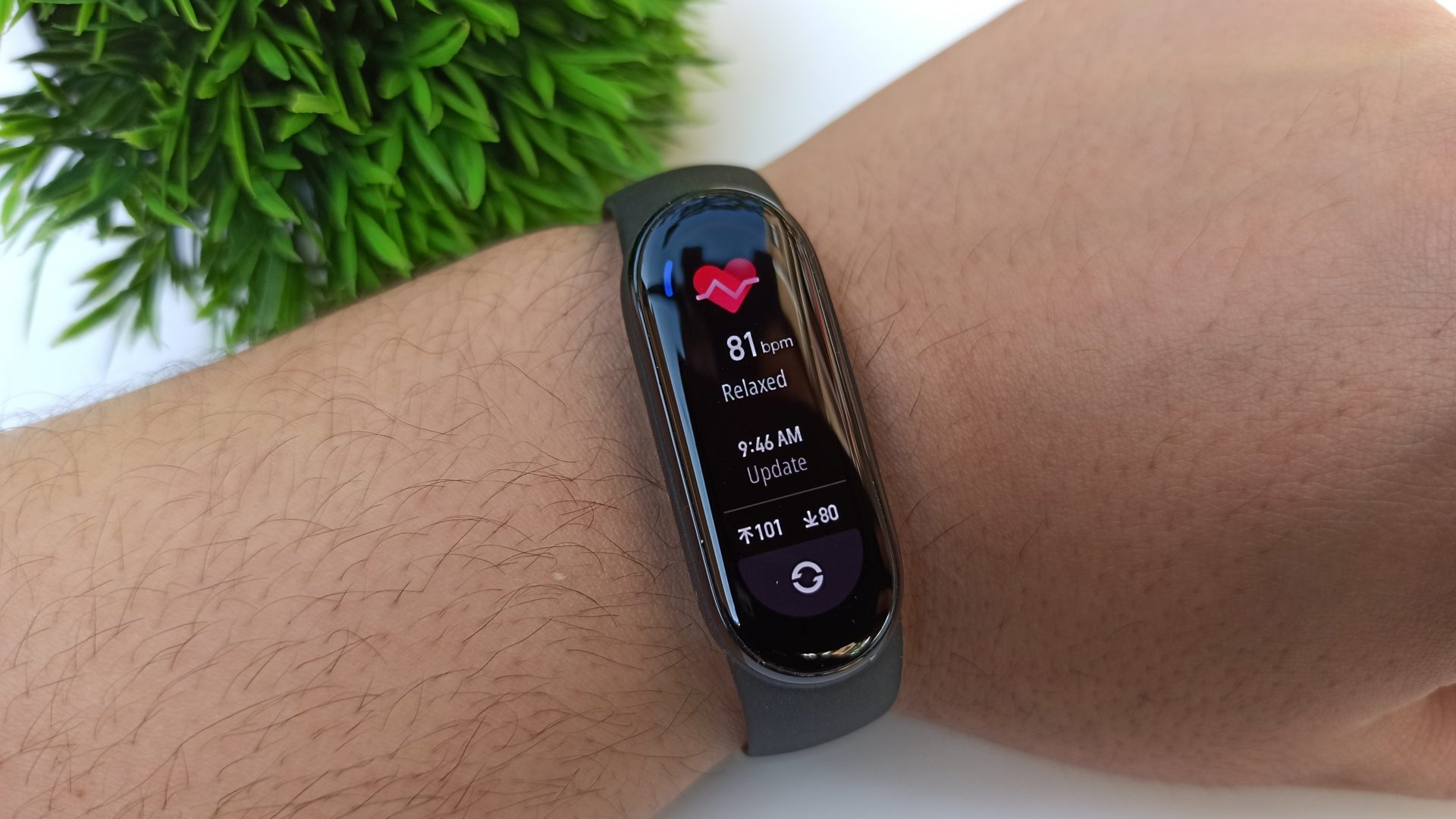 There are dozens of exercise modes to choose from (both indoors and outdoors), and the increase in the number of activities available for this watch is arguably one of the most important improvements it has added over its predecessor, Band 5, as the bracelet now supports 30 sports modes compared to 11 in the previous generation. It can detect six of them automatically and without activating them manually: walking, outdoor running, treadmill, indoor rowing, cycling, and elliptical training. As for the other activities, you need us to choose them and select them from the list of activities and then manually click to start using them.
It is very necessary to have a fitness watch with a blood oxygen sensor, and Xiaomi has taken into account the importance of these issues to add the oxygen sensor, which provided the expected results, as the Band 6 watch needs only a few seconds to record the oxygen levels in the blood.
On the other hand, this wearable device contributes to monitoring menstruation in women in order to calculate the duration of the full cycle and determine the times of ovulation.
Other than that, Mi Smart Band 6 measures the number of steps taken, heart rate, and even stress level thanks to heart rate variability. PAI is a physiological activity indicator based on the user's heart rate, gender, age, and physical activities, with the aim of maintaining a score above 100, and therefore the watch can be considered a suitable way to reach a good physical fitness by doing different sports and strenuous exercises during the day.
As for tracking sleep, the watch can calculate the duration and depth of sleep with good quality, and also sends data on the level of breathing during sleep and naps, and this watch arranges sleep data in a degree ranging between 1 and 100. Everything is divided into different buckets of sleep distribution: deep, REM, normal, light, and awake. Plus some recommendations for better breathing, even if it's really hard to gauge the accuracy of such a scale. However, we mention that these measurements have no medical value and therefore do not replace the medical examination. But, it has an interesting indicative value that can alert a potential health problem.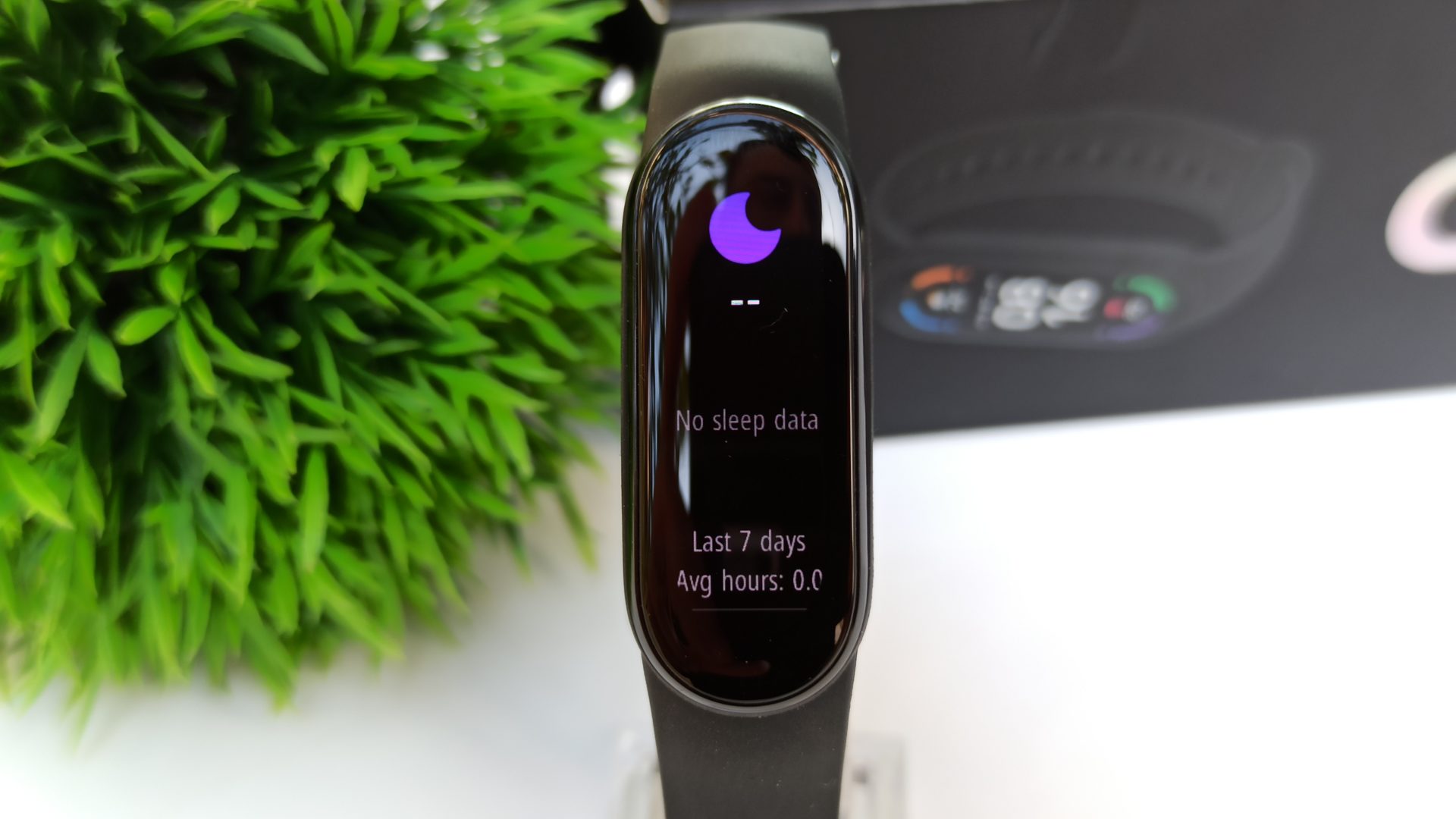 Xiaomi Wear APP (Mi Fitness)
Mi Smart Band 6 can pair with your Android or iOS phone, and pair it in Bluetooth via the recommended app so that syncing is done automatically, it's necessary to create a Mi Account beforehand. This is done via the Mi Fit app, or you can alternatively use the Xiaomi Wear app (which has been renamed Mi Fitness) because it carries a significant evolution from its predecessor, given that it is customizable by the user.
How to Connect APP
MI Band 6 supports "Mi Fitness APP" and "Mi Fit APP".
Mi Fitness APP: Scan this QR code below, or search for "Mi Fitness" in the Play Store or App Store, download, and install.
Log into your account in the APP, choose to bind the bracelet device and follow the prompt. When the bracelet vibrates and the binding prompt is displayed on the screen, click OK to complete the binding.
Note: Please make sure that the Bluetooth of your mobile phone is turned on. During the connection process, the bracelet must be placed close to the phone.
This app is divided into three sections that include: Health, Workout, the device, and the profile.
The status can be defined on the main screen of the application, as it displays, in a clear and easy-to-navigate way, the recent activities that the user has accomplished, the number of steps taken, and the state of sleep last night, along with other health metrics.
The tab for exercises allows the user to start a specific exercise and displays the results of the metrics in real-time, as well as a map of the place so that the user can run in the right way, for example.
The settings for this application can be set from the tab that bears the name of the device, as it displays your paired devices and includes all the necessary settings for the user, in addition to the watch settings and notification preferences, and allows controlling all the settings of the bracelet. You can enable alerts for incoming calls, set goals, enable app notifications, set alerts, and view the connected band battery level. And with Mi Smart band 6, you even get the option to reject incoming calls with a personalized text message, right from the device.
It is worth noting the fact that many features, including basic ones such as "raise to wake", act as a camera shutter, control the default music player, and have the usual alarm/timer/stopwatch functions. and advanced features such as all-day stress monitoring and PAI – Personal Activity Intelligence mode.
Finally, the profile tab is related to the application settings. In fact, Xiaomi Wear cannot connect to third-party apps like Strava, Google Fit, or any other apps. You also cannot export metadata files. Therefore, the data collected by the Mi Band 6 remains in Xiaomi Wear.
The application also includes many other interesting features, most notably:
You can select which instruments appear in Mi Smart Band 6 and in what order. There are a lot of instruments to choose from but only six instruments can be added to Band 6.
As mentioned earlier, you can get a lot of watch faces in the Store section within an app, but about half of the faces are designed for Asian audiences and would be unfamiliar. Still, there are enough to choose from and the best part is that you can always make it yours by choosing a layout to your liking and setting a custom background.
Mi Smart Band 6 supports all types of notifications – emails, incoming calls (with the option to decline), SMS, emails, idle alerts, and targets, and can display most third-party notifications like Telegram, WhatsApp, Facebook, Messenger, Skype, Instagram, Twitter, YouTube Calendar, games and many more. Although there is limited space for long texts there is no possibility to reply to text messages or answer calls. Nor can you issue voice commands; There is no Alexa or Google Assistant here, and most importantly, no microphone.
There is one exclusive feature here, if you have a phone running MIUI, you can set up Mi band 6 to unlock your phone and bypass passcode/fingerprint/face security.
It should be noted that the Xiaomi Wear app loses the ability to compatibility with third-party apps, such as Strava, Google Fit, and other similar apps, so the data collected by the fitness tracker cannot be viewed. Therefore, the data collected by Mi Band 6 remains. On Xiaomi Wear, this can be confirmed by looking at the heart rate in the exercise summaries, showing this rate in the form of a graph without showing any numerical data or any other details.
Users outside of China can struggle to use this app as it contains Chinese phrases scattered throughout the app, not to mention missing out on the 12-hour time display and Fahrenheit scale.
Other Features
Xiaomi Mi Band 6 is equipped with many basic functions with some features that we often not find in other fitness trackers.
The tracker can show your smartphone notifications to any app right on your wrist. Notifications are clearly unresponsive and not easy to read on a screen of this size – so you only have to look at the incoming text and then need your phone to get it done. During an incoming call, the Mi Smart Band 6 vibrates and displays the contact information, but it still cannot be picked up from the bracelet.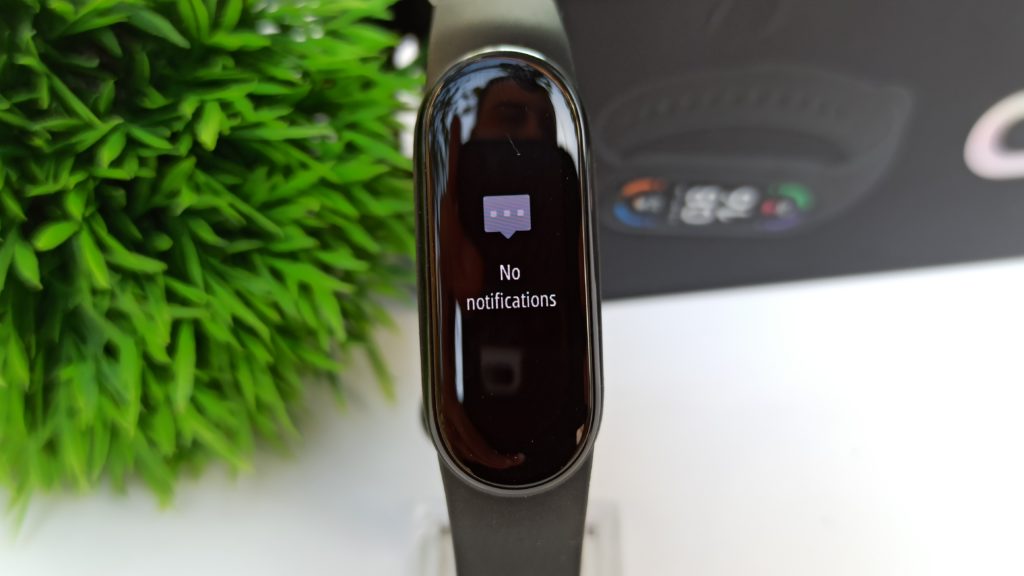 Xiaomi sells two models of Mi Band 6: the Chinese version with NFC and voice assistant, and the global version without these two features.
What I find a little disappointing is that the Mi Band 6's screen has to be set to dim on a set schedule or based on when the sun goes down since it doesn't have an ambient sensor.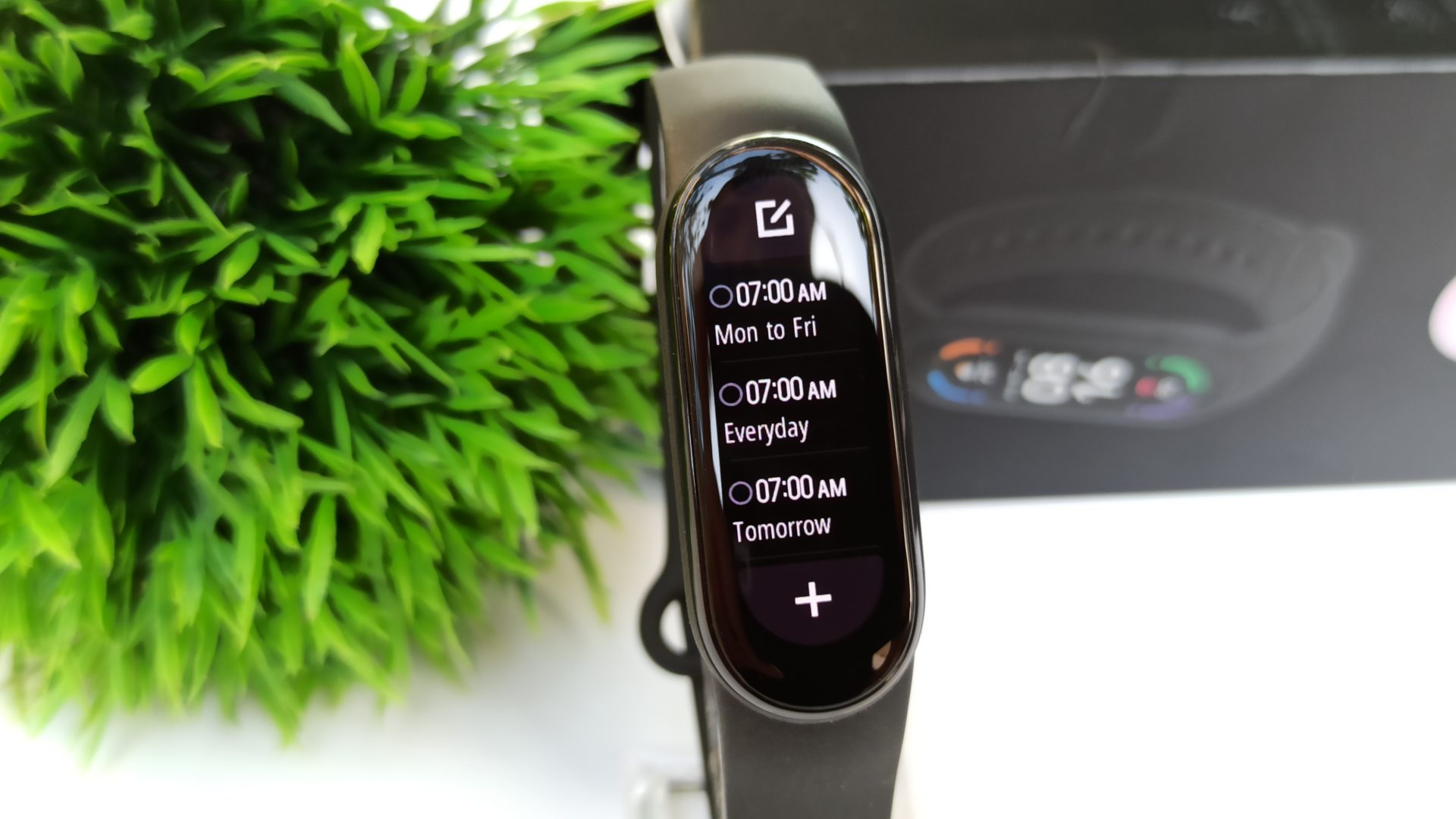 Finally, Mi Band 6 has some basic built-in apps like alarm clock, stopwatch, timer, event log, Find My Device, camera control app, music control, and many more in settings.
Usage And Battery Life
The Mi Smart Band 6 is powered by a 125mAh battery as it was on the Mi Band 5 and can be charged via the cable that features a magnetic connector. Charging is very convenient, since you do not need to remove the device from the strap, and the charger is magnetically attached to the back of the tracker.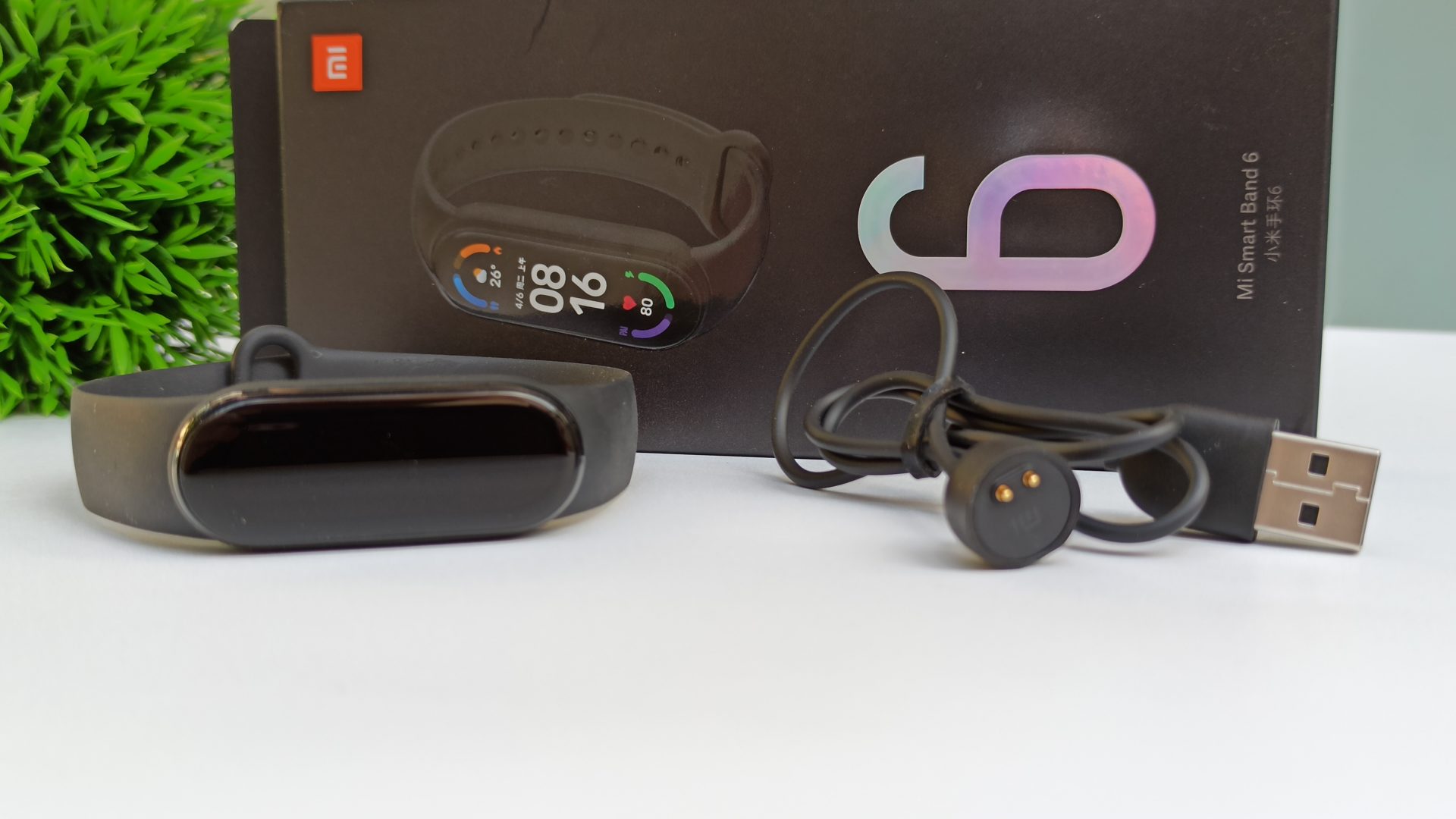 Charging takes less than two hours to recharge from 5% to 100%, and the battery is rated to last up to 14 days (in the words of the manufacturer Xiaomi), which is considered a long battery life, and in actual testing, you can easily expect about 10-12 days, with basic use. However, keep in mind that advanced features such as continuous heart rate monitoring, sleep breathing monitoring, etc. use up energy faster and if you use Workout modes more frequently and for longer periods, and keep the above features enabled, you may end up charging them once every 5-7 days, which is still fine. If not, you may not even remember when was the last time you recharged.
Our Verdict
It would not be an exaggeration to say that just like the smartphone sector, the competition and rivalry in the fitness bracelet sector has become very intense in recent times. The Mi Smart Band series from Xiaomi has been very popular over the years and is one of the best selling trackers, and not without good reason. Devices in this range have always offered solid value for money, thanks to their attractive features and reasonable prices. And I'm happy to report that Mi Smart Band 6 isn't much different. and thanks to new additions like the SpO2 sensor, you don't miss out on anything a user might want in a basic fitness tracker.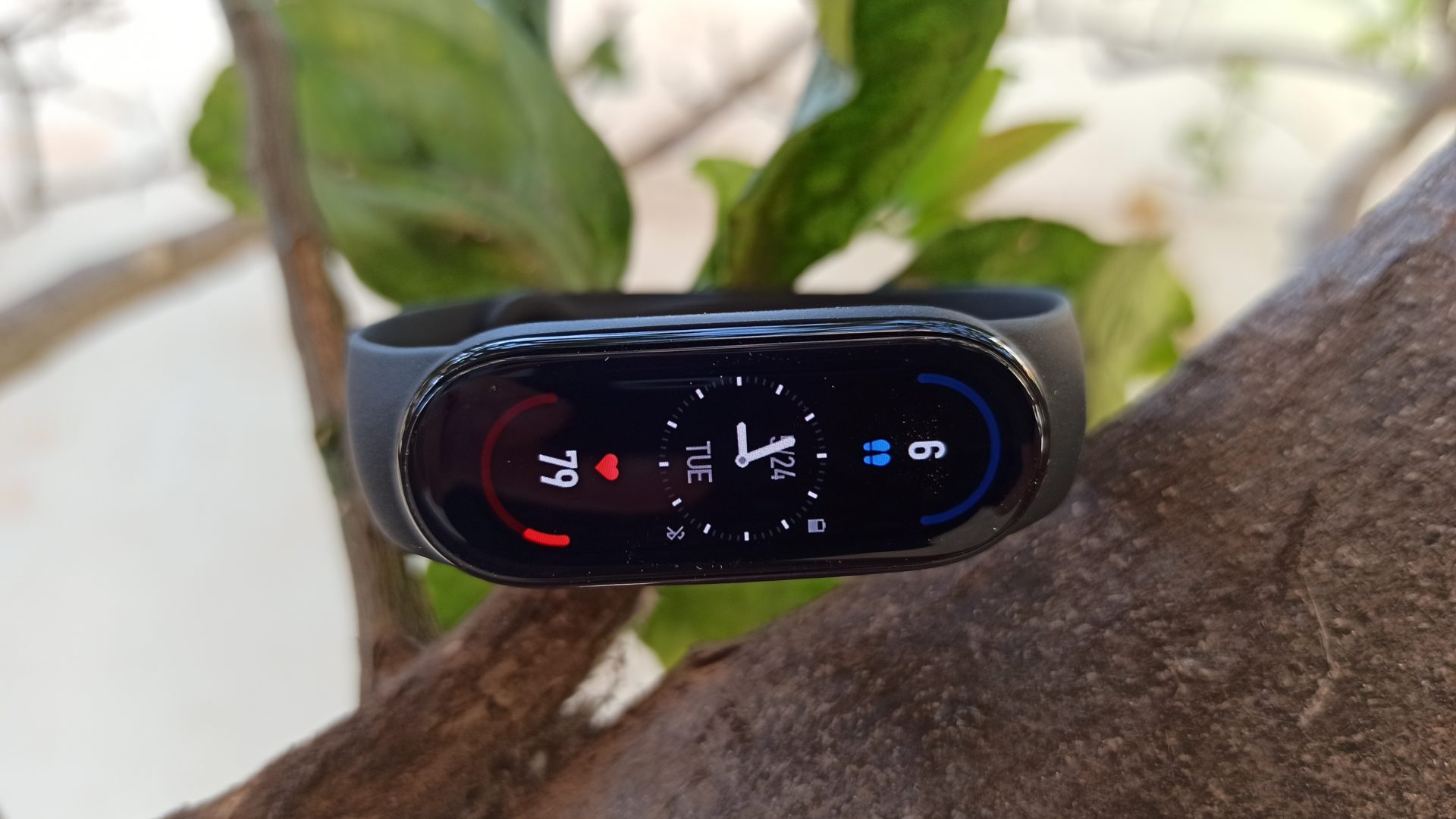 The Band 6 also handles all users' needs with complete efficiency, with various capabilities, various additional sensors, a higher-resolution AMOLED screen, larger than its predecessor, and more than double the activity tracking modes. It also provides accurate data that is close to ideal in some functions, but it declines in measuring the depth of breathing during the night period, and this justifies its lower price, and in the more expensive model, which is the Chinese, there is support for NFC payments and voice assistant, but the global model does not support this Features. With all this it comes as no surprise that Xiaomi Mi Band 6 is one of the best cheap fitness trackers that you can spend your money on.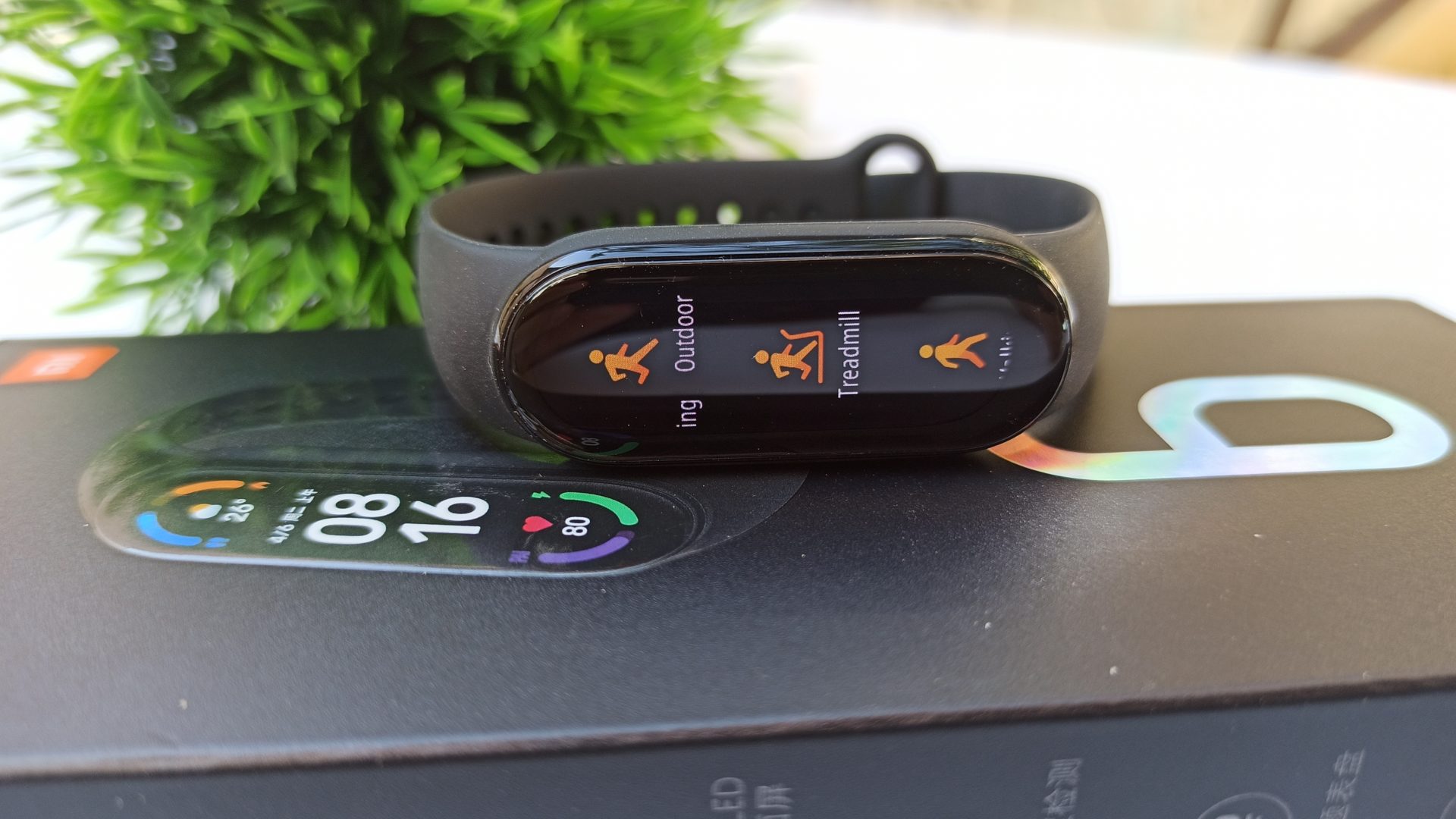 Mi Smart Band 6 And Where To Buy
The Mi Smart Band 6 is currently available on the Hekka Store for a very good price and you can get a $10 coupon off over $29 by using this code: techhekka10, valid till end of this year and applicable for all Hekka international sites, one use per customer.. So, don't miss out on this great deal.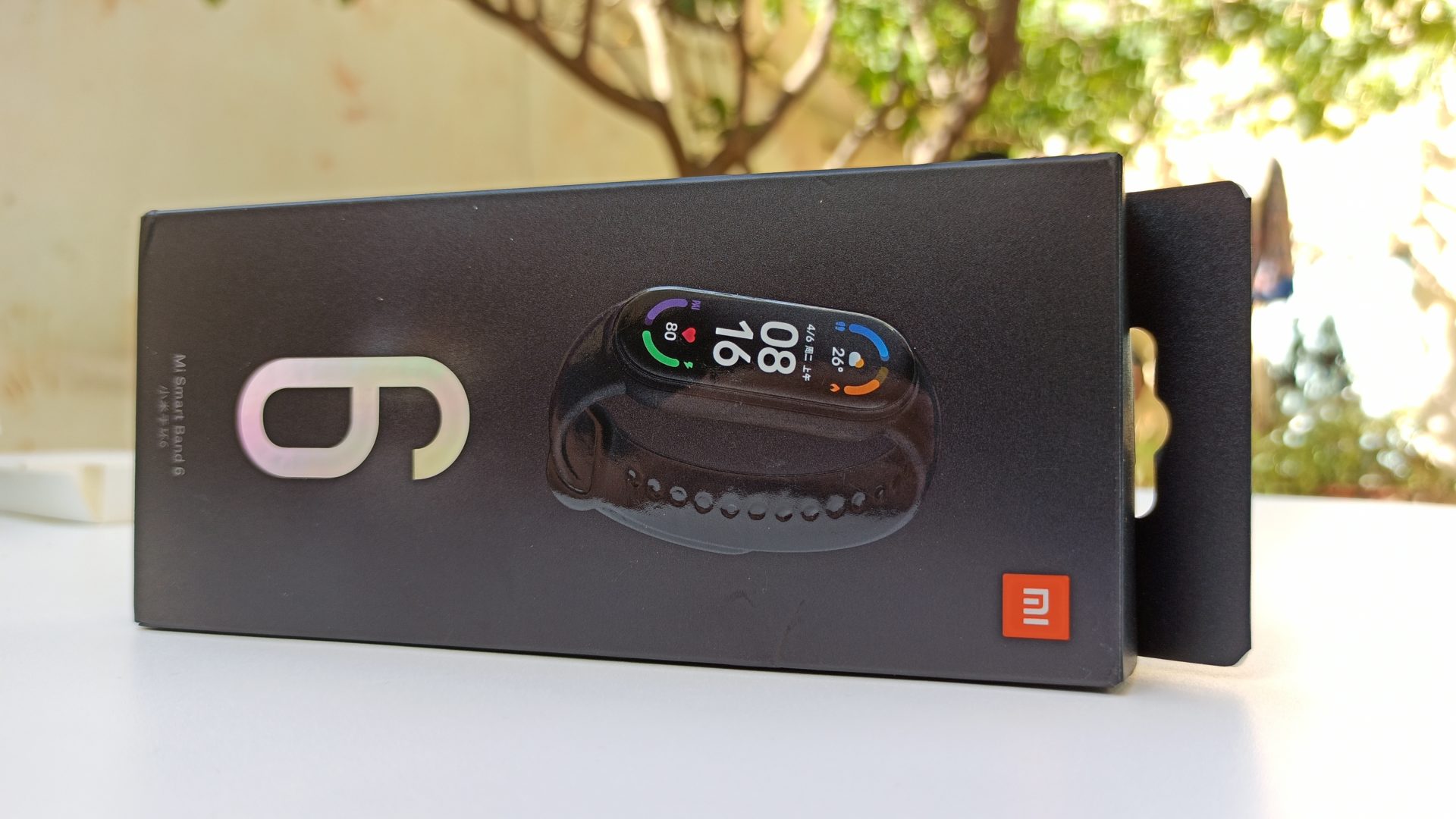 MI Band 6 Body
Wrist Strap
Magnetic Charging Cable
User manual
Mi Smart Band 6 Specifications
Display
1.56″ AMOLED Display
Resolution: 152*486
Brightness: up to 450 nits, adjustable
Sensors
6-axis sensor: Low power-consumption 3-axis accelerometer and 3-axis gyroscope PPG heart rate sensor
Battery life
Charging method: Magnetic charging
Charging time: ≤ 2 hours
Battery life: ≥ 14 days*
Sports
30 fitness modes, Treadmill, Freestyle, Outdoor Running, Cycling, Walking, Pool swimming, Rowing machine, Elliptical, Indoor cycling, Yoga, Jump rope, Dance, Indoor fitness, Gymnastics, HIIT, Core Training, Stretching, Bowling, Badminton, Boxing, Stepper, Pilates, Basketball, Volleyball, Table tennis, Cricket, Ice skating, Kickboxing, Street dance, Zumba
Health
Heart rate and sleep monitoring with women's health tracking
Heart rate monitoring: Whole-day heart rate manual heart rate, resting heart rate, and heart rate curve
Sleep monitoring: Deep sleep, light sleep, rapid eye movement (REM), naps
Women's health tracking: Provides recording and reminders for the menstrual cycle and ovulation phases
Stress monitoring, breathing exercises, PAI vitality index assessment, idle alerts, step counter, goal setting
Other features
Message/call notification, App alerts, Calendar, Alarm, Clock, Stopwatch, Timer, Music control, Find phone, Unlock phone(MIUI), Camera remote shutter*, Weather, Set activity goals.
Dimensions and specifications
Body net weight: 12.8 g
Body dimensions: 47.4 × 18.6 × 12.7 mm
Waterproof rating: 5 ATM
Wireless connection: Bluetooth 5.0
Adjustable length: 155–219 mm
Battery capacity: 125 mAh
Strap material: TPU
Strap buckle material: Aluminum alloy
Display cover material: Tempered glass with anti-fingerprint coating
Case material: PC plastic
Operating temperature: 0℃~45℃
System language: Supports English, German, Italian, French, Spanish, Russian, Traditional Chinese, and Simplified Chinese.
Supported systems: Android 5.0 or iOS 10.0 and above