PEXXUS focuses on providing innovative and affordable chargers and power adapters that are meant to make your life easier, without compromising on your comfort or safety and work with higher-quality materials, and state-of-the-art technologies. The PEXXUS charging station for multiple devices is an excellent solution for simultaneously charging your phone, smartwatch, and earbuds, saving you valuable time and allowing you to enjoy a comfortable, user-friendly charging experience! With state-of-the-art QI technology, and superior safety features which prevent damage and minimize accident risks, plus an ergonomic, modern design that adds an elegant note to your nightstand or desk, Also, compatible with most new iPhones, all IWatch generations, and AirPods 3/ 2 Pro. so, No uncomfortable or impractical wires; phone stand design for comfortable user position; Superior 15W fast charge. This wireless phone charger will definitely impress you!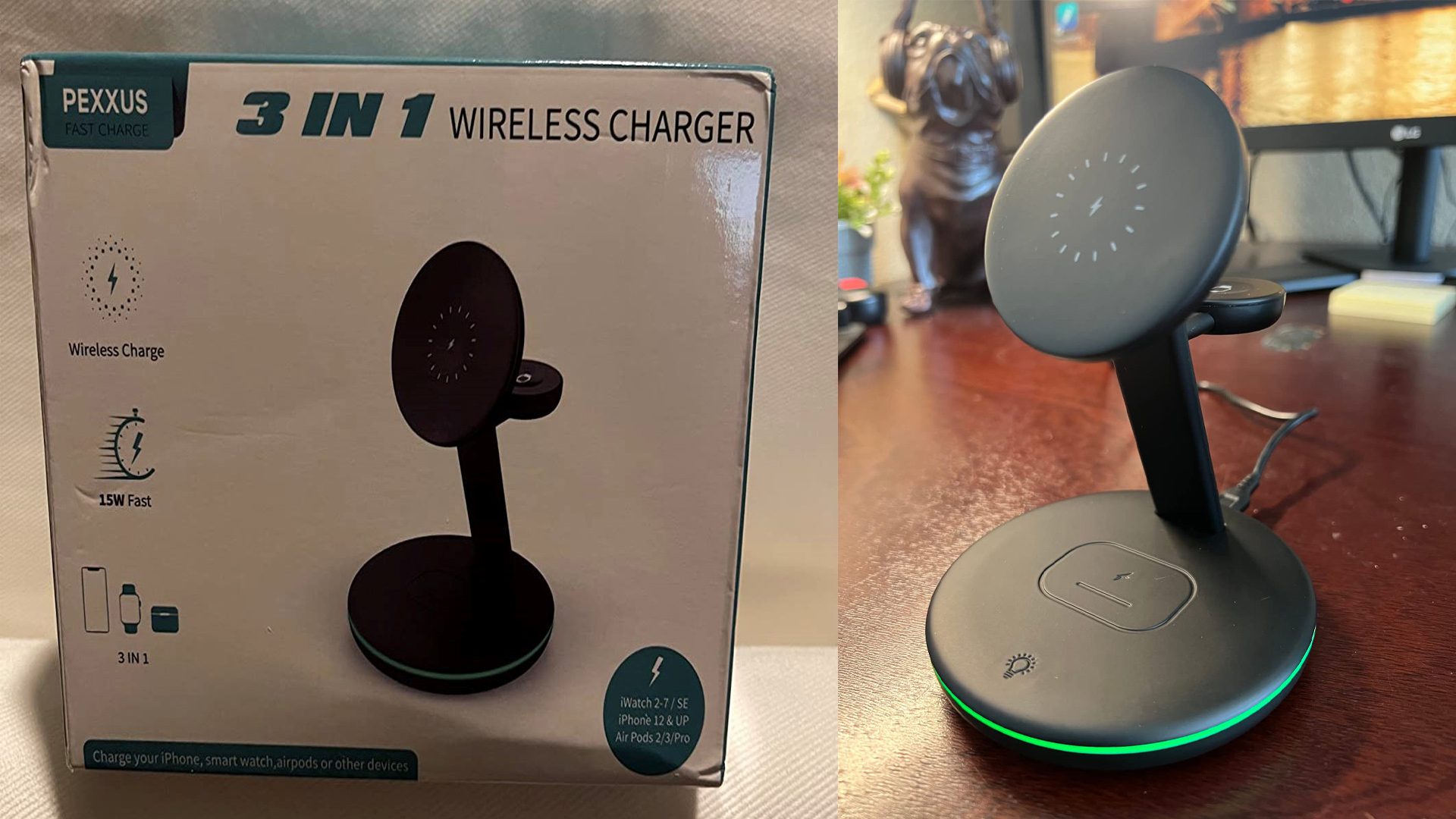 PEXXUS Wireless Charger Features
Well-built and sturdy
The charger and phone magnetic attachment is strong
Small footprint, the base measures 10cm
Able to wireless charge three items at once (iWatch, AirPods, iPhone)
Simple interface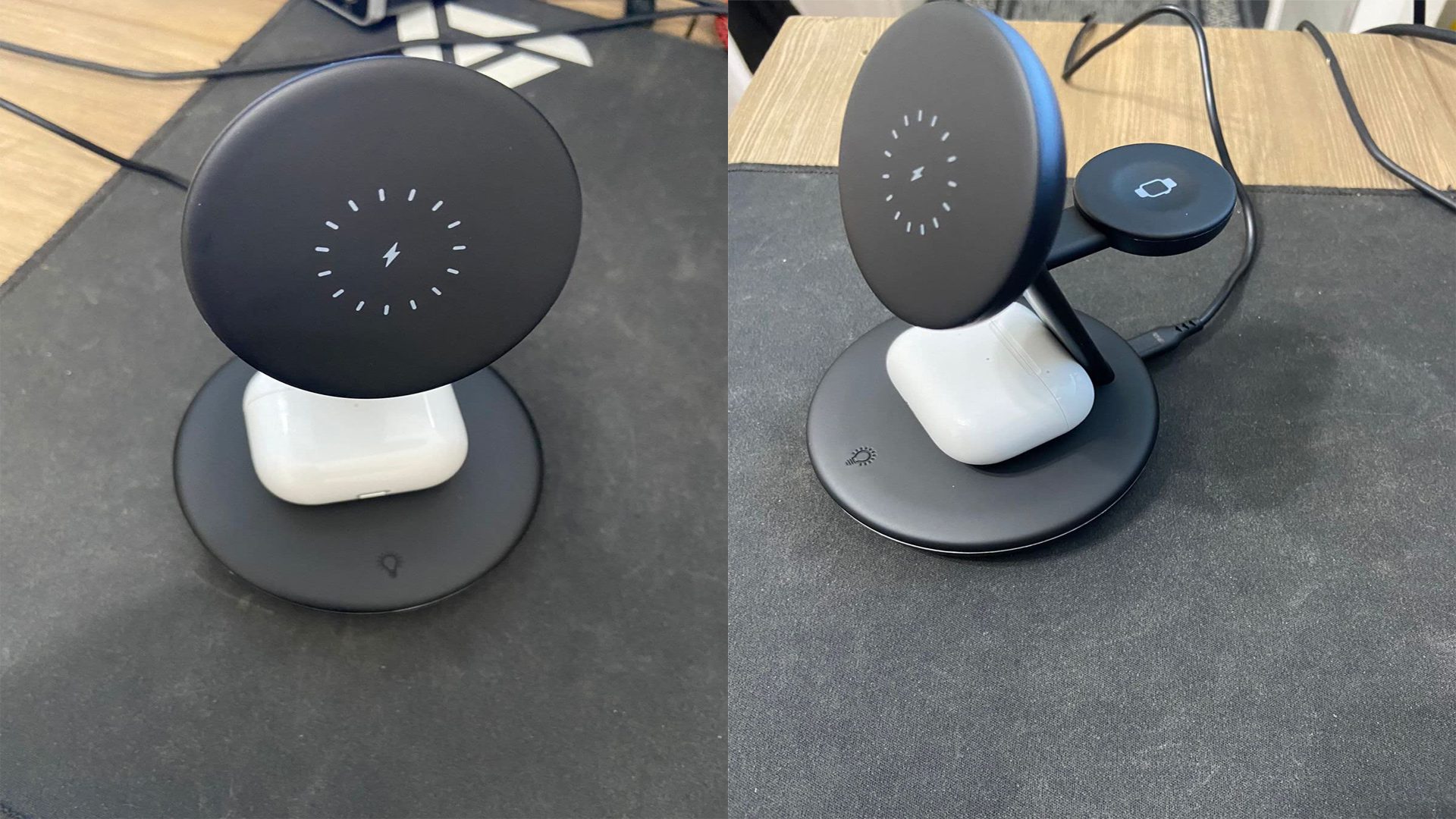 Design & Build Quality
The PEXXUS 3-in-1 Magnetic Wireless Charger Station is mainly from plastic, but it has a nice matte textured finish to it that makes it look modern and clean. There are icons printed on two wireless charging surfaces to let you know that they are charging surfaces. Build-wise, the PEXXUS 3-in-1 Magnetic Wireless Charger Station feels quite well made. The base has anti-slip pads attached to the corners which do enough to keep it still on a table surface.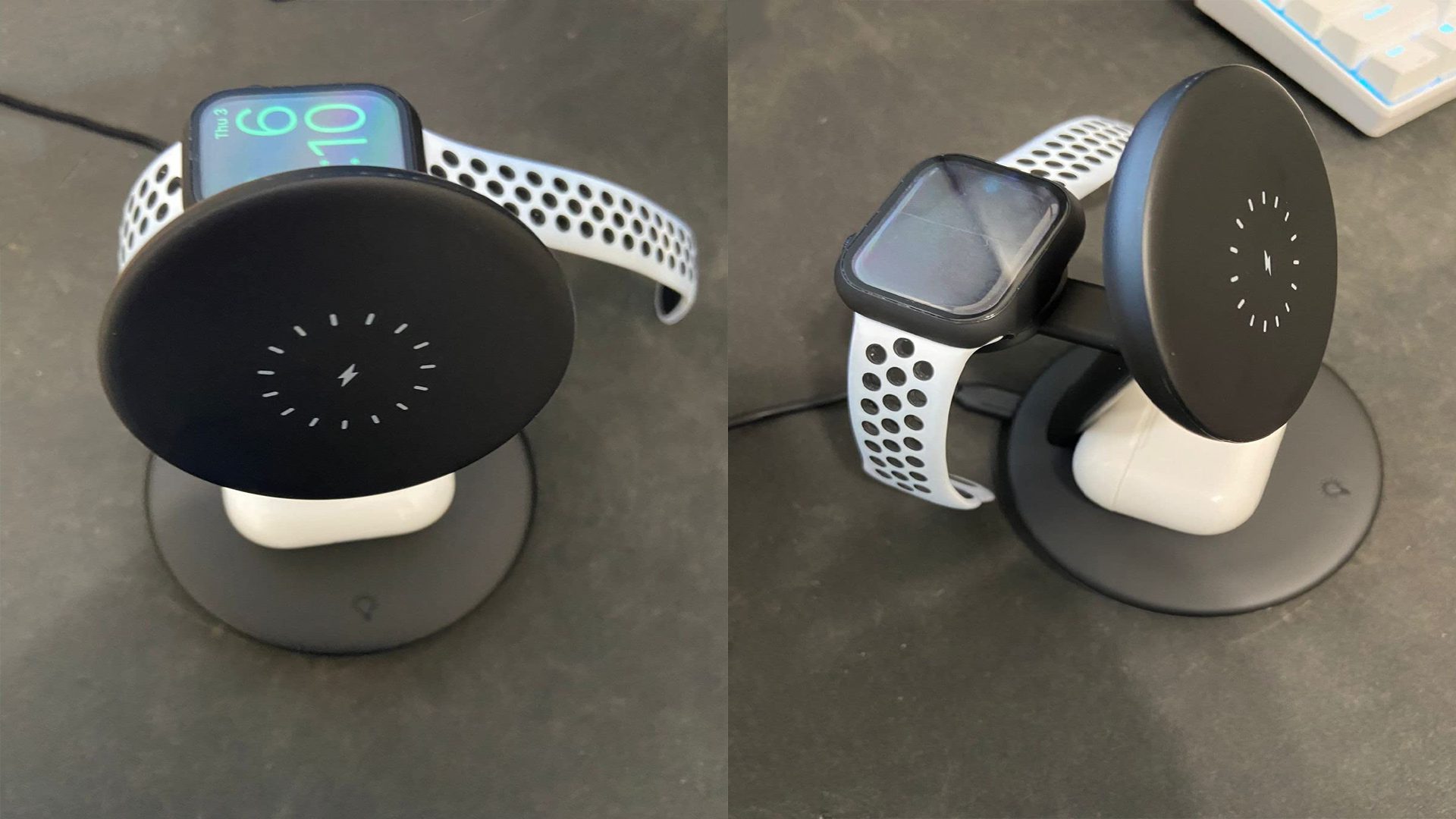 The wireless charging station contains three charging spots respectively for your iPhone, Apple Watch, and AirPods. Putting all of them in one place makes it easier to keep your desktop or nightstand tidy. The PEXXUS 3-in-1 Magnetic Wireless Charger Station is designed in a way that the Apple Watch is hidden behind your iPhone. That is not exactly a bad thing if you're looking for a 3-in-1 charging device that takes up less space on your desk.
PEXXUS Wireless Charging Station employs state-of-the-art magnet technology to achieve a "Snap Charging Experience" The strong magnetism offers automatic attachment and correct alignment when your electronic devices approach the magnetic charger. Of course, it's capable of holding your iPhone horizontally or vertically at the same time securely.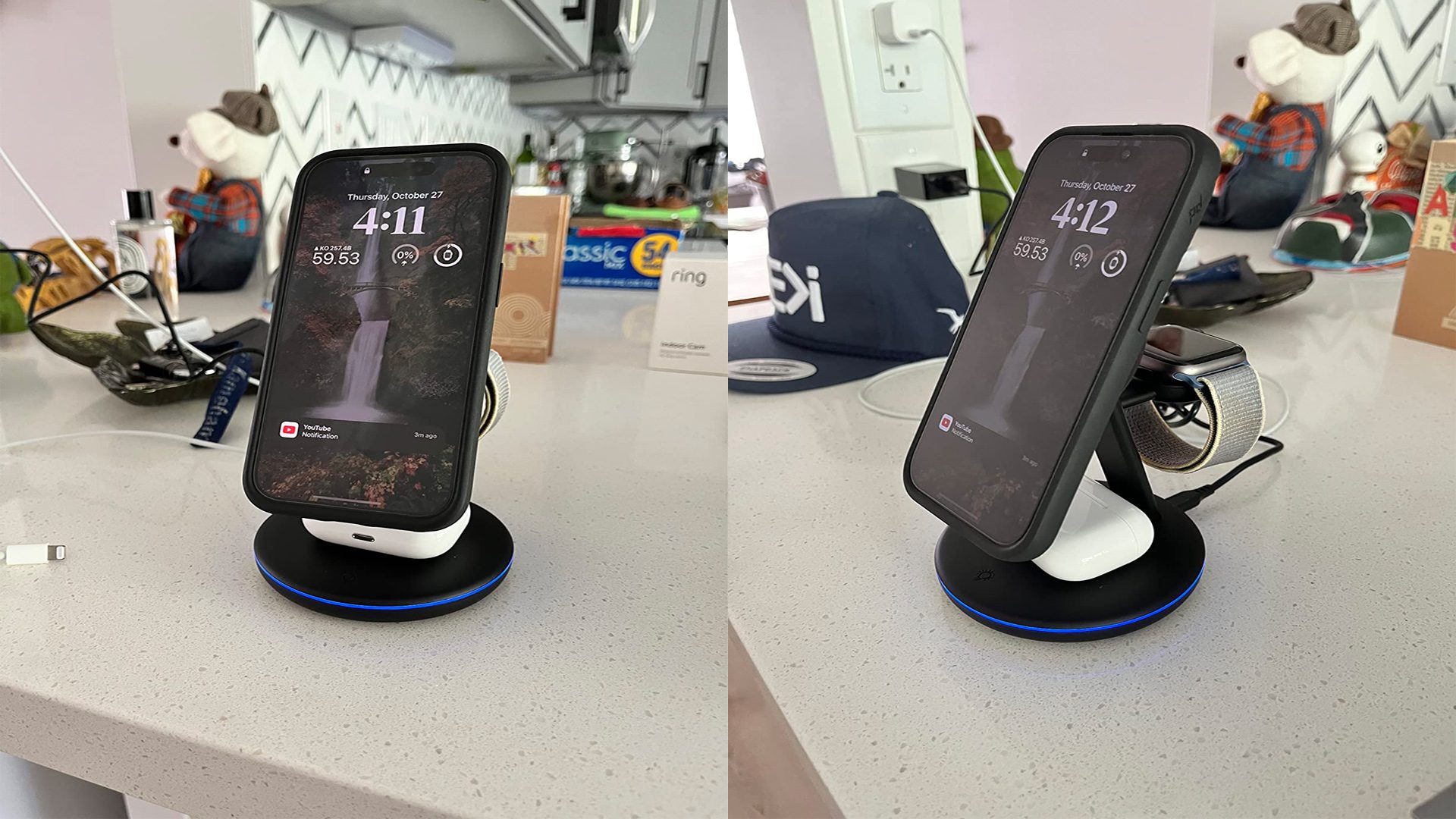 There is a nice LED light ring around the base, that will turn green to signal when it is charging. Rest assured, the light can be turned on/ off just by touching it, so it's friendly to those who are sensitive to light. On the back, there is a single USC-C port that takes in input power of either 5V/3A or 9V/2A, or 12V/1.5A. Of course, it is highly recommended that you use a fast charger in order to get the maximum charging speeds.
PEXXUS – Charging And Usage
Like many third-party accessory makers, PEXXUS developed its own magnetic charger that is compatible with MagSafe after the iPhone 14 was announced. However, the magnetic charger used by PEXXUS supports 15W charging like Apple and licensed products.
The wireless charger for AirPods is a standard 5W Qi charging pad. while Apple Watch with 3W. This device is compatible with iPhone 14/ iPhone 14 Pro/ iPhone 14 Pro Max/ iPhone 14 Plus/ iPhone 13/ 13 Mini/ 13 Pro/ 13 Pro max/ 12/ 12 Mini/ 12 Pro/ 12 Pro Max, iWatch 7/ SE/ 6/ 5/ 4/ 3/ 2/ 1, AirPods 3/ 2 Pro.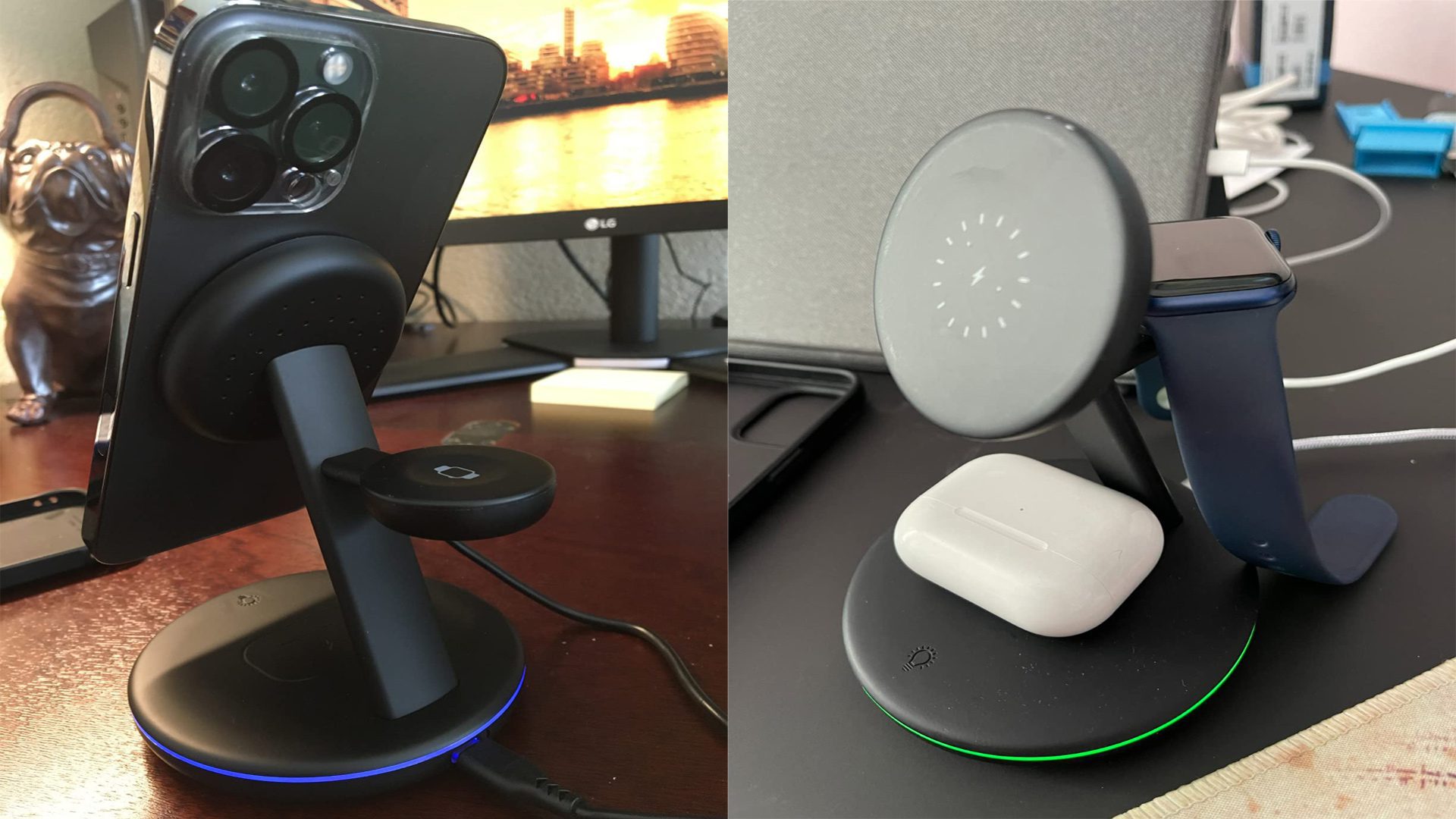 For Safety Matters, PEXXUS Does it Better with Boast CE, FCC, and RoHS, this mag-safe charger provides a fast and reliable charging experience for your mag-safe devices; Built-in newest chipset can self-monitor the charger to detect any over-current, over-voltage, and over-temperature issue, safeguarding your electronic devices from harm; In addition, the specially designed heat dissipation holes can keep both the charger and your devices at a low-temperature level to avoid over-heating.
Final verdict
The PEXXUS Magnetic Wireless Charging Stand is beautiful and complements most office decors. As with all simple devices, the 3-in-1 Magnetic Wireless Charging Stand does what it does and it does it exactly in an intended way. So if you need to charge your collection of Apple devices, and you count among them an iPhone, an Apple Watch, and a pair of AirPods with wireless charging, then this charging stand will meet your needs.
3-in-1 magnetic chargers for Apple devices aren't cheap. PEXXUS on the other hand works well at about $40 on Amazon, That means it could be argued that this charging stand is an $80 iPhone and AirPods charger with a portable $40 Apple Watch charger. This makes the price a little more bearable and offers a unique feature not available to other stands of this kind.