The COLMI is one of the most famous and best producers of original smartwatches, After your success with the COLMI P28 are back with a new upgrade from Colmi P Series under the name COLMI P28 Plus.
This new smartwatch came with a modern design with better hardware and features. It's equipped with a 1.69-inch full touch screen, there is also heart rate monitoring, multiple sports modes, and most importantly it's built-in with a speaker and microphone to make calls, all in one place for just $30, So stay with me for more details.
COLMI P28 Plus Smartwatch Features
Built-in Speaker And Microphone
1.69-inch screen, 240*280 resolution
235mAh Battery
Customize Watch Faces
Heart Rate And Blood Pressure Monitor
28 Multi-Sport Modes
Design And Build Quality
The COLMI P28 Plus Smartwatch features a modern and elegant design that is somewhat similar to other Colmi P series watches. It's designed in a square shape with a 2.5D curved screen on the sides, and a rotatable button works for page-turning, zoom in/out, back, turn on-off. Also has holes in the left part, which is the built-in speaker and microphone.
Overall, The body is slim and light made of high-quality aluminum alloy with 43.5mm large size and 11mm thickness and lightweight of not more than 45g, which makes it comfortable on the wrist. Also, it comes in 4 colors the same as the strap that I will mention shortly. Although it's a budget smartwatch, you will notice the manufacturing quality is amazing, it's one of the best budget smartwatches under $30.
If you look at the back, there's nothing out of the ordinary, just a plastic cover with magnetic charging pins and a heart rate sensor.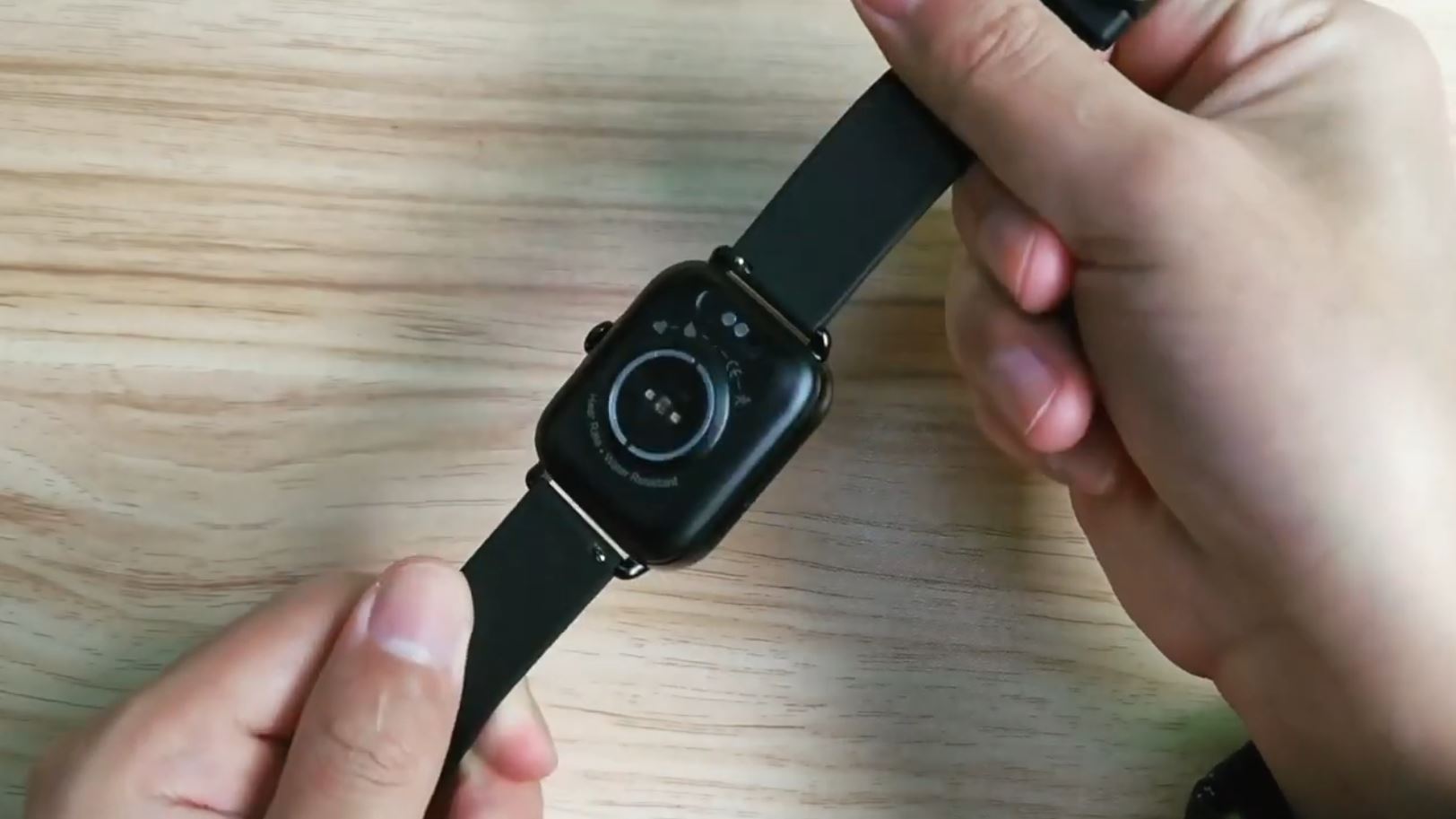 The strap on this watch is made of silicone, lightweight and comfortable on your wrist for long-lasting use. You can use any 20mm belt because it's removable and is available in 4 main colors, Black, Pink, Gold, and Silver but you can purchase colored and other shapes straps separately.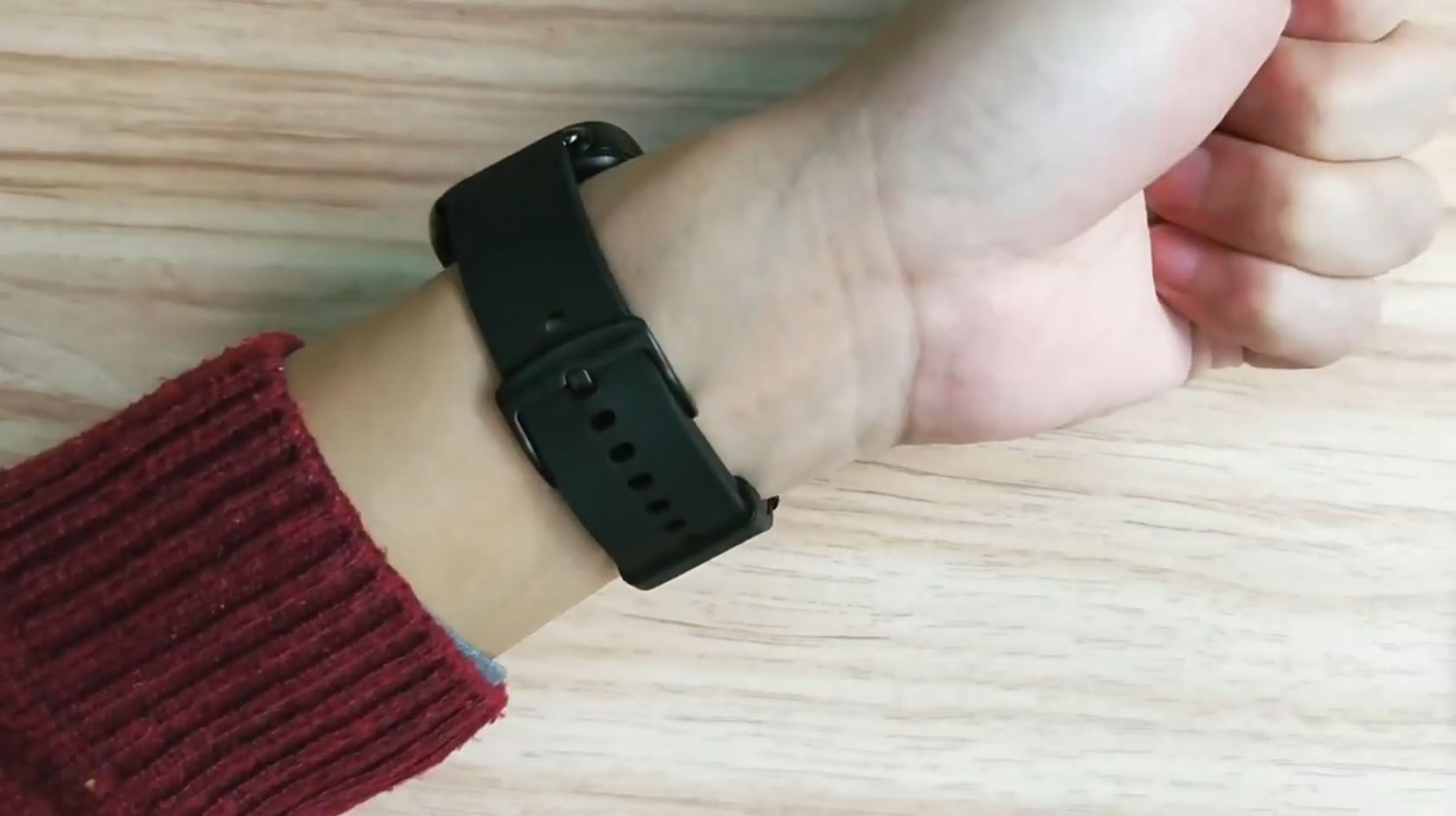 Display Screen
The screen in COLMI P28 Plus is my favorite type, it's a large 1.69 inch IPS screen, and 2.5D curved to display better content and details, and because it has a resolution of 240*280 pixels, the resolution is normal, but it's better than some models at the same price, however, sharpness Colors are so good even when you wear them in the sunlight you won't be alarmed by them.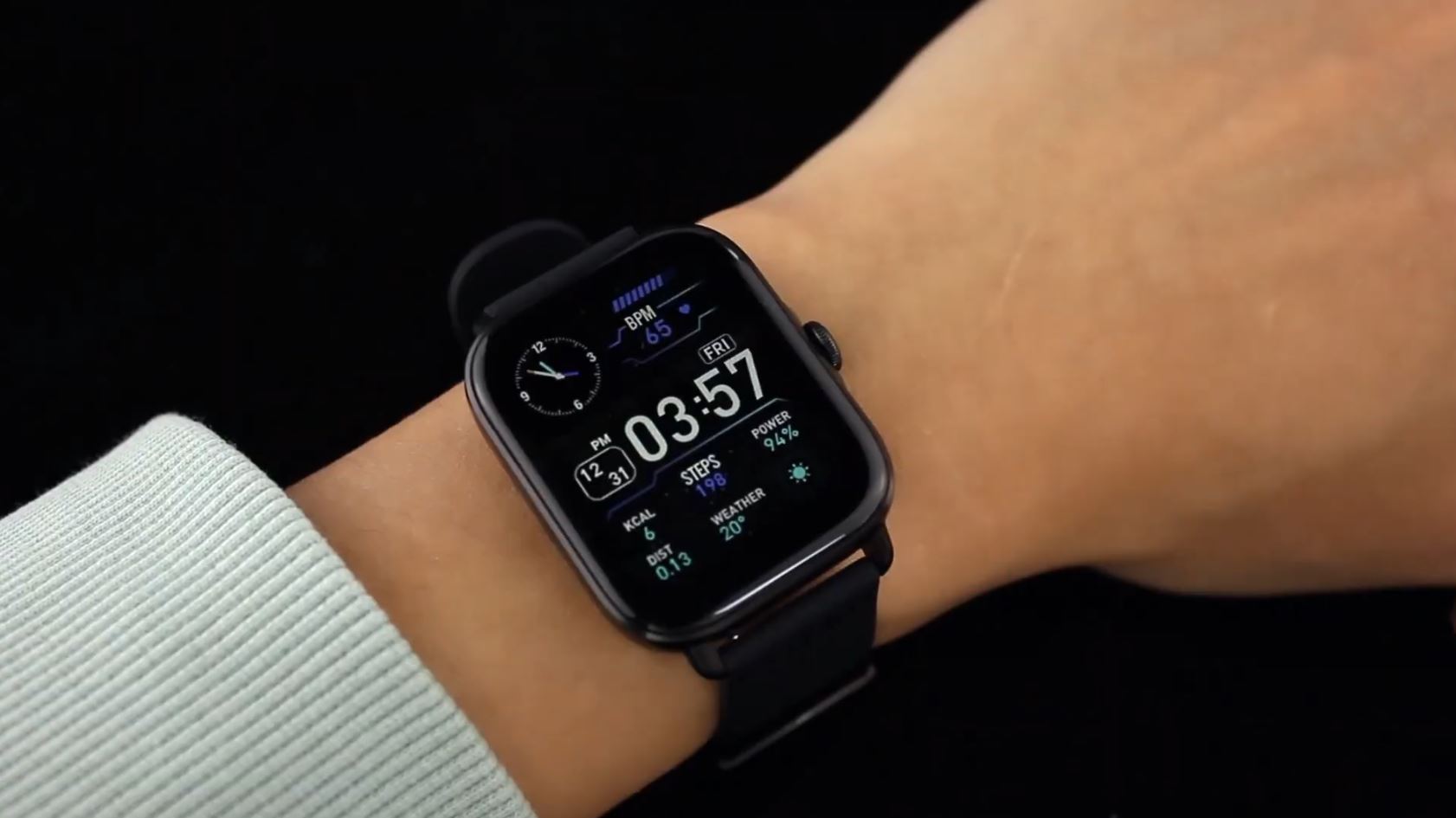 In fact, the reason to make this type of screen my favorite, because this screen is large and takes over most of the interface, and with narrow sides, and this is only found in smartwatches with higher costs. This is in contrast to other inexpensive smartwatches that contain a touch screen, which comes in the middle of the screen and has rather wide sides, such as the COLMI P8, which had a smaller screen size and was in the middle of the body.
COLMI P28 Plus Watch faces
COLMI P28 Plus has some different pre-installed watch faces, and you can switch between them easily by rotating the button or via the Da Fit app with over 100 online watch faces are available for download with customization capabilities for a variety of colors, retro, analog, 3D, and digital faces or you can even use live wallpaper or your own photos as a watch face background or any wallpaper
Waterproof
With IP67 waterproof in COLMI P28 Plus Smartwatch, which means you can wear it while washing hands or on rainy days, although the watch is not approved for swimming but is good for wearing for activities, so, I do not recommend swimming or exposing it to hot water or saltwater to avoid any harm Long or short term and with the presence of a speaker and a microphone, avoiding it will be good, however, if it's exposed to water in any way, I prefer to dry the watch after immersing it in water and before operating it so that it stays with you for as long as possible.
Under The Hood
COLMI P28 Plus adopts the built-in Realtek RTL8762CK chip and secondary chipset JieLi AC6963A for faster response speed and faster data processing, and it is powered by 64KB RAM and 64MB ROM so that the watch can be equipped with more watch faces, for your health, this device has a LC11 heart rate sensor and SC7A20 G-sensor, so this wearable device manages your movement in every moment and takes good care of you throughout the day.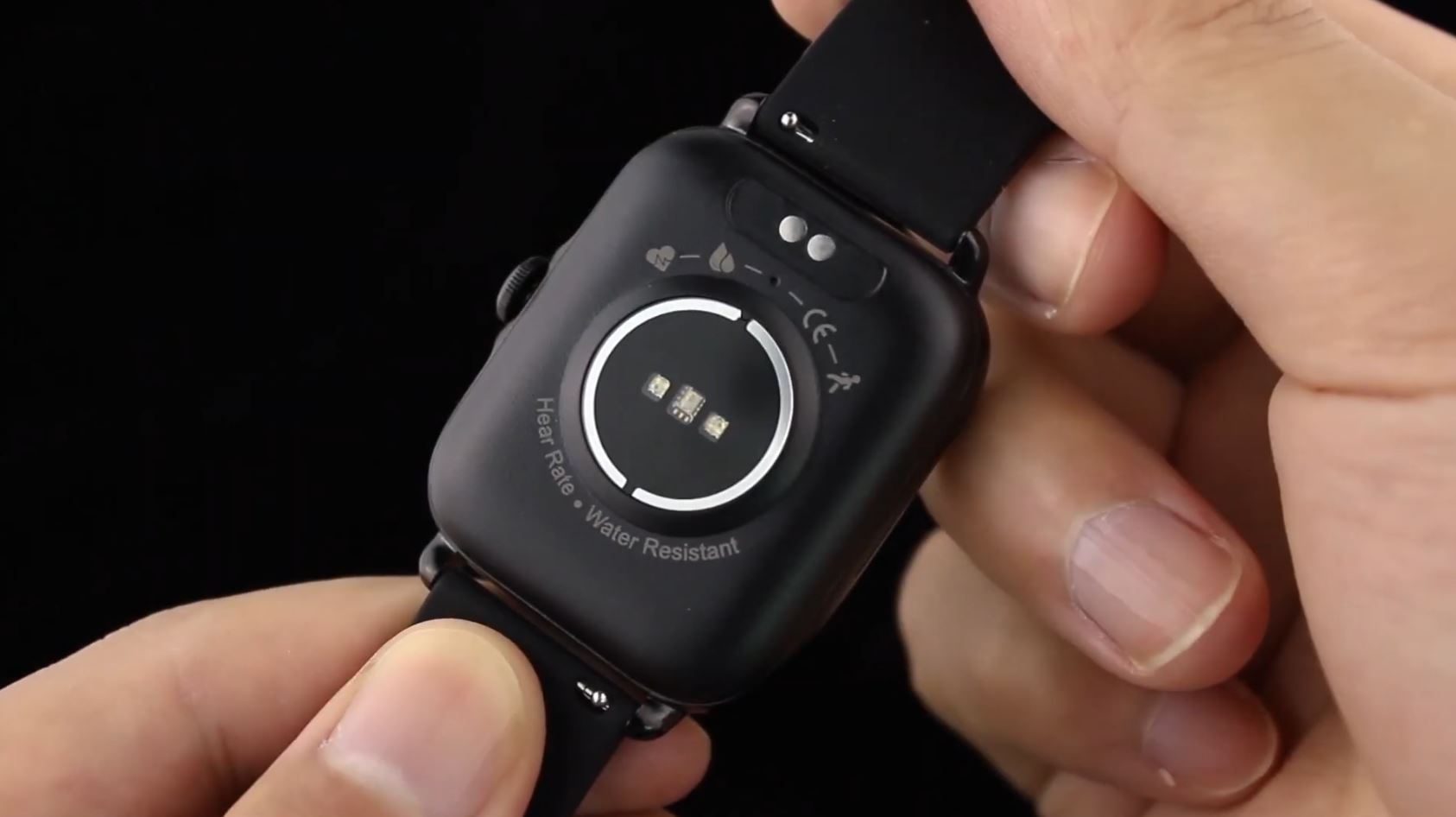 This watch has Bluetooth 5.0 support Bluetooth calls, it makes the watch with low power consumption and a more stable connection. And this version is compatible with Android 5.0 and later or iOS 10.0 and above so that the connection is through the Da Fit app. However, it does not have its own GPS sensor, which means that you will always have to use it with a smartphone to get your location.
How To Use The COLMI P28 Plus
So far, The COLMI P28 Plus Smartwatch runs a very easy-to-use platform, and the touchscreen navigation is responsive.
You can access a quick menu when swiping from the top to the bottom that enables you to change the screen brightness, the ability to do not disturb, and the flashlight, Bluetooth and you will find the quick access toggle switch to go to the settings.
By swiping from the left, you can find a list of icons to smartwatch functions, such as weather, heart rate, shutdown, sports modes, etc, all in bubbles icons like the one we find in Apple watches, and by rotating the button on the right, you can zoom in and out of the icons.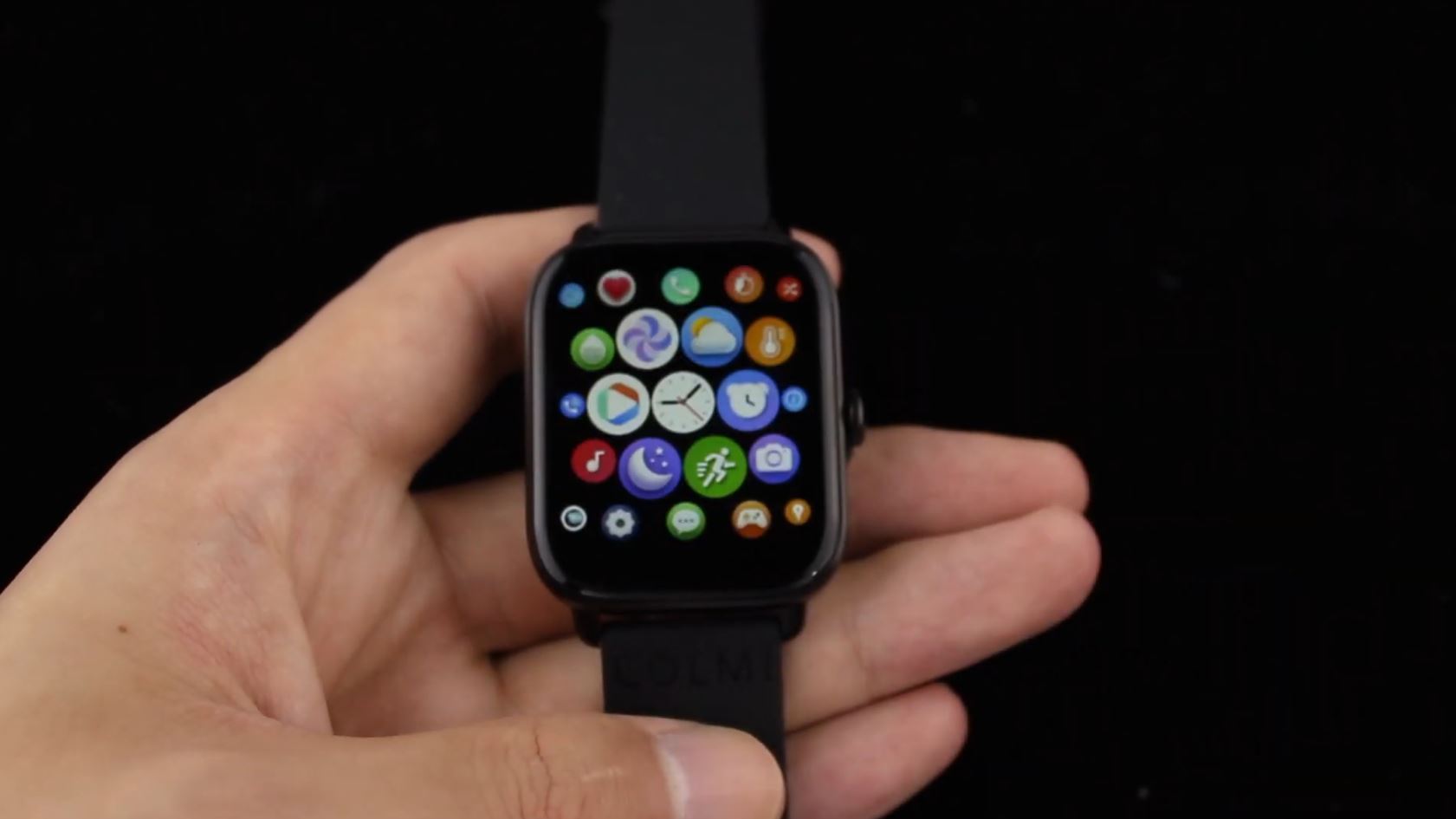 When swiping from the right, basic functions such as heart rate and sleep monitoring, steps, and sports modes will arrive, as well as sports modes and other features that include capturing photos from the watch and playing music.
Regarding scrolling from the bottom, you will see a list of Sports Modes, Health Monitor, notifications, messages, settings, and more.
COLMI P28 Plus Health & Fitness Functions
The COLMI P28 Plus smartwatch is equipped with 28 sports modes to suit any of your needs, including treadmills, Outdoor running, Walking, Football, Badminton, Tennis, Basketball, Cycling, Outdoor Cycling, Elliptical machine, On foot, Yoga, Strength Training, Trekking, Free training, and more.
Apart from the sports features, you can monitor your heart rate in real-time to check whether it's beating normally or not and monitor sleep to measure your total light sleep, deep sleep, and wake time to provide you with an analysis of your sleep patterns, monitor blood pressure and measure oxygen levels in the blood in real-time to improve The ability of the cardiovascular system to prevent the low level of oxygen in the blood that causes discomfort to a person's body.
Although it has a LC11 sensor that is more accurate than other sensors, this does not mean that the measurements provided by this smartwatch are completely accurate, as most of them are largely unreliable because it's not a medical instrument, but it makes you very aware of your health and physical performance. unfortunately, this is often the case with watches in this price range.
Da Fit App For COLMI P28 Plus Smartwatch
COLMI P28 Plus Smartwatch is compatible with the Da Fit app for Android and iOS to help you set up and use the watch more efficiently. You can take advantage of some features, stats, and functions without any additional equipment, such as steps taken, sleep hours, heart rate measurements that you have taken, and all this is done by automatically integrating watch data on the home screen with the ability to view it on a daily or monthly basis. Also set exercise goals and encourage yourself to complete your exercise amount each day through a simple and easy-to-understand operating interface with sections like steps, distance, notifications, alarm, and more.
The app is downloaded through the Google Play Store or the Apple App Store, so you know it is a safe app.
How To Pair The COLMI P28 Plus To a Smartphone
It's easy to connect the COLMI P28 Plus to your phone. After installing the Da Fit app and setting it up, all you have to do is log in and click on the + sign at the top of the app's home page, and it will search and find the watch in seconds, and you must do that by searching for the Bluetooth and the watch through the app's Bluetooth and not Via Bluetooth in the phone. When this is done, it will communicate directly and without any complications, with automatic setting of time and language or update of the smartwatch software if available.
Feature of Making Calls On COLMI P28 Plus Smartwatch
The most important feature of the COLMI P28 Plus Smartwatch is that it is equipped with a microphone and a loudspeaker, so it not only displays an incoming call but can also receive and dial calls are made via Bluetooth directly from the watch with HD speakers and mic, and of course, this is done with your smartphone, you will not need to take your phone out of your pocket to answer a simple call.
Notifications
Notifications are clearly visible and easily readable. You can choose lots of different popular apps to give notifications on COLMI P28 Plus Smartwatch, for example, WhatsApp, Twitter, Facebook, Instagram, SMS, WeChat, and other apps are supported.
You can also access call or message notifications with many other functions such as stopwatch, alarm, calendar, reminders to not sit, remote control of the camera to take selfies with a touch on the screen, and you can control the music from your watch only.
COLMI P28 Plus Battery Life & Charging Time
In the end, the COLMI P28 Plus offers a decent battery that is considered good in this category with a capacity of 235mAh, which is larger compared to the 190mAh battery in the COLMI P28, although this gives you up to 7 days of normal use with continuous heart rate tracking. And 25 days in standby mode, it all depends on the type of activities you do, and it must be charged with a magnetic charger cable and it takes about two hours.
Differences between COLMI P28 & COLMI P28 Plus
| | | |
| --- | --- | --- |
| | COLMI P28 | COLMI P28 Plus |
| Body | 44.1*35*8.5mm | 43.5*36*11mm |
| Screen size | 1.69-inch | 1.69-inch |
| Graphic interface | Old | New |
| Screen resolution | 240*280 | 240*280 |
| Battery Capacity | 190mAh | 235mAh |
| Battery Life (Standby time) | 15 days | 25 days |
| Connectivity | Bluetooth 5.0 | Bluetooth 5.0 |
| App | Da Fit | Da Fit |
| Sport modes | 8 | 28 |
| Water & Dustproof | IP67 | IP67 |
| Sensors | GR5515 | Realtek RTL8762CK |
| Bluetooth Call | – | Built-in Speaker And Microphone |
| Weight | 45g | 45g |
COLMI P28 Plus Smartwatch
Magnetic charger
User Manual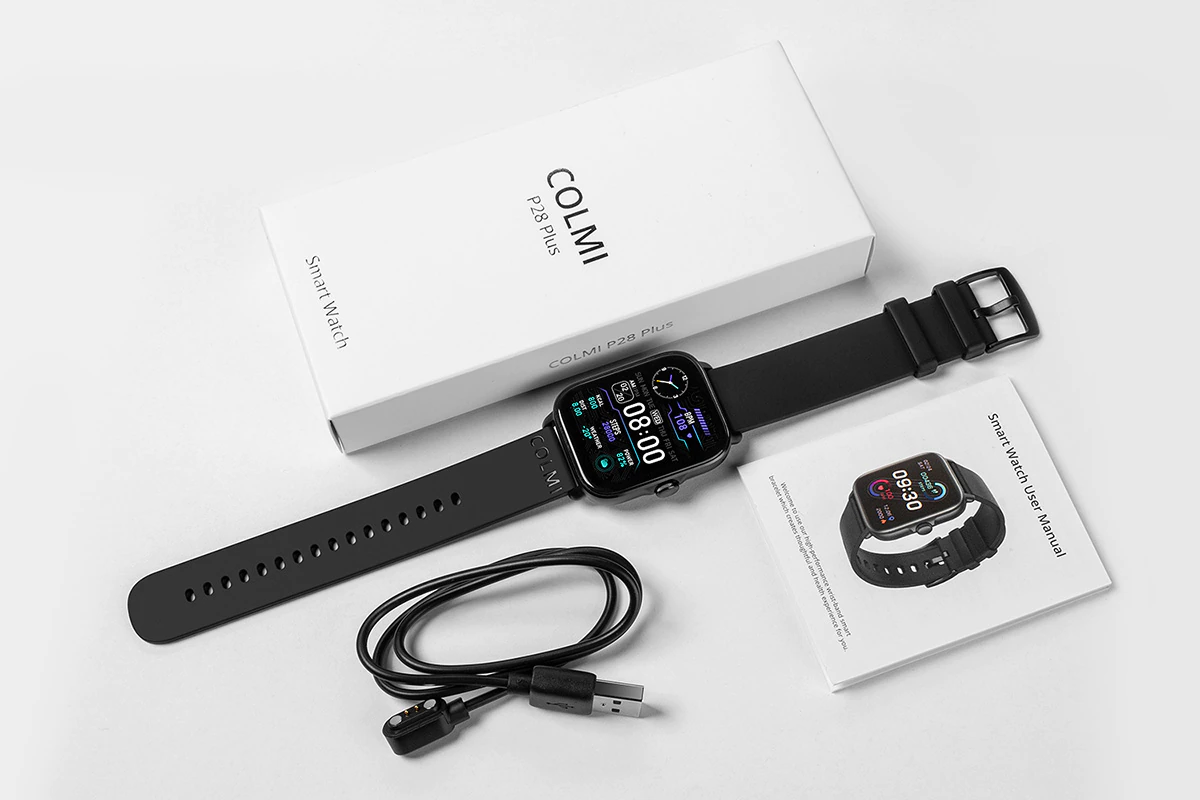 COLMI P28 Plus Smartwatch Specifications
Brand
COLMI
Model
P28 Plus
Color
Black, Pink, Silver, Gold
Chips
Realtek RTL8762CK + JieLi AC6963A
Memory
256KB + 64Mb
Bluetooth Version
BT 5.0
Compatible OS
Android 4.4, iOS 9.0 or above
Operating Mode
Full Touch + Side Key
APP Name
Da Fit
App Language
English, Russian, Spanish, Portuguese, German, Italian, Czech, Japanese, French, Polish, Thai, Swedish, Ukrainian, Finnish, Dutch, Vietnamese, Arabic, Korean, Danish, Bulgarian, Bokmal, Norwegian, Hindi, Indonesian, Pashto, Simplified Chinese, Traditional Chinese.
Watch Language
English, Russian, Spanish, Portuguese, Japanese, Korean, German, French, Arabic, Ukrainian, Italian, Indonesian, Thai, Chinese, Traditional Chinese.
Multi-sport Modes
Support (28 Kinds Sport Modes: treadmills, Outdoor running, Walking, Football, Badminton, Tennis, Basketball, Cycling, Outdoor Cycling, Elliptical machine, On foot, Yoga, Strength Training, Trekking, Free training, and more.)
Waterproof
IP67
Sensor
SC7A20 G-sensor, LC11 Heart Rate Sensor
Screen
Size: 1.69 inch
Display Type: IPS
Resolution: 240*280 RGB
Battery
Battery Capacity: 235 mAh
Standby Time: Up to 25 days
Using time: About 3-7 days
Charging Time: About 2.5 hours
Charging Type: Magnetic charging
Case and Band
The shape of the dial: Square Shaped
Band Size: 20mm ( Removable watch strap)
Band Material: Silicone
Case Material: Alloy
Weight: about 43g
Body length: 44mm
Body width: 37.4mm
Device thickness: 11mm
Other Features
Multi-language support, alarm, breath training, weather forecasts, wrist detect, countdown, timer, stopwatch, phone alarm and notifications, incoming calls, message notifications, calendar notifications, app notifications, find my phone, target reaching reminder, remote music control, remote photography, battery level display.