The Haylou GT1 Pro Wireless Earbuds from manufacture by Xiaomi, and the upgraded version of the previous GT1, it has true wireless stereo (TWS) technology meaning that you can transmit the L channel (left) and the channel R (right) separately audio in both earbuds to deliver a truly wireless experience for gaming, streaming, music. With features including good battery life, Noise reduction, Voice assistant like Siri, Google Assistant, and Xiaomi Xiaoyi, the GT1 Pro offers clear calling and good sound quality like sound on high-class headphones, it's the best option in value for money. I can say it is one of the best competitors of Redmi AirDots from where sound quality and price. so, If you want to know more, then read the Haylou GT1 Pro Review.
Features of Haylou GT1 Pro
Bluetooth 5.0 wireless earphones will give you stable transmission, fast speed transmitting, and low power consumption.
800mAh Charging Battery: The earbuds have 26 hours of battery life with charging dock to secure music with you. And 800mAh large battery capacity built-in the charging dock, providing you enough battery when you go out for a long journey.
Battery Display: The charging case has a built-in battery display function. The case will display the real battery capacity of the earbuds through the indicator light.
7.2mm Driver with AAC: The dynamic driver is only 7.2mm. With AAC and high-polymer resin diaphragm, the built-in driver offers punchy bass, soft but clear mids, and highs. Thanks to Hifi stereo, your calling would be like a face-to-face talk.
Siri and Google Assistant: Double touch either earbud to wake up the voice assistant. Support Xiaomi from Xiaomi, Siri, and Google Assistant.
DSP and Dual Mic Noise Isolation: Embedded Bluetooth chipset supports the DSP module to offset parts of noise. With the built-in NC system, GT1 Pro offers clear-talking while improving sound quality.
To explore other options, read about the Bluedio Fi New Low-Budget Wireless Earbuds Review.
Design:
The ergonomic design of these Haylou GT1 Pro earbuds allows you to wear them for a long period of time without falling off, even when you are running, with only 3.9g lightweight to a single earbud so, Both of these buds feel great in the ear and I can wear for a while without any pain! And it comes in black made of ABS with rounded corners and it comes with two pairs of ear tips of different sizes.
And the control is only a touch on the body so, no physical button to press and of each headphone, there is a microphone and LED indicator which lights up when pairing happens and while charging, the touch is extremely sensitive, and to change the song or answer on-call, just make soft touch on them and it's done.
The case comes with black matte plastic with a battery charge connecter on the back, and fon the front of the case has four LED indicators to help battery state checking, with only 35 grams weight, Although it's fairly large with dimensions 6.20 x 4.00 x 2.72 cm and it's portable and fit into the pocket.
Moreover, they are IPX5 certified so that you can wear them on a rainy day or at the gym. Along with three different sizes of ear tips, you can focus on workout without fear of sweat damage and falling out.
Sound quality of Haylou GT1 Pro:
In this price class, Sound quality is one of the main factors for choosing headphones, for this Xiaomi Haylou GT1 Pro TWS Earbuds Equipped with AAC (Advanced Audio Coding) and 7.2 mm to delivers punchy bass and soft, clear mid-highs sound. So, The sound is good and balanced, I just wish there was a little more bass. But overall they are great earbuds especially when you consider the price.
Besides, the DSP noise-canceling technology and Hi-fi stereo sound ensure you immersive music and calling experience. And Tuning Technology, enhancing low-frequency sound performance so that you can enjoy the best quality sound on a budget category.
when it comes to watching videos. On both iPhone and Android, videos play without noticeable audio delay, even in the always-challenging YouTube or Netflix app on iPhone. Nevertheless, he performed well. but unfortunately, there is a noticeable delay in the sound while playing games.
The phone call quality of the GT1 pro is also the best among the different Haylou's. It reduces noise from your surroundings steadily. Your voice sounds loud and clear, although noise can still make your voice a little low. Overall, the GT1 pro performs perfectly acceptable for earbuds this size and price.
Haylou GT1 Pro Buds pairing:
The Xiaomi GT1 Pro TWS Earbuds offer strong compatibility with both, IOS and Android devices and adopt with a Bluetooth Wireless 5.0 Technology for stable and strong transmission. And you can enjoy music in a 10-meter distance without obstacles.
Pairing the Haylou GT1 Pro earphones with a device it's easy when taking them out of the case. the two buds pair to each other very quickly and presenting just one entry to Bluetooth transmitter (GT-1 Pro_R) on any Android or IOS device. They also work separately.
Touch control:
The touch control is straightforward, allowing you to listen to music or make a call and switch between them with one click. The built-in microphone allows you to answer the call with two-click at any time, A single tap plays or pauses the music, two taps on the right side advance a track, two taps on the left one makes you return a song and three taps to call the voice assistant such Siri, Google assistant, and Xiaomi Xiaoai. And unfortunately, It's not possible to change the volume on the earpieces only through your phone.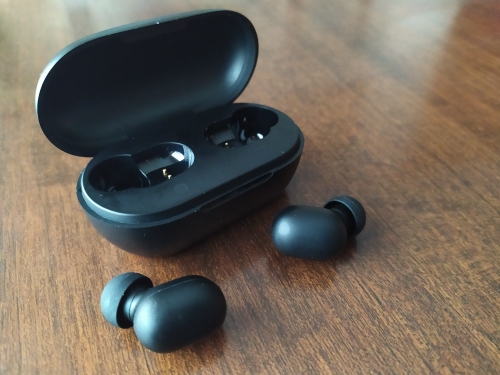 How to earbuds turn off automatically:
The Haylou GT1 Pro earbuds turn off automatically after been put into the charger case without turning off them manually. After taking out the earbuds, turn on them and they will pair automatically. Of course, you can single-use the left or the right and you can choose either earbud to want use when only using one. and also we could just use one of them and charge the other one. Which is pretty practical.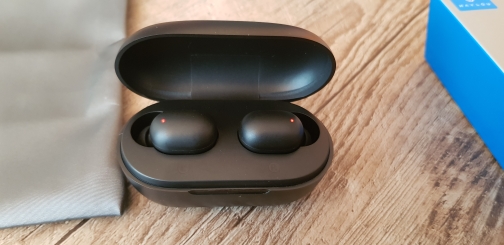 Battery life:
GT1 Pro TWS offers about 26 hours of use on a single charge thanks to the 800 mAh charging case requires 1.5-2 hours to fully charge and provides an extra 5.5 times charge for earbuds, Unfortunately, the connector is a micro USB, so this charging is slow and takes some time. The Four white LEDs indicate the percentage battery level of the charging case. The earbuds with 43mAh can last 3-4 hours on one charge which is more than enough for a long workout or casual stroll.
LED indicators about battery level:
The case also has a new feature in the charge indicator lights. letting you know how much power you have left from four lights that act as both a progress indicator and a charge meter. Open and close the case, and the lights will tell you how much power you have left.
4 LEDs light: 75 to Full Battery.
3 LEDs light: 50 to 75%.
2 LEDs light: 25 to 50%.
1 LEDs light White and flashing: from 0 to 25%.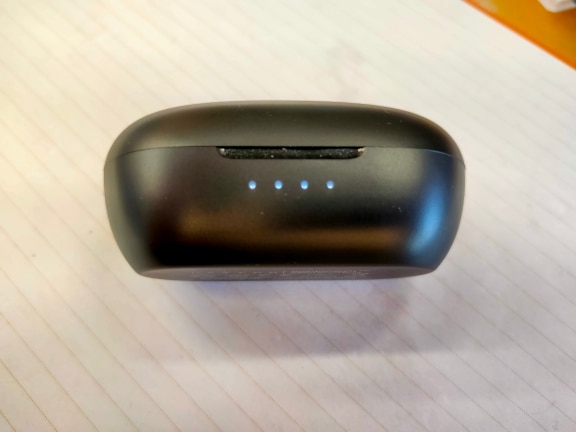 How to reset GT1 Pro??
Step1: Turn off the earbuds: Press and hold both earbuds for 5 seconds, RELEASE after blink red.
Step2: Press and hold both earbuds for 15 seconds, DO NOT release when earbuds alternately flash white and red for the first time. RELEASE after the second time.
Step3: Put earbuds back into the charging case.
Step4: Take earbuds out from the charging case. Both earbuds blink white firstly, then the right blinks white slowly. Then the earbuds are waiting for a pairing device.
Haylou GT1 Pro Price And Availability:
The Haylou GT1 Pro is currently available on Banggood for $33.99 and Gearbest for $25.99 and Aliexpress store for just $20.12. This is a very good price So, I highly recommend the GT-1 Pro for those who need some TWS earbuds that handle the basics perfectly, don't miss out on this great deal. And to view its price or buy it, you can access the offer by clicking on the store icon.
You may also like BlitzWolf BW-FYE8 TWS Earphone Review – All You Need to Know.
Pair of Earphone
Charging Box
Chinese / English Manual
Data Cable
3 x Pair of Ear Cap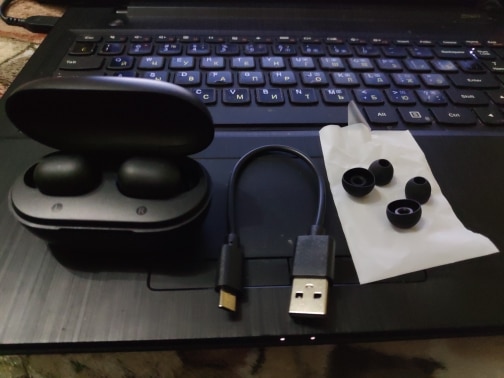 Specification of Haylou GT1 Pro
General
Brand: Haylou
Type: In-Ear
Material: ABS
Features: Portable
Main Functions: Answering Phone, Bluetooth, HiFi, Microphone, Song Switching, Sweatproof, Volume Control, Waterproof
Product Details
Application: Running,Sport,Working
Cable Length (m): 0m
Compatible with: iPhone,iPod,Mobile phone
Connectivity: Wireless
Frequency response: 20-20000Hz
Impedance: 32ohms
Sensitivity: 110 dB
Charging Time: 1.5h
Music Time: 3.5h
Standby time: 300h
Extended Function
Bluetooth: Yes
Version: V5.0
WIFI: No
Battery Information
Battery Type: Built-in
Capacity(mAh): Battery capacity earphone 43mAh, charging bin 800mAh
Dimensions and Weight
Product weight: 0.0350 kg
Product size (L x W x H): 6.20 x 4.00 x 2.72 cm / 2.44 x 1.57 x 1.07 inches