Today we came back with an analysis of the new Haylou RS3 smartwatch produced by one of the many sub-brands of the Chinese giant Xiaomi's ecosystem. This smartwatch is suitable for daily use and for the sports user as it carries 14 different sports, 30-day battery life, 24h heart rate monitoring, sleep monitoring, built-in Sony GPS, Waterproof 5ATM, all of this you get with stylish design and amazing AMOLED screen at a price average-cost is no more than $80. So let's take a look at how it performs, and whether it is worth buying.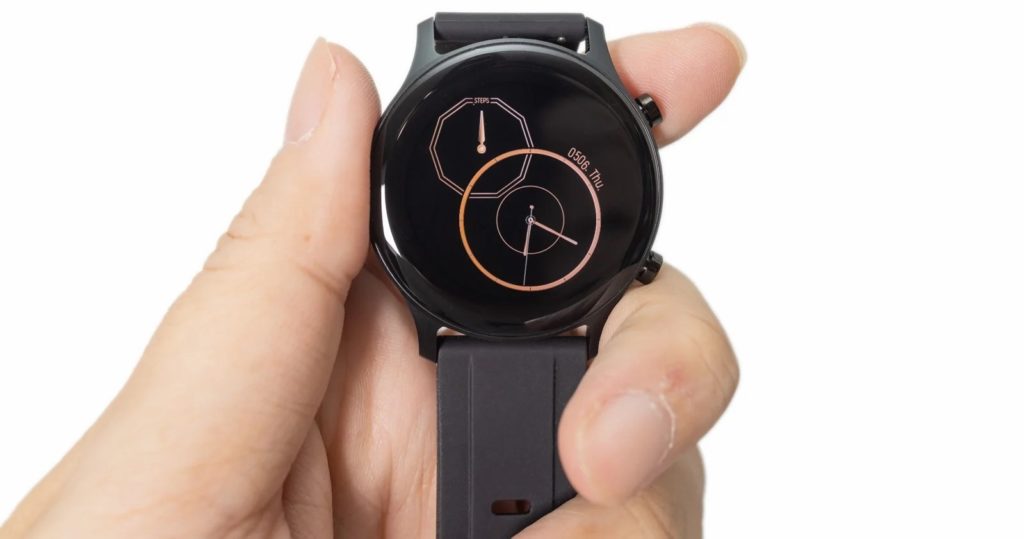 Haylou RS3 Smartwatch Features
1.2 inch AMOLED Display
Precise Sony GPS
Customize Watch Faces
Bluetooth Version 5.0 / NFC
Heart Rate and Blood Pressure & Oxygen Monitor
14 Multi-Sport Modes
230mAh Battery
5ATM Waterproof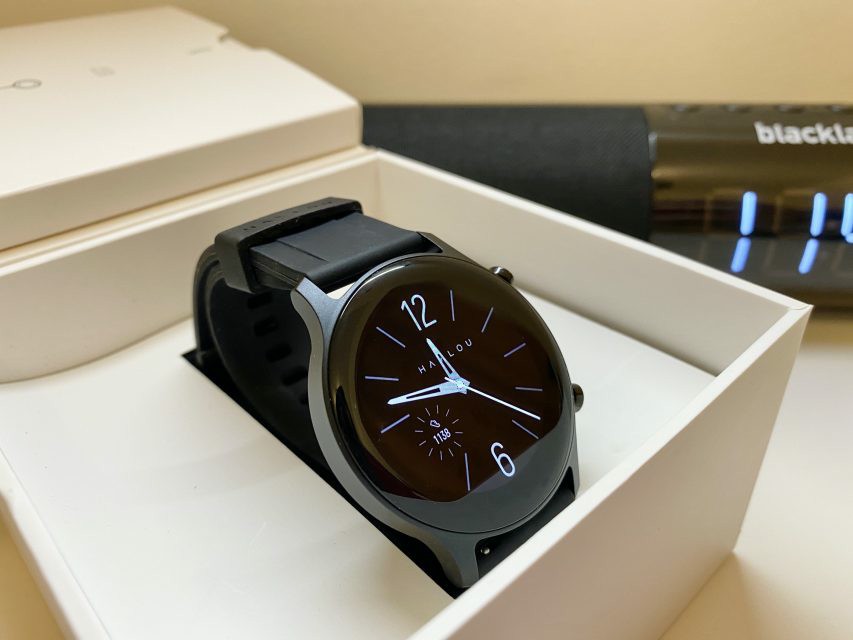 Design And Build Quality:
The Haylou RS3 smartwatch has a circular design that looks very clean and elegant in black suitable for both men and women and features a smooth 3D curved glass in a metal frame with a brushed finish, giving it the look of an expensive watch, and it really is, And it has two physical buttons that turn on-off and enter the menu. Overall, the body is slim and light and made of high-quality aluminum alloy which makes it lightweight at just 46 grams and therefore comfortable on the wrist.
If you look at the back, there's nothing out of the ordinary, just a plastic cover with magnetic charging pins and a heart rate sensor.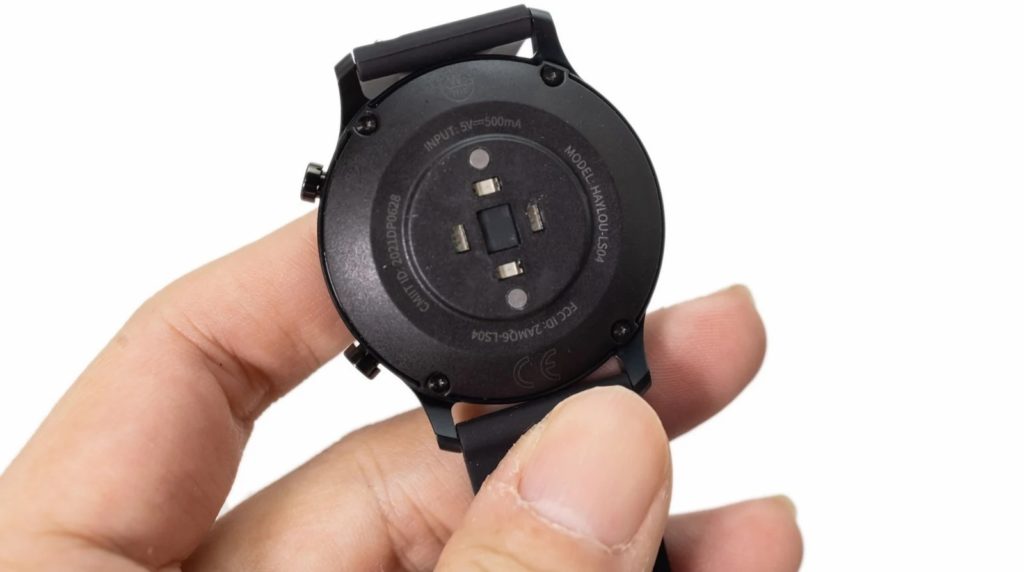 The strap on the Haylou RS3 smartwatch is made of silicone, lightweight and comfortable on your wrist for long-lasting use. You can use any 22 mm strap because it's removable and available in many colors Black, Blue, Green, Red, Gray, Orange, Yellow, Bluish, Purple, Pink, White, and you can buy another strap from metal or leather separately.
Display Screen:
The screen in Haylou RS3 is one of the strengths of this smartwatch and one of the best in its class, it has been upgraded from a normal TFT panel to a stunning AMOLED panel 1.2 inches with a 2.5D curved surface and resolution of 390 x 390 pixels, to display good content and details.
The sharpness of the colors, the brightness, and the saturation are amazing, there is nothing to complain about, especially when wearing them in the sunlight is nothing to worry about. Yes, the screen is good on all sides, but you have to pay more, so you have to think carefully, is it worth it.
In fact, not everything is sweet, such smartwatches come with the touch screen in the middle of the interface and the sides are a bit wide, it's not a big drawback, most affordable smartwatches come like that.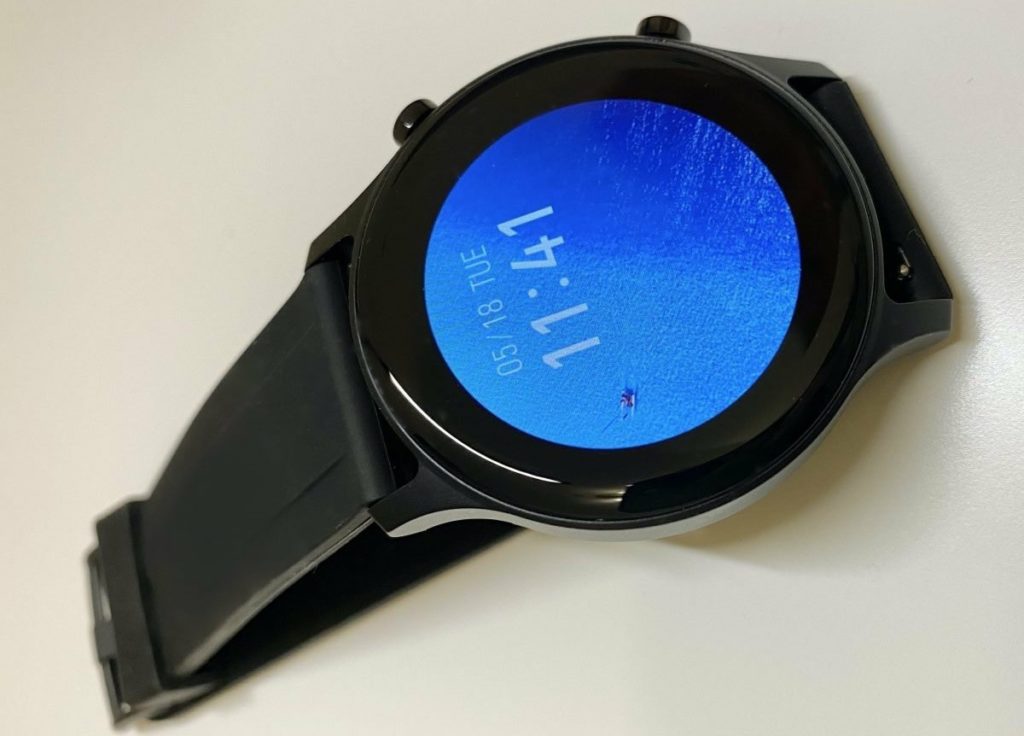 Haylou RS3 Watch faces:
In terms of Watch faces, Haylou RS3 Smartwatch has 9 pre-installed watch faces, you can switch between them easily by long pressing on the home screen or via the Haylou Fun app for more watch faces with over 40 online watch faces are available for download with customization capabilities for a variety of colors, retro, analog, 3D, and digital faces or your own photos as a watch face background or any wallpaper. And with the wrist-raised feature to wake up the screen, that would be great.
Waterproof:
The Haylou RS3 is water-resistant with 5ATM protection, which is a great upgrade so you can put it on during the shower or in the pool and you can wear it when washing hands or on rainy days, and what makes this rating better than IP68 is the possibility of using the watch for swimming because it can withstand pressure at 50 meters of depth Water. And this you will not find in any other smartwatch.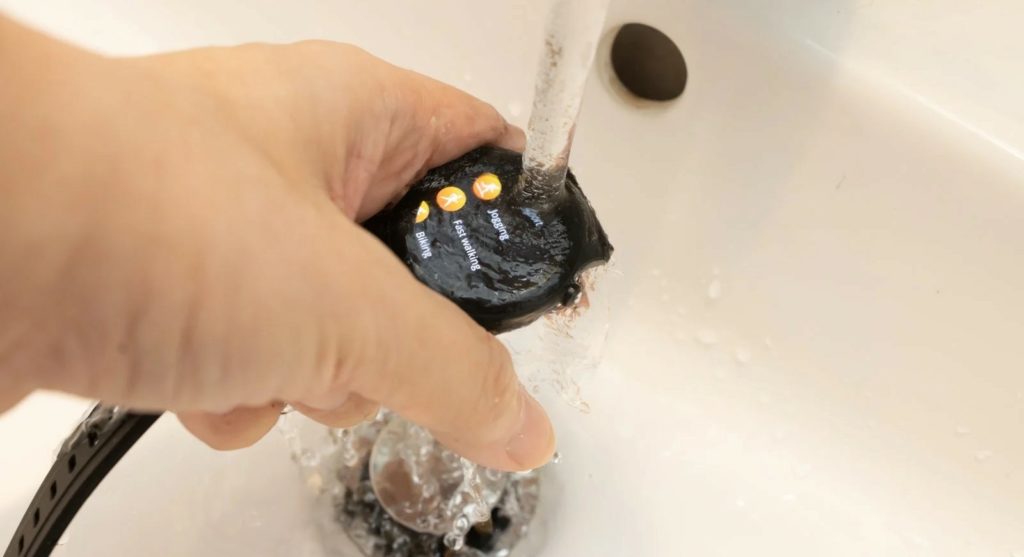 Regardless of that, I do not recommend swimming or exposing it to hot water or saltwater to avoid any harm Long or short term.
Under the hood:
When it comes to performance, Haylou RS3 Smartwatch adopts the built-in chip for faster response speed and faster data processing, For your health, this device has a Low-power dynamic optical heart rate sensor, so this wearable device manages your motion every moment and takes good care of you throughout the day.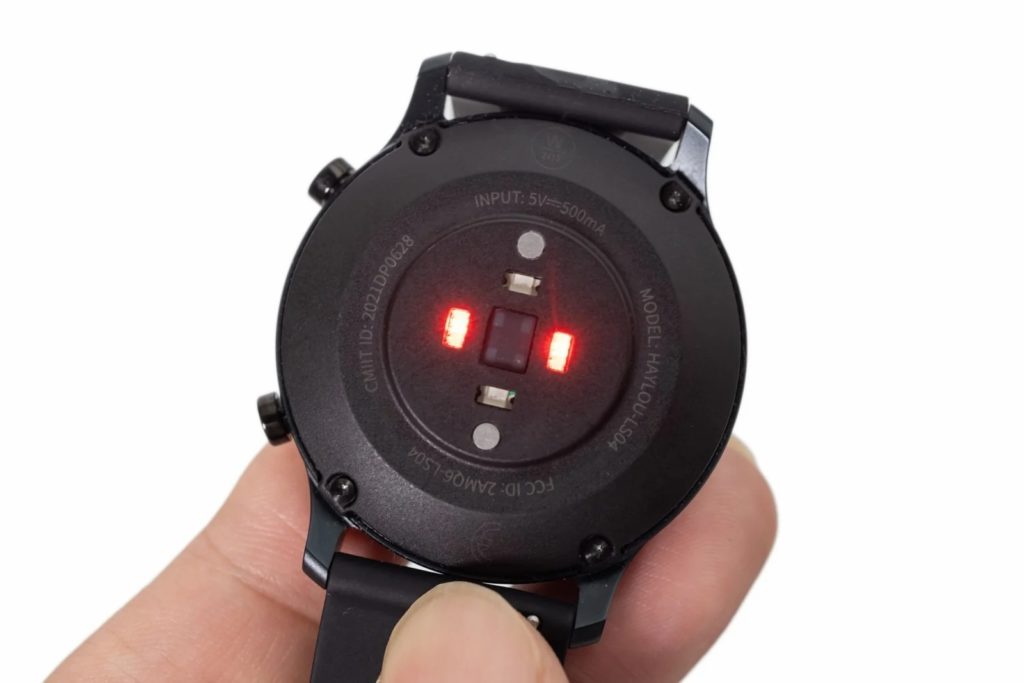 Also, has Bluetooth 5.0 for more fast and stable transmission and reception of the signal. And this version is compatible with Android 6.0 and later or iOS 11.0 and above so that the connection is through the Haylou Fun app.
In mainland China, the NFC sensor of Haylou RS3 can support local bus cards, access control cards, and Alipay scan code payments. However, the global NFC function may only be able to unlock the smart lock.
GPS On Haylou RS3:
Unlike other smartwatches, Haylou RS3 equipped with Sony's low-power and high-precision GPS module, which can accurately locate the trajectory in real-time to outdoor activities such as distance traveled, routes you take, and your location with accurate coordinates, The watch will automatically combine high-precision satellites, thus it can improve the positioning speed and tracking accuracy while running.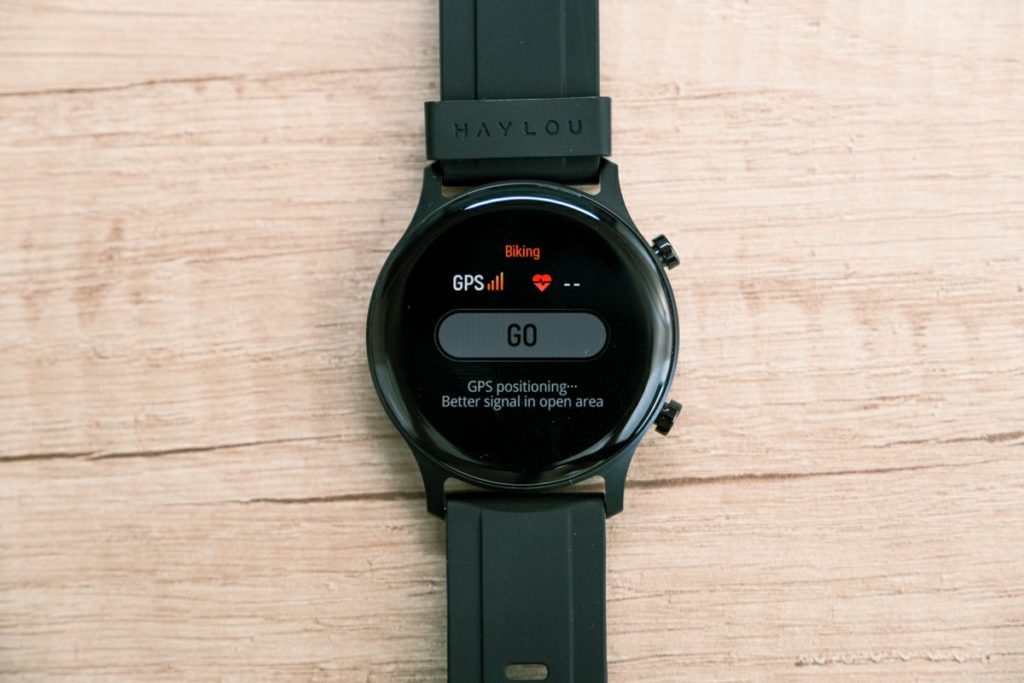 One can also do a detailed analysis of his workout with real-time, track, step, and tempo to know more about your performance, RS3 can control music playback, so you don't have to take out your smartphone to control music anymore.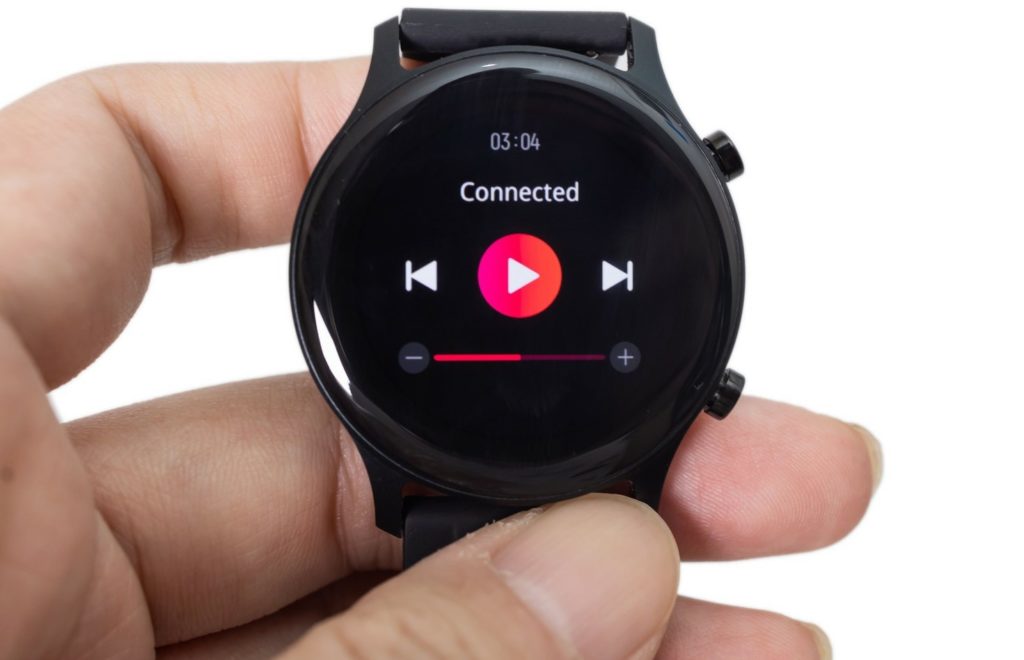 How To Use Haylou RS3 Smartwatch:
So far, The Haylou RS3 Smartwatch runs a very easy-to-use platform, and the touchscreen navigation is responsive.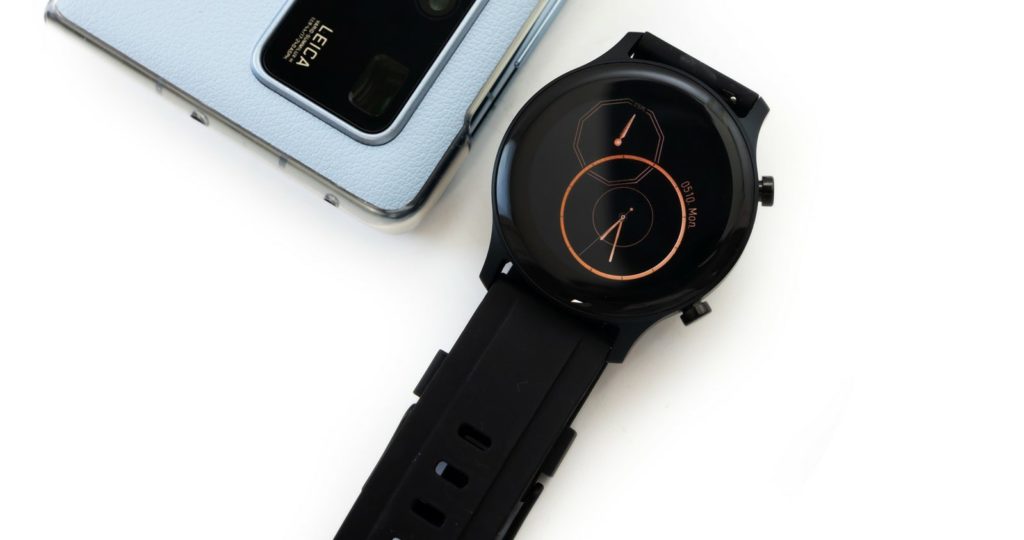 You can access a quick menu when swiping from the top that enables you to change the screen brightness, Do not disturb, Settings, Find My Phone, Time and date, percentage of your battery, and see if your phone is connected to this watch.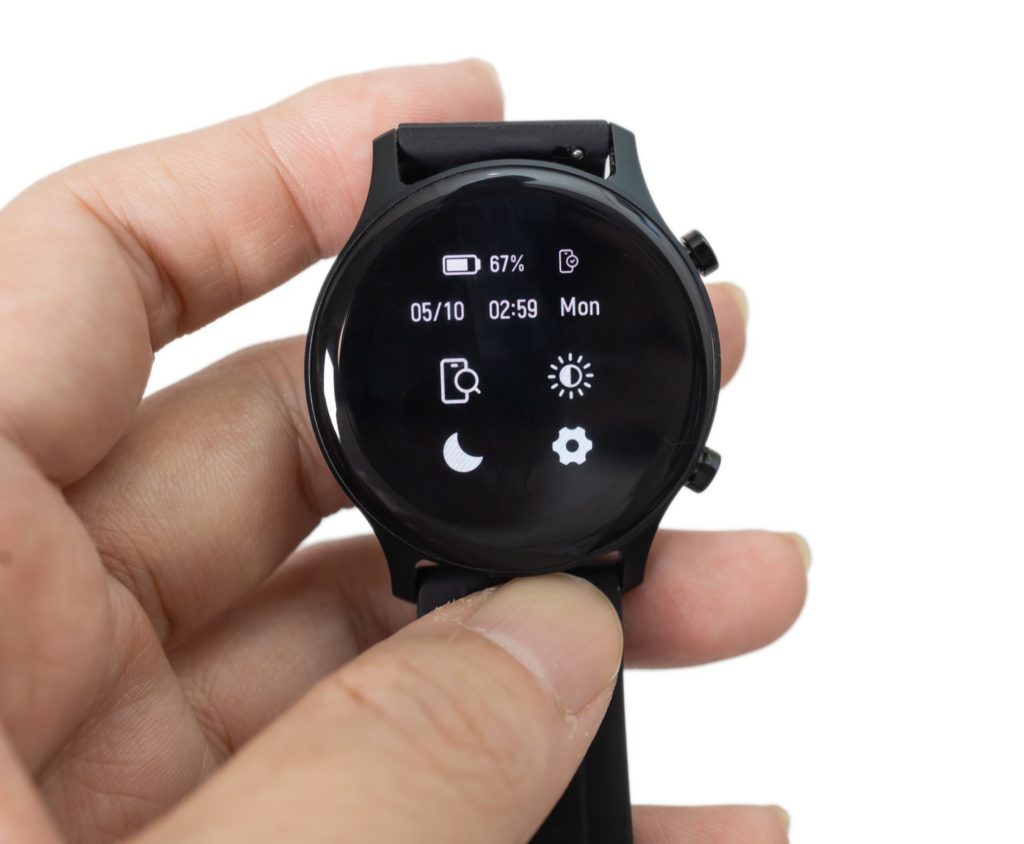 And by pressing swiping from the right, you will find shortcuts for heart rate and sleep monitoring, Pedometer, Breathing, and weather.
With regard to swiping from the bottom, you will see a list of sports modes, stats, Bpm (heart rate), SpO2 (oxygen saturation) and more.
Haylou RS3 Health & Fitness Functions:
The Haylou RS3 Smartwatch is equipped with 14 multi-sports modes to suit any of your needs, including Jogging, Fast walking, Biking, Climbing, Spinning, Yoga, Indoor running, Integrated training, Gymnastics, Basketball, Football, Rowing, Open water swimming, Swimming pool.
Apart from the sports features, Haylou RS3 built-in four optical heart rate sensors, with a professional intelligent heart rate algorithm, you can monitor your heart rate in real-time to check whether it's beating normally or not and monitor sleep to measure your total light sleep, deep sleep, and wake time to provide you with an analysis of your sleep patterns, monitor blood pressure and measure oxygen levels in the blood in real-time to improve for the ability of the cardiovascular system to prevent the low level of oxygen in the blood that causes discomfort to a person's body.
Although it has a good sensor that is more accurate than other sensors, this does not mean that the measurements provided by this smartwatch are completely accurate, as most of them are largely unreliable because it's not a medical instrument, but it makes you very aware of your health and physical performance. unfortunately, this is often the case with watches in this price range.
Haylou Fun App For Haylou RS3 Smartwatch:
Haylou RS3 Smartwatch is compatible with the Haylou Fun app for Android and iOS to help you set up and use the watch more efficiently. Unfortunately, it is not the best and does not compare with Samsung / Amazfit or Huawei apps neither in terms of appearance or even language, except that it contains the basic functions that fit this watch with a rather smooth performance.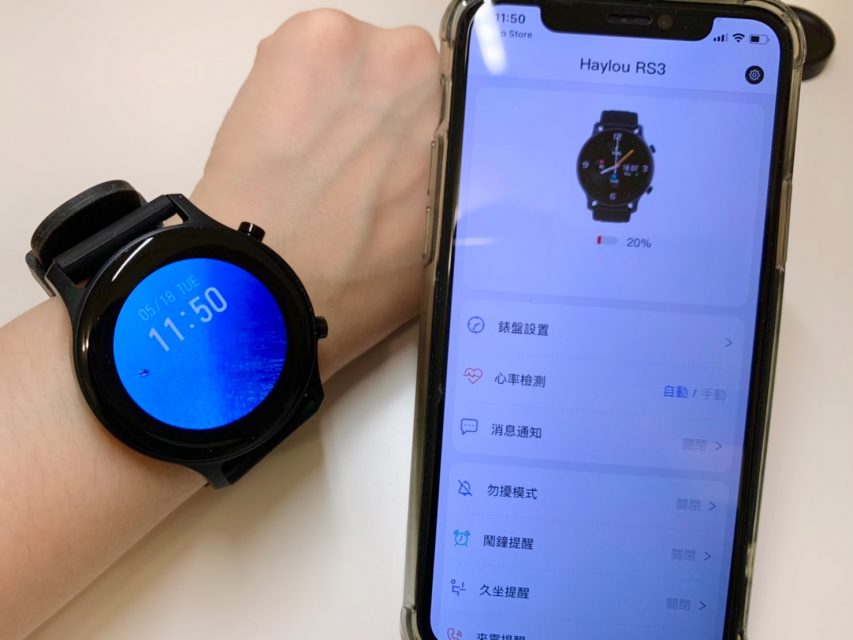 After logging into the application and selecting the RS3 device, the watch is connected to the application, and then we can select our profile (gender, age, weight, height) in order to make the correct measurements, and on the main screen, You can take advantage of some features, stats, and functions without any additional equipment, such as steps taken, sleep hours, heart rate measurements that you have taken, and all this is done by automatically integrating watch data on the home screen with the ability to view it on a daily or monthly basis. Also set exercise goals and encourage yourself to complete your exercise amount each day through a simple and easy-to-understand operating interface.
The app is downloaded through the Google Play Store or the Apple App Store, so you know it is a safe app.
And on the same application, we will be able to customize the watch face to our liking, choose apps to receive notifications from them, stable alarms, and control the music on your mobile phone directly from the watch or even take pictures, although these have become standard features in many smartwatches of late.
The app also collects sports data while using the built-in GPS receiver, so you can check your workout path. In short, the application is not bad, but it has a lot of flaws.
How to pair the Haylou RS3 to a smartphone:
It's easy to connect the Haylou RS3 smartwatch to your phone. After installing the Haylou Fun app, all you have to do is add a device by scanning the QR code of the smartwatch, and the phone will search and find the watch in seconds. In doing so, you will communicate directly and without any complications, with automatic adjustment of time, language, and weather, as well the feature of dial-up, and update the smartwatch software if available.
Notifications:
Notifications are clearly visible and easily readable. You can choose lots of different popular apps to give notifications on Haylou RS3 Smartwatch, for example, WhatsApp, Twitter, Facebook, Instagram, SMS, WeChat, and other apps are supported.
When your phone rings, your watch will vibrate so you never miss a call. And since it does not have a built-in microphone and speaker, you cannot directly use the watch to talk, or even hear voice messages, etc. But you can only not answer and end the call directly on the watch.
For messages, it is not possible to interact together, and if the message is too large, only part of it can be viewed, and obviously, we can't see the images. The notification message will keep the last eight messages on the watch, if you miss it a bit, you can also review it.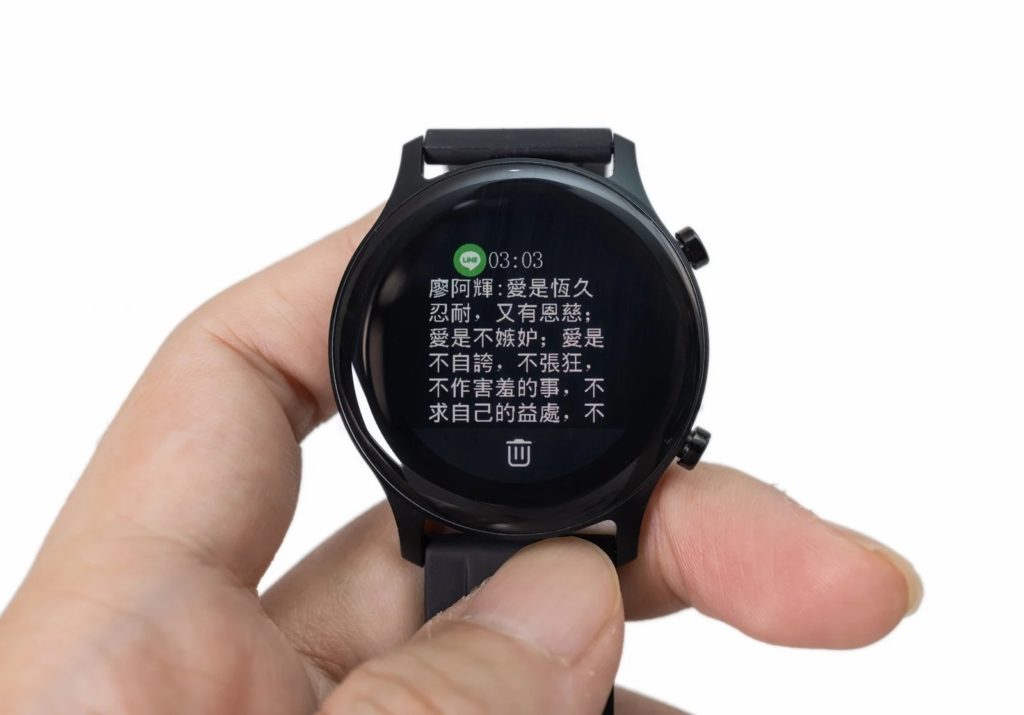 Haylou RS3 Battery Life & Charging Time:
In the end, The battery size on the Haylou RS3 is something that is considered somewhat positive, as you get 230 mAh which gives you up to 15 days of battery life. but this is done with the reduced operation of the heart monitor, turning off notifications, and other features. In any case, RS3 guarantees us at least 7 days for heavy use with heart rate monitoring and notifications turned on, and it will charge through the magnetic charger in about 2 hours.
Summary:
Let's agree that some of us think the price of the smartwatch is a bit high, but if an AMOLED screen is important to you then you will definitely enjoy it, even Sony GPS is accurate if you are very interested in sports, even there is a really amazing 5ATM water resistance level, with these specifications you won't find In any budget smartwatch, the price will naturally be this high, so if you want to buy a smartwatch that is sporty and elegant, the Haylou RS3 is worth recommending.
Haylou RS3 Smartwatch Price And Where To Buy:
The Haylou RS3 Smartwatch is currently available on the Aliexpress store and Gearbest for a very good price So, don't miss out on this great deal. And to view its price or buy it, you can access the offer by clicking on the store icon.
Haylou RS3 Smartwatch
Magnetic charger
User Manual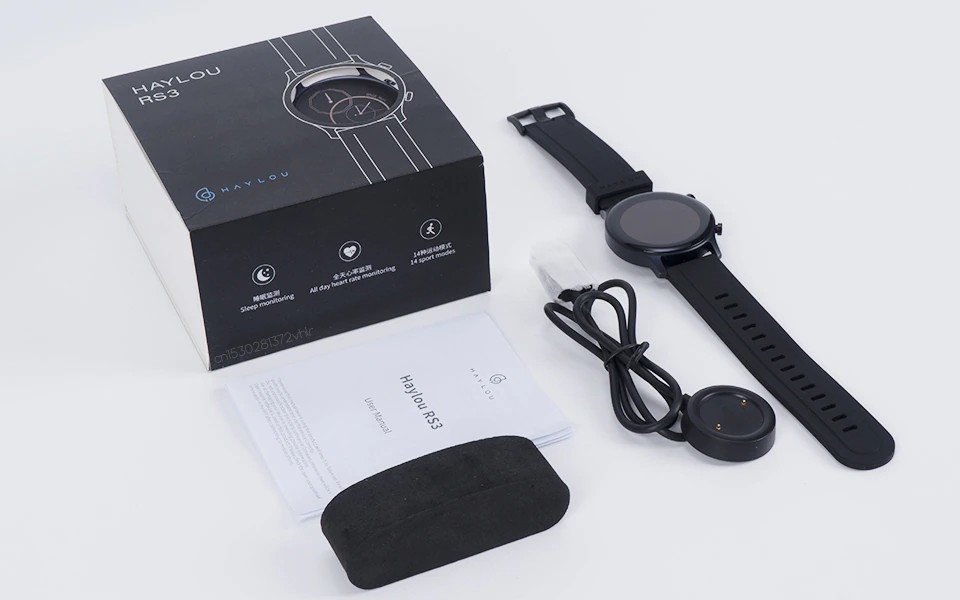 Haylou RS3 Smartwatch Specifications
Model
Haylou RS3
Color
black
Bluetooth Version
BT v5.0
Compatible System
Android system 6.0 version or above; iOS system 11.0 version or above
Operating Mode
Full Touch
APP Name
Haylou Fun
Waterproof
ATM 5
Personalized Dial
Multi-Dials
Sensor
Low-power dynamic optical heart rate sensor, acceleration sensor, Sony GPS
Sport Modes
Jogging, Fast walking, Biking, Climbing, Spinning, Yoga, Indoor running, Integrated training, Gymnastics, Basketball, Football, Rowing, Open water swimming, Swimming pool.
Screen
Size: 1.2 inch
Type: AMOLED
Resolution: 390*390
Material
Band Material: Silicone
Watch Case Material: aluminum alloy
Battery
Battery Capacity: 230mAh
Standby Time: about 30 days
Using time: About 5-7 days
Charging Time: About 1-2 hours
Charging Method: Magnetic
Size
Size: about 50.5*43.4*12.5
Strap Size: 22mm
Weight: 46g