There is no doubt that the company Oukitel has achieved great success and wide resonance during the last period, thanks to the leadership and efficiency of its phones in the market, which it puts on the market from time to time with amazing specifications and high capabilities, whether in accuracy or efficiency, in addition to its appropriate prices compared to other phones Most importantly, its commitment to building the latest in elegantly designed technology with a focus on smart devices designed to deliver great smartphone experience for a budget. The latest of these devices is the Oukitel C31 from the C series a line of budget smartphones, which offers a pretty good set of features for its money and the last smartphone we reviewed from this series was the Oukitel C21 Pro. Let's talk more about this device in our Oukitel C31 Review.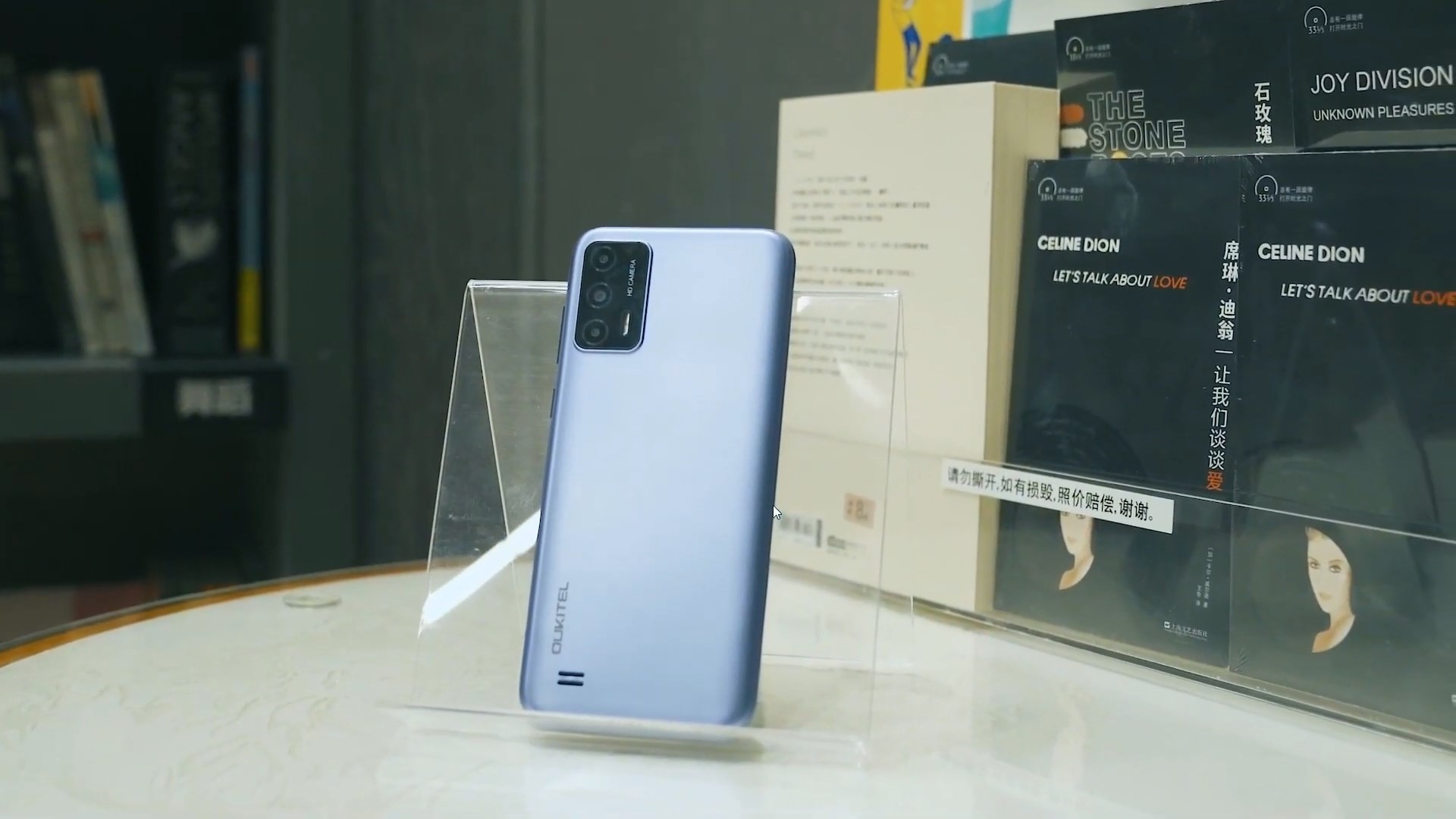 Stock Android 12
Mediatek Helio A22 Quad-Core SoC
3GB RAM + 16GB ROM
6.5″ HD+ Display
13MP Triple Camera, 5MP Front Camera
5150mAh Battery
Design And Build Quality
At first acquaintance, the Oukitel C31 makes a good impression and has got a rendition of the entry-level phone design that we have seen in several other recent phones. The smartphone has a practical design with an interesting and pleasant texture that fits comfortably in the hand and does not try to slip out, as is often the case with glossy smartphones. All the elements fit perfectly, the materials feel reliable, and everything is fine in this regard.
The design in the Oukitel C31 is beautiful with some touches that make it look like a Realme C31 and features a large screen on the front of 6.51 inches and a plastic body on the back with a length of 165mm and a width of 77.6mm with a frame that gives a kind of thickness of 9.5mm a wonderful feeling when held in your hand, despite its weight of 207g. If you ask me about the quality of the manufacturing, there is nothing to complain about it, because Oukitel is always working to provide high-quality products to users all over the world at an affordable price. So, The design and build of the C31 are very satisfying.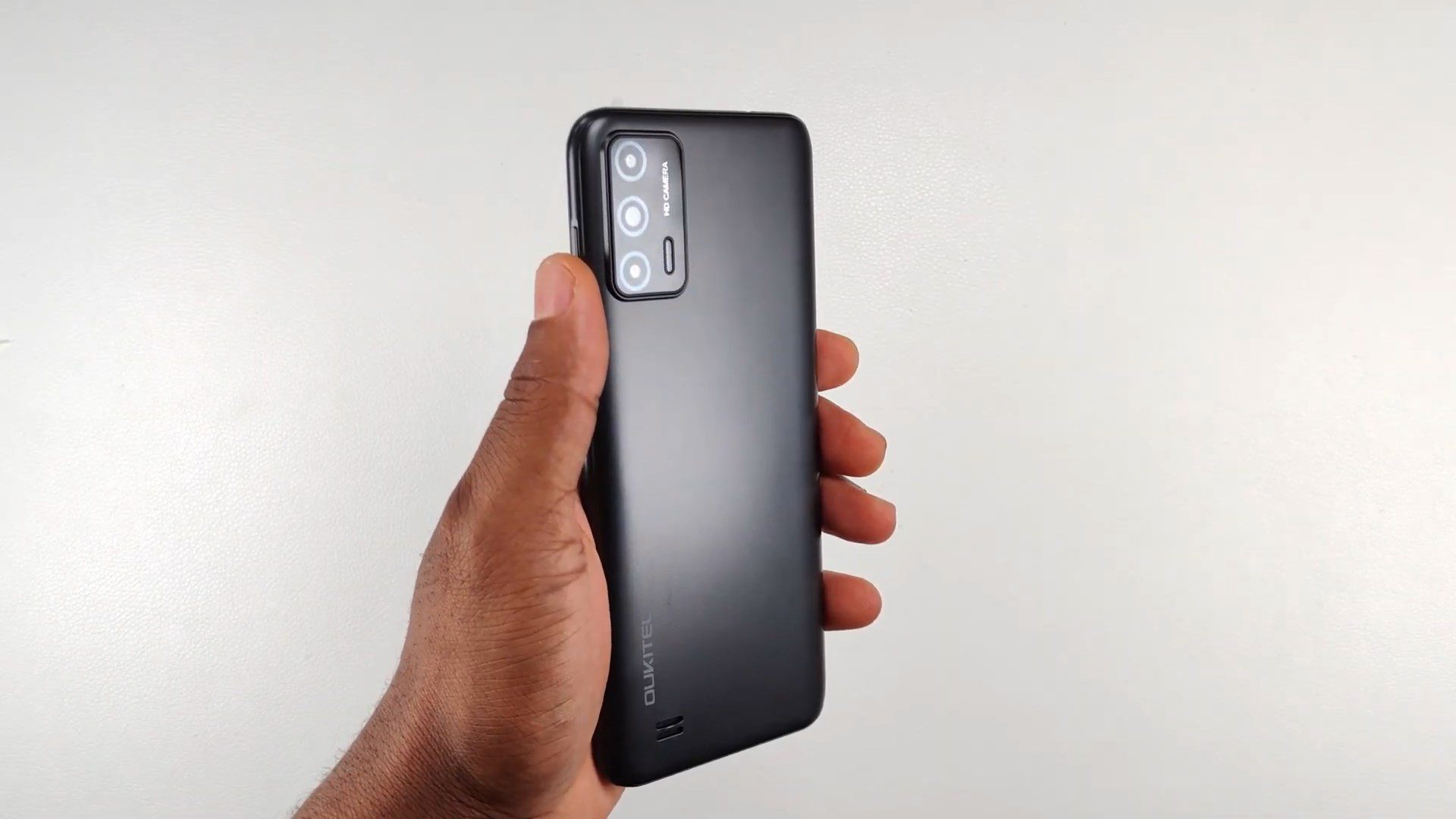 On The Front
In front of the device, you have a full screen of 6.51 inches takes 88.7% of the body. The bezels around the screen are neat, but with a prominent bottom edge. The notch for the front camera is classic Dot Drop with a 5MP camera on the middle of the top for taking selfies and video chats, which we will talk more about soon, and at the junction of the top end and the glass of the screen, there is a speaker grill. What kind of glass is used in the Oukitel C31 is unspecified.
On The Back
At the back, you have a curve and clean panel from plastic with a premier look, and came in three colors, Black, Blue, and Purple. what catches your attention is the island cameras with triple camera setup and a flashlight, and all this with a rather large bump that literally rises a millimeter above the body, under the cameras, there is the company logo and speaker. To surprise you more, the cover is removable like old phones, so this design is rather controversial, but what can you do?
Ports And Buttons
As for the ports, the phone comes with a USB Type-C port from the bottom with a microphone, while the 3.5mm headphone jack is at the top. The buttons are, as usual, the integrated power button with a fingerprint sensor, the volume button, and the dual SIM with the memory slot that you find behind the removable cover.
Oukitel C31 – Display Quality
Even in 2022, if you are talking about a low-cost Chinese smartphone, it will most likely be an LCD IPS screen, and this is what the Oukitel C31 offers, but that does not mean that it is bad because it's a large size of 6.517 inches in HD+ with an aspect ratio 20.6:9 and a modest screen resolution of 1600 x 720 gives you bright, sharp colors and wide viewing angles that are more than great for consuming content visible on YouTube or otherwise. While on a sunny day the screen does not fade and remains readable. Of course, this does not apply to direct sunlight. At certain angles, you can notice color distortion and a decrease in contrast, viewing angles aren't great either. However, during standard work with the device, everything is quite fine and there are no issues.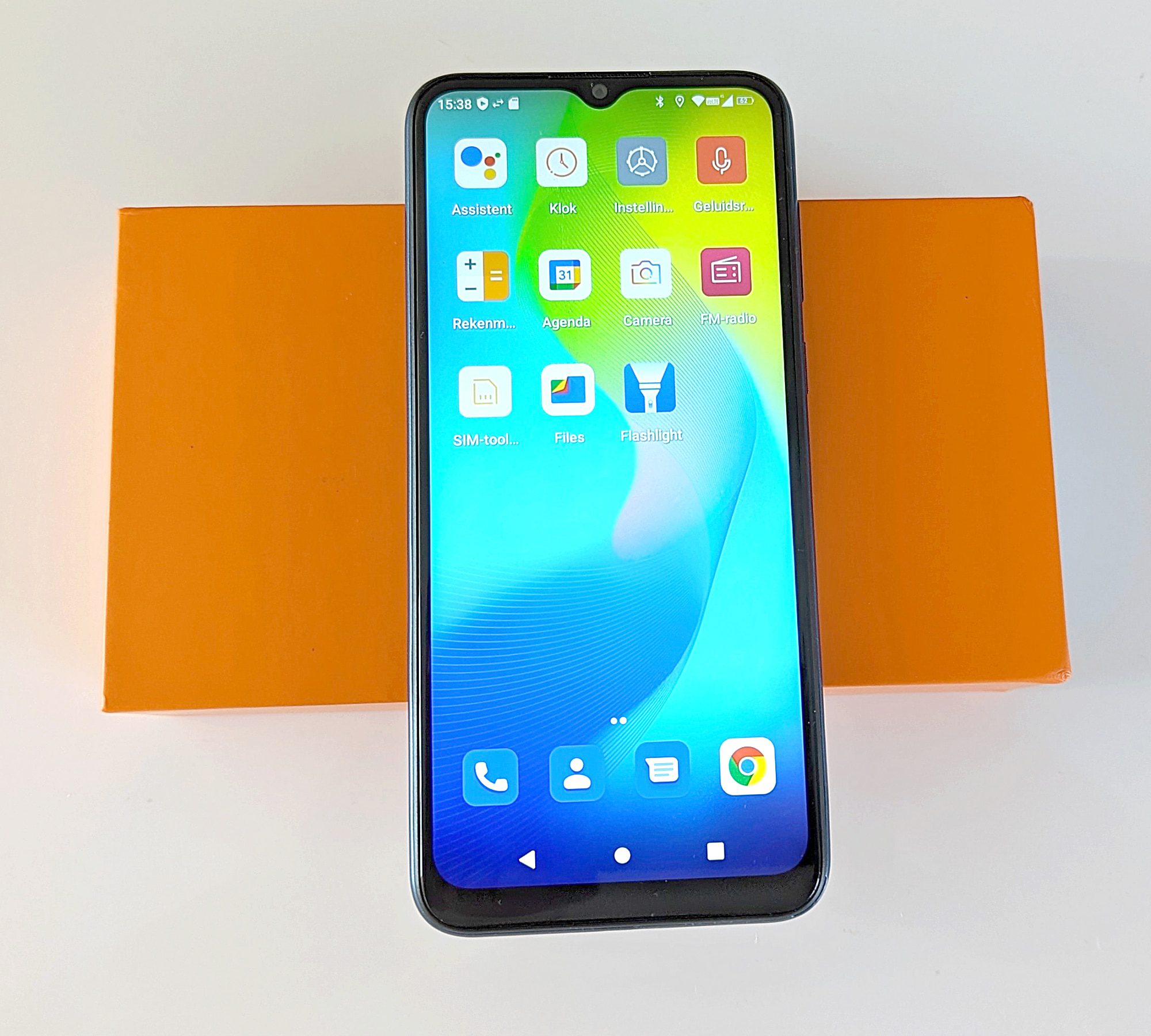 Despite the low resolution and pixel density, the graininess is minimal and noticeable mostly with certain icons. Text and graphic information are very legible. Not always perfect, but quite good. In short, with the C31, I will say that it's one of the best screens in this category, you will get the best value for what you pay, a large and high-quality screen suitable for media consumption, whether you are watching the video, playing games or browsing the social media.
Oukitel C31 – Cameras
One of the main points of the Oukitel C31 is the cameras. In terms of their specifications, there is nothing to worry about, but the last word remains in the actual performance. Oukitel has stacked three sensors by the back led by a 13MP primary, a 0.3MP macro lens, and a 0.3MP lens.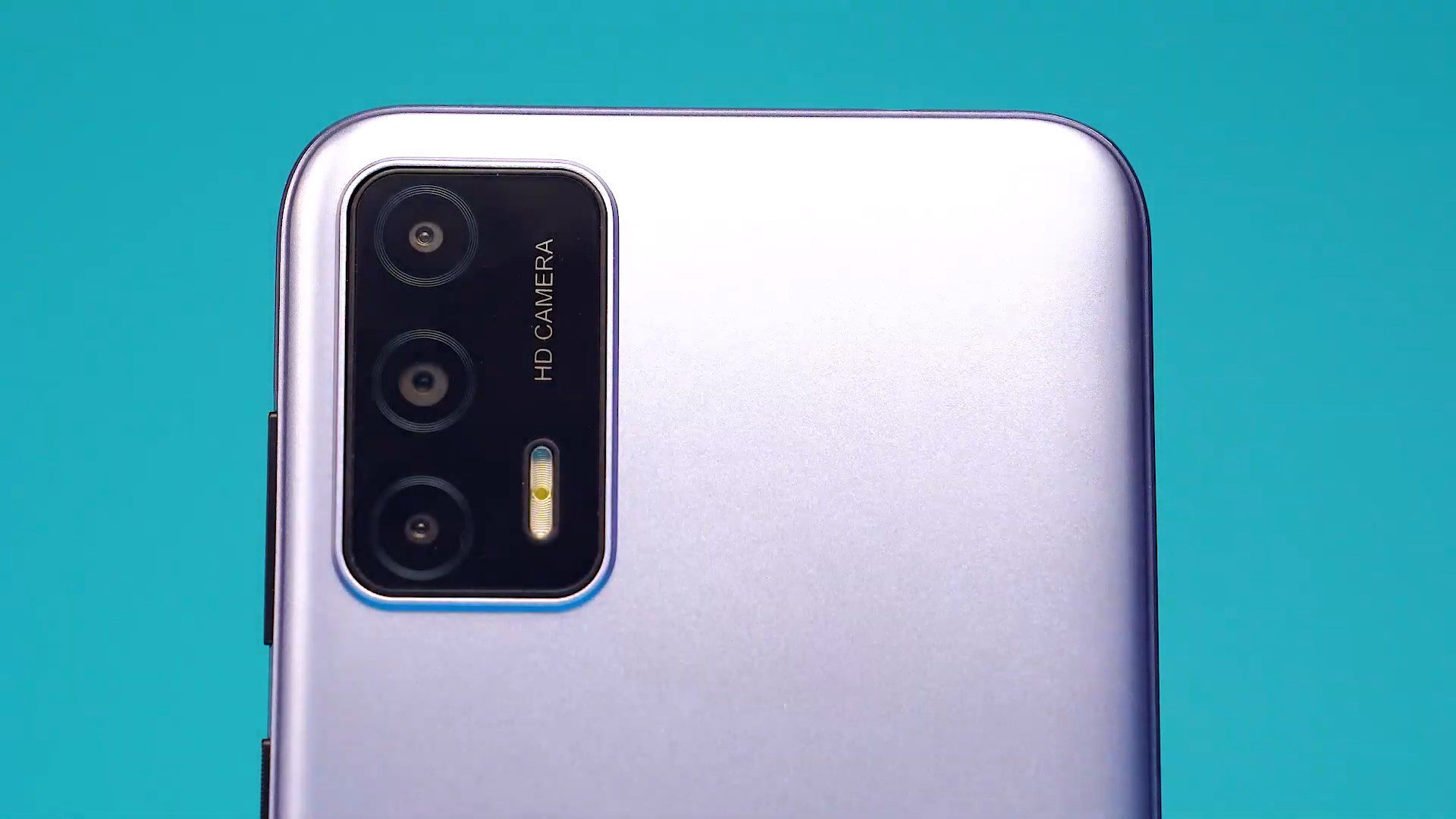 So far, the technical specifications are good, so let's move on to the realistic performance, with the help of the main sensor, you can get quite good shots, provided there is good lighting. In this case, the images are quite detailed, clear, and in contrast. I think this is the merit not only of the hardware, but also of the subsequent software processing, but sometimes the contrast is overkill. In some cases, this is appropriate and even for the benefit of the picture, but sometimes the result is too much. And still, a fine camera considering the price.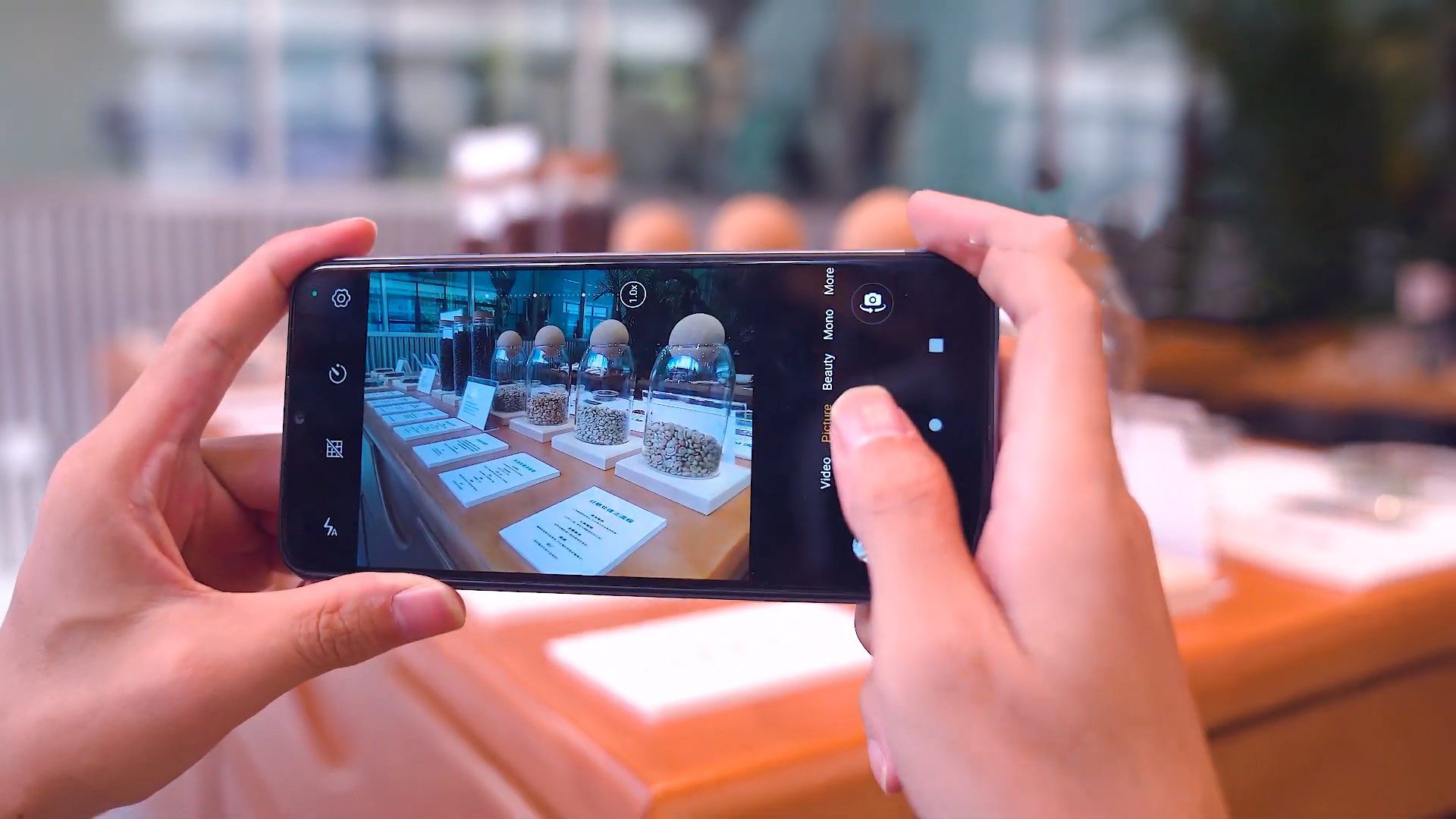 In the front of selfies or video chats, you get a 5MP sensor and an impressive algorithm also, and several modes to choose from. This camera is also used for face unlock. You can shoot 1080p HD videos at 30 fps from both front and back cameras in well-lit environments with some poor stability.
Oukitel C31 – Overall Performance
If we talk about performance, then in normal use, the Oukitel C31 is quite nimble and perfectly copes with daily tasks – messengers, mail, web surfing, social networks, videos, etc. As for games, given the characteristics, you should not expect anything spectacular. Although Asphalt 9 does run quite well, albeit at medium graphics settings, without friezes and any problems.
CPU Performance
Well, Its time to expose C31 to some tasks that need more effort and there is nothing better than playing games with high settings, the conditions here differ according to the application, game, or any type of program that need large resources, and because the processor used is MediaTek Helio A22 MTK6761 quad-core SoC ( yes, I agree with you an old processor) is a lower mainstream ARM SoC for smartphones (mainly Android-based) that was introduced in 2018, uses a 12nm FinFET technology by TSMC process quad-core Cortex-A53 at a frequency of 2.0GHz provides decent performance for general usage. Even though the chipset was released back in 2018, it is still used in smartphones.
For example, it's present in many models of famous brands such as Xiaomi Redmi 6A, Blackview BV6100, Oukitel C22, and even Oukitel WP20, and more. Among entry-level smartphones, it is quite normal to use 4-year-old hardware, and considering the production crisis and processor shortage, it makes even more sense, there are no better alternatives than Helio A22 for sub $100 phones.
It integrates a PowerVR GE8300 GPU clocked at up to 660 MHz (unverified) which is good enough to run most of the games at a playable FPS. So, the performance was good in games, but it depends on the type of game and its requirements, and sometimes there is a kind of delay, although it did not constitute an obstacle, and this is in games such as CoD mobile or PUBG. However, all you have to do is play on the settings Low, more than that settings, don't think about this phone.
Memory
Most of the applications run very quickly and thanks to the 16GB UFS 2.1 storage space, Yes, fast, but less than average, and it is considered a weak point and can be compensated with the ability to expand via a Micro SD card to 256GB. And for multitasking, browsing between applications was smooth because it is equipped with 3GB RAM which is enough for most of the tasks that you can do with a smartphone such as keeping many applications or large games running in the background. In Short, for multitasking, this smartphone will give you a positive experience.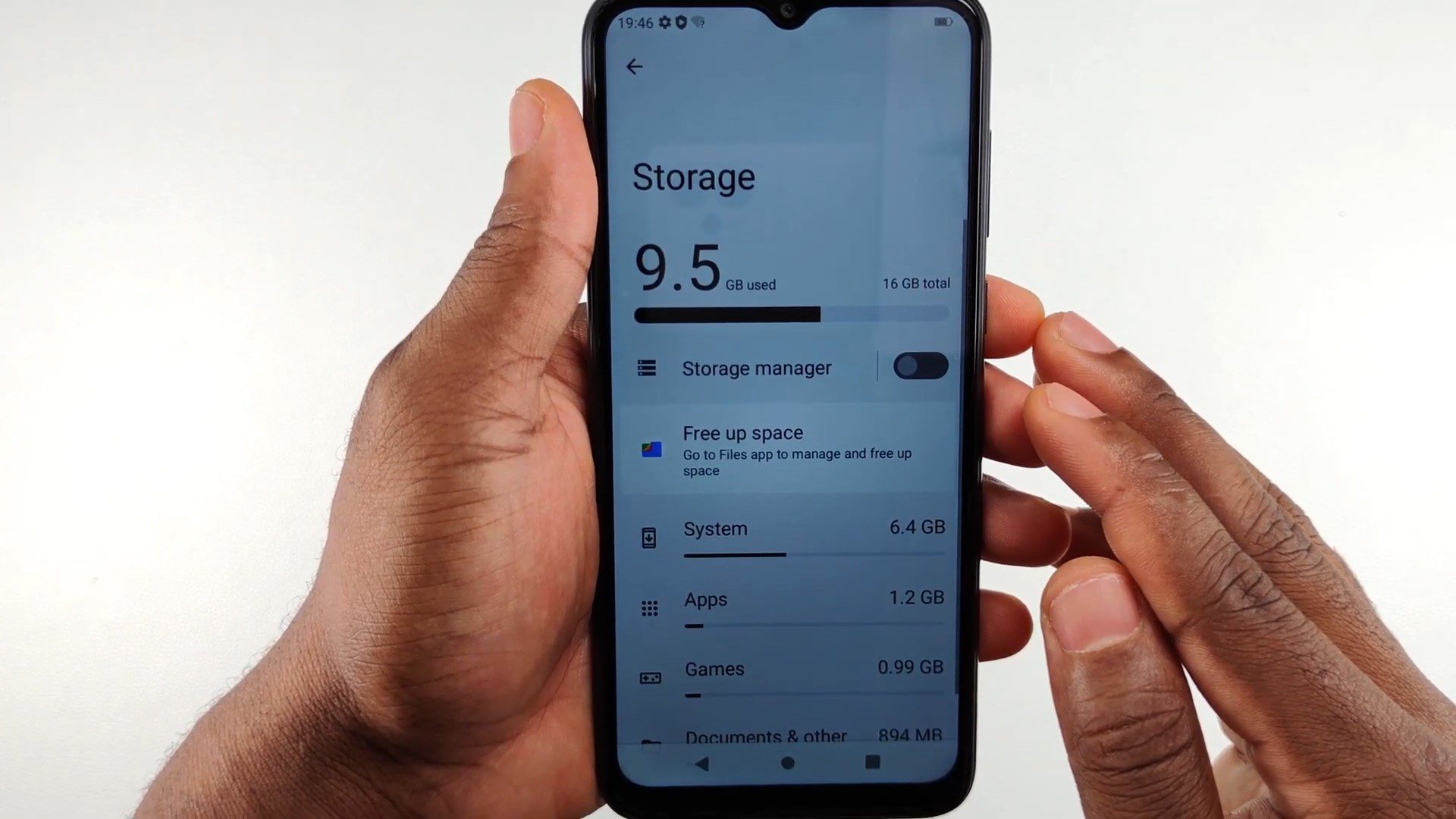 Playing Content
Playing the content on YouTube, was very smooth. You can play videos at a maximum of 720p at 30FPS without any problems or lag, And this is the highest quality you can get. Next, let's take a look at the DMR information and Widevine security. I can tell you I'm a little disappointed with this because it's only Level 3, so you won't be able to get HD on Netflix or other streaming services. and this level maybe not be found on all Chinese smartphones without exaggeration. However, you can still enjoy Netflix and all other streaming services in 480p resolution.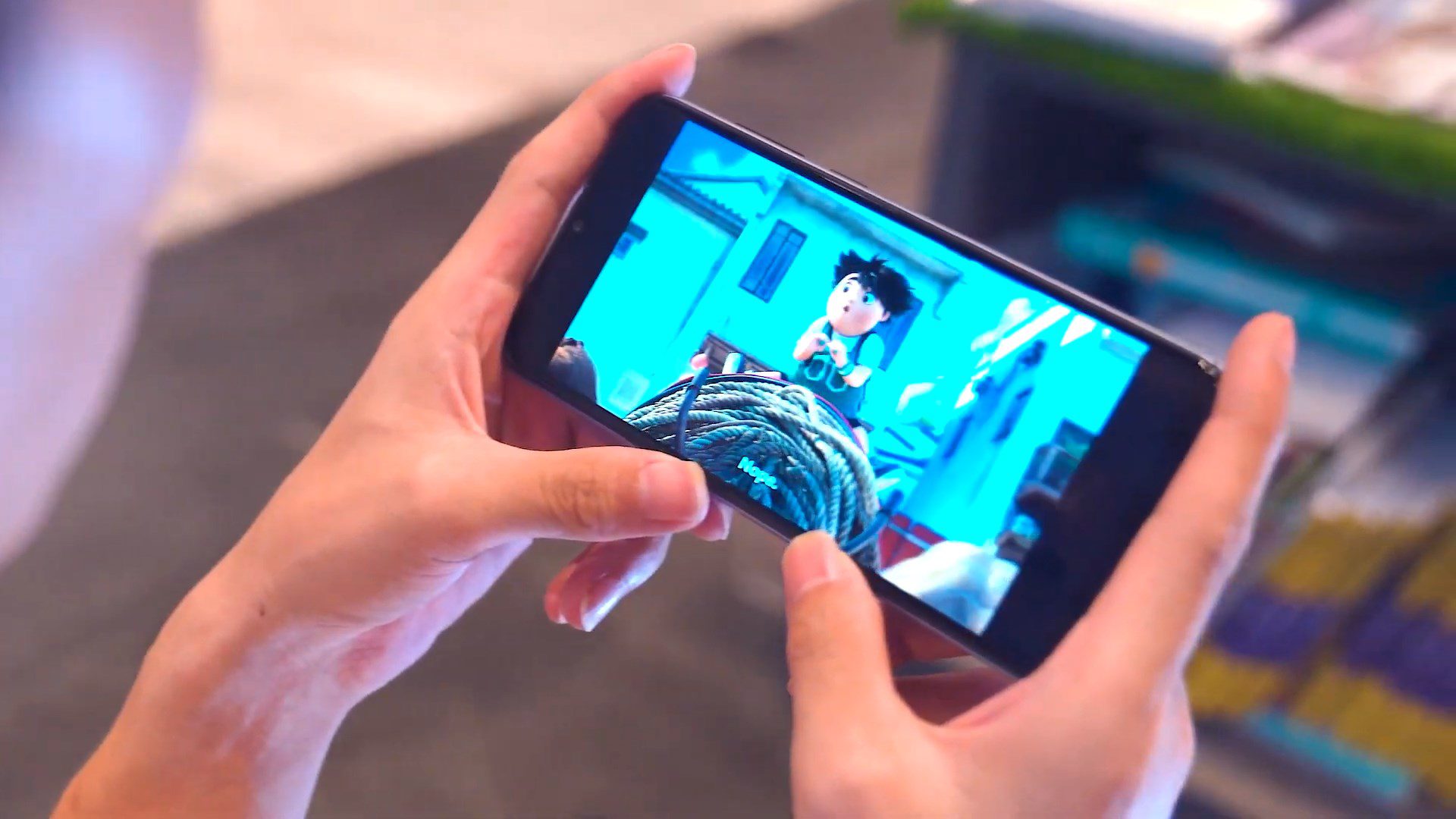 Software of Oukitel C31
The Oukitel C31 works on stock Android 12 which is lighter and the best for these devices with a better user interface, privacy dashboard, and some interesting customization additions with UI that has better gesture navigation controls, a dark theme, and contains most of the features that come with the system, the most important of which is the presence of all Google services, Making the tablet experience smoother and more personalized.
As I always say, the stock Android system is best for cheap devices, with a simple and smooth launcher for better performance, especially since it does not contain pre-installed apps or games, I really hate this because of the large number of ads, Thanks here it is different.
Connectivity
Oukitel C31 is a dual-SIM smartphone equipped with a SIM slot that accommodates two 4G nano-sim cards that support all bandwidth offerings of 4G and 3G and so on, so its expected that you will get wide coverage for calls and internet, In addition to having a MicroSD card on the same socket. To connect to WiFi networks, the C31 supports dual bandwidths of 2.4GHz and 5GHz, and of course, there is Bluetooth 5.2. That's not all, there are also some basic sensors for a smartphone, including a gyroscope, accelerometers, and even an electronic compass.
Oukitel C31 Battery And Charging
Oukitel C31 has a built-in 5150mAh non-removable Li-Po battery which is very nice for an inexpensive device and goes through all day without any worries of continuous use for surfing the Internet, Google, YouTube, and following social media, of course, the time is less when playing games and with moderate use, it will stay with you for a whole day on one charge it mostly takes about 4 hours to fully charge 5150mAh using Type-C with no support wireless charging, but its absence in this category is normal, and the charging time seems long, but this capacity is not small. However, I can say that the battery was not bad.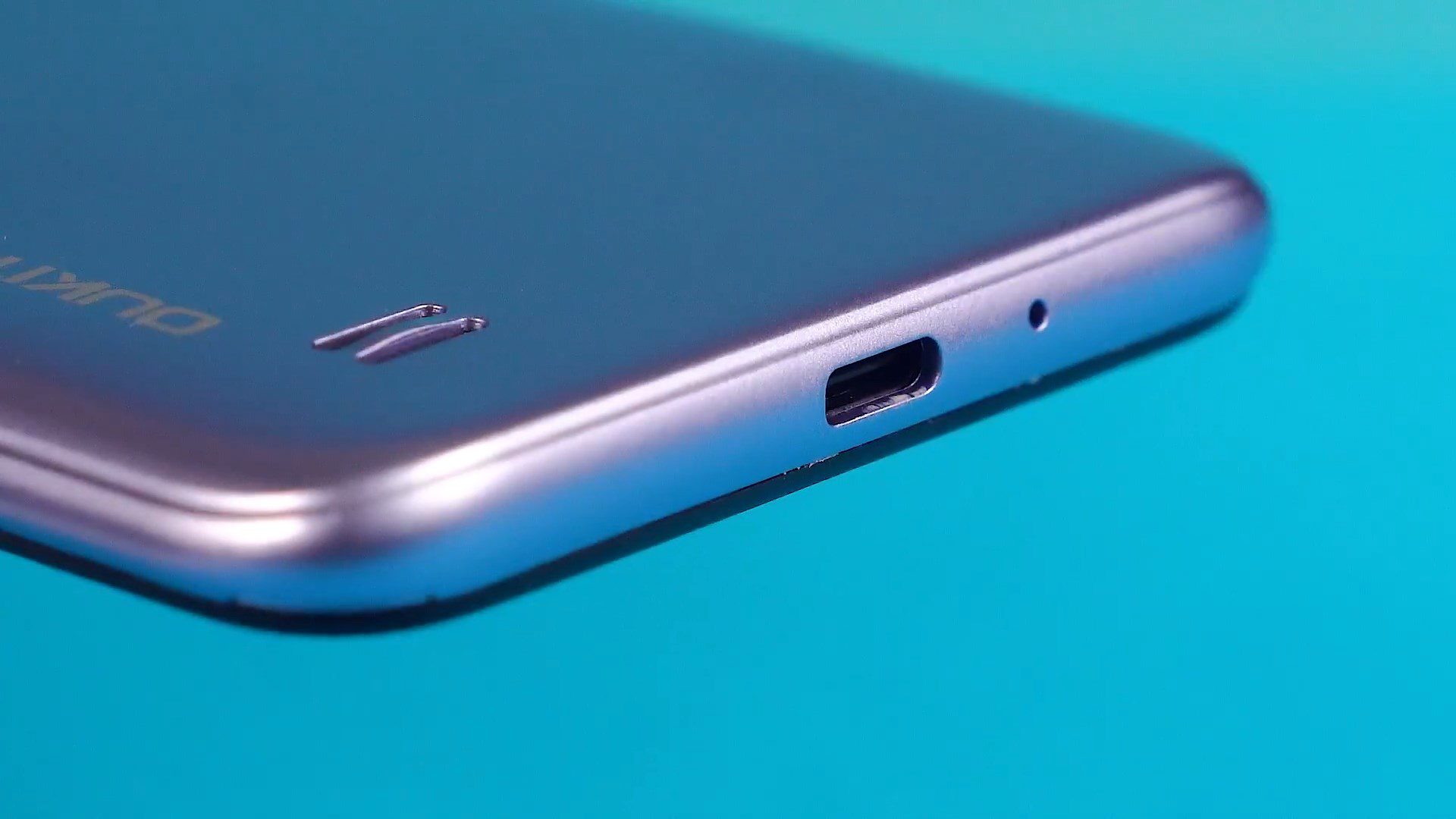 For a regular user, the battery will easily last for a whole working day, depending on your usage such as the times you open the screen, and the type of applications you run, also it suffices for more than 9h consecutive of watching videos. however, its performance was good and this is mostly because it is equipped with stock Android 11 and doesn't have pre-installed apps, even the interface is simple without any complications or processes in the background and this is what limits battery drain.
Final verdict
Oukitel C31 is a very good phone that has the potential to beat its competitors to dust in the price range it belongs to. And it will be perfect for your kids that want to get a phone or as a secondary phone, or even for yourself if you are on a tight budget. So, it's a good smartphone, and this is due to the experience that it will give you, given that it is a low-cost smartphone and the price does not exceed $90 with a stylish design and a fingerprint scanner, excellent battery life, quite good performance, and a competitive price tag. And all this does not mean that it is flawless because cannot watch Netflix in HD resolution and the cameras are mediocre, and I would like a slightly better screen, but for an ultra-budget device, all these issues are forgivable. For this price, the Oukitel C31 is a good choice and will not disappoint you.
Oukitel C31 Price And Where To Buy
You can easily buy it from AliExpress Store for a very good price and comes in three color variants; Blue, Purple as well as Black. So, don't miss out on this great deal. And to view its price or buy it, you can access the offer by clicking on the store icon.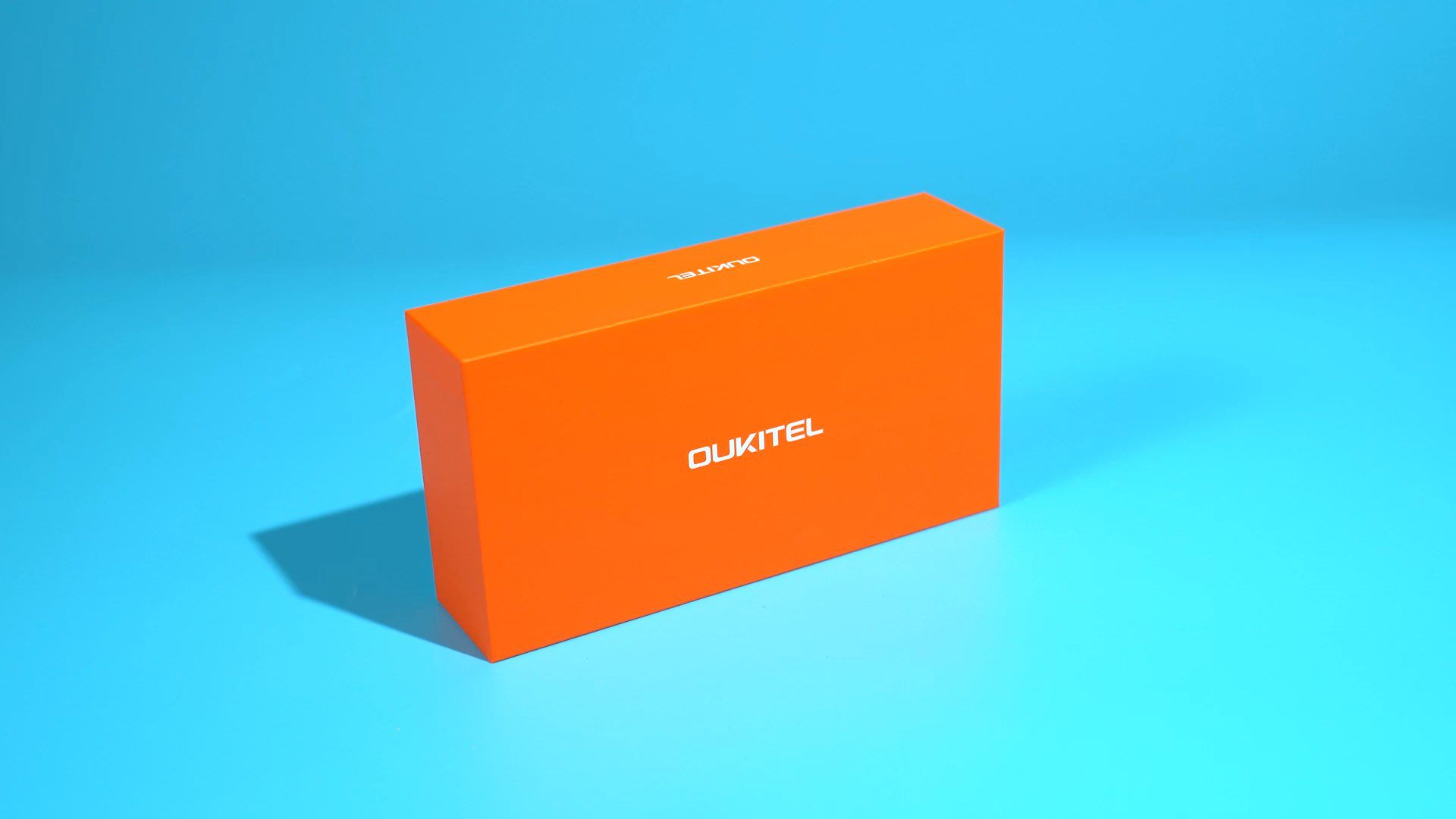 Oukitel C31 Phone
Screen Protector (pre-applied)
Phone Case
Type-C Cable
Power Adapter
SIM Tray Ejector
Quick Start Guide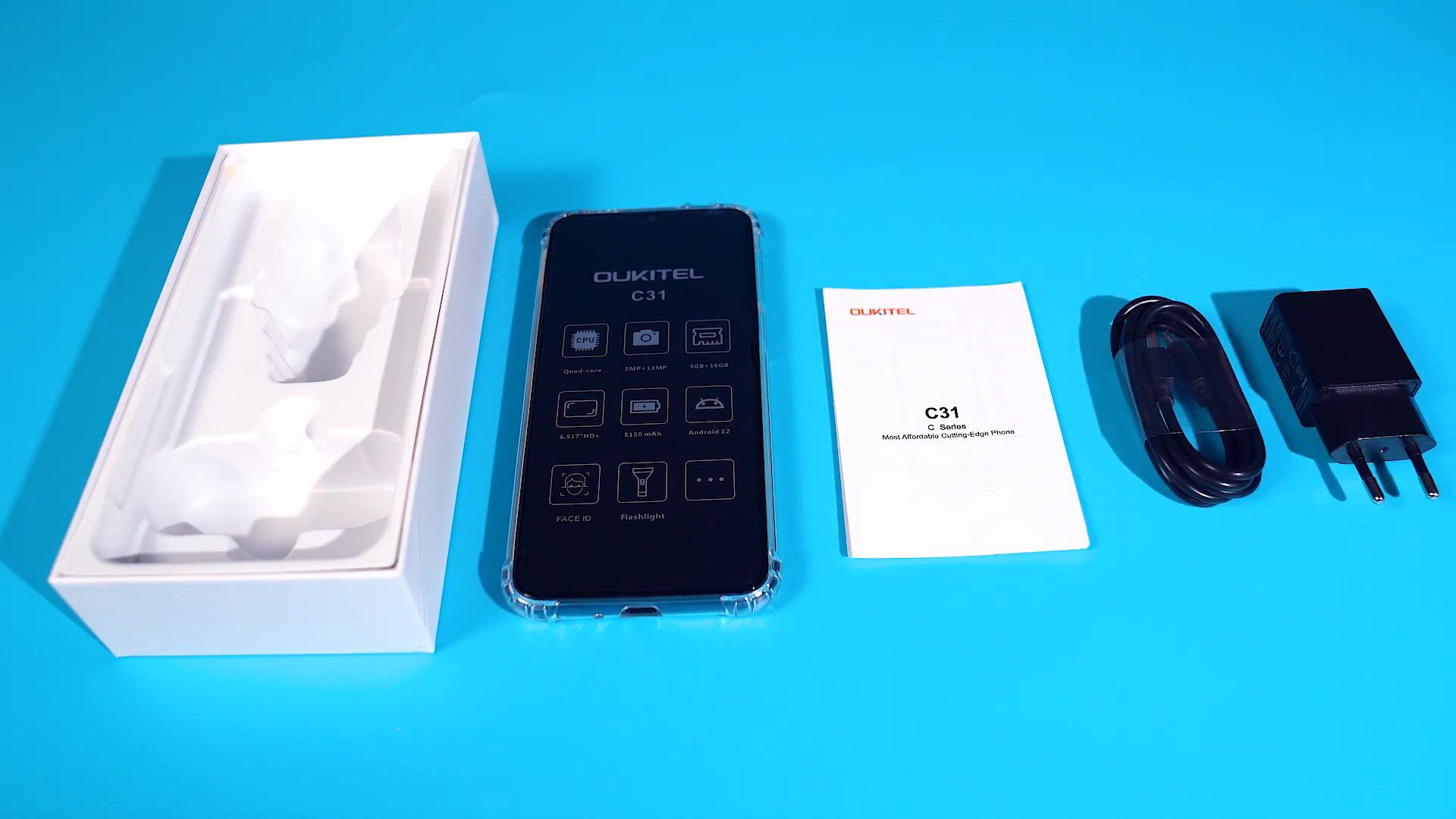 Oukitel C31 Specifications
Color
Blue / Sunglow Gold / Black
Body Material
Plastic
Dimensions
165.2×77.67.68×9.5mm
Net Weight
207g
OS
Android 12
CPU
MediaTek Helio A22 (MT6761) Quad-core , 4xCortex-A53 2.0GHz 12nm
GPU
PowerVR GE8300, 660 MHz
RAM and Storage
3GB + 16GB
RAM Type
dual-channel
Storage Type
UFS 2.1
Battery
5150mAh
Unlock
Side-mounted fingerprint scanner, AI face unlock
DisplaySize
6.517″ (measured diagonally)
Aspect Ratio
20.6:9
Resolution
HD+, 1600*720
Rear Camera
13MP main camera
0.3MP + 0.3MP lens
Rear camera video features: 1080p, 720p video recording, 30fps
Front Camera
5MP front camera, F/2.0
Features: AI beautifying, Face recognition, Selfie countdown
Front camera video features: 1080p, 720p, 480p video recording, 30fps
Band
GSM/WCDMA/LTE
2G (GSM ):B2/B3/B5/B8
3G (WCDMA): B1/B8
4G FDD:B1/B3/B7/B8/B19/B20
SIM/TF Card
4G Dual SIM, both cards can access 4G connectivity simultaneously
3-choose-2 SIM slot
Support dual Nano-SIM card or Nano-SIM + dedicated Micro-SD expansion memory card
WIFI
2.4GHz/5GHz, IEEE802.11 a/b/g/n/ac
Bluetooth
Bluetooth 5.2, Bluetooth HID
Positioning
GPS, Glonass, Galileo, Beidou
Sensor
Side-mounted fingerprint sensor, Proximity sensor, Ambient light sensor, Accelerometer, Gyroscope, Electronic compass
Earphone Port
3.5mm Audio Jack
Card Extend
Supports expandable storage up to 256GB (VFAT format)
USB
Type-C
OTG
YES
Language
Multi-Language