The DT Series was announced alongside the next generation of the Apple Watch Series 8 clone under the name DT8 Max which may look relatively similar to the Apple Watch Series 7, however, in this clone, the screen size has been improved and some other functions added, and out of the ordinary. Despite that, it still lags behind some competitors such as HW8 Pro Max in terms of software and screen quality.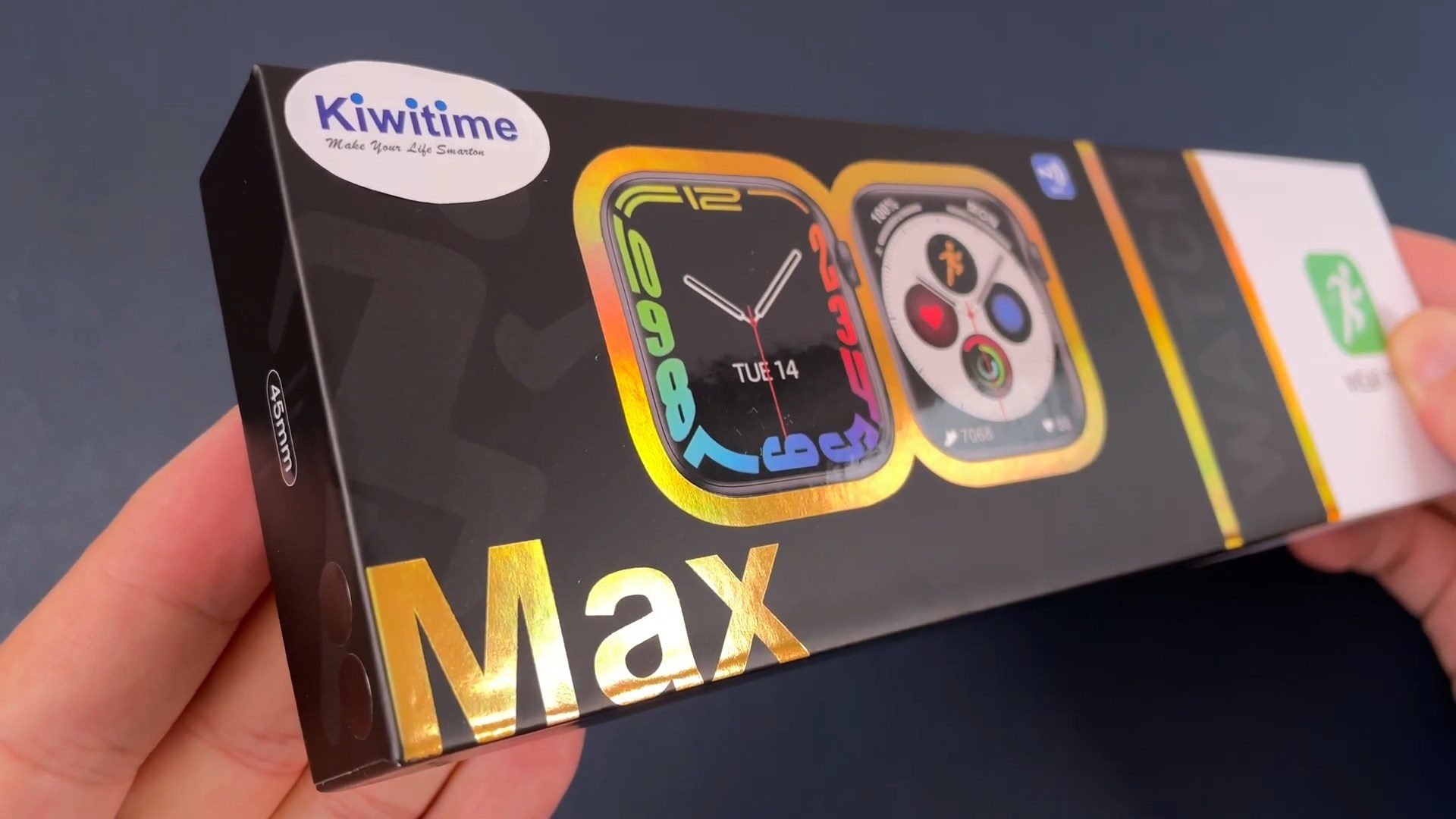 What makes this new smartwatch different than other competitors is a new improvement that includes hardware and design, and the main selling point is the 2.0-inch Ultra Wide Screen with built-in 7 watch faces including exclusive to the new Apple Watch and 2 standby dail, also has Health & Fitness Functions even Body temperature measurement, with the possibility to Making Calls, also a Multifunction NFC and Voice Assistant, and Multitasking bar, TikTok remote control, 2 games, and there are many more. In short, you will get the latest technology that you will not find in any other smartwatch, with a stylish design at a price low-cost is no more than $30. So let's start the review.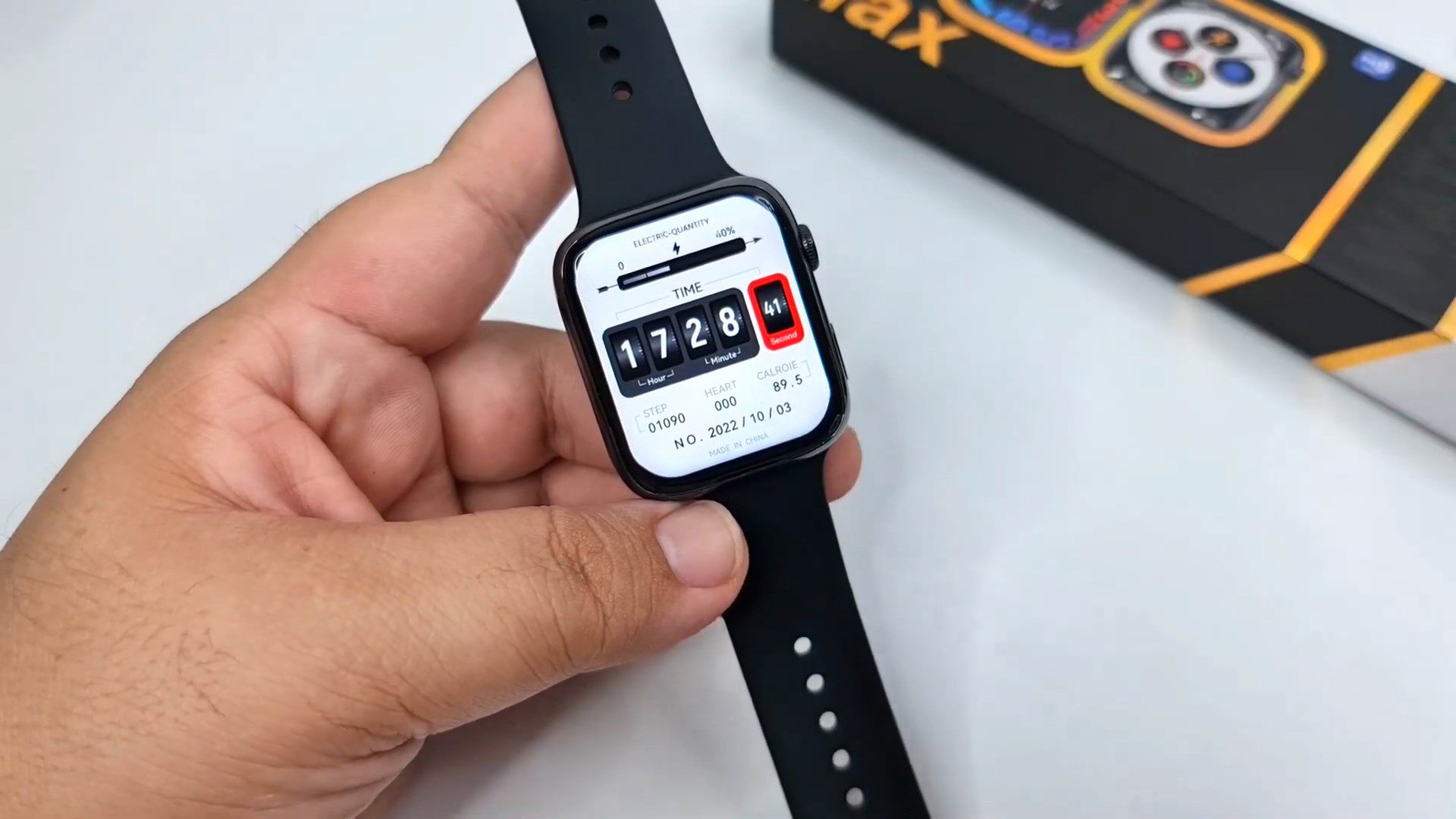 Making & Answer Calls via Bluetooth v5.0
2.0 inch Touch Screen, Corning Gorilla Glass
6 Days Battery Life, Wireless Charging
7 Watch Faces, 11 Menu Style
Multitasking Bar, Build-in 2 Local Games
Always On Display, 2 Standby Dails
Heart Rate & Blood Pressure Monitor
Body Temperature Measurement
Wallet Function & Business Cards
Multifunction NFC, Voice Assistant
Tiktok Remote Control
Multi-Sport Modes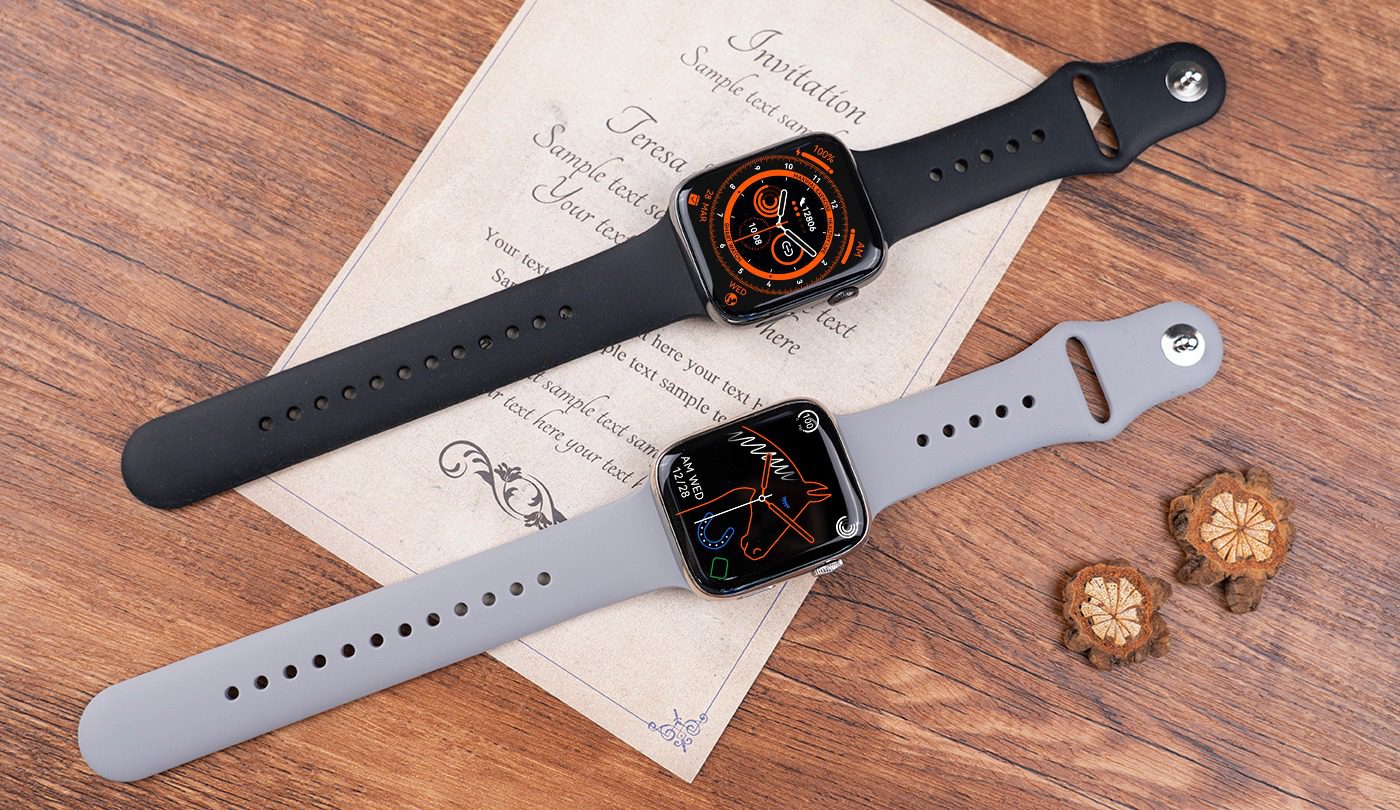 Design And Build Quality
Although the DT8 Max doesn't offer much of a change and looks relatively similar to the rest of the Apple Watch 7 clones, there is still a lot to be said about this smartwatch. Internally it's quite similar too with very few upgrades, if you've used the DT7 Max even in the simplest ways, you'll know what this watch looks like and it's identical in every way possible yet offers a great deal of the design.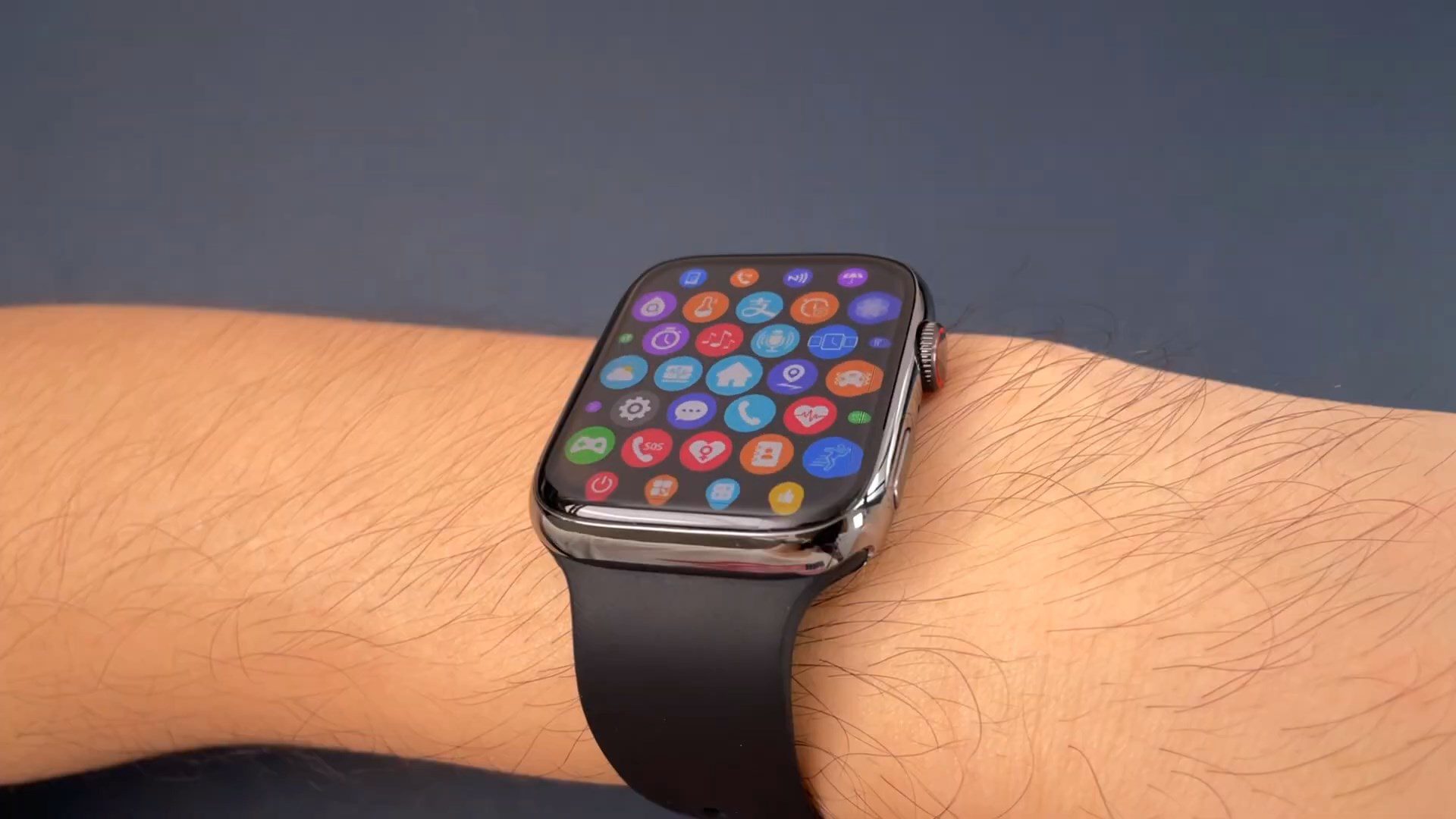 So, The design and 2.0-inch display are exactly the same as on the Watch 7 previous – the same curved chassis and thin screen edge curve precisely into the case, and the Crown button works for page-turning, zooming in/out, turning on-off, and back and is positioned above the right edge with a side button below it for Multitasking bar,- Between them, there is a microphone – while a speaker is located on the left side to make calls. Although it would be neat if you got an extra action button like on the Ultra version. But this is the typical design of an Apple Series 8 clone, if you're looking for something that stands out on your wrist, the HW8 Ultra is what you're looking for.
This smartwatch is very comfortable to wear and lightweight enough not to cause too many distractions, which makes you want to wear it as an accessory not to mention its functionalities, the new Apple-inspired design is fantastic it's one of the best new smartwatches clones of Apple Watch Series 8. And as I mentioned earlier, the side button works for the Multitasking bar for previously opened apps, and it's really similar to the Apple Watch.
On the underside of the case, there is an optical heart rate sensor, along with several sensors, you will also notice the absence of any charging pins, that's because it's wireless.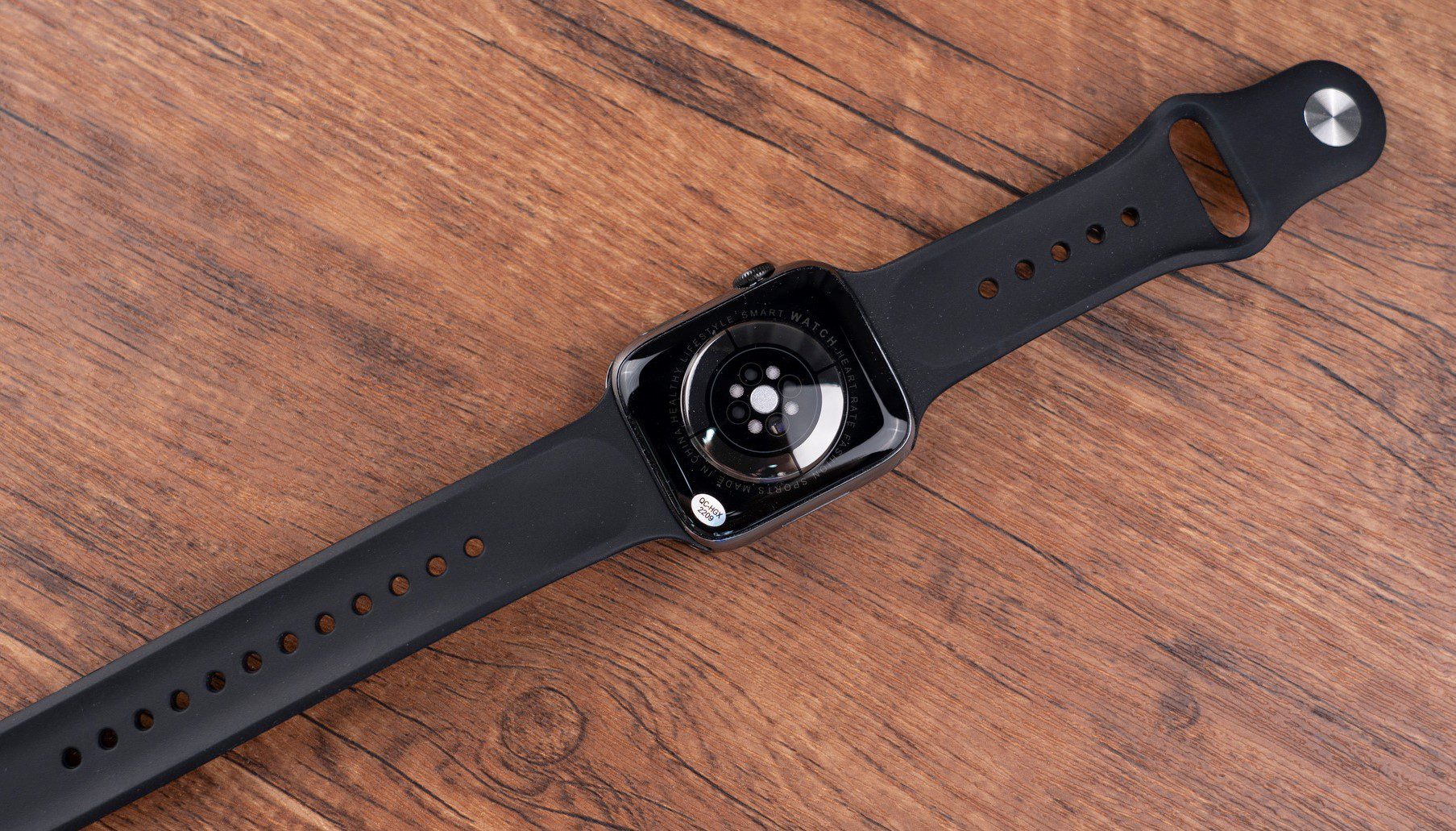 The strap is one of the important things to complete the overall look of the watch, that's why it is made of silicone, it's lightweight and comfortable on your wrist for long-lasting use. And because it's removable you can use any 42/45mm belt and is available in colors Black, Silver, And an additional choice you can buy another from metal or leather.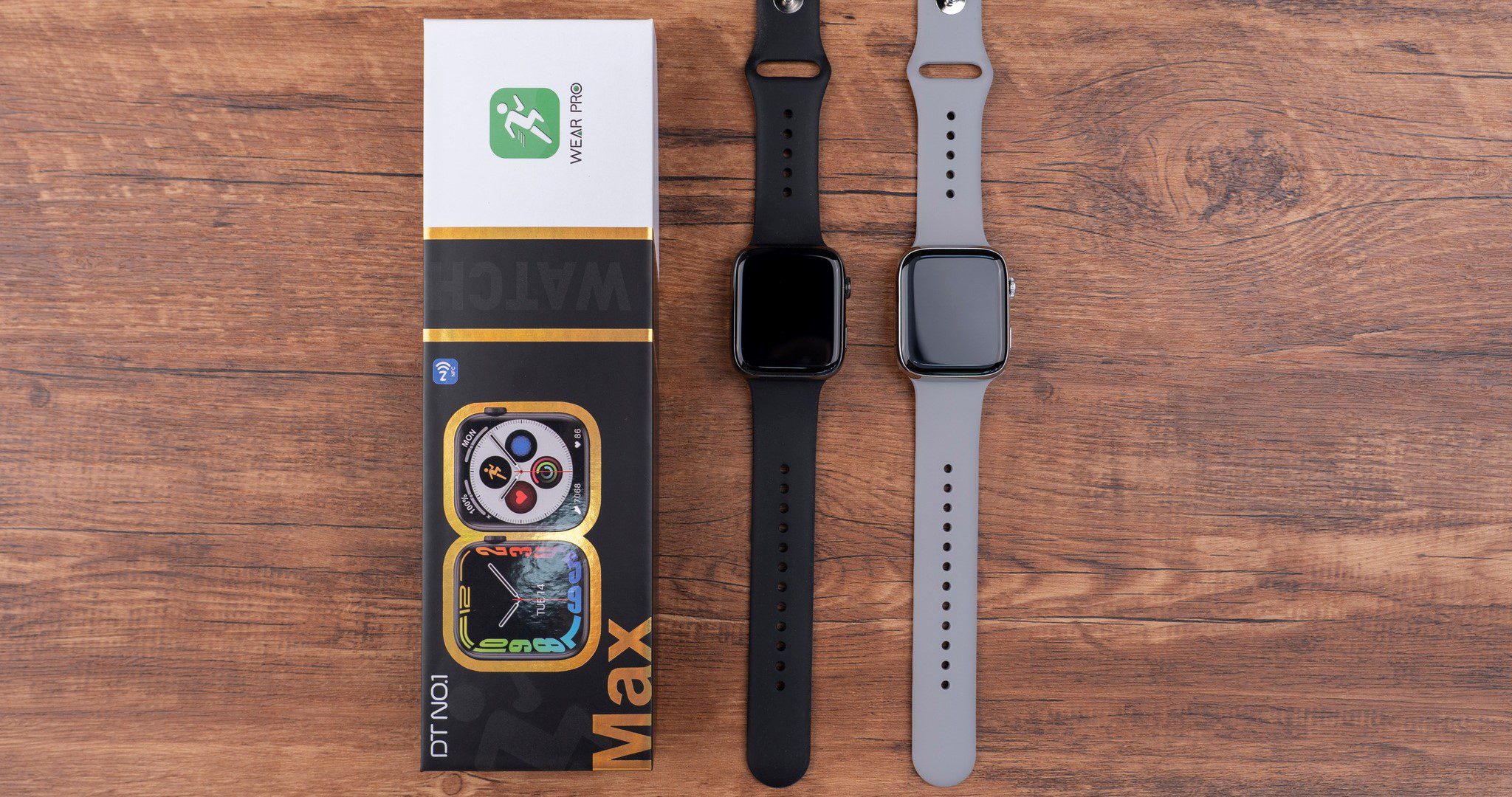 Despite being a budget smartwatch, DT8 Max feels sturdy yet comfortable, looks elegant, and gives a premium vibe which makes it amongst the best apple watch series clones on the market. So, the build quality is high and can be seen through the body, which is slim and light and made of high-quality Stainless Steel with a glossy finish, Personally, I like the matte case. The dimensions are perfect with a 45mm large size and 11mm thickness of the frame, and lightweight does not exceed 50g, which makes it comfortable on the wrist. As for the colors, they meet your needs with a variety the same as the straps that I will mention shortly.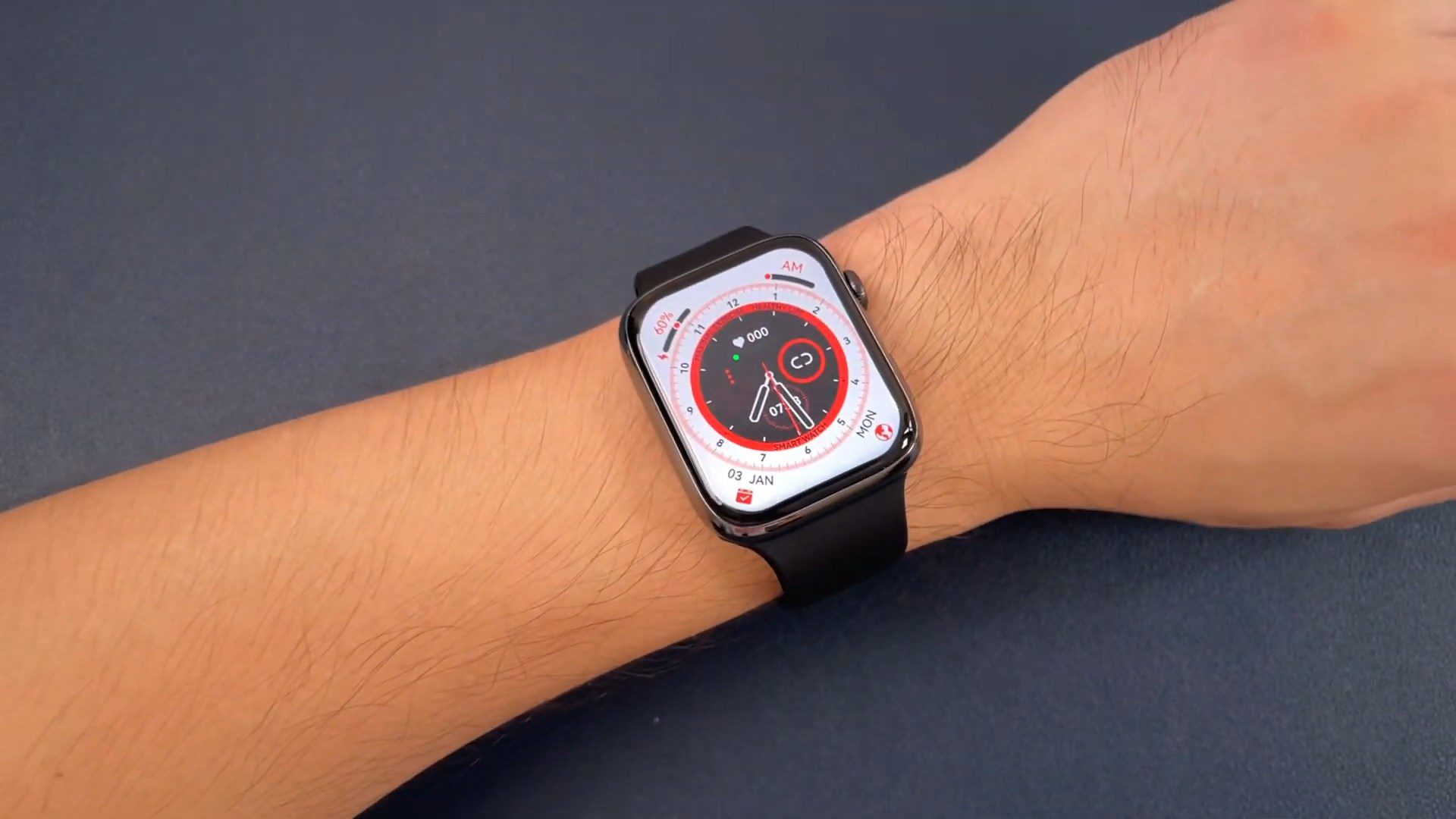 Display Screen
Now, let's move on to why I fell in love with this smartwatch. The most prominent development of the latest cloned smartwatches is the display, This is what makes the screen in DT8 Max my favorite type a 2.0-inch IPS display its larger and slimmer bezels, enabling you to see more content on the tiny display than ever before, it's a lovely punchy display with vibrant colors and because it is larger than other smartwatches being one of the few smartwatch clones that are the same size as the apple watch series 8, the images displayed on the screen are clear thanks to the high resolution of 420*485 pixels and a high pixel density of 320 PPI. And with an extremely narrow bezel, the display area is increased. The Series 7 expanded the Series 6's screen by an additional 25%, but the Series 8 didn't add much to the Series 7, but it's still good given the price.
While using the Max smartwatch, will provide you with the best experience you can possibly get on budget devices, special thanks to the color accuracy and sharpness, the image is clear and rich, and even under direct sunlight, I found it weaker than the HW8 Pro Max in brightness. you'll be able to use your smartwatch with ease whether you want to read notifications or check your health stats, you won't need to get your phone out of your pocket. Definitely, it's the best screen in a budget smartwatch in terms of size and resolution. The screen also provides a 2 always-on display feature which we usually only find in OLED screens, but this time they made it available here despite the technological obstacle.
And as I always say, the reason makes this type of screen is my favorite is that large and takes over most of the interface, and with narrow sides, and this is only found in smartwatches with higher costs, It's the closest to an Apple Watch Series 8. I personally prefer this screen over others and would love to see it used more, especially as it is equipped with Corning Gorilla Glass for greater shock protection.
Multiple Watch Faces
DT Series has made a concerted effort to tailor the plethora of watch faces included on the DT8 Max that's why brings you 7 different pre-installed watch faces to choose from, you can switch between them easily in many ways, by rotating the button or via the WearPro app for more watch faces with over 500 online watch faces are available for download and it's included a variety of colors, retro, analog, 3D, and digital faces, or you can even use your own photos as a watch face background or any wallpaper and have the possibility of customization. More importantly, it includes the latest and exclusive watch faces for Apple Watch Series 8 and Ultra. So yes, you will not miss the fun.
Waterproof
Like the previous smartwatches for Series 7, the DT8 Max Series 8 has an IP67 Waterproof certification, which it means can only handle sweat and splashes of water, although the watch is not approved for swimming but is good for wearing for activities, so, I do not recommend swimming or exposing it to hot water or saltwater to avoid any harm Long or short term and with the presence of a speaker and a microphone, avoiding it will be good, however, if it's exposed to water in any way, I prefer to dry the watch after immersing it in water and before operating it so that it stays with you for as long as possible.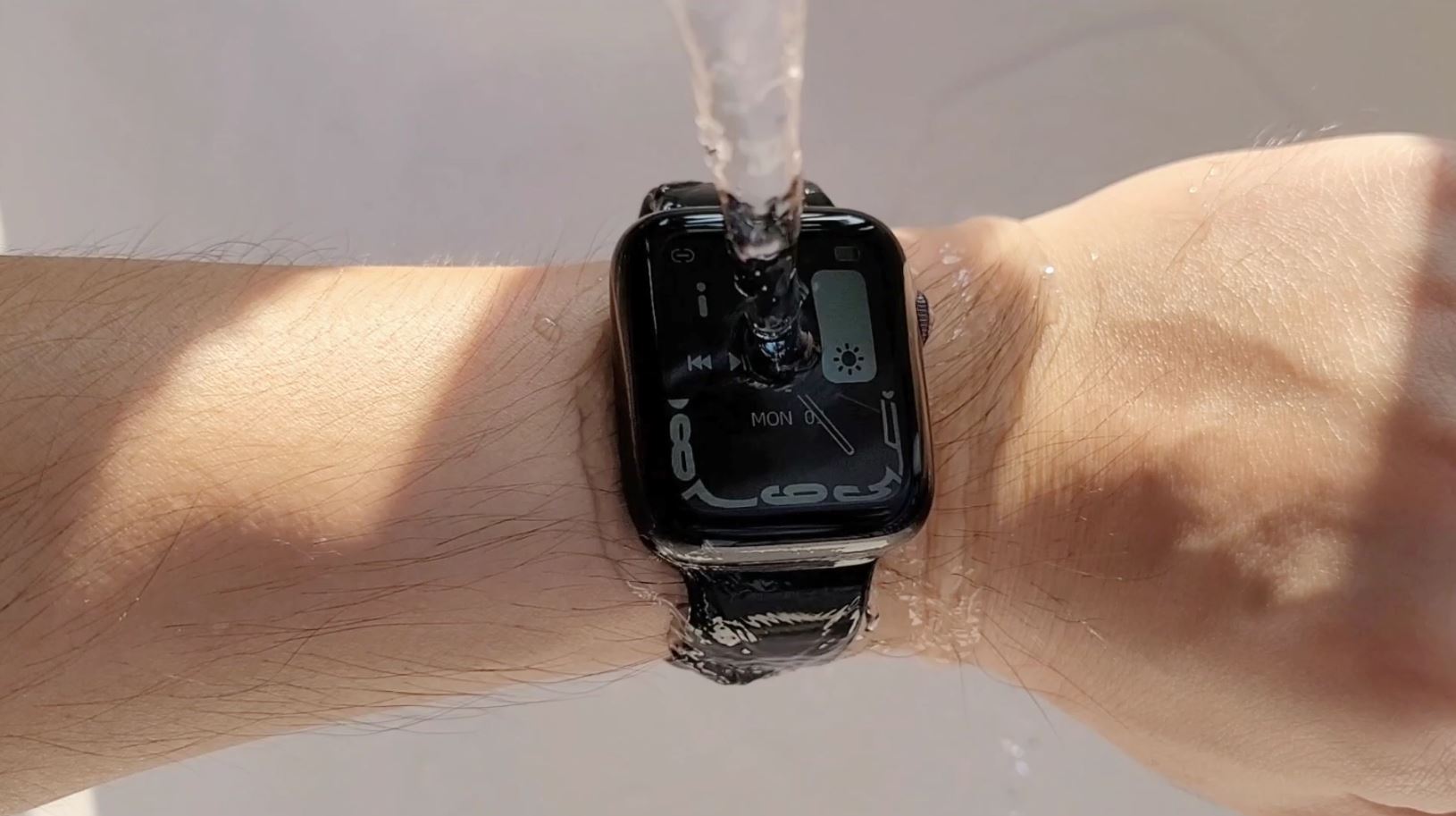 Under The Hood
While everything looks the same to the naked eye, the DT8 Max Series 8 has some significant changes under the hood. it comes with a built-in Realtek 8762D chip for faster response speed and faster data processing and is paired with 128MB of storage for storing contacts, watch faces, notifications, and more. The sensor on this device is Zhangheng BD1662_I2C Heart Rate and G-sensor, it is one of the best in this market and is known for giving good results and will help you take better care of your health and encourage you to work out more.
This watch has the latest Bluetooth v5.0 chip and supports calls So, You will not face any problems in contact because it's the fastest and most stable. And this version is compatible with Android 5.0 and later or iOS 10.0 and above so the connection is through the WearPro app. However, it does not have its own GPS sensor, which means that you will always have to use it with a smartphone to get your location.
AI Voice Assistant
Al voice assistant algorithm in DT8 Max allows you to give voice commands in order to perform some specific task or to ask your queries. Moreover, the smartwatch comes with an integrated speaker which helps you interact with your AI assistant in two-way voice communication, which is convenient and quick.
NFC Access Control
NFC Access Control allows for keyless and frictionless door entry using a smartwatch device for authentication. So, When reaching home, the watch is your access control, Raise your wrist to open the door quickly. The NFC of this watch only supports IC door cards with a frequency of 13.56MNZ (applicable to 80% of the market), and payment for Alipay and WeChat Pay. does not support credit cards or another payment mode.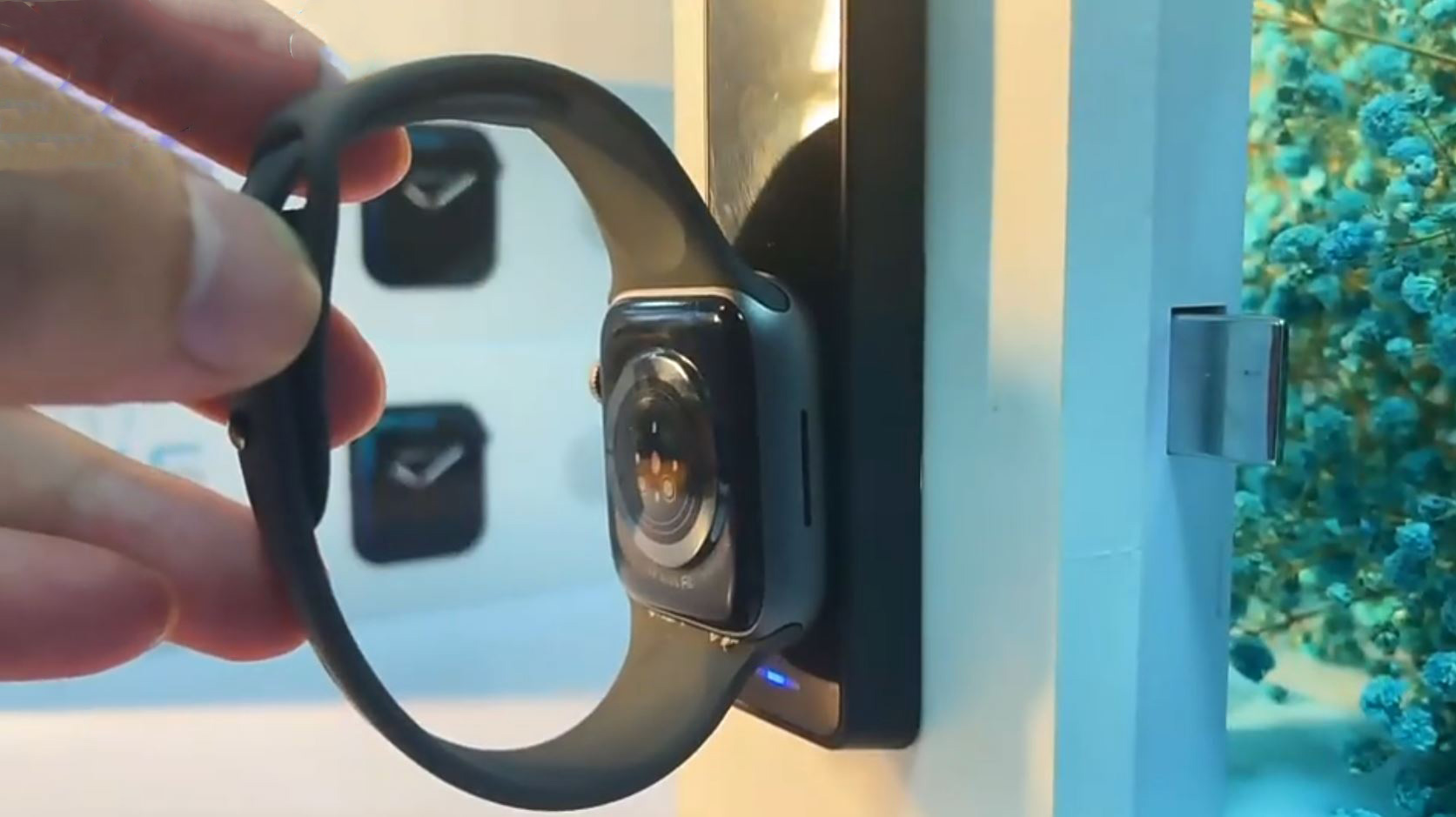 How Do You Operate The DT8 Max
The manufacturers made sure the usage of this smartwatch is plain and simple, with a very clear platform, and a responsive very bright screen, it is simply very convenient, first, once inside swipe down from the top the access a Control Center that displays the connectivity status, allows you to control music playback, brightness and put the smartwatch in silence mode, as well as an information icon and AliPay for Chinese users
From that small menu, you can swipe right for additional features where you can find the draining feature to drain your smartwatch after using it underwater, turn on the flashlight, power saving mode, check the walk stats, emergency calls, and set an alarm clock.
By swiping from the left, A split window will appear on the side with the time & date, QR Code, BT calls, and the last open applications.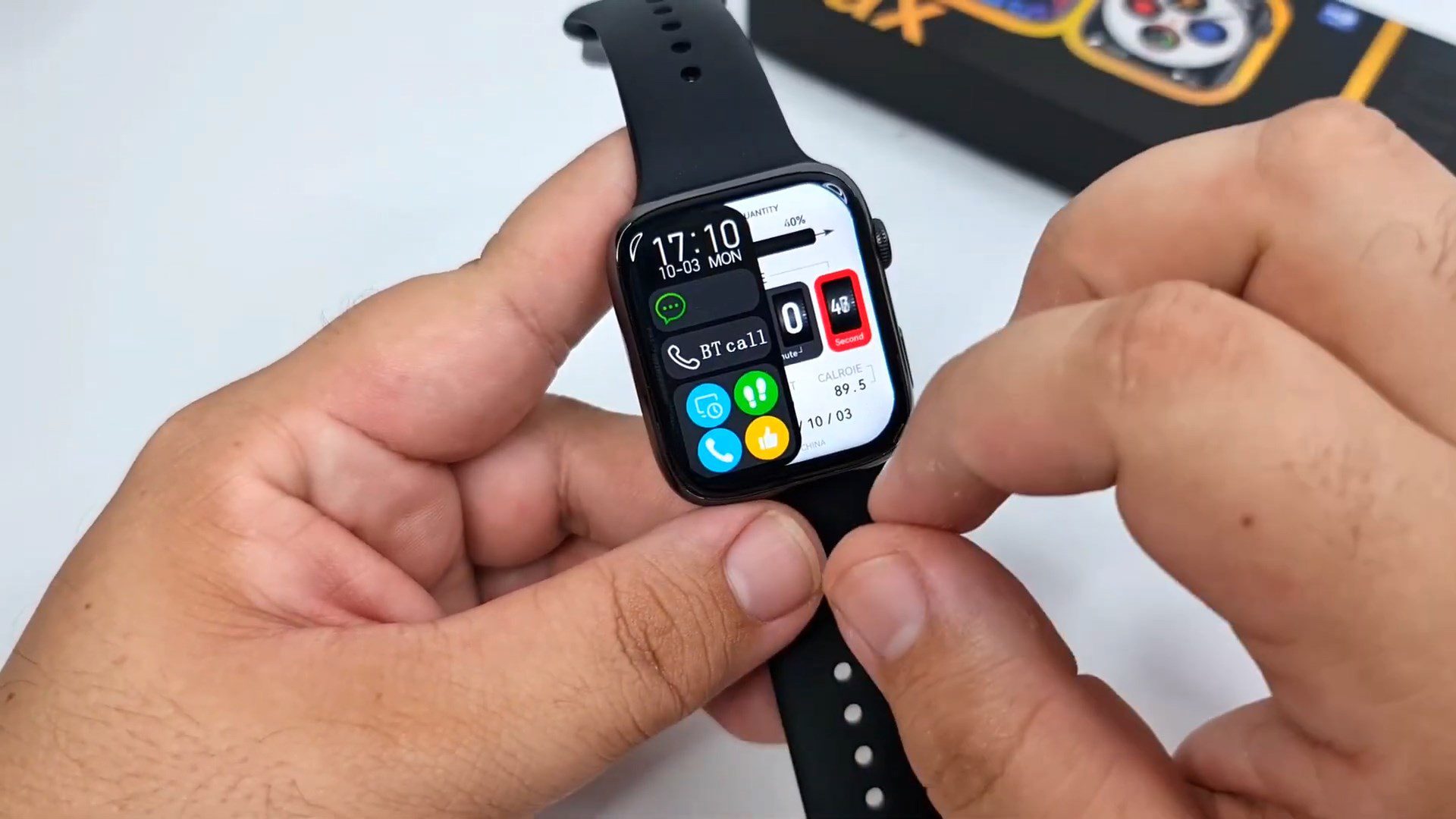 When swiping from the right, you will find shortcuts for Weather, Steps, Spo2, Music, Heart rate monitoring, and Weather, and you can add other components.
The main menu can be accessed by clicking both buttons or swiping up, you will find heart rate and sleep monitoring, sports modes, settings, and other features that include capturing photos from the watch and music, weather, app store, voice assistant, menu styles, phone, and more. And it's good that it also includes simple games.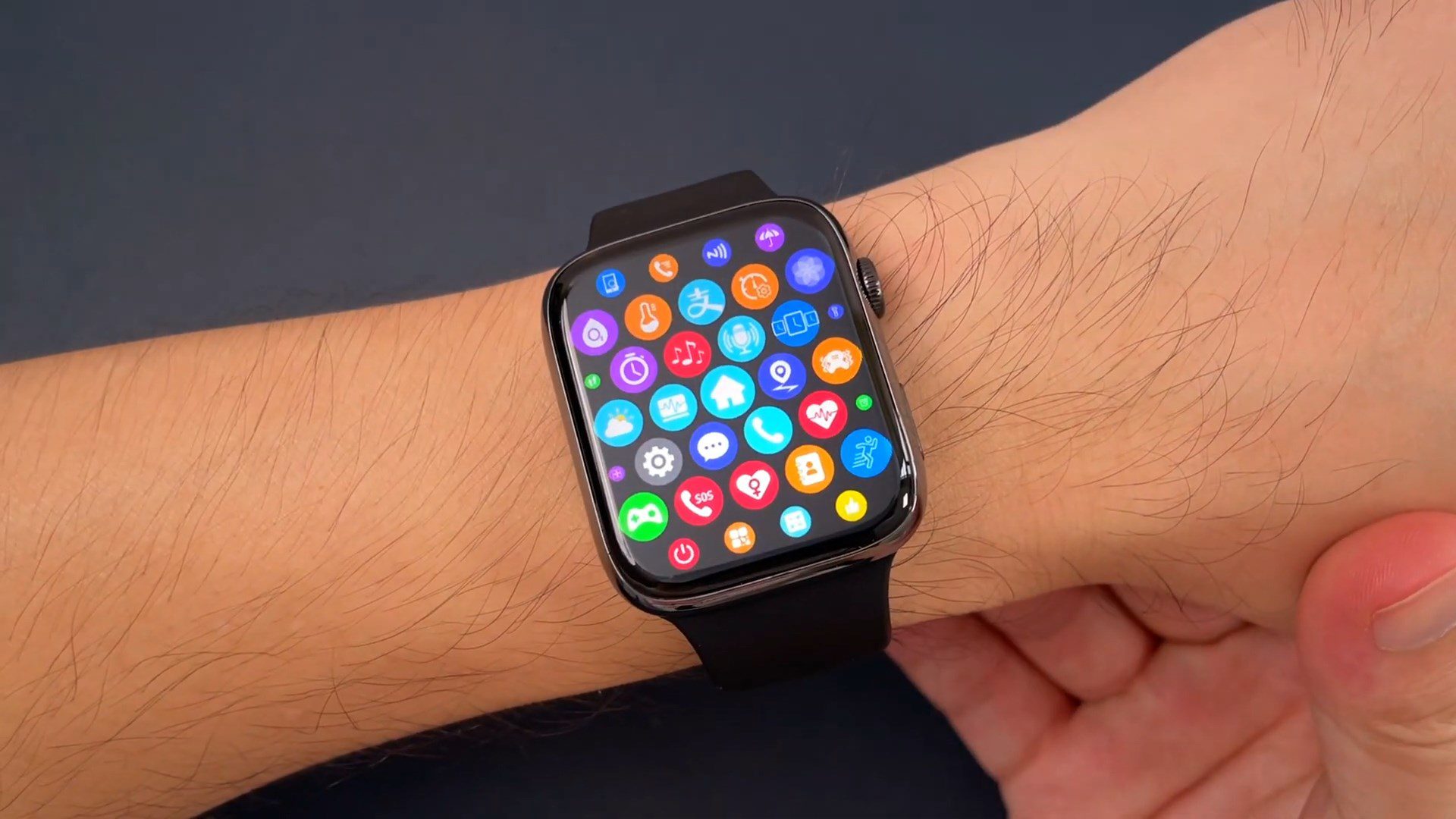 The menu comes in 11 styles to choose from, just like in the Apple watch series 8 we find: Striped six-square grid, grid style, and more, each one allows you to navigate the menu in a different fashion but all of them seem to work just fine. To change the menu style, you only have to double-click the scrolling wheel.
Health & Fitness Functions
The DT8 Max is a great companion if you're looking for a fitness smartwatch is equipped with a somewhat reliable sensor to help you monitor your body and keep track of the sports you are practicing in sports mode which you can access simply by selecting the sports modes from the apps menu, the sports available are indoor and outdoor sports, like running, cycling, swimming, football, yoga, mountaineering, and more.
Apart from the sports features, To measure your ring progress throughout the day, the DT8 Max records a vast array of health metrics. It tracks your steps, distance, resting, active energy, and 24/7 heart rate to check whether it's beating normally. There's also a SpO2 sensor for manual and blood-oxygen level tracking in the blood in real-time to improve the ability of the cardiovascular system to prevent the low level of oxygen in the blood that causes discomfort to a person's body and sleep tracking to measure the quality of your slumber at night and wake time to provide you with an analysis of your sleep patterns. And for the first time, there is a body temperature measurement.
Although it has a sensor that is more accurate than other sensors, this does not mean that the measurements provided by this smartwatch are completely accurate, as most of them are largely unreliable because it's not a medical instrument, but it makes you very aware of your health and physical performance. unfortunately, this is often the case with watches in this price range.
How To Pair The DT8 Max
For you to enjoy the many benefits of your DT8 Max, you would have to connect it to a support app. The recommended app is the WearPro app which has loads of beneficial features to keep you fit and healthy, and it's compatible with Android and iOS, so you would need to download it on your mobile phone. It is available on Google Play and App Store for both Android and iOS users.
For pairing, it's easy to connect the DT8 Max Series 8 clone to your phone. After installing the WearPro app and setup, all you have to do:
Step 1: The first thing to do is to go to your phone's settings. Then, turn on your phone's Bluetooth connection, and add the device. Two options add a device, search, or scan a QR code.
Step 2: Next, you would need to Sign up for a Wearpro account. Or, Log in to your existing account (if you already have an account).
Step 3: Allow all notification data. A notification interface will pop up requesting your permission to allow Wearpro access to certain functions on your mobile phone. (Denying any of these permission requests might prevent WearPro from working properly).
After downloading, launch the application and set permissions. Next, add your Smartwatch device and connect it to the app. Lastly, set your Personalization Options and settings. When all this is done, it will communicate directly and without any complications, with automatic setting of time and language, weather, in addition to a phone call feature, and update the smartwatch software if available.
WearPro App For DT8 Max
The DT8 Max smartwatch works in concert with the WearPro app which expands the things you can do with the smartwatch by adding a lot of features, first, the app has the health menu where it displays all the data collected by the smartwatch such as the steps walked today, your daily goal, the number of calories burnt and the distance traveled, you can click on the label to expand it to show you more information on broader time frames such as the weekly and the monthly, right underneath we find the sleep monitoring label, we click on it to expand and it will show us light and deep sleep information, total sleep and awake time and the collected data from a week or a month, all displayed in a nice graph. It also has the heart rate, blood pressure, and blood oxygen levels, each one has its very own label to click and expand then you can either start measuring or check the previously collected data.
Next, we have the health menu which uses GPS to locate the device and measure the distance crossed whether you are jogging, walking, cycling, or climbing, then display them in a nice format with all the information such as calories burnt, the pace, the average speed, the cadence, stride and the number of steps.
The app I found perfect through the features and settings equipped which include watch faces, wallet, business card, notifications, health reminders, NFC, and more settings like adding favorite contact lists.
Control Short Videos
Your smartwatch can be transformed into a multifunctional smart remote control for multiple operating modes with simple operations for watching the video, live broadcasting, one-click control, pause/play, up, down, and like. I don't know if it is an advantage for some, but it is there.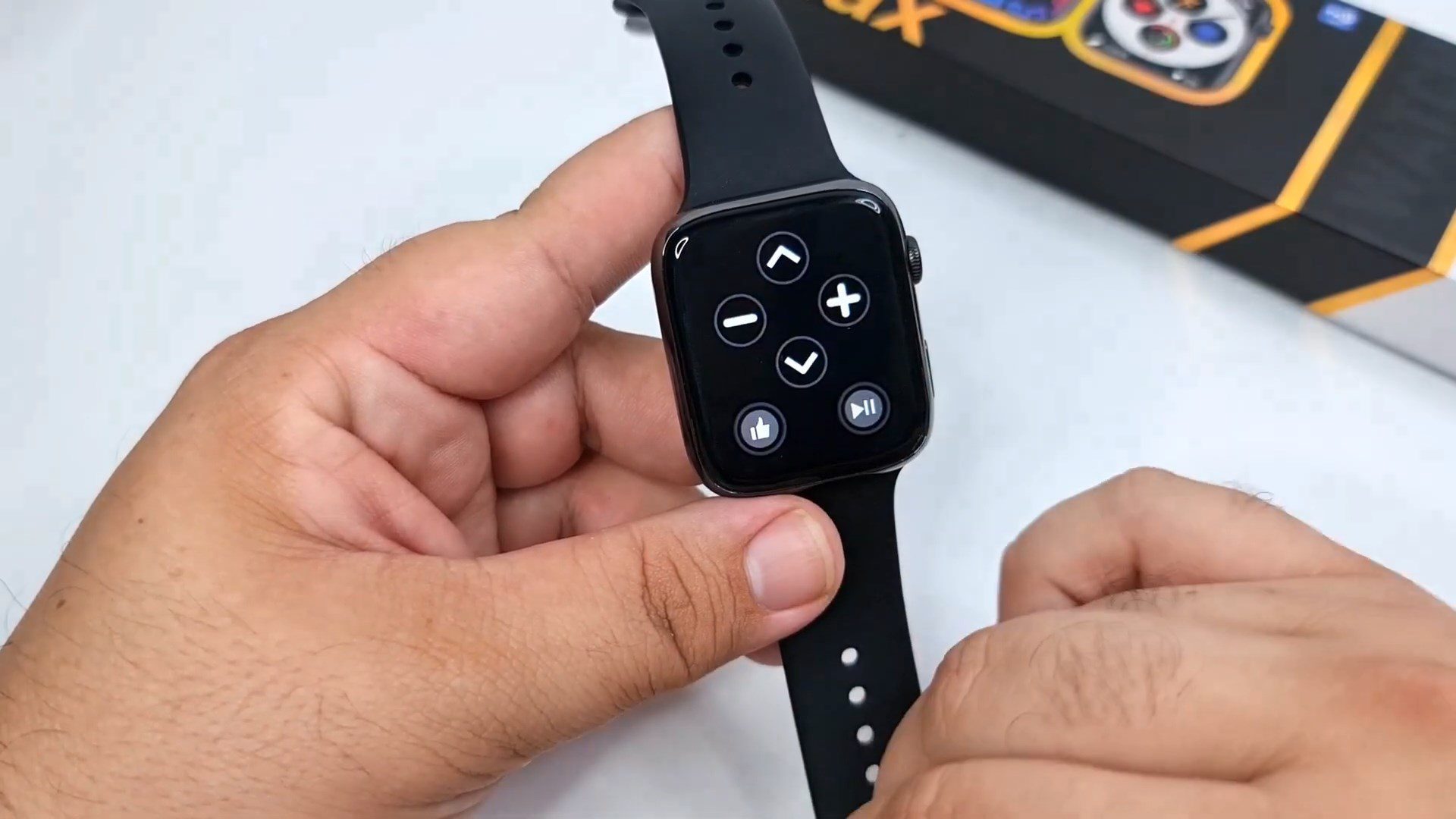 Bluetooth Calling Function On DT8 Max
The most important feature of the DT8 Max Smartwatch is that it's equipped with an integrated microphone and a speaker, with the former serving up surprisingly clear sound that can be heard over general din (such as road noise), making it usable, As for the microphone, it's mainly used for on-wrist calls or, if you're paired to a smartphone. So it not only displays an incoming call but can also receive and dial calls made via Bluetooth directly from the watch with good sound from the speakers and a mic, and of course, this is done with your smartphone, So you don't have to take out the phone of your pocket every time you want to make or answer a simple call.
This smartwatch lets you save important and frequently-called contacts so that you don't have to dig through an extensive contact list to make a call, especially when you're pressed for time. also features a dial pad that enables you to make calls quickly and conveniently.
To enable Bluetooth Calling Function on this smartwatch, you need to first connect it to the compatible app. Once connected, you need to manually go to the phone's Bluetooth settings and pair this smartwatch (Bluetooth Name: Watch-Call). Upon pairing, you will get a notification: Connected for calls and audio.
Notifications
Notifications are clearly visible and easily readable. And you will not miss out on important messages or notifications with the DT8 Max smartwatch on your wrist. It syncs up with your smartphone to display incoming calls, messages, social media notifications (Facebook, WhatsApp, Twitter), and other applications, enabling you to stay connected even when you're on the move.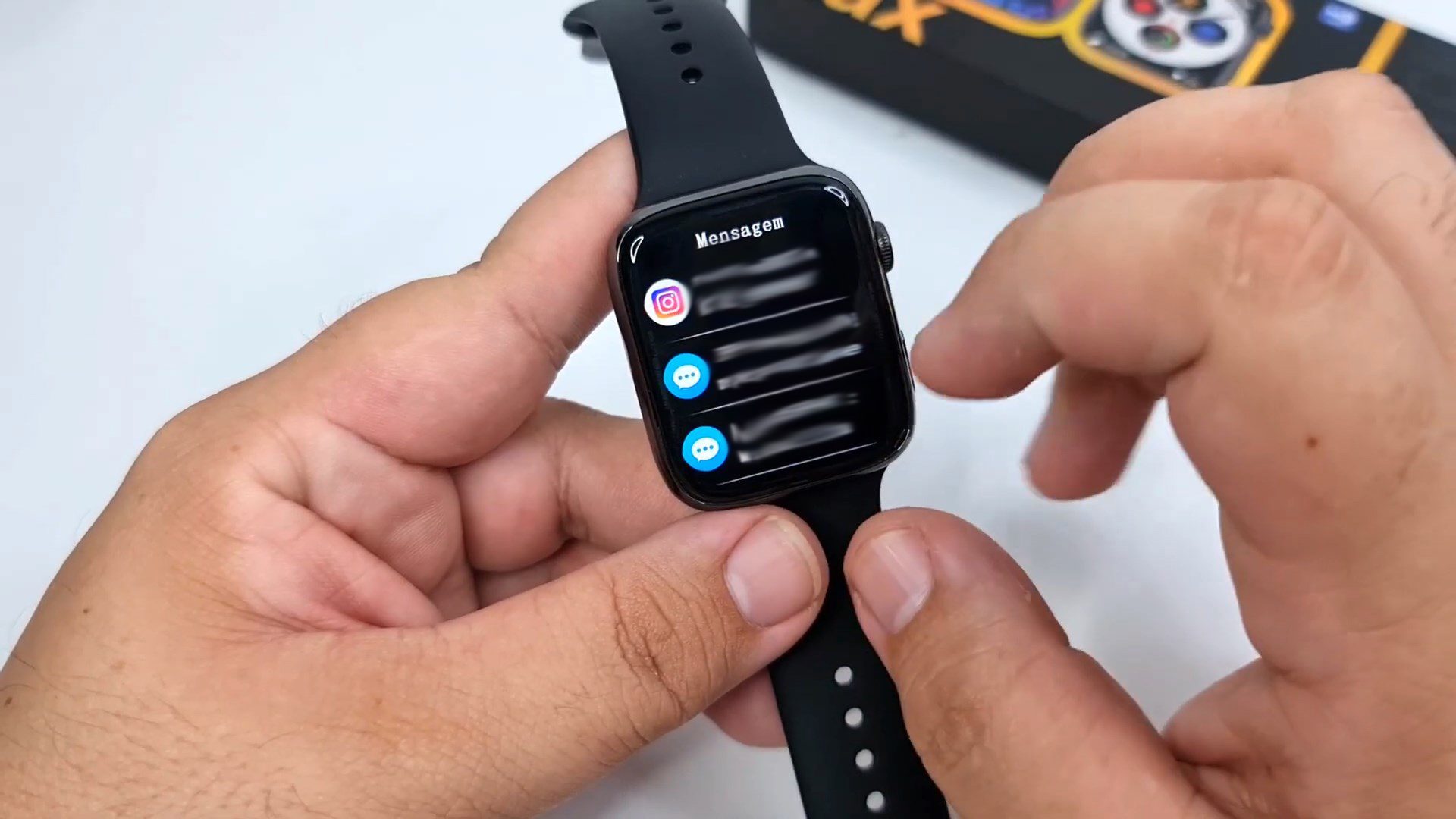 DT8 Max Battery Life & Charging Time
Finally, The battery in smartwatches is no less important than the rest of the functions, And this is what it offers DT8 Max with a capacity of 280mAh which is considered one of the largest in this range, Battery life is excellent, at least by budget smartwatches standards. for up to 6 days in typical use to 4 days in heavy usage. it all depends on how many features you use, and it must be charged with a wireless charger, this is a great feature, All you have to do, is make sure that you place the watch correctly on the charger and it takes about two hours for full charging.
As an added advantage, the animation while charging the watch was very cool and vibrant and it would be switching between horizontal and vertical screens. So, After turning on the "bedside clock mode", just put it on its side and connect the power supply, the watch will automatically enter the bedside clock mode, the user can use it as a bedside lamp, in "bedside clock mode" The screen will switch to a horizontal screen.
Final Verdict
There's nothing surprising or shocking about the DT8 Max doesn't offer huge changes compared to the DT7 Max in terms of design. It does all of the Apple Watch clone things you expect in 2022, with some added niceties to make it better than ever to give you an experience that is closer to the Apple Watch Series 8. The large display is a joy to look at and interact with, and it's bound to be easy to wear, have plenty of health features, and offer the resistant glass, Multitasking bar, Body temperature measurement, TikTok remote control, 2 games, 2 standby dails, Independent ringtones. So, the DT8 Max its really is that good and it's one of the most accurate clone watches that we have seen.
DT8 Max Price And Where To Buy
The DT8 Max Smartwatch is currently available on the AliExpress Store for a very good price. So, don't miss out on this great deal. And to view its price or buy it, you can access the offer by clicking on the store icon.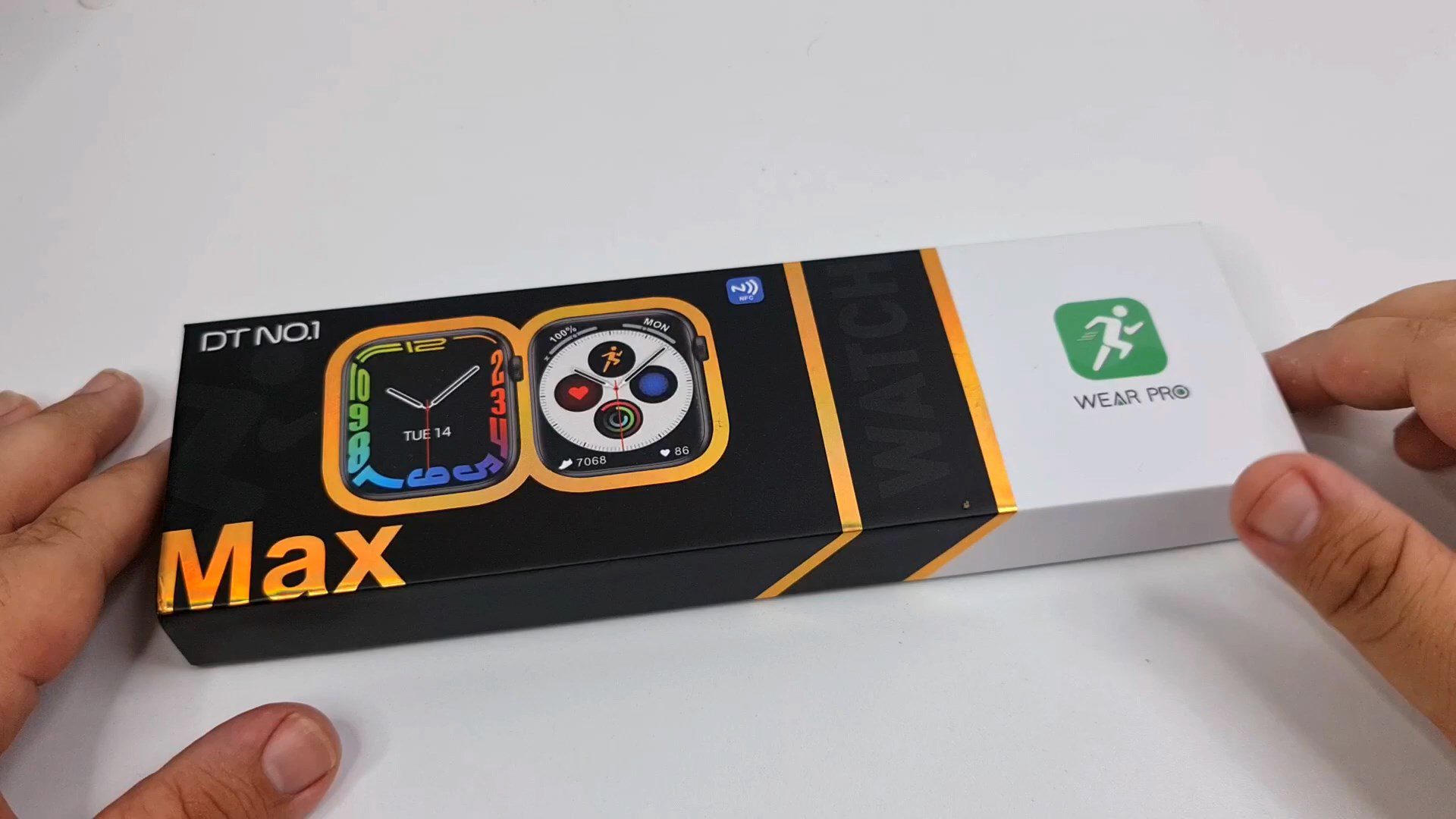 DT8 Max Smartwatch
Silicon Strap
Wireless Charger
User Manual