Konjac AI Translator The best Smart Voice translator from Xiaomi comes with a modern style made of aluminum, with the ability to translate to 14 languages.
Year after year such devices increase our popularity because they help bring the world closer and provide opportunities for communication between people without the language barrier, the power of this translator more than you can imagine.
Although this tool does not have a screen, it is fully supported by WeChat, one of the most powerful apps in China right now.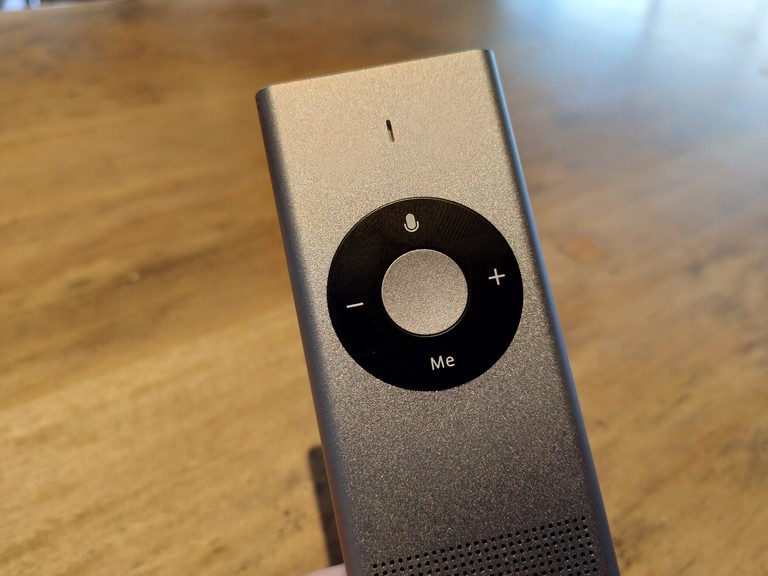 Features:
Multilingual translator of 14 languages.
Microsoft translator engine for high quality. translating expressions of different situations.
Intelligent voice recognition system for high-speed and efficient translation.
AI support, your perfect life helper.
900mAh battery, long standby of 7 days, continuously work for 8 hours.
Mini size for easy carrying.

languages can support this device :
Chinese
English
Japanese
Korean
French
German
Spanish
Russian
Portuguese
Italian
Dutch
Danish
Finnish
Swedish
Design:
Xiaomi Konjac AI Translator has no display. It comes in a comfortable and stylish design while sturdy. Aluminum frame with dimensions (L x W x H): 13.20 x 7.10 x 3.80 cm 5.2 x 2.8 x 1.5 inches and rounded corners, the control mode comes with 4 buttons on the front; 2 volume buttons, translation button, and another button to listen to your feed.
It also comes with one speaker, 3.5mm audio jack, and micro USB charging port, there is an LED indicator to show the working status as well as the remaining power.
You can put it in your pocket or in a small bag – it weighs only 63 grams.
How to use Xiaomi Konjac AI Translator :
Watch the video.
Read Also: Android TV Xiaomi Mi Box S Review
Performance :
In terms of functionality, the Xiaomi Konjac AI Translator supports simultaneous interpretation in 14 languages ​​and integrates up to 99% of the Xiao AI audio system functionality. It also integrates the AI ​​translation engine for Microsoft translation.
More than 47 skills like playing music, checking the weather, listening to the radio, reading news, and more. The user can also help in learning foreign languages. The device comes with a 900 mAh battery.
Xiaomi Konjac AI Translator Price and availability:
The Xiaomi Konjac AI Translator is currently available on the Banggood store for just $68. This is a very good price to Translator supports simultaneous interpretation in 14 languages. And To view its price or buy it, you can access the offer by clicking on the store icon.