the Blitzwolf BW-LT11 It comes with many features, provides a strong beam while the colors of the RGB LEDs., 4000K Color Temperature, 16 Million Colors, Works with Alexa & Google Assistant, APP Control, IP44 Water-Resistant And allowed to Create Your Own Unique Scenes for Relax and Focus, Set Timer/Schedule, Scene setting, Set Schedules, Waking Up and Welcoming Home Function With there 16 Million Colors Adjustable White Color is much brighter, Personalize Color and Brightness Level. with Durable and Modern Appearance through Copper Substrate FPC with High Conductivity and Stability and Anti-buckling PU Drops of Glue with Abrasion Resistance. Let's have a closer look at the BlitzWolf BW-LT11 Smart LED Light Strip model.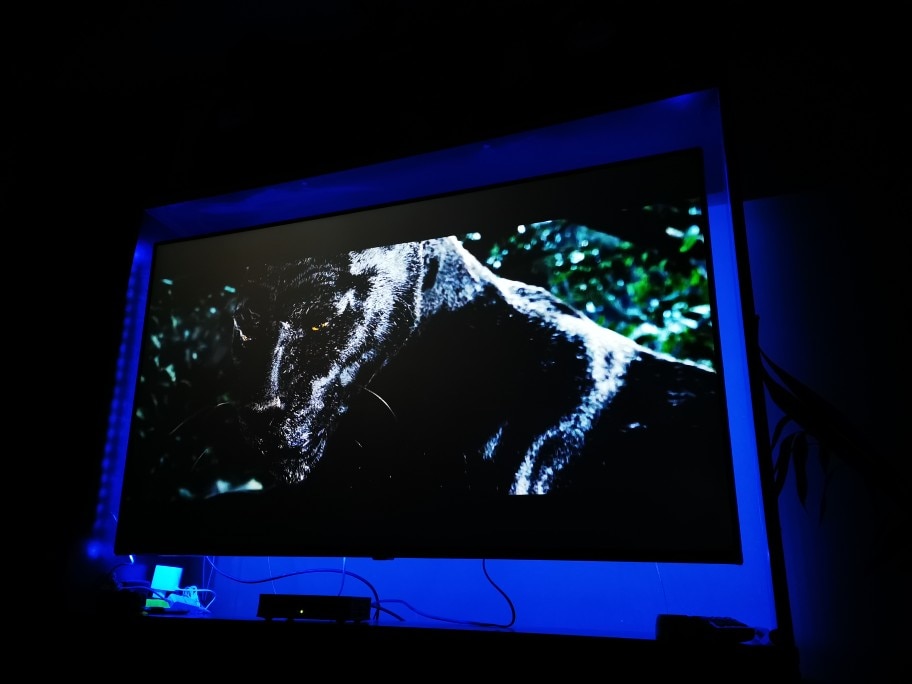 4000K color temperature RGB color.
1M Extended Strips Light for More Possibilities – Can be extended to 5M.
Smart Voice Control -Compatible with Amazon Alexa, Google Assistant, IFTTT
APP Control BlitzWolf – Compatible with Smart Life & Tuya Smart
Rhythm With Music – Easily create the ambient lighting for the party
8 Modes to Choose – Night, reading, party, leisure, 4 custom setting.
The controller and the power adapter of the BW-LT11 do both have good quality and provide three meters of cable from your power socket to the LED strip (1.5 m from the power socket to the controller and 1.5 m from the controller to the LED strip). The controller has a single button that you can use to control the LED strip, and it has adhesive tape on the back so you can mount it to a wall. Important to know: both the controller and adapter are not splashed waterproof.
NOTE:
If the strip is too long, cut the strip at one of the points marked by arrows. Cut sections cannot be reconnected, so please double-check the length is correct before you cut.
1M Extended Strips Light for More Possibilities – Can be extended to 5M.
Lights are powered by 12V supply and there is plenty of cable from the power supply, to a physical switch and from that switch to the LEDs to cover pretty much every scenario.
To explore other options, read about the Yeelight Aurora Light Strip Plus Review.
Smart APP Control BlitzWolf BW-LT11:
The BlitzWolf App supports all products compatible with Smart Life, and Tuya Smart APP.
The mobile phone and the LED Light Strip must be connected to the same 2.4 GHz Wi-Fi network
You can compose your own intricate flows Through the application, which would include setting lights according to the weather conditions, lights, or weather!
Since it works with voice aids you will not need to use the app much, but you can set your brightness, colors, and scenes.
It comes with 8 Modes to Choose, changes color automatically OR adjust changing speed OR custom colors OR set color changing order:
Night, Reading, Party, Shine, Leisure, Soft, Rainbow, Shine, Gorgeous
and One of the fancy features is to listen to the music and apply the colors based on the sounds around it. It's cool, but I won't keep my phone on just for that.
NOTE:
The app and third-party platforms like Amazon Alexa, Google Home or IFTTT all need the same, a wifi connection. So be sure that the controller is in a place where the wifi signal is fine.
How to connect BlitzWolf BW-LT11:
Long press the Control Box button for 5s to enter setup mode (red light flash); in the app, search and add the light.
Detailed instructions on smart control are available in the APP.
BlitzWolf BW-LT11 Price and Availability:
The BlitzWolf BW-LT11 is currently available on Banggood for $29.99 and Aliexpress store for just $22.99. This is a very good price So, don't miss out on this great deal. And to view its price or buy it, you can access the offer by clicking on the store icon.
BlitzWolf BW-LT11 Smart LED Strip Light Set (1*2M or 5M led strip light
EU or US adapter
User Manual
1M Strip Light Plus Extension
Specifications of BW-LT11
Model
BW-LT11
Color
Surface of Light Strip——White
Back of Light Strip——Blue adhesive tape
Length
5m(16.4ft)/2m(6.6ft)/1m
Adapter
5M——EU/US 24W
2M——EU/US 24W (Support extended to 5m)
Adapter Input
EU: 230V 50/60Hz
US: 110V 50/60Hz
Controller Input
DC 12V/2A
Material
5M——FPC board + PU glue, 3M adhesive, PC
2M——FPC board + PU glue, 3M adhesive, PC
Water-proof+Swear-proof
Light Strip: IP44
Controller: P20
Light Color
4000K White + RGB
Number of LEDs
5M——2835 4000K White*150pcs/5050 RGB*150pcs
2M——2835 4000K White*60pcs/5050 RGB*60pcs
Chromogenic Index
≥80 Ra
Beam Angle
150°
Adjusting Light Effect
White Color——Adjust Brightness Level
Colorful Color——Adjust Brightness Level and Saturation
APP Control
BlitzWolf, Compatible with Smart Life & Tuya Smart
Wifi Connection
Wi-Fi IEEE 802.11 b/g/n 2.4GHz
Working Temperature
-20 ~ 45℃