In this review, we'll look at the Tronsmart Element T6 Plus, Waterproof IPX6 portable Bluetooth speaker, plus its dust & drop proof. with Tri-Bass Effects, and 15-Hour Playtime with 6600mAh Power Bank, TWS, Built-in Mic, it has the intuitive volume control wheel, it's the perfect go-anywhere speaker offers clear, rich and relaxing sound like you've never enjoyed before.
Features of Tronsmart Element T6 Plus
SoundPulse Technology The most portable speaker with up to 40W deep bass.
Deep Bass Dual passive radiators with two 20W full-range stereo loudspeakers to provide low-end tunes and deep bass sound.
Intuitive Multifunctional Control Wheel Control the volume with a simple rotating wheel. Press to play & pause music, and make hands-free phone calls. Hold for 3 seconds to activate the voice assistant.
IPX6 Water-Resistant Element T6 Plus is built to withstand heavy splashes, rain, and sweat.
True Wireless Stereo Connect two Element T6 Plus speakers for a 3D stereo sound to bring your party to life.
Tri-Bass Effects Hear your music in 3 different equalizer audio modes that can suit any music genre. (The default audio mode is Vocal.)
Music lasts for up to 15 hours of playtime on a single charge.
Bluetooth 5.0 offers the latest connectivity option for a more stable connection & better range.
USB Charging Port It carries an in-built power bank that can charge your mobile devices.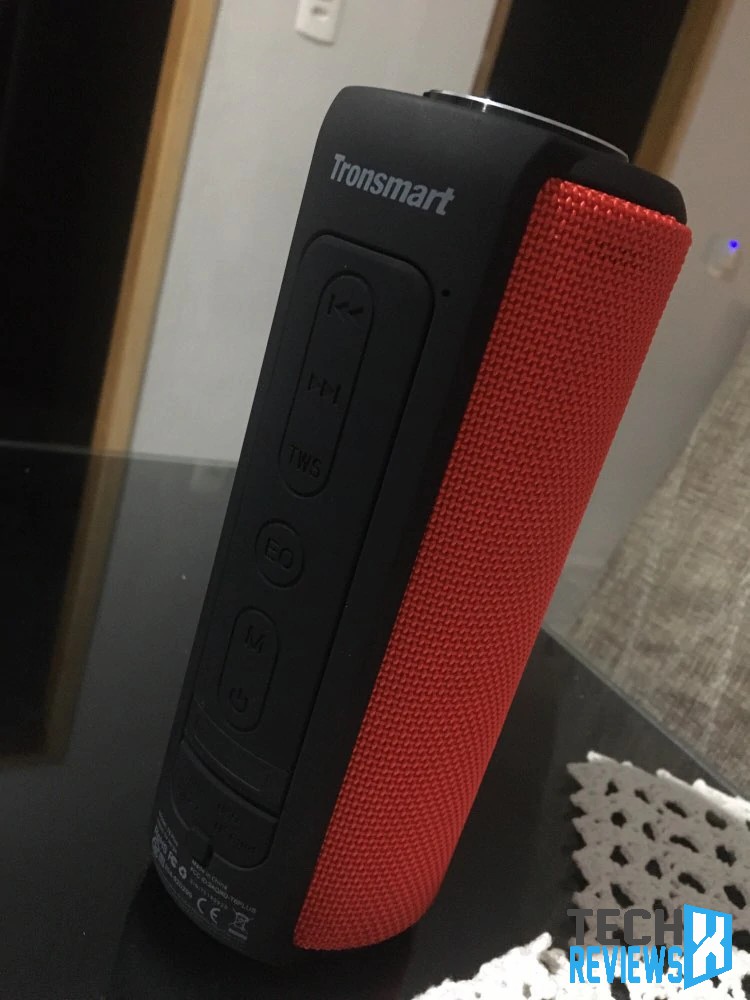 To explore other options, read about Huawei Bluetooth Wireless Portable Speaker Review.
Design:
Element T6 Plus features a rather large cylindrical shape, elegant and luxurious, made of ABS (Acrylonitrile Butadiene Styrene) + aluminum, which gives it a kind of stiffness and you will feel it when you carry it and weighs a bit heavy 670 grams and size 3.23 x 7.99 in / 82 x 203mm, comes in two colors Black / Red. And with rated IPX6, you can spray it with water but not submerge it.
The upper part of the cylinder has a shiny silver dial surrounded by a clickable blue light ring and acts as a measure /pause/answer call.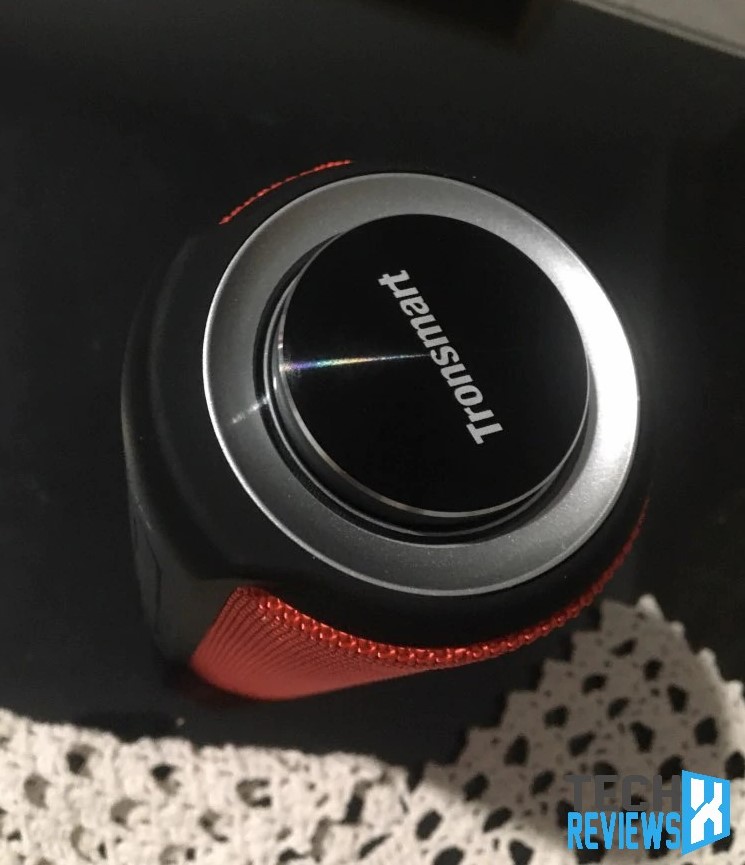 The power buttons to turns the speaker on and off, and the 'M' button on the spine move between different device modes, the EQ button for music effect, the TWS button to pair two Element T6 Plus to create a full/wide stereo layout, and finally the next and previous buttons. With there a well-applied rubber cover protects buttons and ports from water or spills. This is well manufactured and is another plus. The manufacturer provides a 12-month warranty and lifetime support.
The front has a Type-C front, a USB-A, a MicroSD port, as well as a standard 3.5mm audio port (along with a male to male cable in the box).
Note: If you use a USB drive with Speaker, it will keep the rubber cover open, so the T6 Plus will not be waterproof.
Performance Tronsmart Element T6 Plus :
The controls wheel is on top, has multiple functions when playing music, I can rotate it to increase or decrease the volume, or I can tap it once to pause and again to play. The wheel spins infinitely, so the T6 Plus will beep twice when it reaches max volume. When given a long press, the control wheel can be used to activate an activate cellphone's voice-assistant.
The control wheel also functions as a way to answer the phone. If you're synced via Bluetooth to your phone, and someone calls, you simply press the wheel to answer.
The TWS button, which stands for True Wireless Stereo, will pair the T6 Plus with another T6 Plus, thus giving you a right and left speaker for true stereo sound.
The EQ button is for the equalizer, the press of the button alters the amount of bass. The default setting has no bass, the second set has some bass, and the third set has a lot of basses. The LED on the back changes color to indicate which setting is in effect.
The M button switches between the 4 input sources, Bluetooth 5.0, aux-in, micro SD card, and USB flash drive. To unpair T6 Plus it from all devices, simply hold the M button for 5 seconds. Also, the Speaker will turn off automatically after one hour if it is not paired with a source or no sound is played.
Note: Tronsmart Element T6 Plus will play the songs in file order, there's no random feature.
The battery:
Tronsmart Element T6 Plus can also act as a power bank, allowing you to charge other devices, but this exposes them to power out quickly. And all this is done with a built-in lithium battery, 3300mAh x 2 battery that enables you to play your favorite music for up to 15 hours, and for a recharge that takes from 3 hours to 5 hours, you might think it is a long time, right? But remember, you are dealing with a 6600mAh battery.
And If you don't want to drain your battery all day, you can put your music on a micro SD card or USB flash drive.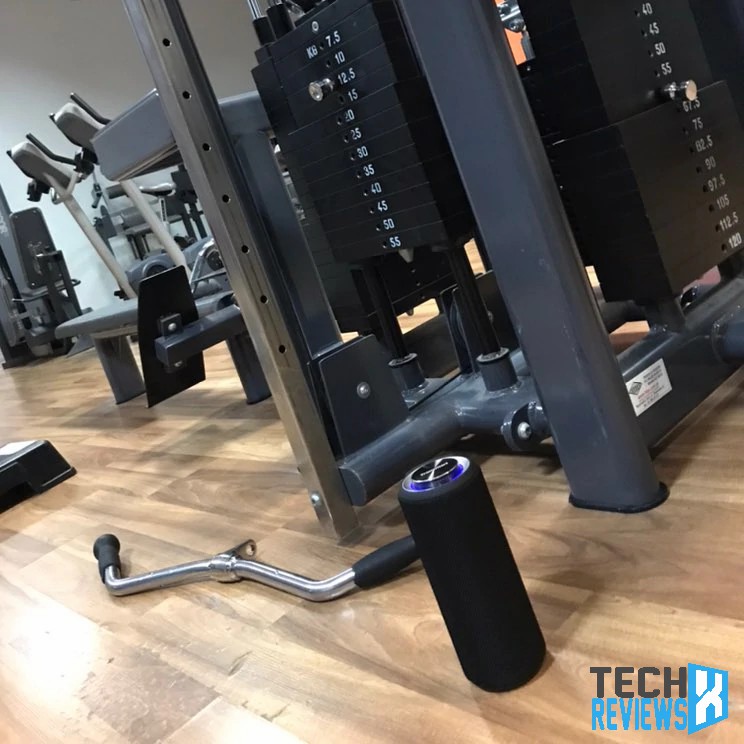 Tronsmart Element T6 Plus Price and Availability:
The Element T6 Plus is currently available on Banggood for US$97 and Aliexpress for just US$53. This is a very good price So, don't miss out on this great deal. And to view its price or buy it, you can access the offer by clicking on the store icon.
Element T6 Plus Speaker
1 x 3.5mm Audio Cable
1 x USB C to USB A cable (for charging)
User Manual
Warranty card
Specification of Tronsmart Element T6 Plus
Size: 3.23 x 7.99in / 82 x 203mm
Color: Black & Red
Material: ABS(Acrylonitrile Butadiene Styrene) + aluminum
Bluetooth: 5.0 transmission Up to 20m (open area)
Waterproof: IPX6
Power supply: DC 5V/3A max, via USB-C port
Frequency range: 20Hz – 16000Hz
Battery: Built-in lithium battery, 3300mAh x 2
Playtime: Up to 15 hours (medium volume)
Talk time: Up to 20 hours (on a 70% volume)
Standby: About 24 months (Note: after standby for a long time, please charge the speaker before use again to maintain the normal performance.)
Charging time: 3 – 5 hours
Functions: Hands-free phone call, aux-in, TF/Micro SD-card, USB flash drive, power bank